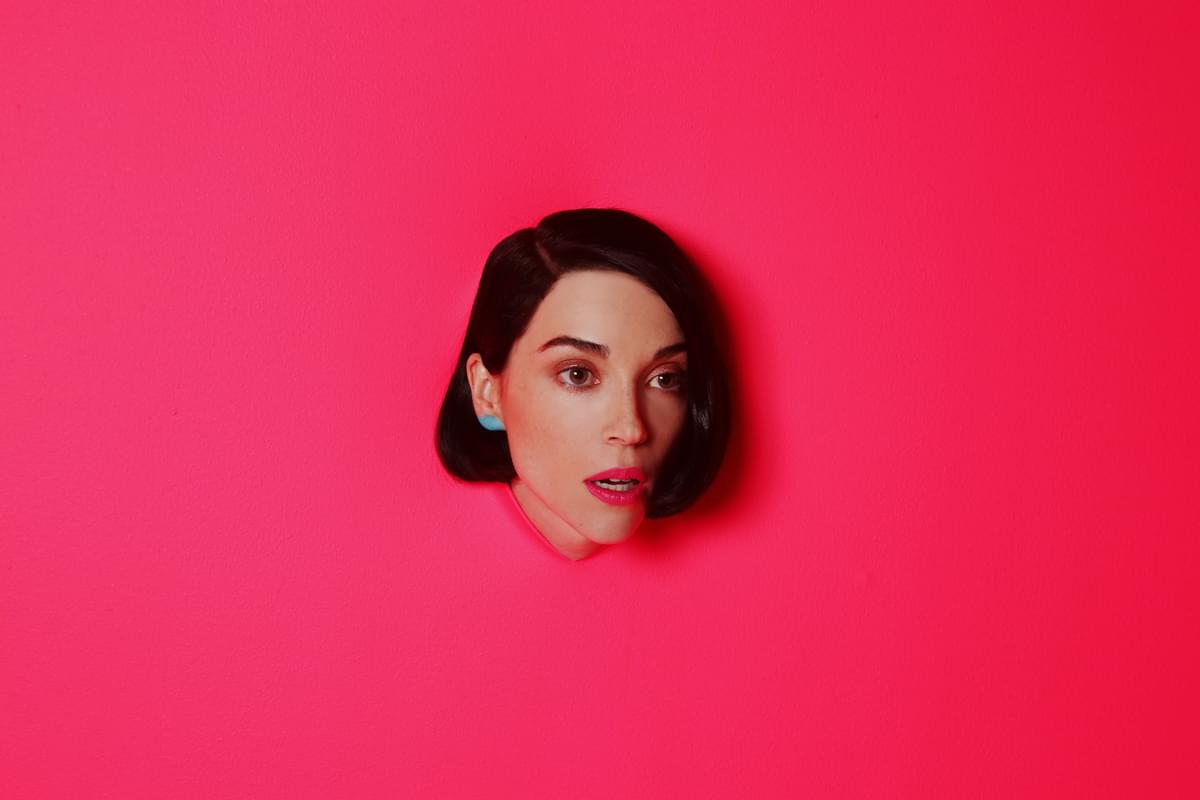 Power and Seduction
03 October 2017, 08:00
Annie Clark's grasp of her music, life and the character of St Vincent is both absolute and essential. Kim Hillyard meets Clark under the most unusual of circumstances to try and understand the woman and the icon.
Annie Clark's black PVC raincoat strikes an argument with North Camden's white fronted mansions.
I follow the click clack of her stiletto heels across the pavement. She swings open a small wooden doorway, I climb inside. Eye contact was quickly established as our only means of communication. My unnamed, mute guide glares at a table in the corner of the half-lit warehouse so I shuffle across and pick up the giant pink pen. A two metre contract lolls off its four corners. I sign my name on the dotted line: I will not reveal anything that happens inside The Box until late September.
The 4-metre wooden cube stands in the middle of the empty warehouse like a lost garden shed. She knocks twice on its front before pushing open a square panel no higher than my stomach. Crouching to enter, I come up in a disorientating quasi living space coated crease to crease in thick neon pink paint. Two standing lamps illuminate a perfectly central white desk. In the middle of the desk, two bright white diner-style milkshake cups have been placed with precision. Behind the desk a woman sits up straight, silent and staring, in a black leather mini skirt and bra.
I pull up the chair opposite and meet her gaze. "Hello Annie, what a lovely pink box you have here."
Annie Clark, best known as St. Vincent, has reached a stage in her career where even her interviews have become a manifestation of her fastidious artistic vision.
Surreal, thrilling art-pop as uneasy as it is danceable, Clark is on the cusp of her fifth album MASSEDUCTION. The record has a big space to fill. In 2014 Clark self-titled her fourth album for a reason. Refining every quest and quirk of her career to date, the singular vision of St. Vincent won her Best Alternative Music Album at the 2015 Grammys. (It's worth noting that she was the first woman to win the award since its inception in 1991, when Sinead O' Connor collected the gong. Though really, that says more about the music industry's white male bias than it does about Clark.)
In the three years since the success of St. Vincent her profile and passions have expanded to fit. She's inducted Nirvana into the Rock N Roll hall of fame, hosted a Beats 1 radio show, made her directorial debut with a horror short, acted as official ambassador for Record Store Day and become one of few artists invited to design a signature Ernie Ball Music Man guitar. Beck, Dave Grohl, Josh Homme and Taylor Swift all have a St. Vincent six string somewhere in their collections.
Prowess proven, how did she tackle the enormous challenge of superseding her own infallible benchmark fifth time around?
"I more or less prepared myself to make another record by doing completely different things," she says, referencing her recent extra-curricular activities. "But I knew early on that I wanted to make a record about power and seduction, in all kinds of forms. Political, personal, sexual."
The luxury of success has allowed Clark to release the details of MASSEDUCTION in micro doses. Much like the Lynchian confines of our not quite Red Room today, the album's imagery is a shock of deceptively simple eccentricity. In one of its first photos she stands with a lacklustre stare, arms crossed, hip jutted in a neon pink room that has three pairs of bodiless legs clad in thigh high PVC stiletto boots sticking out the wall.
"People might have thought I was going to zig, so I zagged."
With paradoxical precision, the sonic accompaniment to her provocative disembodied limbs was "New York". A gentle piano ballad that zooms in on Clark's vulnerability. "You're the only motherfucker in the city that can handle me," she laments.
Fans were quick to assume the album's first single was a coded message to Clark's former girlfriend, super-model Cara Delavigne. Their relationship thrust St. Vincent into new circles, where peak celebrity is peak content, devoured and concocted at an alarming rate.

"I wasn't really bothered by it," she says of the cash, clothes and cameras. "If you're in love you're in love. I'm not going to change my behaviour. I mostly just found it very strange on a human level. How rabid people were for pictures and gossip. I don't think that experience particularly changed me."
It might not have changed her but it certainly affected her. In 2014 St. Vincent was our wiry silver haired cult leader. A digital witness, nodding with sardonic approval at our show-all, tell-all lives. Now she's lived and loved through the eye of the storm, she's returned to resuscitate her constituency with refined discontent.
True to her manifesto of "power and seduction" the album is a succinct and disconcerting picture of our times. Dystopian sugar-high electro, ballads of alienation, its thirteen tracks of pop phantasmagoria are as addictive and unsettling as the clawing social constructs we all, for better or worse, play along with.
"I think there might have been an expectation that whatever I released next would be some big, ostentatious banger," she says of her decision to release 'New York' first. "Writing that song, I loved it. I thought it was really direct and emotional. People might have thought I was going to zig, so I zagged."
St. Vincent zags, Annie Clark does not. Cultivating her own blend of passion, practice and perseverance Clark has pushed herself forward from a very young age.
Born in Tulsa, Oklahoma, to her social worker mother and stockbroker father, she was raised Roman Catholic. Her parents divorced when she was three and Clark moved with her mother to Dallas, Texas. Growing up one of eight siblings (some half, some step) Clark faced intense anxiety attacks from as young as six as she grappled with the "chaos" of the world. In her teens she began to question the internalised "culture of fear" fed to her by religion.
And how doth many a lost, pubescent mortal seek redemption? Music.
Thanks to the timeless combination of a friend's rad Dad with a Stratocaster and some expert music supervision for the OST of a major blockbuster hit (for Clark it was Jimi Hendrix during Forrest Gump ) by 12 she had her first guitar.
From Hendrix to Zeppelin, Jethro Tull to Nirvana at their heyday and the local record store nerd who gave her PJ Harvey and Nick Cave, Clark quickly learned to respect her "inner weirdo."
She got her first experience of life on the road with her uncle Tuck Andress and his wife Patti Cathcart, better known as jazz guitar and vocal duo Tuck & Patti. Their ubiquitous tour hand, teenage Annie was responsible for everything from flowers in the dressing room to the voltage on stage. Maintaining that she's never worked harder, the real value came from the deeply spiritual connection her uncle had with music. An exemplary finger-picking guitarist, his talent, he insisted, came from an undoing of ego rather than a propulsion of one. She remembers watching the way their fans would listen, really listen.
Perhaps a shred of this sentiment caused her to drop out of Berklee College of Music in her third year. She realised she was being taught "every potential style of music," she says, rather than how to develop one of her own. Aged 20 she faked it as a booking agent and moved to New York to tour the East Coast. Three months later she was broke and back at home with her parents in Texas.
Now a proficient guitarist, Clark rectified the situation with a memorable audition for choral rock troupe The Polyphonic Spree. Learning all their songs on guitar, she turned up to play them with a full guitar pedal collection and rig in tow. Joining the band on the road led to a tour spot with Sufjan Stevens and it was during one of Stevens' UK shows in 2006 that a 24 year old Clark was spotted and signed by Beggars Banquet. Her debut album Marry Me came out the following year, on it she played 13 different instruments.
"Ambitious is not what you want to sound like. Ambitious sounds like you're really trying for something but you didn't get there."
Space is important to Annie Clark. It affects the bones of her. By the time she reached third album Strange Mercy she had the means to facilitate her ideal writing conditions; a month alone, waking up in her hotel room and moving to the studio for 12 hours a day. In 2014 she told Rolling Stone she'd turned all of the books around in her New York apartment because their varying spines caused too much clutter, "There were too many different fonts next to one another," she reasoned.

Committed to a relentless touring schedule both before and after St. Vincent, by the time she came home in late 2015 she knew the only way to create a new record was to build the space to do it in first. "I just knew I needed a space to work. A space where I could really work."

How can she 'really' get to work?

"Everything needs to have a purpose," she says firmly.

Did she live in the new studio?

"Yeah, I mean, like, there's a bedroom. And four rooms dedicated to music. It functions so every room is wired up to be recorded, except for the bedroom, which probably should have been, haha! It was just nice to have a space where I could do whatever I wanted. From the outset, I just did so many things alone."
Just under a year after the studio was built Bleachers' Jack Antonoff came on board. As a producer he's worked with Taylor Swift and Lorde. How fully-formed were the new St. Vincent songs before they reached him?

"Sometimes really fully-formed," she nods. "Some things intended as demos became parts of the actual album. 'Fear The Future' was pretty much formed as a song. The guitars in that are from my demo. But working with him, there was also a lot of back and forth, making sure that every song was the best possible version of itself."
"This needs to be something people can really dance to until they listen to the words and then they're crying."
The journey for some songs was simple. "'New York' was written on guitar," says Clark. "And then we just had it played on piano by Thomas Bartlett."
The journey for others, not so much. "The genesis of 'Pills' was that I was having trouble sleeping," she says of the album's four minute mental pop opera. "I took like, an over the counter sleeping pill and I just started singing the song's jingle. 'Pills to eat / pills to sleep / pills, pills, pills / every day of the week.' And I was like, oh, that's a good one. I'll take that! So many songs that we love are like versions of nursery rhymes, you know? So I knew that it was something. And then the second half of that song, I had this piece of music that I'd written for David Byrne's 'Colour Guard' project. So I kind of had 'Pills' part 1 and 'Pills' part 2. I didn't necessarily think they would go together but I kept refining both of them."
"The first time I played it for Jack," she continues, "it had both parts but it wasn't really fleshed out as an idea. He was like, 'that's really cool, that sounds really ambitious' and I was like, 'hm. Ambitious is not what you want to sound like. Ambitious sounds like you're really trying for something but you didn't get there.' So, OK. This needs to be something people can really dance to until they listen to the words and then they're crying."
It's an adage as ancient as lyrical music itself. Words full of hurt, tunes full of hope, the ultimate sing-a-long catharsis. 'How could anybody have you / how could anybody have you and lose you / how could anybody have you and lose you and not lose their minds too,' Clark struts on the insatiable electro sleaze of "Los Angeles."
Considering her demi-God status as a guitarist, much of the swaggering pop on MASSEDUCTION is won by its dizzying synths, pushing the album closer to a dancefloor than Clark's ever dared. Her gender fluid anthem 'Sugar Boy' sounds like Donna Summer singing "Blue Monday."

"Yes. There's a lot of synths," she laughs. "Jack's playing most of the synths. I never got, I mean, I can get a tone, but I never got good enough at playing that I would wanna go, like "here, I got this" for anything other than a demo. I did a little bit on previous records but that was because I was the only one in the room."

Of the guitar that we do hear, how much of that can be attributed to her new Ernie Ball signature?

"I didn't use any other guitar on this record!" she responds, gleefully. "And not for any other reason than I love it. I have all these vintage guitars. Obviously I love guitars. I have a lot of guitars! But this was just the most perfect, flexible, go to instrument. I did a lot of glam tuning with the slide!"

Is this the first time she's only used one guitar across a whole album?

"It really is. I mean, on the last record I think I used like, Thurston Moore's Jazzmaster – his signature from Fender. My old Harmony Bobkat. And my Music Man Albert Lee for a lot of the whammy bar stuff."
"I couldn't take myself seriously if it was just me and some sort of sexy outfit doing fuck me face."
At some point during our conversation in The Box an abstract instrumental has crept on in the background. It's an unsettling ambient drone, more Steve Reich than St. Vincent. As it quietly hums beneath us, I fall further from the reality outside The Box and closer to the one in it. Clark casually realigns the milkshake cups on the centre of the table.
I found an old photograph of you, I begin. She eyes me cautiously. I describe the find, 2004 Clark hunched over her guitar, the only female member of noise rock quartet Skull Fuckers but looking every inch the part in a black beanie, oversized t-shirt and jeans. "I was a kid in those photos!" she recoils. "It's so horrifying to think of!"

The cover art for MASSEDUCTION is a woman in pink tights and a leopard print thong, bent over, sticking her head through a bright red wall. Coupled with the PVC clad legs hanging through pink glory holes, this album features the most highly sexualised set of St. Vincent images to date.
"Yes, but I also think they're funny," she says. "Because there's a level of absurdity. I couldn't take myself seriously if it was just me and some sort of sexy outfit doing fuck me face."

I wonder to what extent she's grappled with her own outward presentation of gender. She's a long way from the girl with no make-up hiding under a black beanie. Last year she performed a gig dressed as a life-size toilet.
"Gender is performative," she asserts. "And I think it's very important to be cautious of the ways in which you unconsciously perform gender. Especially if the axioms that have been passed down to you through patriarchal culture are not fulfilling to your empowerment. But as far as the performance of sexuality on this record, it's an exploration of power and seduction and to me, that does have an absurdist, humorous side."
It also, quite clearly for Clark, has a vulnerable one. On "Happy Birthday, Johnny" she gently documents her relationship with a past friend or lover over barely there piano. 'You saw me on magazines and TV,' she sings. 'What happened to blood / our family / Annie how could you do this to me?'
The album's final lurching track "Smoking Section" placates line after line of crippling desperation, 'Sometimes I go to the edge of my roof / I think I'll jump just to punish you,' with a cyclic admonition, 'let it happen / let it happen / let it happen.'
"Songs are Rorschach Tests," she says, looking me dead in the eye. "And no, I'm not lonely at all," she adds, answering the question.
"I often act on instinct with form and meaning comes later."
Suddenly there's a sharp, triple knock and The Box door swings open. My PVC clad guide waits for Annie to finish.
"There's so many instances where I act on instinct," she says of the costume, colour and choreography that now envelop her work. "So I often act on instinct with form. And meaning comes later. In the words of Annie B Parsons who I love as a friend, my choreographer, 'Form is spiritual.'"
Before leaving, I express my fondness for The Box in no uncertain terms. "I'm so glad you enjoyed it more than a hotel lobby," she replies.
Outside is bright and fast and real and rubbish compared to inside The Box. I wish I was back in The Box, I tell St. Vincent's publicist.
"You didn't get any answers?" he asks.
"Huh?"
"She didn't play you any answers?"
For the past forty minutes I've been cocooned in a neon pink wooden womb with St. Vincent none the wiser to her master plan. Turns out, if I'd have asked any one of the multiple questions on her hit list she'd have pressed a button, an automated interview answer would have played and I'd have been booted straight out The Box.
Oh the power.
Oh, the seduction.
MASSEDUCTION is released on 13 October.
Get the Best Fit take on the week in music direct to your inbox every Friday