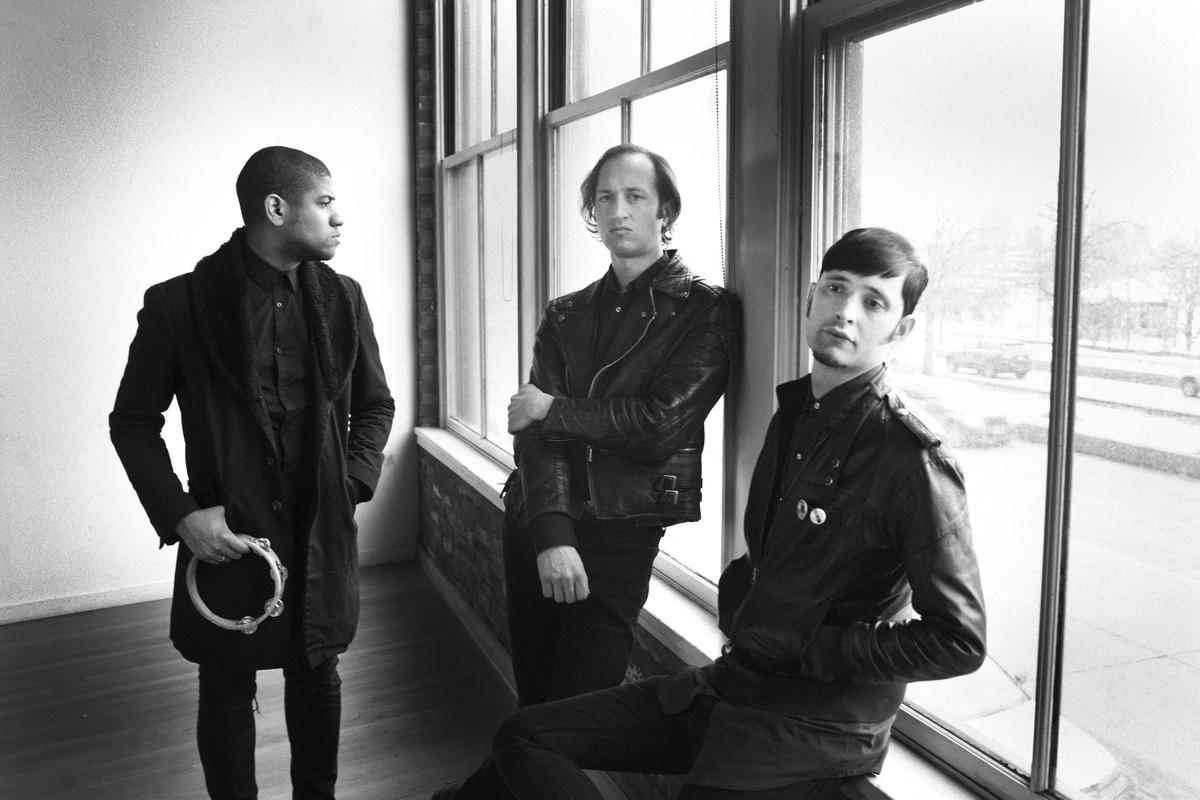 Algiers: "The revolution will not be televised, but maybe it won't be on the radio either"
01 June 2015, 18:00
You all know the story by now. You've might have seen it in the streets. You've definitely seen it on the news. Prince, Pussy Riot, Raury, Lizzo, N.A.S.A., Sean Paul and thousands more are all talking about it. Algiers are talking about it too, and they're talking really fucking loudly. They're practically yelling, and it doesn't seem that you could shut them up if you wanted to.
America's being ravaged by a political landscape pockmarked by turmoil from the top of the dogpile to the crowded bottom; the streets rife with needless violence and blood smeared across the asphalt. Unavoidable, unrelenting, unending, inescapable deluges of death, inequality and apathy. Seismic change is needed.
"I don't know man. I don't know," Franklin James Fisher, the seemingly-possessed vocalist of Algiers muses. "I always hope that it will change, but I'm always really dubious. I think the best plan for change is for people to educate and equip themselves. This is exactly why we've created Algiers, because we don't know how to engage it otherwise."
Fisher is hoarse from the night before's show, speaking quietly through his strong Georgian accent. "Music has been notably apolitical in the States for the last half-decade, if not longer, but once things get as bad as they are right now though, things have to start resonating more. There's such a massive discrepancy between what's happening in the streets and what culture represents. Hopefully there will be more people talking about the spectacle of reality soon," he pauses, catching breath.
"We're always told that the revolution will not be televised, but maybe it won't be on the radio either."
The band today (1 June) release their debut record, Algiers. A visceral blur of Southern Gothic and post-punk, among countless other things, it's a hellishly exciting release on the eyes, ears and mind.
Fisher continues.
"When you go to someone's house, they clean up and make this farce, but once the guests are gone, all the skeletons come tumbling out. It never seems to change regardless of who's in office, and I don't think I'm a pessimist," he says, wryly. "The reason we make art is because we're taking affirmative action, we want to do something, and I think that's evidence of optimism. For years and years the status quo was telling black people, a largely disenfranchised class of the population, just to get out there and vote and something would change. But we've had a black president for nearly eight years now... it doesn't look any better to me."
Signed to Matador, the trio – formed of longtime friends Lee Tesche, Ryan Mahan and Fisher – drew together a range of disparate influences via a common sonic core. "Lee and Ryan came from a punk background," says Fisher. "I was encouraged to just do what I knew from this like soul/gospel background that I'd got growing up. They both have these real similar energies, you know? They're from these dispossessed populations of people, fast-paced, with uniform singing and shouting. Once we discovered that they were similar things, we wanted to go as far down that path as we could, and we're still on it now."
With distorted swathes of country-flecked guitars, Fisher's inimitable howl and swampy textures, there's a strident Deep South feel. Maybe it's the gospel twang. "The irony is that it was never a conscious thing throughout the recording," Fisher interjects. "There's like one song that even directly references it: "Claudette"; It talks about Memphis and was born from this stream-of-consciousness type idea that Lee had, but it's interesting that's what people constantly hear on the album. I guess it's gotta be in there, but I think it must have manifested on a subconscious level."
He explains that far from the balmy nethers of his home state, it was actually in New York City he found inspiration. "I moved there as I couldn't sort a Visa in the UK any more, and I couldn't find any work. I used to be a teacher. I just had to take what I could get though, and I wound up putting my CV on Monster.com, where this investment bank took me on as a part-time receptionist."
Fisher seems jointly amazed and disgusted at what he experienced at the bank. "It was really alienating... this... ultra-conservative environment that I just never thought I'd find myself, you know? I was impotent. In terms of being exposed to these ultra-capitalist, these ultra-republican personalities that were just talking about anything and everything, and I couldn't say a word about it. So while we were writing these songs, I was directing all that resentment inwards, in a silent way I guess, which is where all of the lyrics came from... it was all things I couldn't talk about with anyone else. I was really lashing out at a lot of what was going on around me. It's really my, and our, attitudes, of America as a whole, not just limited to the South. It's more about Western imperialist power as a whole."
As Fisher talks about his time in New York in the investment bank, you can almost hear his blood start to simmer. "You get to a point where things are so outrageous and enraging that it's impossible to engage anything on a political level, so we found it necessary to create our own political language, and everything that we do is a part of that, from the lyrics that we have to the images and references that we engage with on our social media, to the type of musical references we pull from," there's an abrupt pause for breath. "It's something that's necessary for our own sanity. We never thought we were gonna get anywhere close to the point we're at, in terms of recognition, or even modest success. It was just something we were doing because we knew we had to do it."
Fisher explains something they've been sticking to during the promotion of the album - "This is the closest thing we have to a riot."
"We're taking all these feelings of frustration and disenfranchisement, and using them in the most constructive way possible," he says. "None of us are literal revolutionaries, or anything like that, but it's our constructive use of frustration, and all we hope is that it connects with people. It's a symbolic intervention. Really it takes a breath of life whenever we play a show. Whenever there's a group of people on the same level of us, it's vindicating. That's why we do it."
They've been described as apoplectic and apocalyptic, but Fisher's not sold on the latter. "I guess I understand why people see that," he ponders. "I can't remember who said it exactly [Fredric Jameson], but I've always remembered the quote: "It's easier for people to imagine the end of the world than it is for them to imagine the end of capitalism". People forget that for a lot of people, probably half the world's population, the world's already ended. Things really couldn't get much worse. The end of the world would probably be a relief to some of those people. I remember when I was in college, and September 11th happened, and all these American kids were like "it's the end of the world!", and I was like, really? Do you know how often fucking horrible acts of violence happen across the world?"
With the ceaseless tumult across the planet feeling like its approaching fever pitch, does Fisher have a vision of the apocalypse? "I used to be obsessed when I was a kid. I'd have panic attacks and freak out all of the time. I was convinced that the world was gonna end in the year 2000, so basically from when I was 12 years old until the year 2000 I was just counting down waiting for Y2K or whatever I thought it was. It was really nothing in the long run, just a product of that cultural obsession. One day I just realised, I had this epiphany, that we all die, and it doesn't really matter – this is probably just a way of coping with it but anyway – the world goes on. When you're gone, you're gone. What's more important is to lessen existing suffering, in any way that you can."
Although not explicitly stated, there's a funerary feel to Algiers. Perhaps it's the gospel; perhaps its the omnipresent darkness in each lilting beat.
"It's that great existential question, death. It's not like a conscious preoccupation I have, not when I'm writing anyway. There's nothing that's particularly romanticised when it comes to death on the record... if anything, it came out of when I was working as a receptionist at that bank, and there was a period of time when there were all of these horrible events all over the world, like the earthquakes in Haiti and Japan, the tsunami and nuclear meltdown... all these things were happening. There was this trading floor in the building, and there were all these TVs, all tuned to CNBC, and every single thing that happened in the world was reduced to its global financial implication. That's such a fucking horrible way to be forced to look at the world, and at life, but that's just how these people were conditioned. That's what they eat, sleep and breathe. In the end it wound up sending me to a psychiatrist's office. I remember thinking that death should cancel all that crap out, 'cause none of its essential, none of it is more valuable that life."
Fisher breathes in deep, long and sharp.
"There's been death in my family in the past couple of years," he kind of trails off, before laughing. "Now you've mentioned death I'm starting to see it! It's all coming out," he laughs again, hollow. "I have had seven friends that were murdered. Senselessly. The song "But She Was Not Flying" is dedicated to a friend of mine who was shot and killed that I grew up with," there's a bloated pause. "The lyrics there came from a rant that I had in my head at work one day, thinking about the situations that fostered all this random violence to seven people that I knew and loved. "Games" too, it's about America's refusal to acknowledge its chronic issue with gun control. It's every month. At most every month, there's some nutjob that goes into a public place with a gun that just starts spraying. Or, more often than that, it's a cop that tries to justify why he just gunned somebody down. It's insane."
Fisher breathes deeper, and sighs.
Algiers' self-titled debut is out now via Matador Records. They will launch the record at London's Ace Hotel tomorrow, Tuesday 2 June.