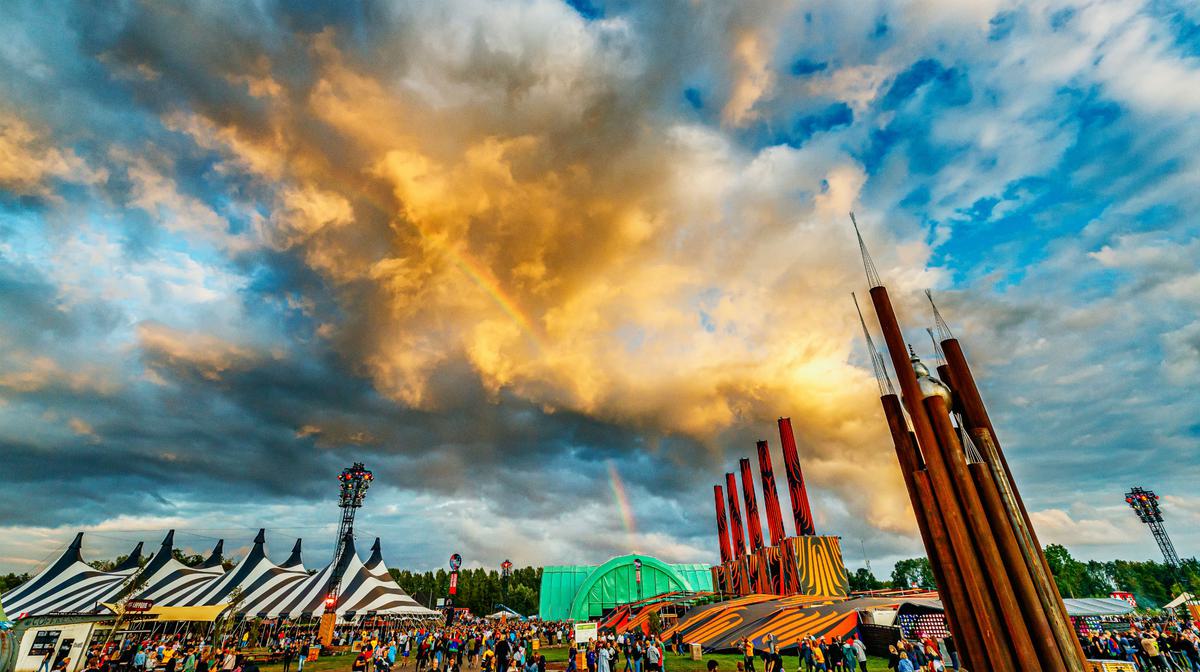 Lowlands is an endlessly enjoyable, efficient and eclectic fest that others should take note from
23 August 2019, 12:00
It's orderly business at the festival held in Biddinghuizen, about an hour's drive from Amsterdam, where queues are minimal and every stage is covered to stop punters from getting wet. On top of that, the 2019 edition welcomed Tame Impala, New Order, Billie Eilish, A$AP Rocky, The National, Anderson .Paak, Twenty One Pilots and loads more acts to play across three unforgettable days.
Crucially for those who hate camping (hi!) Lowlands has extensive accommodation choices, with showers, coffee stalls and mini-marts available to people staying in the six standard camping zones. Those willing to splash out on GLLAMPING can find superior comfort in the likes of tipis, festibarns, bioko tents and bunkhouses, all with proper beds and duvets. Additionally, the whole festival site is littered with seating for its 55,000 visitors – from hammocks and bean bags, to four-walled restaurants and seating nets suspended over the site's beautiful lake.
What this home-away-from-home enables is ample opportunity to reset the batteries (the festival also has massage parlours, hot tubs, and a sauna) so you really do have the energy to max out everything. As a music obsessive, the main programme was always going to be the biggest draw but festivalgoers could spend hours at the mass sing-a-long karaokes, the weird wonders of Sexyland, cinema screenings (Yesterday, Woodstock), free therapy sessions, science experiments, and so much more.
But: to the music. On Friday, girl in red kicked things off at the India tent with the vim and vigour of performing a much later slot. The Norwegian indie rocker's "i wanna be your girlfriend" was a rabble-rousing closer that saw her toss her hair like a metal-head and launch herself into the crowd. Over on the Bravo stage Jungle brought their sunny neo soul to a tent stuffed with revellers who seemed a little distracted. It was no surprise, really. The London collective may be polished but their formulaic songs – often tied together by a seemingly unchangeable tempo – kept their performance decidedly flat.
Back at the India stage that evening, Fontaines D.C. were in fine form performing the best of their astonishing debut album Dogrel. The Dublin punks channelled the pointed polemics of The Clash on opener "Checkless Reckless". Grian Chatten is an assured frontman: his eyes scanned the crowd, chanting line after line. "The Lotts" turned into a drawn out, meditative post-punk jam before moshing erupted for "Hurricane Laughter". Later, Jorja Smith's stunning voice reverberated beyond Bravo with seemingly effortless prowess even if, at times, her songs blurred a little too easily into the next.
Nighttime rang in the more electronic end of the spectrum, from Channel Tres' deep baritone-filled house bops in the busy X-ray tent to Honey Dijon's thrilling cross-pollination of techno, house and thumping electro at Bravo.
Due to the size restriction of some of the smaller arts stages it became tricky to fit in the best that was on offer beyond the music. A 20-minute wait in the queue for the Grease sing-a-long at Echo had to be abandoned; likewise with the epic demand to watch some of Sexyland's circus performance shows. Suffice to say, the music programme was enjoyed well into the wee hours.
Ask anyone at the festival who they were most looking forward to and the answer was invariably Billie Eilish. The 17-year-old superstar in the making had an afternoon slot at main stage Alpha but could well have topped the bill – what with pulling in one of the biggest audiences of the weekend.
Her hit "Bad Guy" had the crowd in rapture from the get go with punters relishing the opportunity to shout "duh" before dancing to its horror-themed refrain. "Scream as loud as you possibly can," Eilish beckoned her fans mid-way through gloopy bass track "You Should See Me In A Crown", to which they willingly obliged. Her onstage confidence and near-flawless vocal delivery is impressive considering that she's still a teenager at the start of her career. "Bury A Friend" was turbo-charged for the live setting – all stomping beats and Eilish adding in banshee wails. She really blew the roof off Alpha's hangar-like stage; everyone talking about her for the rest of the day.
Tucked away in the India tent straight after Eilish was Sharon Van Etten. A modest crowd gathered for what turned out to be an incredibly visceral performance by the NYC-based songwriter who gave tracks from her excellent new album Remind Me Tomorrow a thorough airing.
Van Etten is the kind of musician who lives in every word she sings, which makes the experience of listening to her tales of love, loss, abuse, jealousy, nostalgia and everything in between feel rather overwhelming. The Springsteen-indebted desert rock swag of "Seventeen" was a crowd favourite. So was her '80s synthpop single "Comeback Kid". But it was the warped jazz and woozy ambience of "Memorial Day" as well as the raw, ripchord power of "Hands" and Tramp oldie "Serpents" that provided the biggest emotional release. Fans will likely have been disappointed that she didn't play the mammoth "Your Love Is Killing Me" from her 2014 album Are We There but it was still a standout performance of the weekend overall.
Time afforded a swift glimpse of IDLES' feral set (and their usual circle pit mayhem) before heading over to Alpha for the inimitable Anderson .Paak & The Free Nationals. No other act this weekend executed their material with such mastery. The drumming – from .Paak himself to his backing percussionists – was particularly tight, which intermittently caused howls of joy and admiration from eager audience members. "Come Down" quite literally had the crowd down on the ground gyrating to its bulbous beats and funky basslines. The extended jamming on "Am I Wrong" and "Lite Weight" at the close kept the late summer dance party alive as the sun set over the lake.
Twenty One Pilots later put on a headline show to please die-hard fans by eschewing – in parts – some of their bigger hits. "Stressed Out", arguably the Ohio duo's most famous song, was placed slap-bang in the middle of their set. This meant that things peaked a little too early for casual followers of their music. No effort was wasted, however. It was a blistering performance of songs from the cult stars' back catalogue of dub, synthpop and sky high rock-pop jams backdropped by an apocalyptic scene of industrial deitris, blasts of dry ice, and an actual flaming car.
Lowlands played a very smart game by leaving some of its stellar acts for the last day (Sunday). James Blake, Franz Ferdinand, A$AP Rocky, New Order and Tame Impala were stacked one after another between the Bravo and Alpha stages from 5pm onwards. And due to the festival's efficiency and compact size, you could easily see all of them.
James Blake's early slot didn't quite suit his repertoire of shifting, nocturnal electronica, save for the more accessible songs from his kaleidoscopic fourth album Assume Form. Despite a somewhat weary crowd, the London-based soloist performed with a confidence that was formerly devoid of his live shows. In-between-song banter and crooning into the mic adrift from his keys set-up on songs such as "Can't Believe The Way We Flow" meant that, at last, he was an engaging performer.
After a 15-minute wait in which the audience was subjected to a tedious medley by her hype man/DJ of other artists' songs, London grime act Flohio took to the stage at X-ray to spit ferocious bars. Flohio's talent is undeniable and her energy is infectious but there was little variation in the set to keep the crowd fully attentive. Up next at X-ray was Tirzah and her experimental, lo-fi R&B. Sadly, the show never really took off, except for "Do You Know" when her two backing musicians-producers interlocked their vocal patterns to create hypnotic choral chanting.
A quick pit stop for Currywurst near the festival's lakeside wellness area preceded an explosive set by A$AP Rocky. The threat that the American rapper-singer wouldn't make the festival due to his assault case in Sweden hung heavy in the days prior to his main stage performance. Thankfully, fears were allayed with his conviction and subsequent suspended sentence, meaning that he could hop on over to Holland. Among the highlights was his Skepta collaboration "Praise the Lord (Da Shine)", with what felt like the whole crowd bouncing to its scuttling beats and pan-flute melody. At Rocky's request multiple circle pits were formed, which saw revellers including teens to grandparents flailing their arms around and hauling makeshift flags.
Later, New Order proved that nearly 40 years performing in front of the world makes for a staggering live show. The Manchester legends attracted one of the most diverse crowds in age at the Bravo stage. Standouts included "Plastic", which was buoyed by a dazzling light show, and the all-out rave of their groundbreaking 1983 electronic dance record, "Blue Monday". A punter nearby said the whole weekend could have been soundtracked by that song. Happily so.
Topping the bill on Sunday night were Aussie psych-pop rockers Tame Impala. Clearly, the whole festival wanted to get lost in the band's heady soundwaves since there was barely a free inch to stand in. Frontman Kevin Parker was overjoyed by the crowd who looked "so beautiful". He thanked them for being the "best audience" with which to end their summer festival stint (bands always say that though, don't they)?
A Currents-heavy set – although one that wasn't lacking in material old and new (recent singles "Patience" and "Borderline" were played) – was lapped up by an audience who'd obviously come to discover the Perth rockers' music later on in their career. Momentous set opener "Let It Happen" was all confetti cannons and build-and-release whig-outs, while Lonerism's "Elephant" brought a communal, glam-rock stomp to the festival.
At the encore, funk pop ditty "The Less I Know The Better" threw fans into a frenzy before the brooding "New Person, Same Old Mistakes" closed the show. The band's bizarre choice to wrap things up with this subtle Currents track is nothing new (the same goes for their rather unchanged setlist over the years), however its extended live outro with thunderous drum fills, swirling electronics and Parker's knotted vocals truly was a thrilling spectacle.
Lowlands surpassed expectations in almost every aspect across its three-day run. An even meatier music line-up may have actually been detrimental to absorbing what this vast and accomplished festival has on offer. A return visit is definitely on the cards.