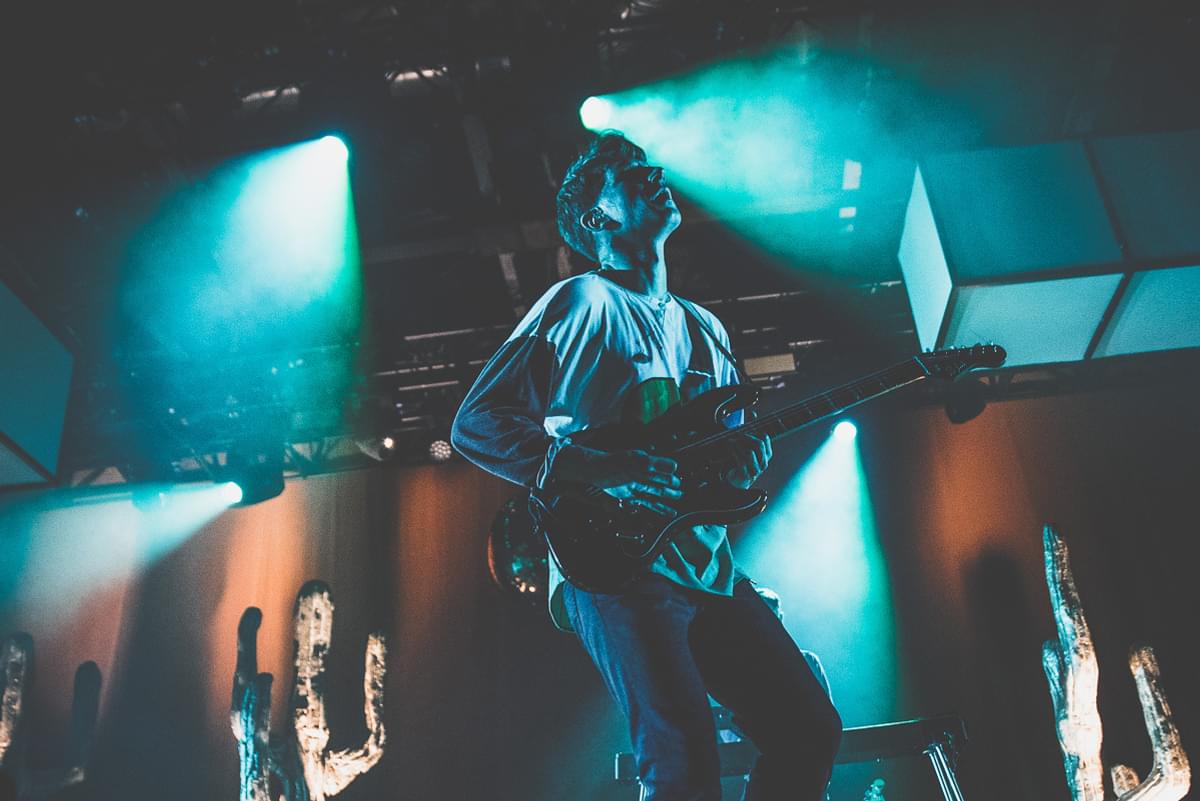 The Only Way Is Up: Glass Animals live in Bristol
Part of Glass Animals' early appeal hinged on the perfect replication of the sweltering technicolour layers presented in their EPs and debut album ZABA.
The Oxford outfit slithered into intimate venues and set up pop-up jungles, with mist belching from the stage and balmy wisps of magic oozing from each speaker. Each show was hot and sticky and drenched in mystery, with the band leering out from behind smoggy shrouds – Glass Animals felt like a band who could fizz into existence and fade into the undergrowth with no warning.
So how, with America broken into smithereens and a second full album of to-the-rafters belters, do they make cavernous venues feel the same? Do they? Does it matter? Now that Glass Animals have a devout following in the vein of The 1975, with a line of sold-out venues to match, where does their magic come from?
Strangely, and seemingly inexplicably, they do everything the same. Okay, not everything, but for the most part the group remain lurking with wide neon eyes in the lush thicket of their ZABA era – it's true that LP2 How To Be A Human Being sees them reconnect with civilisation (indeed, Dave Bayley's extraordinary levels of energy and confidence are something to be envied), but they're not giving it all away. There's still plenty of intrigue.
At Bristol's O2 Academy they fill the stage with wires and lights and instruments and props (hello giant cactus), cramping the space so that each of Bayley's rubber-limbed movements is like pouncing from a secret nook. Even in the fairly large venue, and presumably others up and down the country, Glass Animals offer a rare intimacy and connection with the crowd. Older jams are still the same gluey gems that creep up and into your soul, latching on with big hooks and threatening to never let go – rhythms are amped up with a jolt of juice, and there's a party-starting vein that can't be ignored, but the music's alterations run parallel to their stage presence in that while lots is beefed up, the intrinsic, mystifying core remains.
While ZABA tunes pepper the proceedings to huge effect – the peanut butter vibes are in no short supply – it's How To Be A Human Being's mammoth tracks that elicit the biggest reactions. Every number is sung back louder and prouder with primal fervour, frontman Bayley dropping out to admire the tribe at points. "Life Itself" is a resounding storm; "Youth" is a charmer of leviathan proportions; "Season 2 Episode 3" features the gang's weirdest lyrics of their career (so far) served up like lifelong mantras. Finalé and current single "Pork Soda" is jury-rigged with an extended psych-pop freakout at the end that strikes boogie fever into all comers.
Some early faves are conspicuously absent – "Psylla", "Exxus" and "Cocoa Hooves" among them – but that's an unavoidable side effect of having two albums (plus extra) of solid gold. With replacements like hard-hitting anthem "Agnes" in the mix (a future festival closer if there ever was one), the blow is certainly softened.
Glass Animals' unstoppable, indomitable rise left room for concern that they'd be sanitised and bleached of all personality as they stepped up to major venues – but we needn't've feared, not in the slightest. Glass Animals step up and step out as the most brilliantly bizarre popstars this country has to offer; the only way is up.
Get the Best Fit take on the week in music direct to your inbox every Friday