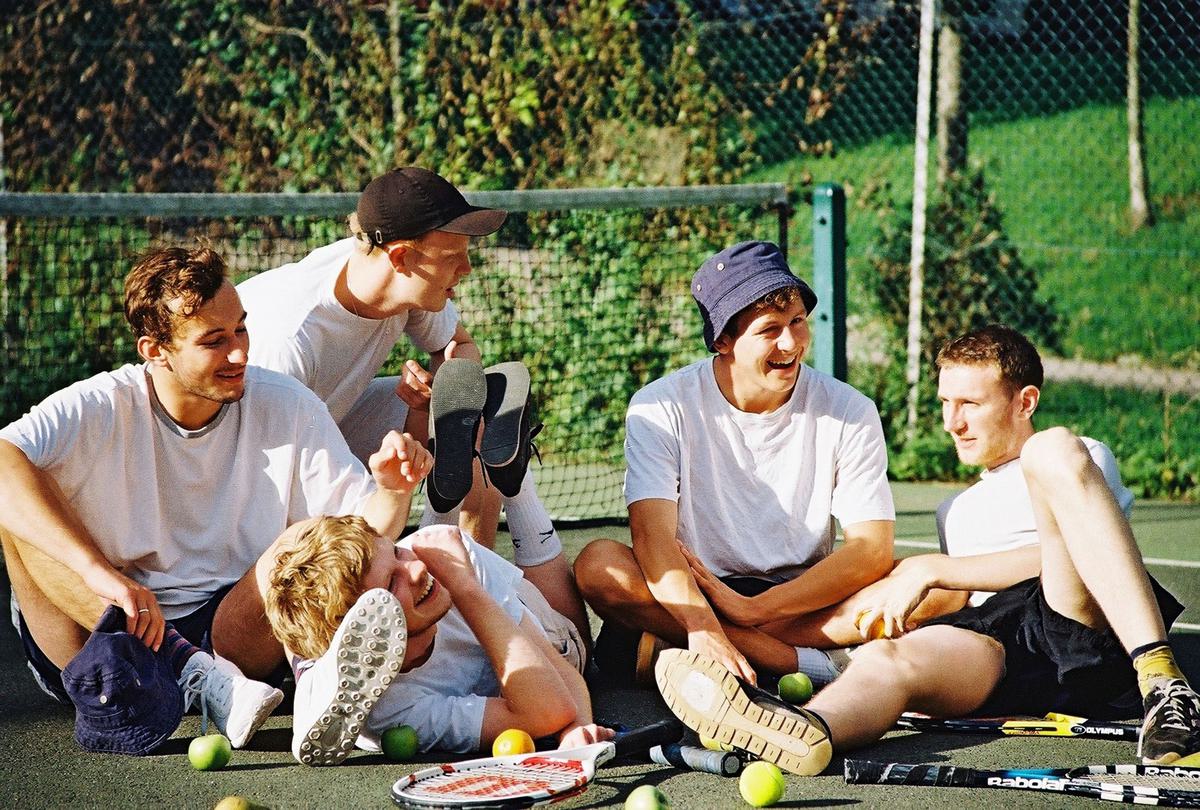 2019 is gonna be a "large one" for Squid
Moe from The Simpsons, a healthy immune system, classic PC strategy games, and pickled eggs: Squid let us peer into their world ahead of their sold-out show at our new music festival, the Five Day Forecast.
Brighton-born bunch Squid grind psyched-out math-pop, '70s post-punk, and a dash of David Byrne into a cosmic paste on tracks such as "The Dial" (released through Dan Carey's Speedy Wunderground) and "Terrestrial Changeover Blues (2007-2012)". The quintet, who've drawn lofty praise from the likes of Stereogum, DIY, and Clash already, are a formidable live force preaching their existentialist sermon to baying masses through a filter of rage and sweat and wonky guitars, with caramel-gloss hooks dashed against agitated, abrasive anguish. Squid are a captivating presence and quite unlike anything else emerging from the UK right now: miss them at your peril.
Check out "The Dial" below and read the Q&A with the band afterwards.
Could you introduce yourselves for us please?
We are Squid, but individually we are Anton, Arthur, Louis, Laurie and Ollie. We're best friends and love each other very much.
What do you try to do with your music and how do you achieve this?
Trying to make people dance. We try and do this by playing faster than are bodies allow us to. Sometime soon Ollie will have to just have to admit he will never be as good as Morgan from Black Midi.
Can you tell us what musical and non-musical influences have shaped your sound?
We're going to pick one musical and non-musical influence each.
Musical
Arthur: Bach
Anton: Age Of Empires II opening theme tune
Louis: Age Of Empires II opening theme tune
Ollie: "Club Foot" by Kasabian
Laurie: "Adagio For Strings" by Tiesto
Non Musical
Arthur: Not getting Norovirus
Louis: The Matrix
Laurie: Moe Szyslak
Ollie: Pickled egg and a bag of Golden Wonder crisps
Anton: Age Of Empires II anti-cavalry units
What should people expect from your Five Day Forecast show?
Some new songs!
What are you working on now/next?
Doing some demos, planning our next release, and ready to do some shows in Europe and America.
How is 2019 shaping up? What are you looking forward to this year?
Really looking forward to recording some new music and going to SXSW. 2019 is certainly going to be a large one.
Gently Tender play our new music festival on 18 January with Our Girl, Black Country New Road, and
Gently Tender
at The Lexington, London.