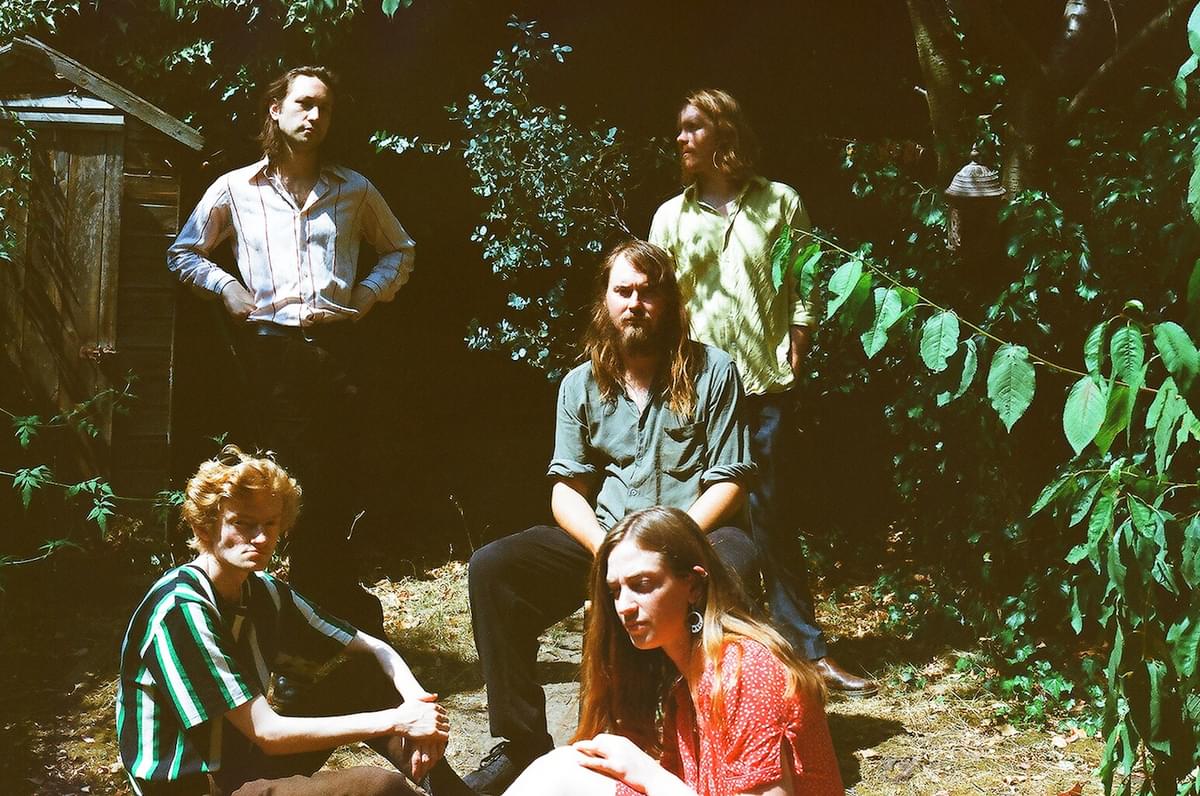 Gently Tender want to bring back "something that we feel has been missing in modern pop music"
London-based fivesome Gently Tender reveal their manifesto and inspirations ahead of their sold-out show at our new music festival, the Five Day Forecast.
Gently Tender are just two songs deep into their career, officially at least, but they're already clearly a group to have at least one eye trained on. Sam Fryer, Pete Mayhew, and Will Doyle (all formerly of Palma Violets), plus guitarist Adam Brown and The Big Moon's Celia Archer, have aired grand, sprawling statements "Avez-vous déjà" and "2 Chords Good" - the former a swelling slab of inclusive pop-rock that Arcade Fire might've made if they were playing Woodstock in '69, the latter a Pulp-esque escapade encrusted with warped nods to classic psych. Despite the obvious throwbacks, Gently Tender's offerings are remarkably refreshing - with frontier-pushing ideas sidled up alongside the vintage threads.
Watch the video for "Avez-vous déjà" below, and read the band's Q&A after.
Could you introduce yourselves for us please?
Hello we are Gently Tender; we are from London. We consist of five members Sam Fryer (guitar/vocals), Peter Mayhew (bass), Will Doyle (drums), Celia Archer (keyboards), and Adam Brown (guitar). In the music of Gently Tender we want to achieve a style of music that is beautiful and soulful but also tough and brooding.
What do you try to do with your music and how do you achieve this?
There are elements of many genres in our music but we believe soul and folk music are the core foundations of what makes this band what it is. Our aim is to bring back something that we feel has been missing in modern pop music for a very long time. Something that is innate within us all but needs reawakening. We feel that our music focuses on a primal energy and its power lies in the fearlessness of baring yourself emotionally and 'laying your neck on the line'. Most importantly not being afraid to show frailty. And this is what we feel is the true meaning of 'soul'.
Can you tell us what musical and non-musical influences have shaped your sound?
Our musical influences mainly come from the 1960s. The Incredible String Band are a folk group who through their music have a deep connection with the land and spirituality. Much more so than other folk bands around that time. Their song "Gently Tender" is what inspired our band name. Their 'gang' harmonies are so timeless and have directly inspired the backing vocals in our band. Another band that we take inspiration from are Love. Arthur Lee for me is the personification of soul in attitude and in spirit. His albums rock you to your very core. And like The Incredible String Band, although essentially a modern '60s pop band, they are retelling a story which has been told for centuries. Something very ancient and primal. Arthur's music is beautiful and soulful but also tough. A style similar to what we want to achieve with Gently Tender. A few other bands include Spiritualized, Tindersticks, The Fairport Convention, and Julian Cope.
Non-musical influences include walking in the countryside at night and looking for historical landmarks.The feeling of not knowing or being able to see what is round the corner and the feeling of being lost in the wilderness are experiences that to inspire me in my songwriting .
What should people expect from your Five Day Forecast show?
I think people can expect to have fun at our Five Day Forecast show . A Gently Tender live performance consists of a wide variety of emotions. All our songs are very different from each other. Sometimes at our shows you will get the feeling that you are at a music festival on a space ship taking a tour through Saturn's rings.
What are you working on now/next?
We hope to be releasing our next single in the middle of January. And we are just finishing writing our album currently.
How is 2019 shaping up? What are you looking forward to this year?
We have just finished our first UK tour. Which was tremendously exciting. We have now finished playing live for 2018. Our next show is the Five Day Forecast show. Then we headline Oslo in Hackney on 6 March. Next year we are planning to play some festivals in the UK and Europe. And release many more songs.
Gently Tender play our new music festival on 18 January with Our Girl, Black Country New Road, and Squid at The Lexington, London.
Get the Best Fit take on the week in music direct to your inbox every Friday