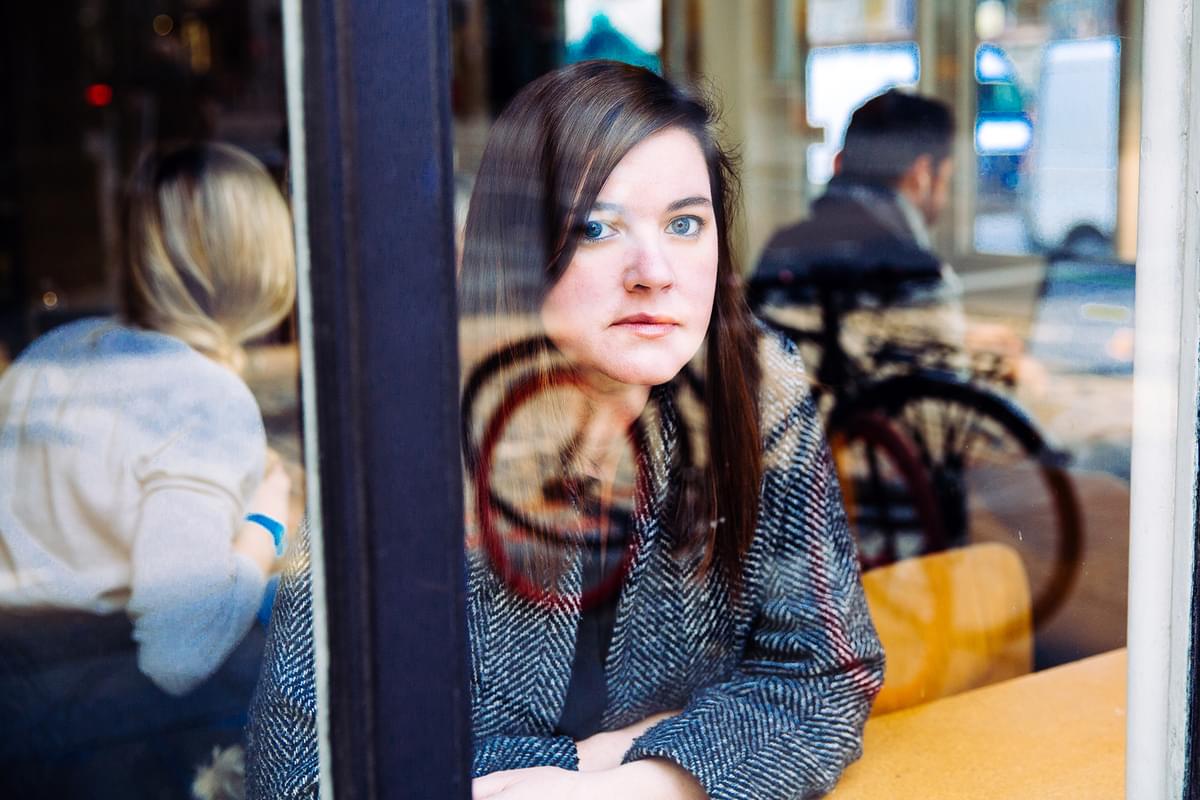 The Balance of<br>Will and Want
09 May 2016, 09:00
Will finds Julianna Barwick entering a new phase of creativity, driven by experimenting with extremes alongside cosmic serendipitous intervention, she explains to Paul Bridgewater.
I meet Julianna Barwick on a sunny afternoon in Ponta Delgada, the capital of the Azores. We're about 2,500 miles from her home in New York and 1,500 miles from mine in London, stuck on a volcanic island in the North Atlantic.
Barwick's new album Will is released this month. Her fourth long-player, it follows 2012's Nepenthe, the record she recorded in Iceland with Alex Somers (Sigur Rós, Alex and Jónsi). Aside from a handful of collaborations, it was her first experience where other musicians were part of the recording process and her first outside of New York. Nepenthe saw the likes of múm guitarist Róbert Sturla Reynisson and Amiina joining Somers and Barwick in Reykjavík and the resulting record saw her, in part, channel the grief from a recent death into a creative career high.
The success of Nepenthe sealed Barwick's place as one of the most innovative and exciting musicians working in modern experimental music. That was almost three years ago and the value of that experience still resonates with her. "With the Iceland record, it was like: here are your dates, you're going to Alex's everyday [but] I'd never had a producer before," she tells me. "I couldn't just fiddle around. We were making a record. I didn't go over there with any demos so everything was made when we were there.
"I wanted to return to my hermity, bedroom record-making roots [but] I always forget that I don't like being alone for more than a day."
"It was busy but nothing was compromised. Even the Pacing EP was made up of Nepenthe B-sides. We made so much stuff! The partnership of Alex and me was a match made in heaven. We emailed for a year before I even went over there. I met him a couple of times in New York too. I had a good feeling about it, 100 percent of the time. There wasn't a flicker of conflict. He was the first person to be a partner in my music."
Will is a different beast altogether. A record that distills a year of her life, it was put together in three very different places. Beginning in a friend's house in upstate New York, Barwick then stopped off at the Moog Factory in Asheville, North Carolina before finishing off the album in Lisbon.
"I was at my friend's house by myself for a week," she says of the record's origins. "I brought all my stuff and I was starting to feel the pressure. Nepenthe had been out for a while and I needed to make a record. I went up there in February last year. It was really cold, there was lots of snow and I thought it would be really romantic to go up there by myself.
"I wanted to return to my hermity, bedroom record-making roots [but] I always forget that I don't like being alone for more than a day. It was totally isolating and I was counting down the hours towards the end for my friend to come and take me back to Brooklyn."
She kept her sanity by taking long walks everyday, grounding herself in some of the routines of Brooklyn life: "There was nothing to walk to, but I didn't have a car...I needed that standard hour of walking. You probably walk about an hour in New York every day and I needed that exercise."
"I said to myself: Why do I always do this to myself? I never want to be alone and then I think it's like this novel romantic idea to do."
Initially dismissing the work from that first writing and recording session ("I thought it was worthless and I didn't like anything I'd made there," she tells me), she finally found its value after decamping to the Moog Factory. "I already knew a couple of the Moog guys from factory tours when I was in Asheville," she says. "They're the nicest people in the world. They had me demo the Mother 32 (Moog's first tabletop semi-modular synthesizer) and said they'd give me one when it came out."
After playing a spot at the FORM festival in Arcosanti, Barwick experimented with some ideas at the Moog soundlab. Returning to Asheville, she recreated some of the ideas she'd had alongside her output from New York. "It started to make sense, it started to come together," she explains.
"The three different places that I recorded in...they were like different seasons, different places, different emotional ties to each place, different life circumstances..."
The remaing fifty percent of Will was created in Lisbon, 900 miles away from where we meet. Barwick is in the Azores to play at the third edition of Tremor, one of the most unique small festivals in the world. Tremor was set up to revitalise the city of Ponta Delgada, São Miguel through a unique experience of music and creativity. By pushing together international artists with Portuguese bands and local musicians at Tremor, a spirit of collaboration is encouraged. It's something Barwick can relate to. She has a very special relationship with Portugal. Many years ago, while searching online for news about Panda Bear ("I'm still a huge Panda Bear fan", she tells me), Barwick discovered Portuguese radio show Má Fama. After adding it to her MySpace friends, she was contacted and asked to do a session. It was the start of a lifelong relationship with the Portuguese capital.
"Lisbon is maybe my favourite place on earth," Barwick enthuses. "It's where I got my start. I spent ten days there back in 2007…Sergio from Má Fama set up a few shows, some national radio and then he posted some of my music on his website where he was interviewing people and having them do live sets. Someone in London heard it the stuff he'd posted and asked me to come to London too. I'd played maybe five shows in New York and I just went over there with a suitcase to London and Lisbon for three weeks."
The Lisbon connection helped break Barwick to a European audience but for her, the impact was significantly more personal: "I just fell in love with the people and the city and I was heartbroken the day I left," she shrugs, almost at a loss to explain why. "I've been back six or seven times now, I think. I have so many emotional ties there and some really great friends. I got my start in music - as in doing it for real - in Lisbon."
Julianna Barwick was born a long way from Lisbon. Raised in Lousiana until the age of five, her family moved to Missouri and then, two years later, to Oklahoma. Her father was a youth minister and a childhood of summer camps, singing and church choirs helped uncover her vocal talent. An obsession with reverb gave focus to her creative direction and the formative DNA of Barwick, the artist.
"In a way, Will seems sort of disjointed but it's just where I was at during those different points of last year..."
As a teenager at college she would sing in carparks, bathrooms and stairwells, fascinated by the way her voice would carry and echo. Barwick's first record The Magic Place was, in her own words, a search for the "perfect reverb". A dense follow-up from the debut Sanguine and Florine EPs, it saw a release via Sufjan Stevens' Asthmatic Kitty label. Some critics noted a sonic link to Björk's Medulla and Sigur Rós so hooking ups with Jónsi-collaborator Somers for its follow up, Nepenthe, wasn't a surprise.
Will isn't entirely a closed book in terms of collaboration although Barwick took a more controlled approach to the record's contributions. Mas Ysa's Thomas Arsenault sent guest vocals for two tracks while Dutch cellist Maarten Vos contributed strings and, on the album's bombastic and deliberately jarring final track "See, Know", the drums of Tanlines/Chairlift percussionist Jamie Ingalls dominate.
"All three of those things were like little dreams I always had," she confides. "I always wanted a male voice on one of my songs. The second thing was cello. The third was to have someone rock out on the drums to a song. All three came true with this album. I had help from my dudes."
As Barwick explains, it wasn't just the Lisbon environment that instrumental to Will's completion but its people. She talks fondly of the friends she's made over several trips to Portugal. Joaquim Albergaria, one of the two drummers from Portuguese experimental psych-band Paus, she met almost a decade ago. That relationship was pivotal to finishing Will.
"Paus had just finished setting up their studio the day I arrived," Barwick tells me. "They named it Haus! I just needed a soundproof room with a piano and they were like 'cool, here's the room, piano and keys. We're going to Madeira tomorrow, do what you gotta do.'"
"Lisbon is maybe my favourite place on earth - it's where I got my start..."
What Barwick found in the studio was both startling and perfect: Sufjan's piano. "He left it there on the last day of his Age of Adz tour," she explains. "I made The Magic Place in Sufjan's little office/practise space. Everything on The Magic Place is Sufjan's piano. And here I am in Lisbon and it's Sufjan Stevens piano! Is this for real? The fluorescent electric tape was there, there was confetti in the strings...."
In a nod back to her days singing in college stairwells, she recorded the vocals for Will's opening song in the train underpass between the studio and the grocery store. The song, "St. Apolonia", is actually named after the station there, she tells me: "[it] was a long marble underpass, under the train station. I would sing in it every day and one day I just decided to record in it. Maaren sent the cello parts for it."
Hearing the songs from Will live is predictably transcendent. A day before we talk, Barwick plays the standout set at Tremor in the confines of the tavern-like Solar da Graca venue. "I hadn't played a show in months until last night," she tells me. "I played so many Nepenthe shows - at least 125, maybe more. My relationship to those songs has really changed.
"With the new record I only recently figured out how to do 'Nebula' and 'St Apolonia' live."
The venue was strange, I remark. It felt more like a Bavarian beer hall, the kind of place where you'd get organised to stage a coup against the local government.
"I get really excited when it's a big, giant room," she says, "but I'm creating the space artificially with all the reverb I use so based on the size I know I'll have to dial it back. Last night the speakers were behind me so you have to be mindful of the loops. I wasn't using monitors last night, that's a whole lot of sound to be picked up on the loops. But I can play any place as long as the system is decent and things go wrong in the soundcheck."
Pitchfork once described Barwick's music as "very intimate but also anonymous" and it's tempting to see Will as a subversion of that. What's changed, however, is her skill to biographise in the abstract. It's an album that reaches the listener with more clarity and resonance than anything she's ever done and yet we're no closer to Barwick than we ever were.
"The three different places that I recorded in...they were like different seasons, different places, different emotional ties to each place, different life circumstances," Barwick theorises out loud. "In a way it seems sort of disjointed but it's just kinda of like where I was at during those different points of last year."
She views the circumstances of Will's creation as something serendipitous rather than by design: "It's cosmic, it's meant to be and I'm into that shit. It's hippy dippy, yes. All these little funny things."
Will is out now via Secretly Canadian. Get it on iTunes, Amazon or Spotify.
Get the Best Fit take on the week in music direct to your inbox every Friday