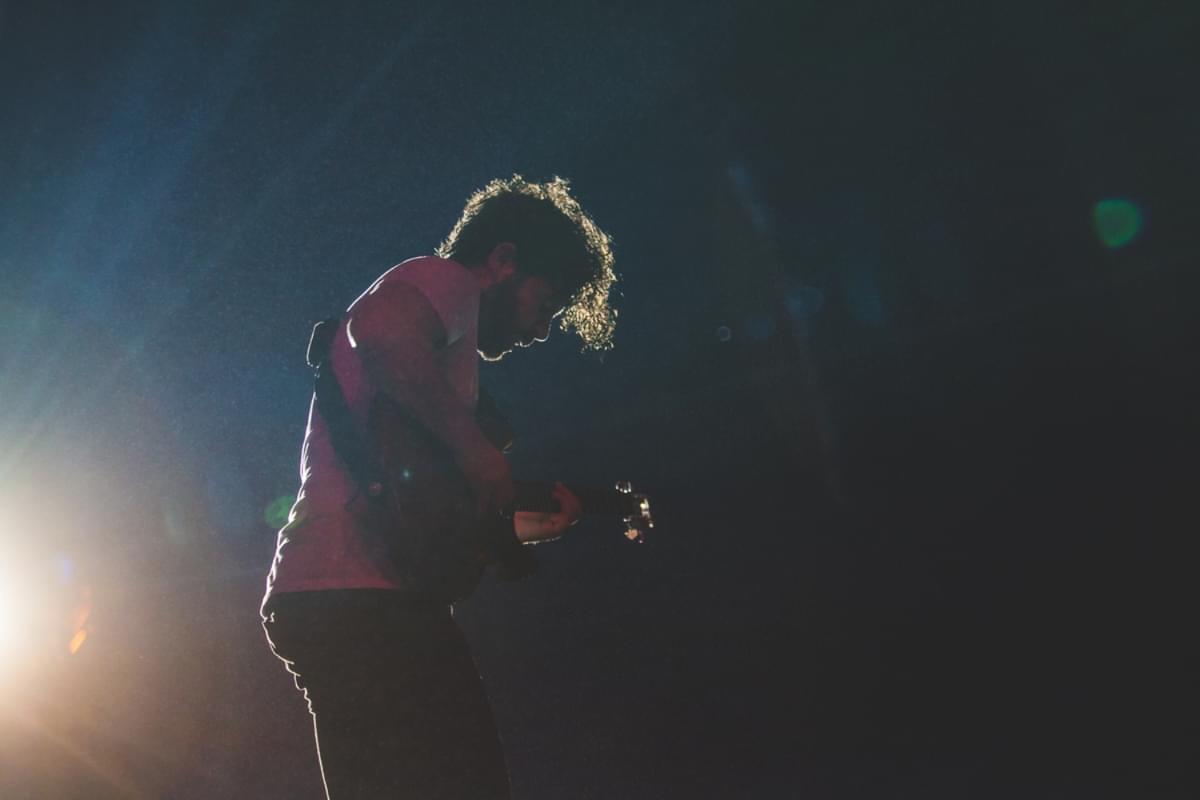 Kicking Against Oblivion
02 September 2015, 18:10
Foals have made their name from envelope-pushing creativity and an unparalleled work ethic. As new record What Went Down takes the band to new levels of invention, frontman Yannis Philippakis talks about resilience and reward in music.
"You need to understand that if you're musician and you go out on tour, it takes its toll on you - quite right too," Yannis Philippakis says from an East London hotel balcony. "I fucking love that we get to go and experience the oblivion of the road.
"It's psychologically taxing but don't you want it to be? I want it to be," he bites with a rhetorical tongue, his arm shielding his face from the blinding sun. "If it was easy there would be nothing in it. People destroy themselves for their art, for their calling. I don't wanna come back spick and span and soaped up and well-rested after a tour. If you can't hack it, don't do it."
Philippakis refers to musicians who complain of the tolls of touring. "It's a blessing to be onstage", he says. "There's so many people who would kill to be doing what some of those whingers are doing."
It's this somewhat alarming, can-do attitude that has served Foals so well in their career. Take, for instance, last summer when the Oxford-bred band let barely a month pass between their Bestival headline slot (marking the end of the worldwide tour of their third record Holy Fire) and writing songs for their new album, What Went Down.
"You have to throw yourself into things," Philippakis explains of the band's productivity. "I've got no time for people complaining about being on tour when they're making a living from their art."
Clearly, Foals just buckle up and get on with it.
The writing process for What Went Down was conducted largely in Oxford in the latter half of 2014, immediately following the success of Holy Fire, which reached an impressive number two in the UK album charts. Foals have a relentless energy; they never seem to tire of the process. Or at least that's the case for Philippakis.
"I never thought I'd still be doing this. I thought either it would be taken out of my hands or I'd get bored or something. I haven't yet and I think part of it is being enthralled. I just love being onstage."
Philippakis is talking about Foals' unforgettable headline set at Latitude in 2013. "The best shows are the ones where we're really no longer ourselves at all and we're all part of this throbbing, communal electric pulse. It felt like that at Latitude and I'm hungry for that feeling again."
"I fucking love that we get to go and experience the oblivion of the road"
That hunger is more than evident on the album's lead single "What Went Down", spitting out the seismic riffs that characterised much of Holy Fire and brought a revived energy to their live shows. But Philippakis is quick to point out that What Went Down isn't Holy Fire's big brother. "It definitely has bits that are most direct and aggressive, but it also has bits that aren't at all." The taps were on to write a "gut-driven, instinctual" record but this hasn't spawned a wholly primal record, much like the previous.
What Went Down is in reality a mixture of all their albums to date. New single "Mountain At My Gates" has the undulating pop pulse of Holy Fire's "My Number". Many of the mid-album tracks sport the darting, fidgety guitar lines that characterised their 2008 debut, Antidotes; a math rock-inspired gem that shone bright among late-noughties bands still churning out landfill indie. Album closer "A Knife In The Ocean" boasts cinematic grandeur not unlike "Spanish Sahara" from their their second album Total Life Forever.
What Went Down is sort of 'best of' minus the tedium of familiarity: ten fresh tracks that showcase the band's knack for intelligent, inventive and heavily-textured guitar pop.
Despite the unparalleled excitement felt when pressing play on What Went Down, it would be foolhardy to attest on a few listens that this is the band's opus magnum. It is, however, hard to imagine a more definitive Foals record.
"I feel like it's the album where all the different tangents of the sound that we do is in best focus," Philippakis says.
"We just wanted to make something that was sincere and powerful and urgent, that was better than what came before it and better than what else is out there - make a record where it expresses exactly where and who we are right now."
This desire was helped no less than by What Went Down's producer James Ford who let the band listen to their gut during the recording in Provence, France.
Philippakis says Ford was a "transparent presence", unlike Holy Fire production duo Flood (Depeche Mode, Sigur Rós) and Alan Moulder (Foo Fighters, The Killers) who were arguably more invasive, tricking the band into capturing the primitive sound they wanted by secretly recording their rehearsals.
"James didn't want to dominate on the new record," Philippakis explains. "He didn't come in with a big idea. He has a workmanlike, very professional attitude, to be decisive, to be the best version of the song in its recorded version.
"We went into the brain forest on Holy Fire - boiling up bones and wallpapering the walls with voodoo posters - and on this we were into the clearing, more clear-eyed. And some of that was to do with James."
The compulsion to write the new album so soon after the embers of Holy Fire and touring died down is something Philippakis says he cannot give a reason to, but he does cite his move to London as a potential muse.
"I like being able to disappear into the city and with Oxford it got to the point where I had been to every bar"
Foals have spent much of their career in Oxford where the five members (Jack Bevan, Jimmy Smith, Walter Gervers, Edwin Congreave and Philippakis) met through different schools and local bands. It was very much their proud stomping ground ("we had a kind of DIY pride and a disdain or a silent rivalry with London") until Philippakis started to feel exposed after living there for so long. "I like being able to disappear into the city and with Oxford it got to the point where I had been to every bar."
It meant upping sticks for the big smoke a year and a half ago - what Philippakis calls a necessary though not easy move. "It took me about a year to fall in love with London. At first I just thought it's too busy, too many people. But it's grown on me now. I've started to fall in love with its cultural mixing pot and the way that it manifests into amazing music."
He admits part of the reason for initially disliking London was due to the "baggage" left from being among other exciting Oxford bands. Many of these acts formed Blessing Force : a collective of local musicians set upon supporting one another in the industry. "It's easier to do it together than do it alone", Andrew Mears of Pet Moon (and former Foals bandmember) once explained of its ethos. Also an independent label, Blessing Force today counts Chad Valley, Rhosyn, Fixers and more amongst it, helping to promote each other's gigs, music and other creative outlets.
Photo by Burak Cingi
"People just need a change sometimes. I needed a change," Philippakis admits. "What I love about London is that I can get lost in it. On a day off I might decide to book a flight to Greece or go somewhere in London I've never been before and take a book with me."
Philippakis' need for escape isn't restricted to London, however, as he flies over to Greece at least once a year. This is to see his Greek father who split from his South African-Jewish mother when he was five.
After recording What Went Down, Philippakis took a trip to the ancient Greek ruins of Mycenae to learn more about his second home. But it did little to distract him from Greece's financial ruin; the pillars of stability sinking into the sand like the country's strongholds of yore.
"You can't avoid the crisis. The whole social fabric's been destroyed," Philippakis begins to rant articulately, staring across the hotel balcony into the city's towering financial district.
"Without labouring the point it's essentially on the verge of being a humanitarian crisis. There's no medicine in the pharmacies, the supermarkets are relatively bare.
"It's hard to empathise from here but you need to imagine what it's like to go to the cash point and not be able to access your savings or your money or know if ever you will. It's incredible destabilising psychologically for people there."
He reveals that his father, once a busy architect, has struggled to find work for a few years. His cousins remain unemployed.
"To watch a country's structures of state and its democratic power be stripped away and to see that actually a lot of what we believe in is a veneer reaffirms that really what controls people and societies isn't any sort of democratic consensus. It's to do with money and power. And the people who have the power in this situation is essentially Germany.
"What's going on now is a kind of economic invasion; it's economic occupation and I think it's disgusting. At the start I was maybe more measured about it. Obviously there were things the Greek state did that were wrong and that's not up for debate. But what's happened in the last few weeks just shows that - I just think, I can't feel ok about what particularly, well what the euro is doing..."
He cuts his thoughts short, visibly annoyed that he has spoken at such length about it. His passion and ire is infectious. Does this anger manifest itself in his writing?
"There's not been a conscious design to discuss the situation in Greece in the lyrics on What Went Down but there's probably a sense of frustration," Philippakis answers. "It was on Holy Fire that I made my lyrics more tangible and direct but I didn't want to repeat that on this record because I found it uncomfortable.
"It was what I was after at that point but on this record I wanted it to be a bit more coded again and less self-aware." He might be politically-attuned, but Philippakis would rather let the music speak for itself, or himself.
It's easy to assume a twice Mercury Music Prize-nominated band with headline slots and top ten albums would crave further success, such as breaking America. Perhaps the most surprising thing about Philippakis, save for his warm character (previous interviews labelled him as "tremendously rude"), is his humility. America is not, he insists, on the band's to-do list.
"There's a preoccupation in Britain that the symbol for great success is cracking America like it's some sort of egg," he says with a furrowed brow. "I like being able to go there and play to people and have the band to be known but I don't really give a shit beyond that.
"To me, the fulfilment I feel in the group is to do with a much more private send of reward that I get for writing music, or dealing with the artwork, or playing the show. It's more small-scale than that. I'm not Napoleon about it."
"I feel like What Went Down is the album where all the different tangents of the sound that we do is in best focus"
In truth, this is quite an unexpected response. For this is a band that seems to grow in popularity year-on-year - from Antidotes' themes of destruction that became a go-to for angsty teens, to the radio-friendly indie dance and stoner rock of Holy Fire that saw them headline festivals. It's feels like Foals can and want to conquer the world.
Much of Philippakis' surprising humility stems from enjoying what Britain has to offer culturally than across the pond.
"I like being a British band. I'm more interested in British than American culture. I didn't have that when I lived in Oxford - I had a desire to look elsewhere.
"When I moved to London I started to see how a lot of that music can only be made in London and a lot of that music is very special. And also a lot of the best music in Britain is not understood in America and I think that speaks volumes about American tastes. I'm interested in British culture in all its diversity - I'm not talking about scones and Claridge's: "I'm talking about modern Britain and it's a fascinating place to be in. It's the right petri-dish for amazing music to grow out of."
"I'm quite content where we are with success," he adds. There's not an active design - we're not necessarily hungry to specifically always move up."
Philippakis again stares into the distance, as if East London's patchwork skyline of grey and graffitied buildings offers him all the inspiration he needs.
"Most of my ambition in the band is driven by an inner competitiveness when it comes to writing music, where I want to write something better than what we've written before. I don't know what's going to happen in the future but if we make another record it'll probably be very different. I feel like this is the end of a chapter."
Foals really do just buckle up and get on with it. If this is the end of the first chapter in their history, we've got one hell of a journey ahead of us.
Correction: an earlier version of this interview contained a link to a Guardian article. We'd like to point out this was erroneous and the article was never specifically mentioned during the interview.
What Went Down is out now via Warner Music. Buy it on iTunes or Amazon.
Get the Best Fit take on the week in music direct to your inbox every Friday