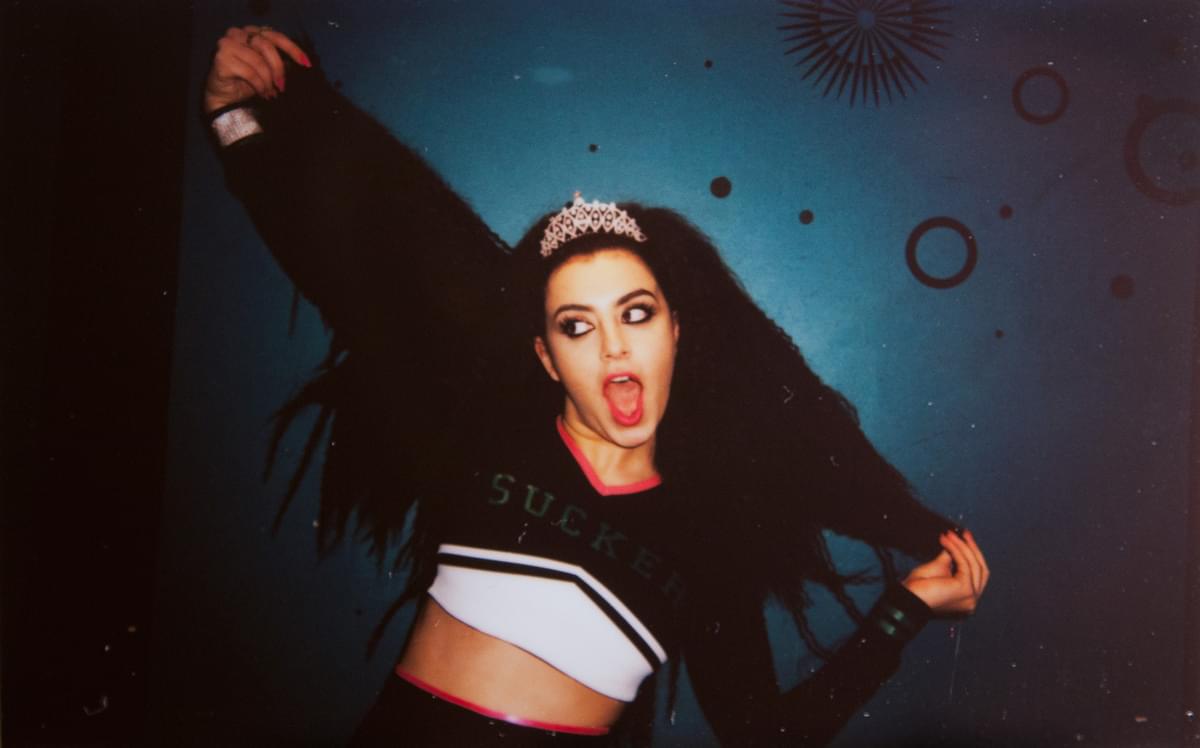 Charli XCX revelas the formula behind twenty-first century popstardom
16 February 2015, 09:30
It's 1.30am on Saturday morning and Charli XCX is stomping across the stage at Heaven - the cheap and cheerful Tesco superstore of London gay clubs - backed by a couple of male strippers dressed like cops from a porn flick.
Her choice of attire is hardly demure either: lemon yellow quilted hot pants and a matching jacket left open to expose her bra - oh, and bright blue sunglasses. The six songs she performs for the tanked-up crowd are brash, catchy and exhilarating: pop music with bollocks, basically.
Charli XCX looks and sounds like your most favourite pop star, the one you actually want to hang out with.
"Do you know what's really good about having some success now?" she tells me the day before in a trendy central London coffee shop. "You can just do all the shit you wanna do. For example, tomorrow night I'm having these strippers on stage and I said, 'I'm not having them unless they have gold star-shaped nipple tassels'. Before, people would never have taken me seriously. But now I can say, 'No, they need to have gold star-shaped nipple tassels because it mirrors the "Doing It" video and even if nobody else notices it, I will notice it and it's really important to me...and now everyone just says, 'OK cool, we understand, we'll sort it'".
"And I'm like, YESSS! Thank God."
"I still struggle with my place in the pop sphere because in my brain I'm not competing with Taylor Swift and Rihanna"
Today, Charli admits matter-of-factly that "I've always thought of myself as a pop star," but now, seven years after she started performing at dodgy raves in east London and songs called "!Franchesckaar!" and "Art Bitch" were posted on her MySpace, it looks as though the rest of the world is catching up. Before Christmas, she sang on iconic US sketch show Saturday Night Live; a gig you just don't get if you're only "popular on the blogs", as Charli became in 2011 when she released "Stay Away" ("the first song I'd ever written that I actually liked"), and to a certain extent still was when 2013's debut album True Romance came out.
"I mean, I've always done things like a pop star," Charli continues. "I've always said things that you're not meant to say. I've always worn stuff that most people would never wear. And I've done stuff like make videos with guns and cheerleaders in them. But I think the public only really sees you as a pop star when the Daily Mail starts taking pictures of you on the street, or TMZ wants to ask you silly questions about Taco Bell, which is what happened to me last week."
Charli got kudos as a songwriter when "I Love It", the track she gave to Icona Pop, became the global smash of 2013, but her own profile only really increased with the release of Iggy Azalea-collaboration "Fancy", a massive pop-rap banger that's now sold over seven million copies worldwide. "Trash the hotel, let's get drunk on the mini bar," she sings on the track's bridge, a classic Charli line, bratty yet aspirational, almost a mini-manifesto. Then came "Boom Clap", a heart-stopping pop song that became a hit single totally of her own, cracking the top ten on both sides of the Atlantic last summer shortly after "Fancy" went supernova.
But for Charli, the turning point came earlier, when she began recording her awesomely-titled new album Sucker in early 2014.
"I'd just had a break-up and I was in this angry, aggressive zone," she recalls with usual gabby candour. "In the past I'd been so worried about pleasing everybody: what people wrote about me and whether people liked my music used to really bother me. And then I kind of realised, what's the point? You're never going to please everybody. It was the most liberating thing because it gave me creative freedom. I'm not afraid to be exactly who I am or say exactly what I want any more."
Because Charli is so chatty and charismatic, I'd feel dickish even trying to disagree with her, but actually, I think she means it. Sucker's first song is the punky blast of a title track, loaded with a chorus that finds Charli yelling: "FUCK YOU...SUCKER!" It's her way of "not so subtly calling out people that I don't like in the music industry". Surely, though, some of those people must have objected to "Sucker" becoming the opening track on what is supposed to be her breakthrough album?
"Yeah, my label wanted it to be the album's last song," Charli admits casually. "They were like...we really think you should have it at the end of the album as a hidden track. But I was like, no, I have to have it at the start because otherwise what's the point? It's just not a track you slot in at track seven, you know?"
While she got her own way, her label generally let her do what she wants anyway, she says. Because she sets up her own recording sessions with other songwriters and producers, "my label don't know who I'm working with, which is great!"
"I've always done most of it myself and that's partly why everything has taken so long," she continues. "I didn't have the support of my record label in the UK because they just didn't get it... ever. And they still don't sometimes. When they heard Sucker, someone at my label said, 'Your album's great, but wouldn't it be better if Wiz Khalifa was on a verse?' I was just like... NO."
"When they heard Sucker, someone at my label said, 'Your album's great, but wouldn't it be better if Wiz Khalifa was on a verse?' I was just like... NO"
The fans who've believed in the marvellous Charli XCX right from the start might presume that someone at her label orchestrated the unlikely collaboration that made it onto the album. When Sucker came out in the US in December, a song called "Doing It" was sung solely by Charli; but for the album's UK release later this month, Rita Ora adds guest vocals and the pair have made a video together so it can become Sucker's launch single. She insists their collaboration came about totally organically after Charli was asked to write songs for Rita's next album.
"I played her "Doing It" ages ago and she really liked it," Charli explains. "And I was like, I'm really sorry, but you can't have it. And then every time I saw her, she'd ask about the song - she was just really, really into it. When I decided I was going to release it as a single, we'd been hanging out a lot because of Iggy [with whom they both released singles last year] and doing the Jingle Ball Tour together in America. So I was like, fuck it, let's do it together. I'm really happy she's on "Doing It" now because I think Rita's a really cool girl, I like her a lot. And also, I think Rita's a staaar, you know?"
However it came about, Charli's collaboration with Rita Ora isn't as incongruous as it initially seems. "Doing It" is probably the album's most straightforward pop song and, at this stage in their respective careers, the pair kind of compliment each other. Rita looks a bit cooler than usual standing next to Charli; Charli seems more like a pop star who's going to get papped by the Daily Mail.
But brilliantly, Charli is also the sort of pop star who'll slag off a track from her album before it's even been released. While explaining how Sucker evolved from a collection of punk tracks written after a break-up, to become the spunky but glossy modern pop opus it is today, she mentions the song "Die Tonight", a catchy power ballad that appears towards the end of the album.
"So anyways, then I did "Die Tonight"..." Charli says before pausing. "And I have realised now that... uh... it's probably not the time to say it yet, actually. But anyways, then "Die Tonight" came..." Another pause. "I just hate that song. There are so many writers on that song and we were all really drunk and fucked up in Sweden when we wrote it. We were like, 'This is a One Direction song! It's gonna be a hit, yeah!' We sent it to their people and they were actually interested for a second, but then it didn't happen. And I was like, 'Don't worry guys, I'll sing it'. And everyone was like, 'Um, are you sure?' But I put it on the album and I was really feeling it for a while. Then the other day, I was rehearsing "Die Tonight" with my band and everyone just burst out laughing. I realised that to play this song you have to do this really douchebag rock move. It's like this swaaaay.
"And also, because the verses are written by Andrew Wyatt from Miike Snow, this guy who's gone through a lot of stuff in his life, who's a really raw, emotional songwriter, I can't help but find the lyrics funny: 'Let's get it started / poolside at the party...' I mean, he wrote those lyrics for One Direction! And now because all these things are in my brain, I realise how ridiculous it is that I'm singing this song. We've had to take it out of the setlist because I laugh whenever we practise it."
"I'm not afraid to be exactly who I am or say exactly what I want any more."
"Die Tonight" is credited to seven songwriters including Charli - the sort of split that leads cynical fans of "real music" to presume pop stars don't really write their own stuff. Because it's well-known that she wrote "I Love It", Charli doesn't really have this problem, but it's a little surprising that nobody ever asks about her songwriting process. What comes up is who she's writing for (Gwen Stefani was her most recent assignment, FYI), not how.
So, how does Charli XCX actually write a pop song? It depends, she says, on who she's writing with. "[Norwegian production team] Stargate work how I imagine Andy Warhol used to work: hi, go in, sing, done. Literally they'll play me like five beats, I'll sing over them one by one, then go. The next day I'll come back and put lyrics to the stuff they like; the stuff they don't like gets chucked away. But those songs aren't usually for me; they're for other artists."
Charli says it's different when she's working with "her friends", people like Patrik Berger, the German songwriter-producer with whom she made "I Love It". "We'll either be at Patrik's studio in the city or we'll head into the Swedish countryside to write. Sometimes it's just me and Patrik, sometimes there's, like, ten people there - people like Andrew Wyatt or Pontus from [production duo] Bloodshy and Avant. We all set up studios in different rooms and just walk around writing songs. I don't, like, sit down with a guitar and write a song, unless Patrik really wants me to do that. But generally I just get on the mike and shout out things and over about 20 minutes it will form a melody. Sometimes it's really good, like "Fancy". And sometimes it's really... bad."
Towards the end of our conversation, Charli says she never wants to become so consumed with being a pop star that she loses time to write for other artists, or to "take a month to go and form a band with my friends and make loads of stupid videos that nobody ever sees".
"I still struggle with my place in the pop sphere because in my brain I'm not competing with Taylor Swift and Rihanna," she says. "Not because I'm not good enough, because I am, but because my music's very different. Their music's very different too, I'm not saying they're similar artists, but I always feel like I have like one foot in the leftfield - I hate that word, but you know what I mean? I don't wanna go down the "Die Tonight" road, you know? It's just not my vibe."
Get the Best Fit take on the week in music direct to your inbox every Friday