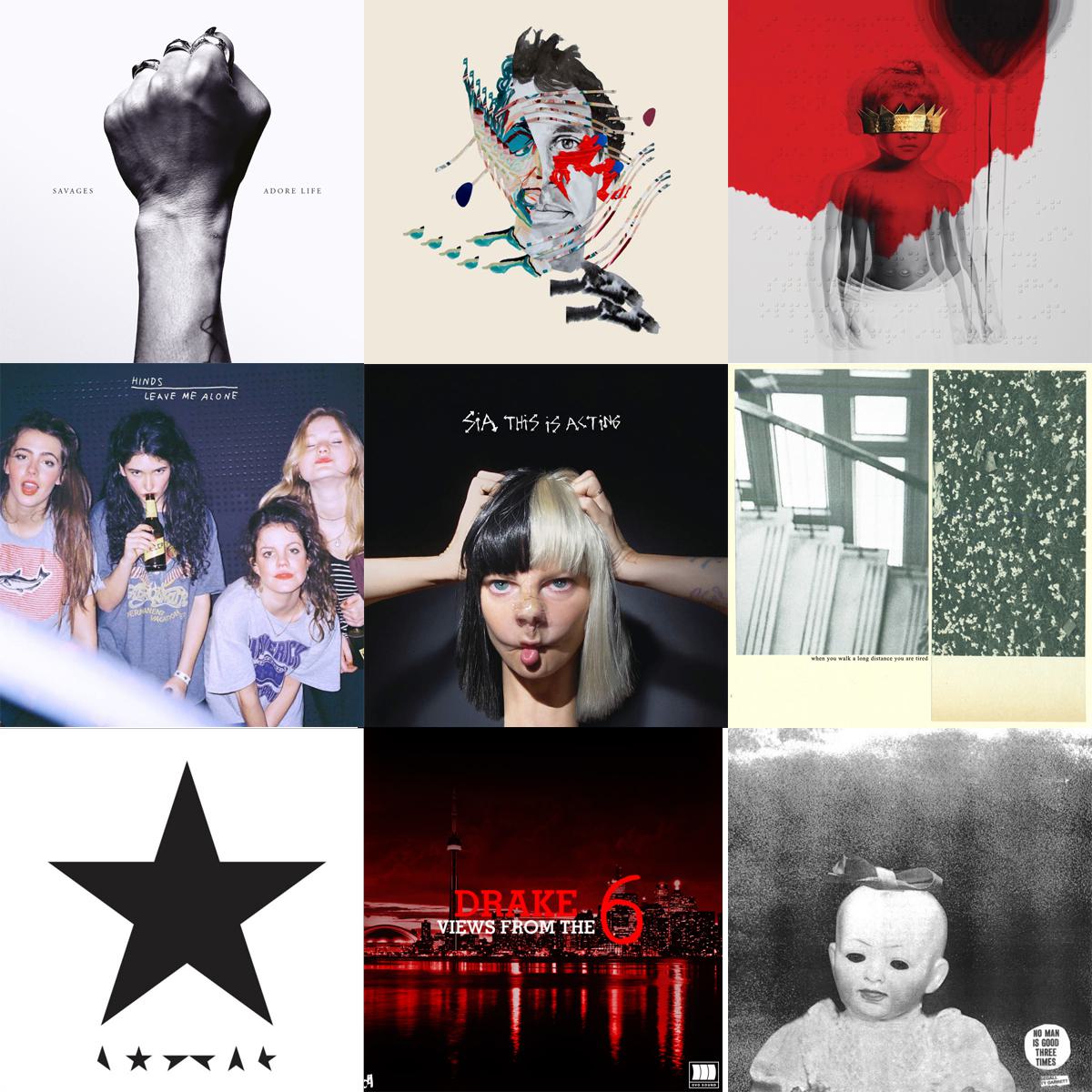 16 For 16: The Records We're Most Excited About This Year
04 January 2016, 16:00
With the likes of David Bowie, Sia and Rihanna ready to drop new records this month, 2016 isn't going to have to do much beyond January to prove itself as a great year for new releases. In fact, looking at the 12 months ahead it's pretty difficult to narrow things down. Honourable mentions have to go to Daughter, Eleanor Friedberger, Tortoise, MONEY, Chairlift, DIIV, AURORA and Kanye West, but below are the releases we really really can't wait to get our mitts on.
Animal Collective
Animal Collective's first full length album since 2012's Centipede Hz finds them painting with a Cubist eye and a Dadaist flair, with John Cale and Colin Stetson on hand to help complete the vibrant sonic picture.
Release Date: 19 February (Domino)

David Bowie
Ever the master of reinvention, Bowie returns on his 69th birthday with the release of his new record Blackstar. If the eerie noir 10 minute long title track is anything to go by - we're in for something spectacular.
Release Date: 8 January (Sony)
Diet Cig
Alex Luciano and Noah Bowman treated us to brisk punk-pop indebted snippets throughout 2015 and we're basically just impatiently hoping 2016 will see a full album. If not, just more ridiculously fun tracks please!
TBC

Drake
In January 2015 Drake surprised everyone with the release of his underwraps project If You're Reading This, It's Too Late and - after a New Years Eve announcement that Views From the 6 would be "coming very soon" - it seems the month of January will be blessed once again!
Release Date: TBC January (OVO)
Frank Ocean
Frank Ocean's channel ORANGE follow up was expected by many to drop last year, having teased fans his release would come in July. There are rumours the record has been scrapped, and others that it's expected soon. Either way, we feel Adele's pain when she said: "I'm just f**king waiting for Frank f**king Ocean to come out with his album!" in an interview with Rolling Stone Magazine.
Release Date: TBC
Hinds
Leave Me Alone arrives just in time to help kick our winter month malaise into subission with wild, carefree, lo-fi garage rock.
Release Date: 8 Janunary (Lucky Number)
Lush


September 2015 arrived with the news that Lush were reforming for a string of dates in 2016. Nostalgia kicked into overdrive and just when everyone had calmed down, the band also revealed new music would be accompanying their return. We can't really blame the internet for getting excited, we're part of that!
EP Details TBA
M.I.A.
Bold, unblinking and politically motivated: M.I.A is exacty the kind of artist 2016 is going to need.
Release Date: TBA (Interscope)
Mothers
Snapped up by Wichita Recordings after a string of incredible CMJ showcases, Athens GA based four-piece Mothers are ready to release what we're expect will be one of the best debuts of 2016.
Release Date: 26 February (Wichita)
PJ Harvey
With just fragments of melodies left in our heads after witnessing PJ Harvey's Recording in Progress, we've been eagerly anticipating the completion of PJ Harvey's ninth record for quite a while. We know she's headlining Field Day in June, and expect the album to appear before then.
Release Date: Spring TBA

Rihanna
Unlock the mystery. #ANTIdiaRY https://t.co/ddHbXXa8dd

— Samsung Mobile US (@SamsungMobileUS) November 23, 2015

In the time between writing this and hitting publish, Rihanna may have already dropped her new album. She's kept the world waiting, but it'll forgive her when the day eventually arrives.
Release Date: Any god damn day now
Run The Jewels
RTJ3
A video posted by thereallyrealelp (@thereallyrealelp) on May 14, 2015 at 11:08am PDT

There might be a bit too much optimism here, and maybe we won't see anything until 2017, but El-P revealed a little preview of RTJ3 recently and it's put us in a good mood.
Details TBC
Savages
Savages have always delivered the most brutal, beautiful post-punk but it took "The Answer" coming along to make us realise how much we missed them.
Release Details: 22 January (Matador)
Sia
Sia is one of pop's finest voices. The conviction of delivery and freedom of expression found in previous record 1000 Forms of Fear surprised a lot of people, including the artist herself. Luckily, its success inspired Sia to continue writing and we have This is Acting to look forward to.
Release Date: 29 January, RCA
Stormzy
If 2015 belonged to anyone it was Stormzy. After a string of sold out shows and a UK No.8 re-entry for "Shut Down" - after it was released as part of a Christmas No.1 campaign - we're hoping for more in 2016.
TBC
Ty Segall
Ty Segall's 2015 outings with Fuzz provided ear-bleeding highlights, and the seemingly VHS only release of solo album Emotional Mugger proved a delightful surprise. Thankfully, the details of its full release didn't take long to surface. Please, please don't let 2016 be the year VHS albums become a thing.
Release Date: 22 January (Drag City)