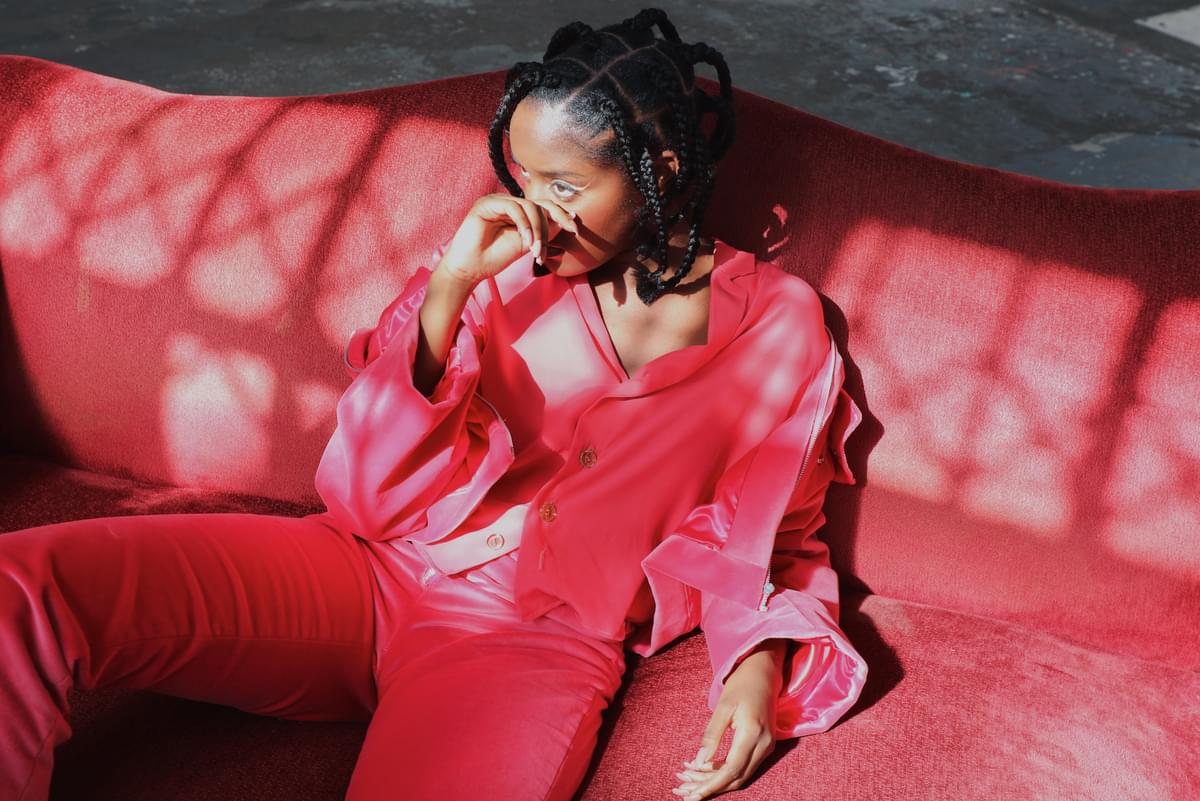 On the Rise

Mysie
07 July 2020, 09:00
After years of clumsy pigeon-holing, the industry is finally seeing Ivor Novello nominee Mysie for who she is – a cinematic pop marvel.
Mysie's ideal night out is a hopscotch tour of Brixton venues: "I'm talking Prince of Wales, I'm talking Dogstar, I'm talking Rum Kitchen..." To be restricted to just one bar, would be at odds with the 24-year old's instinctual aversion to limitations.
Mysie – who makes grand, genre-fluid pop – grew up in Croydon, not far from her pub crawl destination of choice. The singer/songwriter was exposed to a mosaic of musical influences at a young age, beginning with her older siblings' love of rappers Biggie and Redman. She deviated during her time at school - "I love Radiohead!" she adds. Then, there's the backdrop of breakbeats and vocal chops of her hometown: "Croydon literally just reminds me of Garage Nation!"
A segmented two-year stay in South Africa means Mysie also reveres the anti-apartheid, Afro pop icon Brenda Fassie. Mysie's own Grandfather was a luminary of the Ugandan jazz scene and a father of 50 no less ("Yeah, five-zero!"). This lineage runs through her: "I really do love that African rhythm. It's the basslines, and the rhythms of it, and the change of the rhythm that I may not think directly I am influenced by but subconsciously I am."
Her music is a medley of these muses, with the centrepiece being her tactile vocals. Alongside classical arrangements, stinging synths or jazz-inflected percussion, she creates pop that's statuesque in scale, but dynamic in its approach.
However, as a Black, genre-traversing artist, Mysie's first foray into the industry under her real name Lizbet Sempa was tainted by myopic perceptions of what Black artists should sound like. Industry drew lazy parallels to the likes of Nina Simone and Laura Mvula: "Amazing, amazing artists!" she recognises. "However, I feel that's washing me. It's very generalised and I never really understood that. I was a genre-bending artist, but I always had these kinds of comparisons to other Black-female artists. I do definitely think there's a thing of not knowing where to place us."
Echoing accounts shared by the likes of Misha B or Little Mix's Leigh-Anne Pinnock – who recently voiced their experiences of racism in the music industry – she fought to have her music considered for what it really was. "It's actually mad, because you don't realise it at the time really, you just see it as you know, 'this is my responsibility, I take responsibility for my career.'" The propensity of industry figures to miscast her simply as a 'soul singer' left her weary. "You start going through this thing of like 'Who am I?'"
"I came to a point where I said to myself: If I come back with music, it's gotta bang. But it's gotta bang as a new persona, not as Lizbet Sempa, basically." Armed with her fresh moniker – a Scottish nickname for her middle name, Margaery – and an overhauled management team, she felt revived. She released Chapter 11, her debut EP in summer 2019, followed by the singles "Sweet Relief", "Heartbeat" and last month, "Gift". "Lizbet Sempa will always be me... I mean it's my name, but Mysie is just an elevation of Lizbet Sempa."
The change also helped her music reach the right ears– she's just received an Ivor Novello nomination in the inaugural year of the "Rising Star" category. "You know, it took me a week to absorb that I actually got that because I couldn't believe it, I honestly couldn't believe it" she says. "It's just such an honour to be recognised for my work, so early in my career. I'm just so humbled by it and I think it's just such a great opportunity. I'm just so grateful... no words."
Despite the freedom in her sound, Mysie's music isn't the product of some breezy reverie. Instead, she favours a nine-to-five approach in the studio. "I like a good night's sleep. I'm not productive if it's a late-night session, I just end up eating a cheeseburger or something." Aged seven, her dad bought her her first piano from the Whitgift centre in Croydon, which still sits in her bedroom. "I didn't know why I always wanted a piano, but I did and I always loved music."
Mysie also still goes to the singing teacher she's always had, after one of her school teachers pushed her to get one. Growing up at the height of The X Factor's reign, when Louis Walsh was deliberating what was or wasn't a 'recording voice', Mysie was unsure where she placed. Singing lessons acquainted her with her voice's potential.
Her next stop after school was acting. "I literally auditioned for one drama school, got into that drama school and then trained up – trained up my voice, trained up my body, trained up my movement, trained up my acting." Music was always her plan however, and she sees her thespian talents as permeating the work she does today, looking to figures like Donald Glover for inspiration.
Mysie's elegant, evocative visuals – made in collaboration with director Dottie Kay (Dot Films), and movement-director Duran Abdullah – suggest that she's already mastered how to inject her acting experience into her work. "We wanted to come together and make amazing, visual, iconic beautiful videos and like, a lot of our team is very female-heavy, we really promote that. The three of us together – having the director, movement director and me – it just makes such a huge impact."
For more on their organic collaboration, I speak to Kay, who's really proud of their relationship. "Working with Mysie is an absolute dream: it's all someone could want in a collaboration. Mysie gives you her complete trust and honesty. We believe in each other wholeheartedly and that allows for pure magic." Kay says the two have "grown together as artists" in their respective mediums, from "two girls discussing our dreams in a cafe almost three years ago, to women starting to taste our visions." When Mysie hears her music, she sees it, and the videos she created with Kay allow her to consolidate the visions she has in the studio.
Since childhood, music has consumed Mysie's emotions, as was evident the day she was given her piano. "I literally remember the day so clearly ... going into that living room and seeing the piano. I literally just fell down crying at aged seven, which was really quite disturbing for my mum," she laughs. As she made Chapter 11, one particular Mac DeMarco track – "On the Level" – resonated with her with similar intensity. It was introduced to her by producer Duncan Pym, who's worked on nearly all of her music to date. "I kid you not – I have never screamed so loud, at how incredible a song was. The feeling it gives you, the nostalgia. Like, you listen to another Mac DeMarco track and it be completely different, but when you listen to "On the Level" you are like: what the hell is this? Like what is going on?"
Mysie's music profits from her candour, and her songwriting process helps her to navigate her mind. "I very rarely say: What should I write about today? Even when I'm asked that question in sessions, I'm like 'Well I don't know, let's see where the music takes us!'" New single "Gift" details a puppeteering, manipulative relationship, with Mysie itemising the abuser's nocuous behaviours before seizing back control ("Sometimes I see you in my sleep/ you better, think twice when you're next to me / you've got a gift for reading me.") "I usually heal right after I've written the song because it's such an expression, you give out so much and you feel so much better after it."
Whilst growing up Mysie sought solace from Mary J Blige – now when she's euphoric she blasts Thundercat, or when she's despondent turns to J Dilla. She's still adjusting to the idea of her music doing the same for others: "When it comes to actually sharing the music, I feel good. I want people to feel uplifted, feel whatever they have to feel to my music, you know. I want people to heal."
Life as a rising artist in a somewhat dystopian 2020 is inevitably bittersweet. "There is a lot of awakening, a lot of realisation in this time. I feel I've become mentally more free now that a lot's come out on the table," she says, referencing the impact of the Black Lives Matter protests. "A lot of the stuff that's come out has been very unspoken, very subconscious stuff that people may not have not been aware of."
The indefinite, coronavirus-induced embargo on performing live, means Mysie's goal-fulfilling debut slot at The Great Escape was called off. "It's a hard one, it really is a hard one," she admits. "But I do feel like, you know, this time was a very good time for me to work on myself as an artist, and as a performer, as a singer." She's adept at adapting, recording the video for "Gift" in a car park on her estate, aided only by her partner and an iPhone. Resoundingly resolute, she feels "the future is bright".
As the world explores a liminal period of newfound confinement, Mysie's music opens a window to infinite possibility. As she says herself: "Mysie allows me to be whatever I want." It's hard to imagine that anything could stop her.
Mysie's single "Gift" is out now.
Get the Best Fit take on the week in music direct to your inbox every Friday