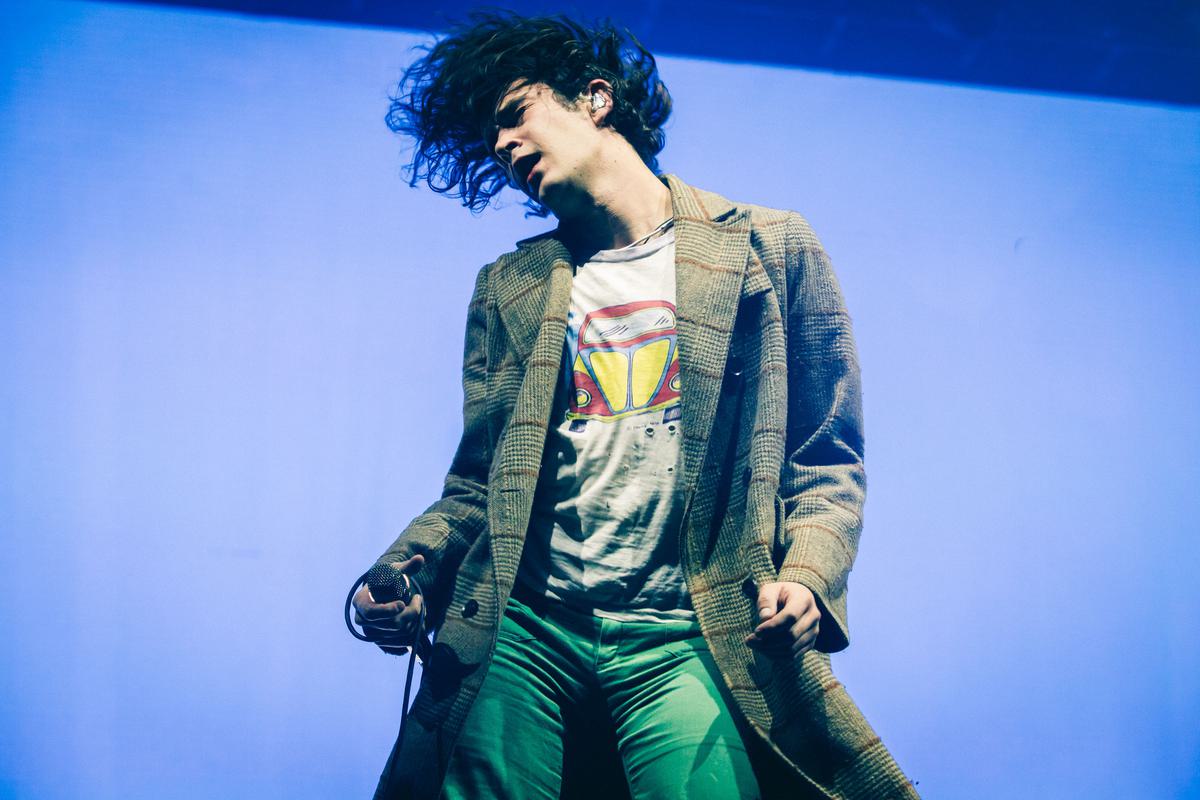 Pitchfork Music Festival Paris 2019 review: a no-frills event for music aficionados
04 November 2019, 17:10
Anyone looking for a self-contained music festival with a capital M need look no further than Pitchfork Music Festival Paris. This three-night festival of pop and alternative music held at the city's impressive 19th century La Grande Halle de la Villette accommodates for fans only seeking a rammed schedule of live music.
This year's installment had a pretty solid line-up to boot with a healthy mix of French and international artists as well as rising and established acts: The 1975, SebastiAn, Weyes Blood, John Talabot, oklou, HAAi, Charli XCX, Hamza, Skepta, Primal Scream and many more filled its stages.
On Thursday, Skepta pulls in one of the biggest and most spirited crowds of the festival. Songs such as "Redrum" (from his 2019 album Ignorance Is Bliss) unite the crowd in a giant communal bounce; likewise with "Shutdown" (from his 2016 Mercury Music Prize winning record Konnichiwa). He's a ball of energy on stage, delivering each bar with whipsmart precision while tracing the stage's parametres.
Skepta (credit: Alban Gendrot)
La Grande Halle de la Villette's beautiful glass and metal structure (which formerly housed an abattoir) is a spacious venue with four indoor stages. It's easy to dash between sets. Organisers also ensure that acts on the main stage (Grande Halle) and the second largest (Nef – at the opposite end) are staggered to maximise viewing opportunities. It's a smart move; one that enables festivalgoers to catch a whole range of artists from indie pop in the earlier hours to thumping micro-house at the night's close.
NYC-based Barrie – now with a reformed touring line-up – ease revellers in with their brand of delicate dream pop on Friday. "Darjeeling" and "Clovers" from their 2019 debut album Happy To Be Here sound wonderful: frontwoman and songwriter Barrie Lindsay's crystallised tones chime above the tracks' lush, interlaced melodies.
Straight afterwards on the main stage are Scottish rock shapeshifters Primal Scream. Perhaps unsurprisingly it's songs from their epoch-defining, acid house-meets-psychedelic rock 'n soul record Screamadelica (1991) that wake up a somewhat lacklustre audience. "Loaded" is triumphant with its baggy beats and brass, with a pink-suited Bobby Gillespie beckoning the crowd to yell along to "I don't wanna lose your love" at the end. "They only gave us 45 mins, but that's perfect for rock n roll," shouts Gillespie, who admittedly looks a bit wiped out by such antics.
(Primal Scream – credit: Vincent Arbelet)
Catching some of Nilüfer Yanya's set between bites of a delicious PNY Burger (note: there are too few food stalls [and toilets!] at the festival) does enough to confirm that the Londoner is adept at blending jazz, indie and classical strands into something beautifully bewildering.
Up next on the Nef stage is the mesmerising Weyes Blood. Natalie Mering has had an excellent 2019 with critical adoration of her fourth album Titanic Rising and songs from the record are realised with a new drama when performed live. "Something To Believe", for instance, is sublime. Mering leaps vocal octaves effortlessly, jabbing at her piano while her backing musicians hammer out its opulent components. "Diary" is another highlight (from 2016's Front Row Seat To Earth) with resplendent, chamber pop harmonies giving the likes of Fleet Foxes a run for their money. Mering has an enigmatic quality about her. Dressed in a white trouser suit, she positively glows on stage with light refracting around her figure, her impeccable angelic vocals ringing beyond the hall.
Later, Spanish DJ John Talabot impresses with a fluid blend of micro-house, disco and industrial beats – the best this writer has ever seen him – before the festival's official afterparty at nearby venue Trabendo. Australian DJ HAAi welds her earthy, globe-trotting electronics with techno thrills into the wee hours before British DJ Afrodeutsche expertly closes things off just before sunrise.
(Caroline Polacheck – credit: Kimberley Ross)
Saturday's line-up is a poppier affair with the likes of Jessica Pratt, Jamila Woods, Aurora, Charli XCX, The 1975 and celebrated French producer SebastiAn.
Chairlift frontwoman Caroline Polachek, who released her debut solo album Pang earlier this year, brings her quirky pop creations to life with plenty of air-punches synchronised with synth blasts. "Ocean Of Tears" proves Polachek can hit its operatic highs even better live. Prancing in front of a red backdrop depicting a gnarled gothic gate, the American singer at times enacts quirky, interpretive dancing. A cover of The Corrs' "Breathless" is well-received by the crowd and, later, Polachek wraps the set with album highlight "Door" – a dizzying, drum-programmed synthpop ode to memories and new beginnings.
AURORA brings her euphoric, widescreen Scandipop to an excitable crowd at the Nef stage before a mass exodus to the Grande Halle for Charli XCX. Charli doesn't let the energy dip for a single moment during her set. She regularly bays the crowd, bops on beats and relishes shout-outs to the French capital ("I fucking love you Paris!").
While you can't fault Charli as a vivacious entertainer, it's disappointing to hear her vocals invariably cloaked in auto-tune. Sure, that might be her style, but its hollow affectation surmounts to suspicion that she uses it as a crutch. No more is this highlighted than by Christine and the Queens joining her on stage for her best song yet, "Gone" (from 2019's Charli). Chris, by comparison, has the kind of raw vocal power and inimitable talent surely desired of a modern pop star. Despite this, Charli's cheese-pop collaboration with Icona Pop ("I Love It") makes the audience go absolutely wild at the close. "My name is Charli XCX and I'm one of your top five pop stars in the whole world," she bellows. Wishful thinking indeed.
(The 1975 – credit: Kimberley Ross)
The 1975 are set to be the biggest draw of the festival – if not SebastiAn – but they pull in a smaller crowd than Skepta, Charli, and the aforementioned French producer. Moving past the exasperatingly dreary "TOOTIMETOOTIMETOOTIME" and 00s emo cringe fest "I Always Wanna Die (Sometimes)" (both from 2019's A Brief Inquiry into Online Relationships) Matty Healy and co. ramp the energy up a notch for INXS-inspired '80s jam "She's American". Pointless backing dancers aside – not to mention Healy's unforgivably bad attempts at 'synchronised' dancing – it's noticeable that songs from their second record I Like It When You Sleep, For You Are So Beautiful Yet So Unaware Of It [2016] are some of punchiest and most pleasing to hear live including "Somebody Else" and "The Sound".
Recent single "Love If It We Made It", however, is where Healy finally swaps his toe-curling feeble tones for a more impassioned bark on the state of the world. It's the standout moment, probably because – bar its saccharine funk pop closure – it doesn't really sound like The 1975. Like much of festival audiences over the weekend there's a flat energy to much of The 1975's set tonight (perhaps attributed, as Healy mentions, to a lack of live shows in recent months).
Pitchfork Music Festival Paris is worth the trip for a one-stop musical feast of eclectic music. Its handy, capital city location means you can quite easily make it into a city break/festival hybrid weekend. But while it boasts a grand, theatrical setting in which to lose yourself in, you rarely feel the full force of the drama.