The 1975 wrench magnificence from crisis on their stunning new album
"A Brief Inquiry Into Online Relationships"
Release date: 30 November 2018
Album of the week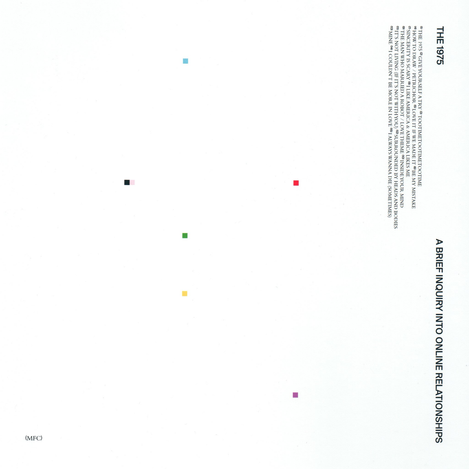 How do we make art in a world that we can hardly bear to live in? How can we bring ourselves to create at a time when every personal concern seems futile in the face of humanity's seemingly irreversible endtime?
Maybe the answer lies not in art of counteracting beauty, but art that fully leans in to the horror. The 1975's third album A Brief Inquiry into Online Relationships is shrouded in the sludge of contemporary existence. Aptly released at the end of a terrible, unsettled year, it is the sound of ennui with a dying Christmas party in the background. Like 2016's I Like It When You Sleep, For You Are So Beautiful Yet So Unaware Of It, A Brief Inquiry… was recorded in LA, but sheds that album's sunset pinks and pool blues for a desolate sonic world, crafted by genius co-producers Matty Healy and George Daniel. The production is still luscious, like a luxe length of silk draped over a rotting landscape.
A Brief Inquiry... is ostensibly about the internet's role in our lives, but really it's a continuation of The 1975's eternal lyrical concern: how we relate to each other, and what gets lost between thought and communication – whether via speech, text message, tweet, or loaded Instagram like. It debuts – at least partly – a new commitment to sincerity, inspired by frontman Matty Healy's post-rehab worldview. Even though the album stems from a place of rock 'n' roll cliché, Healy has such a deft grasp of how we relate to each other; such a deep understanding of the small cruelties and vulnerabilities that punctuate our communication, that what should be wildly unrelatable is deeply resonant.
The album opens with the self-titled song that has served as a prelude to all the group's albums so far. A sort-of theme song (about blowjobs, no less) its sound is a good measure of the band at any given moment: on their 2013 debut, it was moody and doused with anticipatory drama; on I Like It When You Sleep… it was sun-dappled and stretched, a perfect introduction to that album's LA sheen and '80s pop plasticity. Here it is looser, beginning with studio chatter and warm-up piano sounds, before the familiar vocals come in – loud, abrasive, and warped with a thousand vocoders. It's a soft ease into the record's ambience, then a sharp jolt in warning – don't get too comfortable, don't expect this to be an easy listen.
Debut single and first track proper "Give Yourself a Try" makes good on Healy's promise of sincerity and solemnity. These characteristics have always been present in The 1975's music; hidden in the last two tracks of a long album, or buried in parenthesis — "Before you go (please don't go)" — but they have never been this pronounced. From the gentle encouragement of the title to the wise old man lyrics ("You learn a couple of things when you get to my age," the 29-year-old Healy sighs) it's a kind of millennial "My Way" set to Postal Service drums and guitarist Adam Hann's rip-off Joy Division riff. Even the characteristic musical steals are grave, serious, confessional. Any worries of self-help corniness are dampened by Healy's generous delivery.
Healy has always been contrary and changeable, so it's no surprise that his newfound sage wisdom is shed almost immediately. His well-worn self-aware arsehole persona is reprised on tropical pop single "TOOTIMETOOTIMETOOTIME", updating the mixed messages of "The Sound" in the context of performative social media romance. On "How to Draw/Petrichor", a gorgeous rework of an I Like It When You Sleep… bonus track, his inherent contradiction is heartbreaking. Warped and cracked vocals detail how he lied to his friends in the midst of addiction: "Don't take any of my advice," he begs, only two songs after earnestly urging us to be kind to ourselves. Opening with a toy piano circling around sparse electronics, before shifting into harsh techno, it's raw and devastating, and may be the band's masterpiece.
The other contender for that title, second single "Love It If We Made It", also exudes rawness, but pairs it with one of the album's rare moments of hopefulness. The lyric tries to hold the enormity of the world, comprising zeitgeisty soundbites and direct quotes from tweets, interviews and newspaper reports across the political spectrum. It's a relentless and harrowing mirror of contemporary life ("Write it on a piece of stone / A beach of drowning three-year-olds / Rest in peace Lil Peep"), overwhelming like rolling 24-hour news. The music is also formidable: each electronic whoosh and whizz is like digital overspill from the heady whole.
Healy's vocals are distorted and autotuned for much of the record. On "I Like America and America Likes Me" – titled after a Joseph Bueys artwork – a dense trap beat almost completely overpowers Healy's autotuned vocals. Only a few scraps of the lyric are discernible – he screams, "I'm scared of dying / it's fiiiiiine!" like a friend who is only able to tell of their darkest thoughts in the context of a joke on Twitter. The densely worked majority of the album makes its quieter moments even more vulnerable in comparison. "Be My Mistake" is a simple, melodic song of on-tour loneliness and subsequent functional infidelity ("Don't wait outside my hotel room / Just wait till I give you a sign"). Healy's voice is intimate and raw, with nothing to hide behind but resigned acoustic guitar strums. The message and the medium are both well-worn to the point of tired cliché, but Healy's refreshing delivery, and the song's clever positioning amongst the hits at front of the album, makes its vulnerability almost shocking.
Healy's voice commands the mood of the album so much that it is surprising to find one of its most touching moments free of his (or any human) voice. "The Man Who Married a Robot/Love Theme" is a Siri-voiced tale of a lonely man ("@SnowflakeSmasher86") who retreats into the internet so much that it becomes his only friend. It's silly, and funny (the places he "takes" the internet include "birthday parties of the children of his less important friends") but it's genuinely sad. After detailing the man's journey into the afterlife ("You can find him on Facebook"), it transitions into a poignant orchestral theme; re-casting the story as a Disney-like fable.
There are few brief missteps: "Sincerity is Scary" is, aptly, the most plainly earnest song on the album. Its laid-back jazz-pop is pleasant, but sounds painfully close to the faux-authenticity of a charity single. The lyric is structured like an essay ("Irony is ok I suppose / Culture is to blame") and contains some bite to counteract the warmth: "Instead of calling me out / You should be pulling me in" laments Healy, unafraid to put his manipulative side on show. Similarly, "Mine" is an approximation of a jazz standard whose appeal will depend on the individual listener's predisposition to the genre. Its lyric leans too heavily on simplistic rhyming structures: an exercise in pastiche with little meaning. "I Couldn't Be More in Love" also displays the group's magpie tendencies, but is one of the album's highlights: a bleak rework of a late '80s/early '90s AOR ballad, complete with choral backing and corny treated keyboards. Healy has stated that the song is about the band's fiercely loyal fanbase, and it tackles the co-dependence of such an intense relationship. "I gave you four years of my life," Healy croons ambiguously; is this from the fans' perspective or his own?
The album ends on a self-consciously euphoric note, with the carefully constructed soaring indie of "I Always Wanna Die (Sometimes)." It could be read as the natural end point of the album's commitment to earnestness, or a high-concept song designed for end-of-encore sing-alongs: a final Britpop goodbye in the world's dying embers, because we all want to go out to the sound of something familiar. That it could be read as either of these things – sincere or meta – is what makes The 1975, and this record, so compelling.
Comparisons will be made to Radiohead's OK Computer, another era-defining third album that examines the internet's effects on our interpersonal lives. But A Brief Inquiry… actually resembles Kid A's best two tracks, "How to Disappear Completely" and "Motion Picture Soundtrack" – music that wrenches magnificence from the barest bones of humanity. By interrogating the strategies we employ to keep on living in an impossible world, this astonishing album has become one.