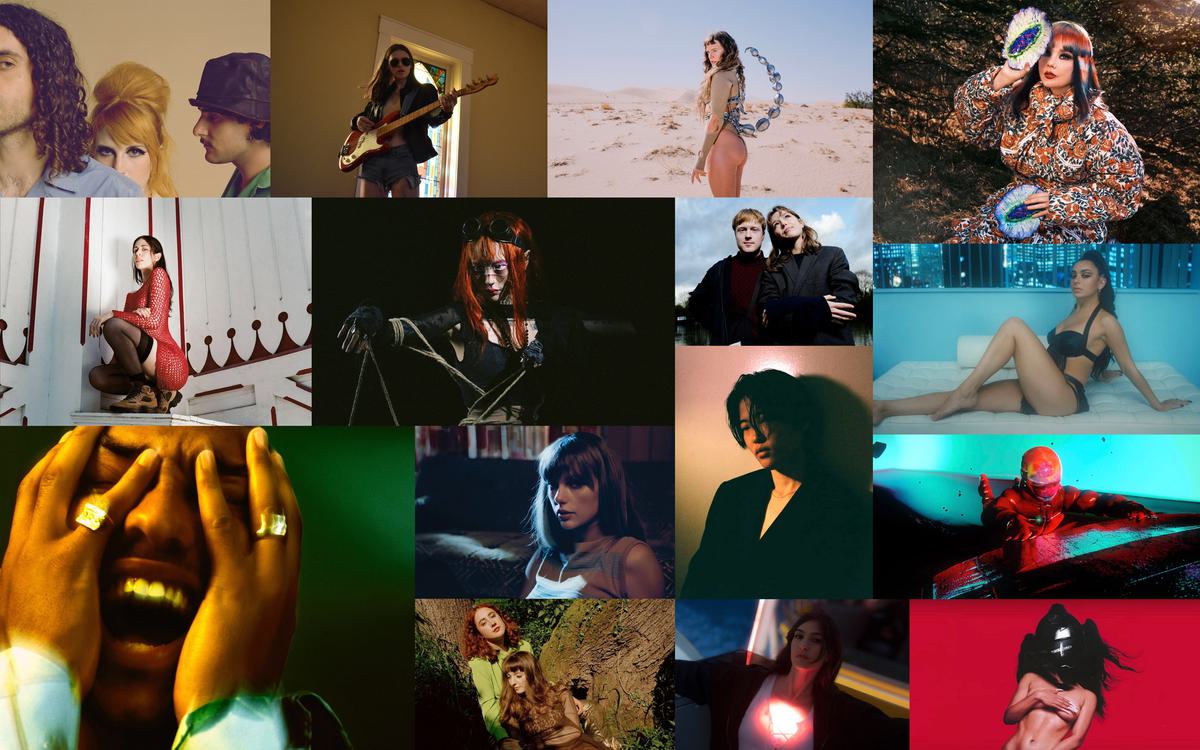 The Best Songs of 2022 Ranked
19 December 2022, 14:00
Best Fit staff and writers on the songs that made 2022 - from RAYE and Kendrick, to Kevin Morby and Pusha T.
50
"Luv Like" by Nia Archives
Thriving in the halls of Fabric, Printworks, and Boiler Room, Nia Archives led 2022 with a simple mission: bring new life to jungle-electronica. Already a rising star in the UK (and since backed by the BRITs shortlist for the award of the same name), she embodies a rare combination of DJ, producer, and singer-songwriter - pushing the envelope for women in her scene. Released in February, "Luv Like" is a shining example of her mastery. Built on dizzying breakbeats and guitar loops, the track disguises its vulnerable themes for sheer energy as Nia proves herself a student of style. Alongside her Forbidden Feelingz EP, a legacy is surely beginning. HANNAH BROWNE
49
"Happiness" by The 1975
It's impossible to overlook The 1975's impact. A band with the most stalwart of fanbases - who have mostly been there through their measly beginnings - there's an unspoken rule book for how they're supposed to behave, and what the music should sound like. After an underwhelming start with "Part Of The Band", here, Matt Healy returns to the hair-flipping archetype that started their trajectory and "Happiness" marked their biggest fan success since 2020's "If You're Too Shy (Let Me Know)". A little sprinkle of 80s sheen, sax solos, and backing from Jack Antonoff goes a long way. HANNAH BROWNE
48
"As It Was" by Harry Styles
"Come on Harry, we wanna say goodnight to you." An interpolated voicemail from Harry Styles' goddaughter Ruby opens the lead single from his third album, Harry's House, angry at him for missing their nightly call before she goes to sleep. If his 2022 is anything to go by, however, a blur of sequined jumpsuits in front of swathing crowds for his year-long effort Love on Tour, we're almost certain Harry may have missed a couple more bedtimes. The perfect track to sweep around the bleachers, "As It Was" is an unavoidably vibrational, punchy, and energetic jaunt that provided just the right sonic wave for Harry to have ridden all the way to stadium shores. THOMAS TURNER
47
"Don't Forget" by Sky Ferreira
We've all been told that holding onto grudges is bad for our health, but Sky Ferreira actually celebrates them on "Don't Forget". An extraordinary comeback track, Ferreira has seen her share of betrayals and setbacks in the music biz, but the song's pulsing energy and bravado prove that she's a survivor. Some resentments never fully heal, but they can provide fuel for fabulous songs like "Don't Forget." It's great to have one of the most original voices of the 2010s return to top form. LARRY McCLAIN
46
"Strange Conversations" by Let's Eat Grandma
Away from the brash left-field synth-pop they usually tote, Let's Eat Grandma's "Strange Conversations" is instead a poignant midnight-reflection, acoustic-led number that still shines with the Norfolk duo's heart. The maturity shimmers, as it does throughout their third outing Two Ribbons, and while the pain is real ("with doves surrounding you / this mottled sky turns blue"), the dreamy vocals carry it out with their effective poise and grace. STEVEN LOFTIN
45
"heart2" by umru & Petal Supply featuring Rebecca Black
The task that umru so clearly relishes on "heart2" is to eliminate the spaces around guest vocalists Petal Supply and Rebecca Black, then bomb everything else into submission. The chaos he sows represents the world exploding around them, the knee-buckling realisation that someone doesn't love you anymore. Supply and Black – the latter in the midst of a hyperpop reboot at age 25(!) – refuse to entertain the absurdity: but you're supposed to love me, I have it all worked out. "heart2" is a larger metaphor for the death of youthful optimism, the cold replacement of the way things should be, with how they are. The speed and confusion create the disorientation that send so many down the wrong paths. STEVE FORSTNEGER
44
"Anti-Hero" by Taylor Swift
On "Anti-Hero" Taylor Swift manages to write an anthem and get us to join in her mea culpa. If body dysmorphia and depression might not be relatable to everyone, her vulnerability and songwriting skills still are. "Anti-Hero" pulls us into her tenth studio album Midnights, and peeks through the self-reflective and confessional streak that defines the record, as well as the familiar arms of Jack Antonoff's production. Narcissism never sounded so good – nor fitted so well into a pop song. CHRISTINA ALMEIDA
43
"Protein" by Jeshi featuring Obongjayar
There couldn't have been better timing for Jeshi's 2022 album, Universal Credit. A soundtrack to inner-city malaise – and, poignantly, the UK's cost of living crisis - with jarring instrumentals, "Protein" is a standout that once heard, it sticks with your forever. "How money weigh me down, anchor on my neck / No sense, empty pool, gliding through the stress", he sings, while accepting a blunt reality against the beat-laden chorus led by Obongjayar. It's artful and flips the script, while Jeshi reaches the heights of his successors. Most of all, though, he's on the people's side. HANNAH BROWNE
42
"Cardboard Box" by FLO
The history of British pop girl groups is a rich, dramatic, and iconic one. When in 2022 the UK suffered a death of mainstream girl bands, and it seemed their story was coming to an uncharacteristically quiet end, Sugababes announced their reunion tour, FLO released their debut single "Cardboard Box", and the day was saved.
"Cardboard Box" is a nostalgic 2000's-flavoured hit from one of the most promising acts in the UK today, with memorable lyrics buoyed by the trio's beautiful harmonies and icy delivery. Though the track follows in a long line of excellent girlband pop scorning disappointing relationships ("No Scrubs" or "Bills, Bills, Bills", for example), it's still uniquely FLO. The future of British girlbands is in safe hands. ALFIE VERITY
41
"Bliss" by Yung Lean featuring FKA Twigs
Yung Lean is picking FKA Twigs for a joyride in his white limousine tricked out with chandeliers; waiting in an extravagant tulle wedding dress, she sends a text via spreadsheet: 'WHERE R U? X' Together, they stir up a Molotov cocktail of sleazy glamour on "Bliss", taken from Yung Lean's mixtape Stardust. Cruising down the highway, the destination is a motorik dreamscape drawn from the foundations of Soviet post-punk track "Ha Заре" by Альянс. That propulsive, almost Brutalist bassline refuses to loosen its grip until an interruption of a service bell that chimes like the flash of a smile, a quick wink. Less a track and more a story, "Bliss" is a fantastical hybrid of two world-building artists bringing to life the furthest extremes of your imagination. SOPHIE WALKER