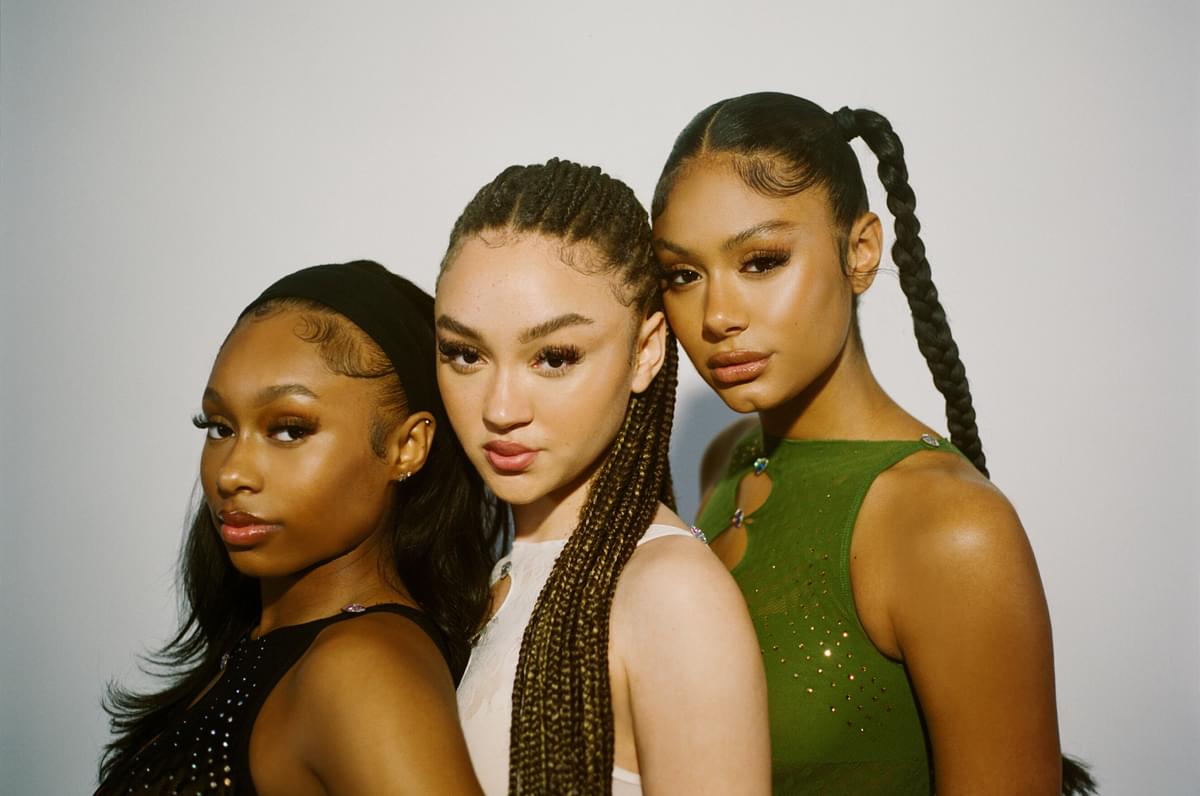 On the Rise

FLO
28 July 2022, 08:00
FLO are three London girls paving the way for a new generation of R&B bands guided by their smart, instinctive approach to music and their own interpersonal harmony.
"Why does nobody wannabe a girl group anymore?" The Times asked back in April. While still going strong in countries like Korea, the UK has seen a serious lack of commercially-successful girl groups since Little Mix broke through.
Enter FLO, a trio of talented women who are ready to resuscitate R&B with their silky harmonies, Y2K sensibilities, and gorgeous looks. Renée Downer (19), Jorja Douglas, and Stella Quaresma (both 20) used TikTok to record group covers of songs such as the Backyardigan's "Castaways", or Destiny's Child's "Bills, Bills, Bills." But it was the release of "Cardboard Box" - a slick, groovy 'bye boy' anthem - that saw FLO explode, and win fans among the likes of SZA and Missy Elliot.
"I expected the song to do well… but it literally went viral," says Downer. "We've had many people in the industry that we look up to, like reposting us and tweeting us. It's really unexpected and it feels crazy."
What's refreshing about FLO is that they're genuine mates, which goes against an entire history of girl-group drama looming over them. So far, there's little chance of any Spice-Girls-style dropouts, or Pussycat Dolls passive-aggressiveness. They're going to need each other, too: even in a group setting, it's easy for tensions to flare and for communication to break down, as Jesy Nelson's story proves.
It's even harder when the struggles musicians face are largely invisible to outsiders. "You become a machine," Douglas says. "Everyone wants a piece of you. And it feels really nice to be wanted and appreciated, but you have to remember that you're still human. It goes for the same as any job, but it's something that you really notice in this one. When you see everything that needs to be achieved and the little amount of time you have – that adds pressure and stress."
But, Douglas adds, that's why FLO being in it together is so vital: "We have each other to lean on, to pick up in different areas when someone else is falling behind."
The girls' chemistry is absolutely undeniable, and it's down to the balance in their personalities and long history before the band even started. Downer and Quaresma knew each other since they were young, having attended the prestigious Sylvia Young Theatre School together. They'd known of Douglas vaguely through social media, but when their manager called auditions for a girl group, they recognised each other from across the room.
It's hard to believe that they're only just in their twenties and the girls credit their mums for shaping their perspectives on life. All three of them were raised initially as only children by single mothers. "Our mums taught us to be quite independent, to know of ourselves from a young age and to really be focussed in life," Downer surmises. "We all have a similar upbringing and we all have similar mindsets."
Quaresma was raised in Zimbabwe before moving to the UK aged five, whereupon she met Downer. According to her, Quaresma is very generous and funny, though she appears more shy than the other band members. "I always saw you as quiet and reserved," Downer tells her. "I never got to see her outgoing side until we were in the group together."
Downer is a born and bred North Londoner, who possesses the sort of warm cheerfulness akin to Bubbles from the Powerpuff Girls. It's a trait she believes she's inherited from her mother. Quaresma says she's "very sympathetic, very sweet," but also "has her shit together"; Douglas calls her "cute".
Douglas was born in Germany and floated between London and Hertfordshire growing up. She's the more outspoken member of the group, and she's got a big heart, too. "She knows how to switch it on and off," Quaresma tells me. "When to be like" – she puts a finger gun in the air – "and when to be like" – she hugs herself maternally.
Put them all together, and you have a pretty good mix of energies. "Stella knows when to keep us grounded," says Douglas. "I know when to step in and talk because maybe Stella's not ready to talk about it yet… and then Renée's there to cheer everyone up afterwards!" They all smile at each other.
FLO make songwriting appear easy – that's down to their intuition, which feeds into their effortlessly catchy hooks. The girls will go into the studio and chat with the producer, feeling out the mood and running with it. The producer, in response, might start sketching out a track, or playing some reference songs. The girls will also play around with melodies, selecting the perfect melodies for each part of the song: verse, pre-chorus, chorus, retrofitting the words after them.
Where some artists spend months tinkering with the right melodies, the beauty in FLO is how intuitive everything is. "It sounds so disgusting what I'm gonna say, but everything is just authentic," jokes Douglas. "We are! We don't go in and think, oh, it has to be this – it's free. We just make what we want to make. Apart from the exceptions of a few songs, we're very much in control of our music also, which I think is a bit different to what previous groups have experienced."
What makes a song FLO-worthy? "I think first of all, you just have to love it and it has to be one we all listen to," says Quaresma. "And we have also we've made of the ones that we see, the ones that are connected. And there's also a lot of opinions you have to take into account sometimes. Mm hmm. But, yeah, we have people around us who have really good taste."
One of those people is MNEK, who helped produce some songs off their debut EP. MNEK's production credits are extensive; he's worked with legendary groups such as Little Mix and The Saturdays as much as he has Beyoncé. Though he helps FLO shape their melodies and harmonies, Douglas finds it's his general presence that's actually the most productive. "He's not overbearing – we've worked with people that can be really overwhelming and just… a lot," she explains. "When you're working for him, it's like a lesson. You watch things, you learn, and he still asks: what do you guys think about this? And then he'll do the most incredible thing ever and you're like…" she gives a wide smile. "Okay!"
Downer also believes that his style has encouraged the girls to be more intuitive with their songwriting, too: "Watching the way he writes and how simply it comes to him, it's taught me not to overthink a line or subject of a song."
Though they've learned not to overthink their writing, the girls remain perfectionists, fine-tuning each song until it sounds right. It's why they've put "Another Guy" as a bonus acoustic track on the EP: the original version, according to them, has a much different beat, but they still wanted fans to hear it. "We don't want to put out something that we know sounds weaker than the other songs," explains Douglas. "If it doesn't feel right, it's okay to hold it back. There's no point in rushing to put something out that doesn't feel good."
Put FLO's natural charisma and their excellent intuition together, and you have a formula that's won over legions of fans. The Lead EP comprises five tracks with witty one-liners, earworms galore, not to mention their smooth, buttery vocals. Each song runs along similar lines to "Cardboard Box": good old-fashioned R&B that reminds people of the nostalgia of earlier girl groups. Douglas believes that's why they've connected with people in the first place: "I think people realised that was something that they were missing in their lives."
Believe it or not, FLO had to fight to release "Cardboard Box", which Douglas attributes to their position in the R&B genre. "It's underappreciated by the masses, by the people," she says. "You have to think more from a business point of view – they want to invest in something that they know is going to make money back. A lot more pop acts can kind of get away with doing anything. I feel like in R&B, you have to work twice as hard because you're fighting up against a lot of people that don't really care for the genre of music."
To be flag-bearers for this new wave must be a great callback to their inspirations – but it must also be intensely pressurising, right? "Well, I guess it's a bit of both," says Downer. "I feel like the main question is getting the label to feel confident in what we're going to do. With 'Cardboard Box', it was a risk releasing it first. In the end, we released it and it's done really well, so we've gained a bit of that trust. I think moving forward, that's always the concern – until we reach that point."
They opted to release "Immature" as the follow-up and lead single off The Lead (fans lovingly call it "EMMA CHORE"). It's a lot more direct and confrontational than "Cardboard Box", resulting in lyrics such as "I don't want nobody, body / Who talk the talk but don't do shit about it." It's the favourite song of the band, too: "It's definitely more of our sound," says Quaresma. "And I think obviously 'Cardboard Box' it's a really good move because it's way more commercial-based, and 'Immature' is just a good move to make. I think it's a good stepping stone for us."
"Summertime" is another sun-drenched, guitar-led bop from the girls. The rhythms are reminiscent of Destiny's Child, as Douglas declares: "Summertime, it's a vibe!". Though the song returns to similar themes of ignoring annoying men, the girls focused more on the atmosphere of the song to make it stand out: "It was like, literally putting on sunglasses in your head and thinking, you're on a beach right now with your girlfriends, with the cocktail, just channeling that energy to make sure it comes across in the song."
"Feature Me" is the originator of the EP's name. Words can't describe how wonderfully syncopated and complex these arrangements are, a far cry from the straight-laced pop anthems you get nowadays. Delicate pizzicato strings tiptoe around their soft, sultry vocals, as they demand: "Boy I need to take the lead / So match my energy." That line represented everything FLO wanted to introduce themselves as: "going first, leading the way, kicking things off, taking control," as Douglas puts it.
That's what FLO really wants to achieve as a group. Forget about the penthouse views in "Summertime" - The Lead is a presidential bid to bring back R&B into a starved industry. "I definitely see us as being trendsetters and leading ladies of our field," Downer envisions. "I really hope that R&B is more of a thing. I really hope that by us doing well, it inspires people and labels to pick up R&B artists to help them be amazing."
The Lead EP is out now
Get the Best Fit take on the week in music direct to your inbox every Friday