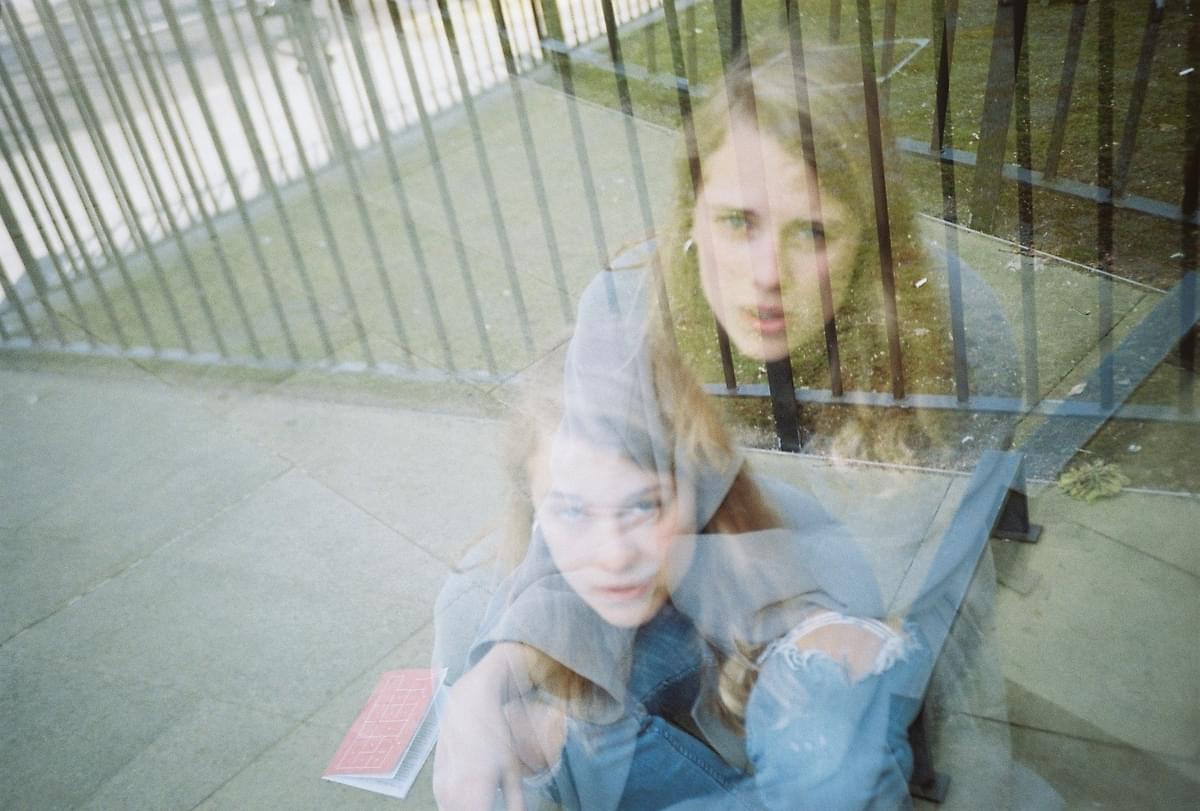 "Art to me was so much more intimate": Shura interviews Marika Hackman
18 July 2017, 10:00
Original Photography by
Shura

Art
Shura: "If you had done an art degree what would you have done?"
Marika: "Fine art. I like painting portraits, so that's what I would have tried to carry on doing. But everyone says portraiture is dead."
Shura: "Why?"
Marika: "Because we live in such a digital age, I guess. It's not a necessity any more."
Shura: "But in a way that makes it more interesting."
Marika: "Exactly. I love people – people are interesting and I like seeing paintings of people. I always liked drawing and painting as a kid. I always knew right from when I was a child that either I'd want to be like...I kind of went to art first because you're much more exposed to that at nursery school, you have colouring-in books...."
Shura: "Yeah so it's easier as a child, like, the idea of picking up the piano – like you really have to study at it – but you can pick up a paintbrush and do anything."
Marika: "Yeah and express yourself immediately and I think actually – because I did learn the piano from the age of four – but I found it really frustrating. I found reading music really hard, I'd always learn by ear but I'd get told off for doing that because I should have been practicing and learning to read music properly but it never went in. I learnt until I was 14 and then I gave up cus I thought I'm just done. Art to me was so much more immediate. Which I just wanted at that time, as a tiny child."
Shura: "I always get physical Tourettes in galleries."
Marika: "I went to the van Gogh museum in Amsterdam a while back on an art trip and I was making new friends at college and this one girl and I went – it was kinda the first time we'd hung out together – and she kept touching the paintings."
Shura: "Oh my god, you can't do that."
Marika: "It's fucking van Gogh."
Shura: [On observing Hockney's The Arrival of Spring in Charcoal]: "Charcoal's such a fucker - like I just remember being covered in it [at school]."
Marika: "Yeah...it's quite a good one in terms of loosening you up. I think so much of drawing is being trapped in the perception of what you think – what you think your drawing should look like..."
Shura: "You end up with a lot of people who are really into art who look at stuff that artists do and go 'well I could fucking do that' because it's not necessarily a realistic representation of what that is – it's not a realistic human – but it's more that that person has liberated themselves from the idea of having to look at something and replicate it like a photograph."
Marika: "Oh yeah, if everything was about replicating then all art would look the same."
I'm Not Your Man album artwork
Shura: "Obviously the artwork for your new record – well, both your records – you thought about it really carefully."
Marika: "I think it's a very important part of a record, the artwork. It's something I think about a lot. I think about it whilst I'm making it. It's not like a last minute, slap-dash decision."
Shura: "Were you familiar with Tristan [Pigott - record cover artist]...did you know him?"
Marika: "Yeah so I met him, I think it was a party at my friend's house just after I'd done my A-levels. So like a while ago – kinda kept in vague contact – I followed him on Instagram because I like his artwork and realised that he was a complete genius. And [like the first record's album art] it's got that kind of sense of unease. But it's very beautiful and it's very still. It's very illustrative."
Shura: "When I first saw it it really fucked me up because I was like this looks like a photograph but it doesn't...it must be a painting. And I just remember you posting it on Instagram and Twitter and I was just there desperately trying to zoom in to figure out what was going on whether it was composite photograph or not. I think it's really interesting that – that kind of skewed perspective – because there's something uneasy about it but also really playful."
Marika: "And I think it kind of it makes it feel more like it's this otherworldly – it makes it feel like I've created this, and Tristan combined obviously, like this world of music and then that's captured in the world of the artwork. It doesn't feel like it's in real life.
"On the record cover...there's a poster on the wall which is a reference to Tracey Emin's My Bed. So taking like a solid artistic reference that Tristan's used in his work, but it's the bed from the first record. It's the same colour scheme. And then in the background, in the back room where Celia and Fern [from The Big Moon - Marika's band for I'm Not Your Man] are because they're the rhythm section so they're in a separate room because that's how we recorded it. They're sitting on a mattress and if you look very closely it's that same mattress that's on that first [album cover] – dark blue with the white stripe on it. So I mean that's totally self-referencing but it's being like look, this is – that all still exists there: it's this room, it's this poster, it's this different thing that I've then brought into this new world that I've created."
Shura: "Yeah because there is an evolution and even though this record is sonically really different, you're in it: you're the linchpin. And I really love how you're – for the single [artwork covers] you're zooming in on certain aspects. So for 'Boyfriend' you've got just like sliced cucumber which is really phallic and a bit kind of terrifying. Obviously it's a really colourful painting."
Marika: "Yeah, it's colourful and it's tongue-in-cheek because it's an upside-down smiley face. So it's kind of like you're flipping it on its head and that it's totally representative of the lyrics in that song.
"That's the stuff you remember as a kid. Like going through your parents' vinyl collections. I'd just look at all of the artwork, so like Pink Floyd's stuff, Led Zeppelin. It was always so amazing, and so well designed. For me, that's what I remember so that's what's going to resonate, when I hold [the record] in my hands, when I open it out and look at it. I want people to kind of really delve in."
Appearance, identity, and sexuality
Shura: "I feel like you are a bit more playful on this record."
Marika: "Oh yeah. Definitely."
Shura: "Like, it probably stems from you having recorded it with your friends, you're also bringing in musicians."
Marika: "You know with the writing of it I felt I was very liberated at that point. I'd left my management, my label. It was really scary. It was really scary at the time, it was as a huge decision and it was really, really sad. Like it was really kind of horrible thing to go through. But then coming out of all of that turmoil, I felt incredibly liberated. And so writing the last few songs for it and kind of going to the studio as a free agent, I felt like it was all my terms. And, yeah, it's free to just be playful. Free to like – I feel like I could send people demos. And not worry too much that they might be like 'ooh you've changed'. I kind of felt like I was almost trapped by my idea of myself as an artist and now I'm not."
Shura: "But also, you were incredibly young when you made that first record. We are always slightly trapped by what it is that people expect us to be and more so actually what we expect ourselves to be. For instance going to university like, that, in my family, it was just, you go university. So I went to university. Looking back on it now I think, did I really need to do that? Probably not. I'm really grateful that I did but did I go myself because I love reading books or because reading books was the only thing I could imagine doing at university."
Marika: "You kind of slot into that."
Shura: "And I think for you, as a woman with an acoustic guitar, like writing I guess what people would categorise as folk music and being – I remember you telling me that you'd go into photo shoots and people would be like 'well this is the music that you make so this is how you should dress.'"
Marika: "Like folk princess, like kooky folk princess with a bit of sass and it's like, 'no, fuck off.'"
Shura: "And you said dying your hair blue actually really liberated you because you were like 'I can make this music but also look however the fuck I want.'"
Marika: "Yeah, like, weirdly dying my hair was one of the strangest, most liberating things I've done. I've never done anything like that before. And then people would just talk to me when I was walking down the street like I felt like people's attitude towards me completely changed. I certainly didn't have any more photoshoots where they were trying to force me into a white floaty dress or anything like that. Like, is it this simple? Is that how like fucking simple and blatant you have to be just to, like, fucking change your hair?"
Shura: "It's because you're setting the scene. It's the same thing as like, say. I remember when I first came out, I cut my hair really short and dyed my hair dark and was like 'I'm a lesbian' because that's how lesbians around me looked. I didn't even have that thought but that's probably just what I did because of the expectations or whatever."
Marika: "Oh, totally."
Shura: "And I was like, 'no actually, I can have long hair if I want'. I can make pop music but dress like I'm in a grunge band – those two things aren't mutually exclusive."
Marika: "No, not at all. And I think the more people do that, like, expressing themselves how they want to express themselves whilst also creating something artistic or like being queer in the media and not conforming to certain stereotypes. The more people realise that the idea of a stereotype shouldn't and hopefully will not exist in future, the better. That's my plan anyway."
Shura: [Referencing Hockney's sexuality]: "It's really hard to know what it must have been like to be gay then. Because I've only been gay now, and even now sometimes it can be a bit weird. I remember holding hands with my girlfriend in Canal Street, which is like the gay area of Manchester, and some dude went 'lesbians' and I was like ' we're in the gay village, like leave me alone.'"
Marika: "Congratulations."
Shura: "Yeah congratulations on your wonderful observation."
Marika: "Me and Amber [Bain - The Japanese House] got kicked out of a cab recently. [The cab driver] was like 'oh' – we had a kiss in the back, in fact we hadn't even had a kiss but she lent in to give me a kiss – and we were, we had been talking for like 20 minutes up until that point. And then he just stopped the car and said 'can you not do that please'? And we were like 'what?' and he was like ' you're having sex in the back of my car' and we were like 'we're not, you know we're not, we've just been talking for 20 minutes'. And we were like 'is it because we're women?' Then he paused for ages and he was like 'no, I just don't like lesbians having sex in the back of my car.' Literally like...."
Shura: "What do you think lesbian sex is? A peck on the cheek?"
Marika: "Yeah exactly, that's what Amber said!"
Marika's motif: mouths
Shura: "I know this is not really related to art but I wanted to ask about mouths...."
Marika: "Yeah they crop up a lot [on the record]."
Shura: "So it's like mouths and eating, like devouring and consumption, swallowing...."
Marika: "I think I have a mouth obsession. Like when I was a child I sucked my thumb for a really long time. I gave up, I got...."
Shura: "Oral fixation?"
Marika: "Oral fixation, yeah, and I gave up on my own and then I got shouted at really badly by a teacher in front of, like in front of a big group of people...."
Shura: "Is that why you gave up?"
Marika: "No, and then I started sucking my thumb again that day. And when I was eating as a kid I would just hold food on my mouth, like yoghurt, I would press yoghurt against my mouth before I ate it and my mum was always like 'hmm, you have a funny thing' - perhaps it's a birthing thing, and you hear it a lot. I'm mouth obsessed, even if you go back to the first EPs it's always about mouths and tongues and teeth and stuff like that. I've always been into Francis Bacon and that's so mouthy – like very tortured mouths."
Get the Best Fit take on the week in music direct to your inbox every Friday