Tracy Bonham – Masts of Manhatta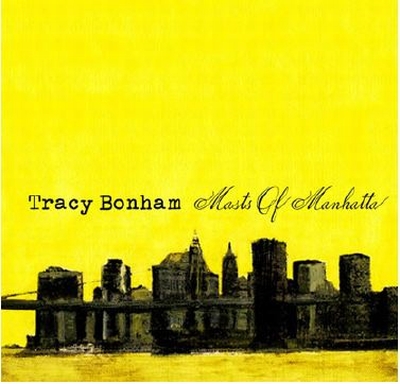 Just as I consider the (lack of) merit stereotypical female singer-songwriters have – all acoustic guitars, lilted vocals and viciously weak lyrics – I stumble across another to test my opinion and force me to reconsider. Of course, there's only so much one fan can take before the affair becomes droll and irritatingly familiar, but there's potential for success in every genre, no matter how predictable. Fortunately for Tracy Bonham, her fifth studio album Masts of Manhatta falls on the right side of the tracks.
Strings are integral to the composition of this recording, which is unsurprising given Bonham's classical background, but inspiring considering the intricate layers and faultless production that was arguably missing from her previous releases. Perhaps the extensive amount of time it took the singer-songwriter to finalise Masts of Manhatta gave her chance to properly contemplate past failings; Bonham moved to Woodstock, NY in 2007 to begin recording, and did not leave the studio until the end of 2009.
Her enduring patience has paid off; the album twists and turns, wrapping itself around the many cities its creator frequents to emerge with the best of all sounds: blues from Boston, al-folk from the West Coast and an intriguing dash of no-wave from Brooklyn. However, the album's biggest success is that there is not a whiff of twee-jazz or over simplification; a pit that many (predominantly female) musicians fall into following a path of American wandering. In fact, Bonham is hardly a product of her country at all; if comparisons are to be drawn, the closest I can make is with Dublin's pup guru Cathy Davey.
The tracks themselves come thick and fast, consumed in every technical application your music teacher used to bark at you to perfect. It's not just the man-made instruments hard at work; Bonham's vocals are put to equal effect and draw the songs into their promising conclusion. 'Josephine' and 'We Moved Our City to the Country' are highlights, despite the latter's verbal hiccup in the pronunciation of the word "country". Despite the few that fly high, others come soaring towards the ground at an alarming rate; Bonham has a tendency to repeat lines in crescendo, and by the seventh track 'Reciprocal Feelings', which maximises on the technique, it becomes clear that she's filling time, and diverting attention away from the fact that the song has nothing very important to say.
Predictable? Yes, a little. While Bonham manages to hold the reigns steady enough for an enjoyable ride, we're not passing the decedent New York homes of the stars here, rather the elevated central lane of a worn highway. Bonham is certainly at the top of her game, but I'm not sure it's a game I want to play.