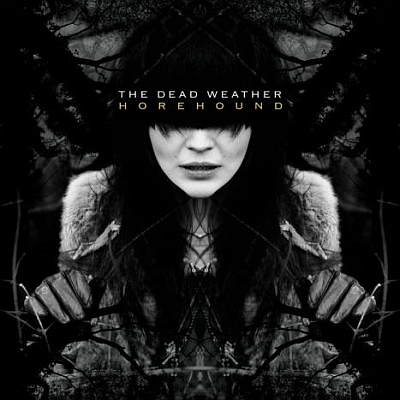 The Dead Weather, the latest project from one of the busiest men in music, Jack White, was always destined to be huge. Simply by the inclusion of Jack White they have become one of the most talked about new bands this year, it is difficult, for example, to visit any music website without being attacked by an annoying expanding banner reminding us of the release of their debut album, Horehound.
At first sight it could be believed that Jack White contributes much less to The Dead Weather than we would hope, he plays Drums (competently, but unspectacularly) presumably just to show us that he can. He only receives full song writing credits on one song, and there are several songs he receives no credit for at all. It could therefore be reasonably concluded that The Dead Weather is more about showcasing the talents vocalist Alison Mosshart (from The Kills) and guitarist Dean Fertita (from Queens of the Stone Age), and White is simply involved in the "project" to bring it more attention. But, from the beginning of the album, it's clear he still holds a large amount of control over the workings, and sound, of the group.
Alison Mosshart, who had previously provided vocals for The Raconteurs when Jack White's voice gave way, is clearly a competent vocalist. It could, however, easily be argued that her voice is more suited to the altogether quieter songs of The Kills. That is not to say that she doesn't work well here, but her voice too often seems too weak and falls easily behind the heavy guitar of the songs, and could be accused for not making a proper impact. Mosshart's vocals are still somewhat effective however, and it would be a mistake to criticise them too heavily. Her voice carries plenty of soul, and is particularly effective on songs such as the brilliant 'Treat Me Like Your Mother'. It is perhaps of no coincidence that some of best songs on the album, such as the fantastic 'I Cut Like a Buffalo' (written solely by White) are lead by Jack White on vocals, but the other strong tracks on the album feature Mosshart and White singing in unison, or duelling for centre stage, and they make a formidable vocal pair together. Dean Fertita, who despite only being the keyboard player in The Queens of the Stone Age, is an excellent guitar player, contributing some brilliant riffs and solos to the album with his full and powerful sound. However he's simply not as good as Jack White, which is perhaps a somewhat unfortunate statement to be made about a very able guitar player, but one which must be made.
If, however, we ignore the fact that White is at all involved in the Dead Weather and simply take it for what it is, it is still a good album. The previously mentioned 'I Cut Like a Buffalo' is a fantastic song along with the Dylan cover 'New Pony'. It should not be forgotten that Horehound has enough good songs on it to be a very enjoyable blues-rock album, and it should be easily recommended to people who have enjoyed the previous output of Jack White and co. It is, unfortunately, rarely truly exceptional, but it's more than enough to keep us happy until Jack finally decides to complete another album with Meg.
77%
The Dead Weather Official Website
More from Best Fit