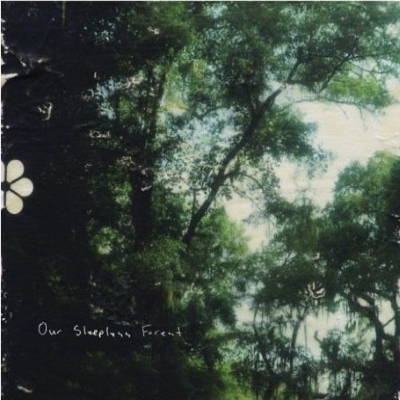 Following on from their debut on Type records, Our Sleepless Forest are a Putney based three piece who have finally put together their debut album for Resonant. The band, comprising Sam Purcell, Josh Rothberger and Karl Jawara have fused all kinds of sounds and instruments to create their own sound collages.
Electronics click and swirl around, as naive melodies join with tape hiss and the sounds of the forest on the eponymous opener, before moving to a psych rhythms towards the end of the track, calling to mind the more far out elements of Yeasayer. 'Nomads' follows in much the same vein, again heavy on the forest sounds and ambient noises. Next up, 'The Tinderbox' gives a much needed rest from the chirruping of the woodland, opting instead for a quiet brooding string part, and delicate piano sounds which wash through the speakers, as if to clean the palate before starting up with the clicks and looped found sounds again for 'Doors in Limbo'. And so it goes on, in a pleasant, soporific way.
This is the sort of album you might put on to help you slip in to your sleep – it relaxes and lulls you quietly without ever managing to set the pulse racing. The intricate, slow build melodies do begin to reveal themselves over time, droning in and out alongside distant vocal samples and looping strings. Fans of Sigur Ros will find much to love in the backwards strings and piano of 'Aircastles'. It is only on 'The Clarion' does the album bucks this formula, as it builds into a buzzing swarm of noise, with harsh metallic drums in the background until fading out, almost as a notice to the listener to point out that theirs is not a one dimensional sound.
The idea of a 'Sleepless Forest', alive with strange sounds and echoes, at once open and yet somehow creating a sense of claustrophobia is evidently something the band are playing with here. While the idea of using animal and forest sounds as a drone is interesting to begin with, the band over egg the pudding, and it is to the detriment of the record. When the melodies are allowed to bubble to the surface, the accompanying 'sounds of the forest' too often make the record feel like it feels like a new age meditation or relaxation record.).
That said there is much here that shows promise, and although they may not have achieved all of their goals on this record, they are an act to keep an eye on. When they get it right here Our Sleepless Forest come across as a more organic, stripped down version of Fuck Buttons (Think Street Horrsing album closer 'Colours Move' without the electronics), which is never a bad thing.
55%
Links
Our Sleepless Forest [myspace]
More from Best Fit