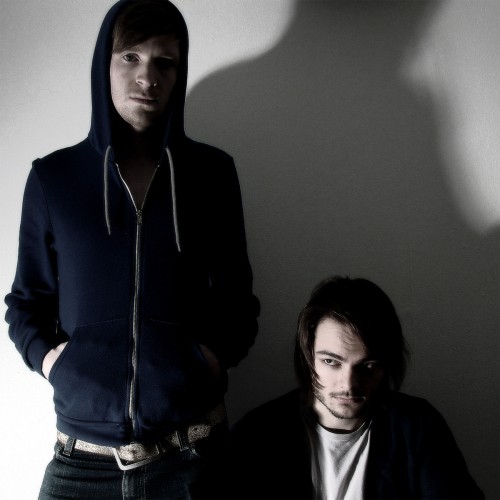 To obsess over a song is a frustrating experience. Nick Hornby talks about the need to "solve" a track – the necessity to 'work it out' before you can stop listening. I think he's wrong. For me, it's not so much solving as it is gorging – a physical requirement to listen to that hook, or that little vocal imperfection, over and over again until you are full.
Such has been my problem with Kiasmos, a new collaborative project from Ólafur Arnalds and Janus Rasmussen. 'Thrown', the first track to emerge from their forthcoming debut album, is my current obsession, its Detroit-via-Reykjavik simplicity still utterly engrossing even after triple-figure plays. With the least ostentatious building blocks (a three-note bass line, a three-note melody, and a four-on-the-floor kick) Arnalds and Rasmussen have constructed something extraordinary; a looming, atmospheric piece of music that is as ominous as it is beautiful.
Their respective touring commitments mean that the pair often has to write and record by email. The Line Of Best Fit spoke to Arnalds and Rasmussen about the practicalities of long-distance recording, and their forthcoming album.
Hi Kiasmos. What are you listening to at the minute?
Janus: Nicolas Jaar, Shlohmo and some Niki And The Dove.
Ólafur: Add some Jai Paul to that and you'll see us making moves you don't even want to know we can do.
Your first single, '65', reminded me of Walls-era Apparat, but 'Thrown' seems more like Detroit than Berlin. Do you have a set idea of the sort of music you want to make as Kiasmos, or is this more of a process of experimentation?
J: When we're in the studio we just make the music that feels most natural to us at the time. But as the album starts to take its form, we start to get a sense of direction and realize what sort of tracks we need to concentrate on making to make the album a coherent piece.
Tell me about the practicalities of recording, and of collaboration. Who does what?
J: It depends from session to session. Mostly we're just both fooling around on all the synths and record what ever sounds good. We sort of take turns to see if anything interesting happens. Sometimes we'll start with a basic beat, and then other times we we'll
only have a bass line as a starting point.
Ó: We are good with time management so often Janus starts looking through the hard drive for samples to manipulate while i arrange some strings. Such a luxury being two people in the same band!
Ólafur – I read that you were happy to "finally make music that people can dance to." You both clearly have pretty eclectic tastes. Do you think it's important to have an outlet for ideas that don't necessarily fit into your day jobs?
Ó: I often talk about it like people's need to get out of their house sometimes. Like if you stay home for a whole weekend you just
really need to get out! even if it's just for a short walk in the park. Techno, for me, is a bit like a walk in the park.
What can we expect from the LP? 
J: A lot of heavy beats with melancholy strings would be a fitting thing to expect from the LP.
Any plans for a live show?
J: We're doing some shows in Germany in April.
Ó: We should totally add a visual artist to the mix… don't you think?
Can you recommend something that we might not have heard before?
J: An Icelandic band called Samarisis doing very exciting stuff these days.
Ó: Indeed. We are Samaris fanboys number ones. Check out their song 'Góða Tungl'.
More from Best Fit