If you were going to take a band with harmonies as sweet, lyrics as achingly personal, and beards as enviable as Dry The River and experience them play a stripped down, acoustic live set, where would you put them? A quiet river bank, maybe? A roof top overlooking some bright city far below? Probably not, all things considered, the buzzing hub of technological wizardry and widespread product-worship that is the Apple Store on London's Regent Street. Nevertheless, it is up those familiar, shining stairs that we find the band this evening, or three of them, at least. Drummer and violinist, we assume, would make a little too much noise for the army of blue t-shirts to deal with while continuing to explain to the Tuesday night shoppers that what they really need is a phone with a personality that talks back to them.
Past all this and the rows of gleaming aluminium laptops, The Line Of Best Fit find ourselves in a bright, tech-filled office, with a few minutes to catch up with Scott Miller and Matt Taylor of Dry the River and ask them just what it is they're doing here. "Matt booked the show 'cause he's lost the 'O' key off his keyboard," Scott begins to explain, grinning slyly. "He really needed a new one, so he thought, – if we play in the Apple Store, surely they'll be able to source me an 'O' key." Whether or not an 'O' key is ever found for Matt is quickly lost in impressions of the Apple staff's reaction to a laptop as old as his (more than a year, we're told) and the tone of the interview is set.
The two are certainly not the characters you might expect from listening to the emotion drenched chorus of 'Weights and Measures', but after a few minutes in the room with the bassist and guitarist, it's soon clear where the raw, excitable power behind Peter Lidle's melancholic vocal lines comes from. I ask how the sound of the band came to be. "I think Pete kind of spurred that" Matt admits. "He was in a post-hardcore band, he used to just scream all the time, and ruined his voice. That's why he sings how he does now. He wanted a bit of a break from music, but he had an acoustic guitar and just kind of started writing in a different style, and it turned out good."
"'Yeah," Scott continues. "He wasn't surrounded by this rock band anymore, it was just him and his acoustic, and he started doing it as solo stuff." Like Peter, the other members of the band have come from far heavier musical backgrounds, and it shows. "Then we all got together in the studio… We started playing the songs live, and the more we played them, the more our old influences crept out in the live show, and we wanted to play it a little bit harder. Especially for the drummer, Johnny, he wanted to rock out a little bit more, use a bit of cymbal here and there, and it sort of grew out of that, and eventually we landed in this middle." "I think Pete kind of realised that despite writing folky songs, they were pretty epic songs as well, they could go big." adds Matt.
And go big they can, but not this evening. It's still, though, something of an oddity to see the band take to the stage. Tattooed and clad in vests and dark colours, hidden, in the case of Peter, by a hood and hair covering almost the entirety of his face, they wander on to the low stage in front of 50 or so comfy seats, and sit atop Take That-esque stools to play their set. It's actually rather fitting, if you consider the conversation we had only minutes before, when we ask about the band's incongruous look. "Lots of people say I look like Gary Barlow,'"Matt says, sheepishly "so I just try not to look like Gary Barlow as much as I can, maybe that's it." And it has to be said, it's a striking resemblance, especially when he's sat up on the boy-band stool. "Pete likes to grow his hair long cause he's embarrassed about his forehead" Scott remarks, casually outing his bandmate's personal fears to The Line Of Best Fit and a recording device, "he reckons he's got a big forehead so he likes to cover it up and pull his hair down over him." Let's hope he's not too concerned about it, then, shall we Scott? "I don't think we should look like Fleet Foxes or anything, though" Matt says, steering away the conversation "They look a bit… smelly. You do have the Fleet Foxes beard though" he smiles at Scott, baiting him.
"What they invented beards did they, Fleet Foxes?"
"Sorry, a Mastodon beard"
Moving on swiftly from Scott's (it has to be said, very impressive) facial hair, we talk about the recording of the band's album – released in February next year – and working with The National and Interpol producer Peter Katis. "He was amazing. He's like a genius. Like a mad-scientist sort of genius who sits there in amongst a ridiculous array of equipment… Everything he put down seemed to sound absolutely amazing. He just has this way of making it fill the whole range of sounds" says Scott. "He has an amazing ear," Matt continues "I really like The National record Boxer and I never thought in a million years we'd be able to record in the same place, with the same guy." "And there were just little things left around that [The National] left there, which was cool. The High Violet [The National's most recent album] white-board was still in there. We got all excited about that" Scott adds.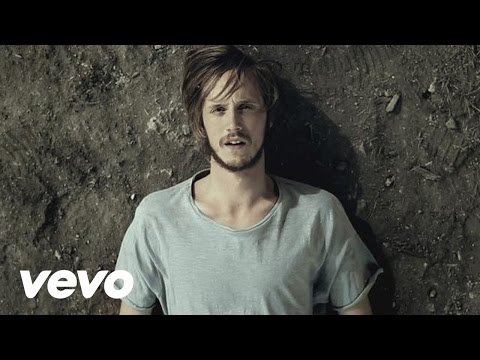 "This is the first album, you know, so those songs have been building in our set since we started the band… Some of them have been kicking around [with Pete] for almost six years now… Whereas the most recent one we wrote literally in the studio while we were out in the states, so it's certainly not a concept album where it's one whole thing throughout… But there's themes that [Pete] always reverts to…" "like family and the trials of relationships, so I think it's all pulled together" Matt continues, before Scott begins again "But yeah, it's not like a straight up concept album, as much as I wish it was. I'm a big fan of progressive rock so I kind of wish it was a concept album…" "Maybe that's where we'll go next… A concept album about Apple. The rise of Apple" Matt says jovially. Pro-Apple or anti-Apple? "I don't know. Let's wait and see. You'll have to buy the album to find out…" We'll look forward to that then…
With the band's first album (not the Apple concept album, that is) recorded and set for release early next year, after the Weights and Measures EP, which will be on the shelves from 14 November, the band hit the summer festival circuit and have just finished a tour with Indie-rockers Bombay Bicycle Club. We ask them how the tour went, and what it was like playing with the other band. "We didn't know what to make of it at first when we got the invite to play that… I sort of had the impression that they were really young and maybe they'd be a bit reserved and wouldn't party too much, but once we got out on the road it turned out they led the way to the after party every night. They were really up for a good time," says Scott. "Yeah, it was cool. They asked us to sing a song with them every night in the encore." Matt interjects, before Scott goes on, "And just the chance to play to so many people in such massive venues… Brixton Academy in London was one of the first shows I ever went to as a kid growing up so it was amazing to go back there and be on the stage…. I mean it's definitely the biggest thing we've ever done. They told us it added up to thirty-odd thousand people over the two weeks we would have been playing to, so that's pretty crazy… It was kind of daunting but it turned out to be really fun."
This said, a big stage like Brixton certainly seems more appropriate to the band than the foot-high construct at the back of the Apple store this evening, complete with projector screen and a few confused-looking laptop-adorned shoppers mixed with the music fans in the cinema-style chairs. Nevertheless, the quiet set is a little bit of folk-loveliness, if a little out of place, and seems to go down relatively well. It must be said though, it's not the same experience as seeing the band live in a more appropriate setting, and not what you'd expect from the boisterous young guys we've been speaking to this evening.
Weights and Measures EP is out now.
More from Best Fit