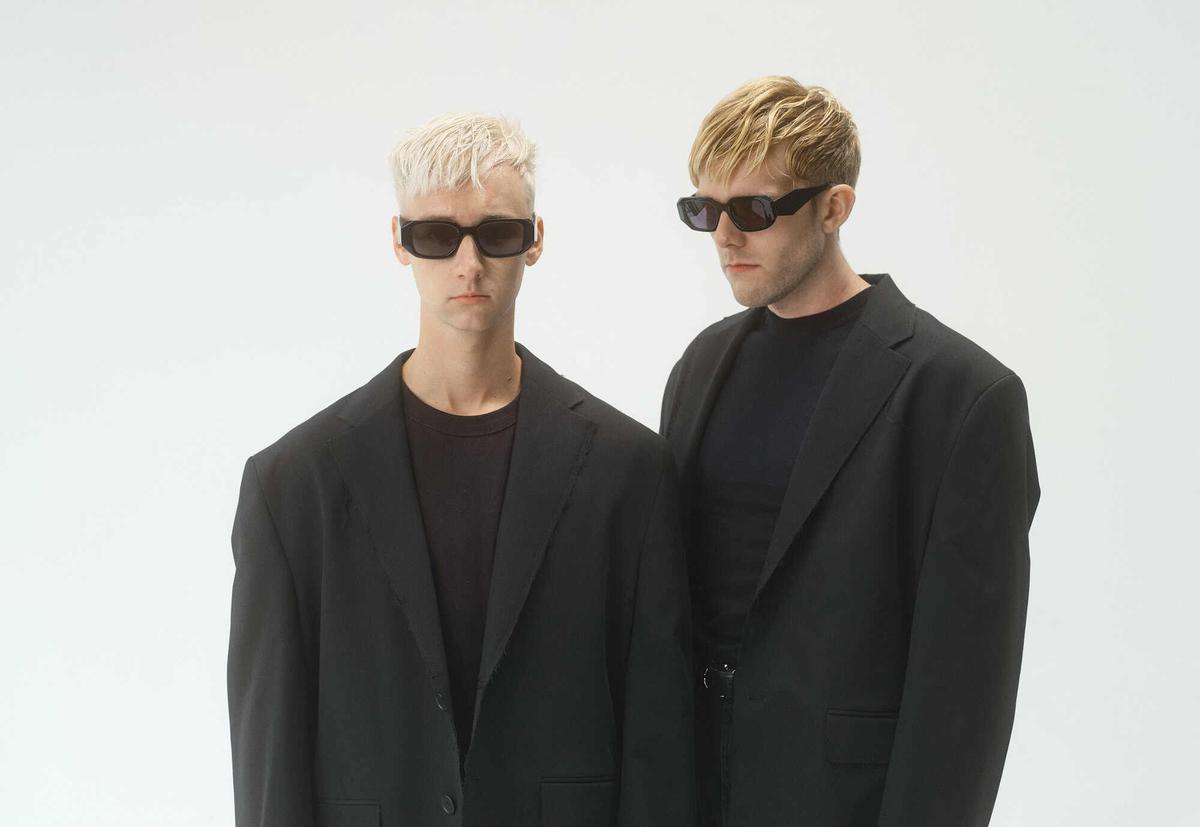 DBMK take a frenzied look at obsession in "New Skin"
Originally from Tampa Bay, Florida, but now residing in New York, alt-pop duo DBMK are unafraid to demonstrate a dark, individual desire in "New Skin".
Points of obsession can come from strange places, though the human self continues to fascinate in several means. Though they could be tapping into their feelings, struggling with sanity, or learning to escape, DBMK, rather, take the horrors of their "rotten, misguided dreams" and hold up a mirror to self-obsession in "New Skin".
Simmering in the sonics of punk but with the charm of indie, DBMK's latest release comes as a reintroduction. The duo recently collated their past works into a project titled Archived Works, displaying a re-shift in their focus and intent. With an affinity for beats, lyricist and vocalist Kyle Knudsen recalls "New Skins" origin: "Colton sent me this absolutely colossal beat. It struck me right away and it felt like… obsession? Or something worse. Way too loud bass and drums just like… driving on and on."
Knudsen and Colton first met in the mid-2010s, as what began as a high school friendship in Tampa Bay when Knudsen was seeking a drummer to join his former artist project on tour. Over the years, the project evolved into DBMK, and saw them relocate to Nashville - where their music first began to shift from their early metal influences - but it would be New York, where they now reside, that their talents thrived.
Taking inspiration from the falsetto of Prince to other, modern acts like The 1975, DBMK's identity is very much in flux. While the duo have collaborated with producers Kieron Menzies (FKA Twigs, Lana Del Rey) and Nick Lobel (Harry Style, LANY), "New Skin" is one of their most precise works to date – a direct cut, that is more personal than ever.
"I started to think about what people are obsessed about; what really keeps their attention: themselves," Knudsen shares. ""New Skin" became almost a diary entry of the person I might be like if I surrendered to the darkest and ugliest things that drive me like that; that I think drive most people. It's our rotten, misguided dreams," he continues about the tracks semi-autobiographical nature. "It's context for obsessing over aesthetics and expressing a performative personality to manufacture a sort of confidence."
The intro briefly captures a nauseating haze before breaking into a direct look into Knudsen's spiralling mind. "I need focus / I need power / I need love but it don't need ours", one line muses, before adding drums, movement, progress, followers, clothes, and closure amongst the list of commandments. DBMK are conscious of flipping the narrative; consider it an apocalyptic wish list.