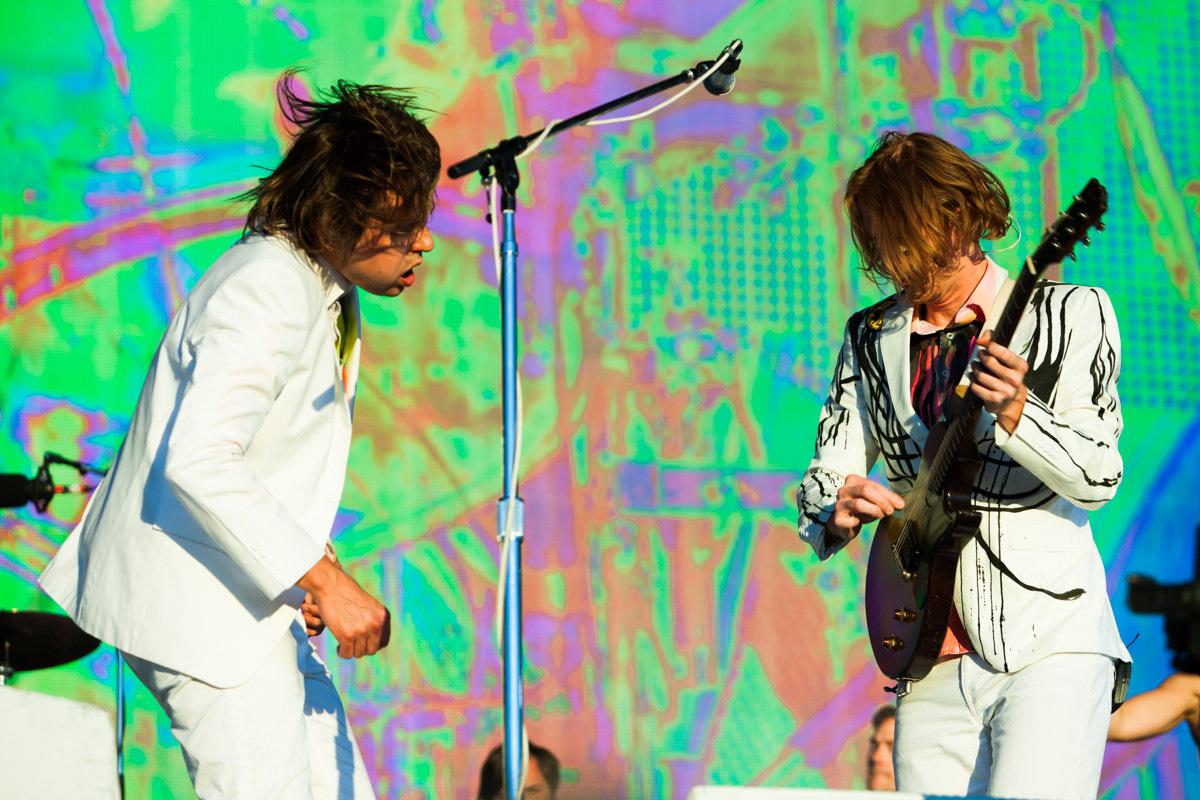 We Deserve Love: Arcade Fire, Live in Manchester
As much as Arcade Fire have always worn their Mancunian influences on their sleeve, they've probably never done so quite as enthusiastically as tonight.
The mind wanders back to when they were touring The Suburbs, when they played just a stone's throw from tonight's venue over at Manchester Central; that night, they worked a little of The Smiths' 'There Is a Light That Never Goes Out' into the outro of that album's title track. When they returned a few months later to play at the Arena, in August 2011, "Champagne Supernova" found its way into the end of "Rococo".
It's hard to believe that was the last time the Canadians were in town - they managed to skip us over entirely when they were out in support of Reflektor - but May's tragic events at that same venue seem to have coloured their outlook tonight. Win Butler repeatedly urges the crowd to "look after each other", and the group's love for the city and its musical community is made more obvious than ever, not least when they segue from "Afterlife" into an impromptu version of "Temptation" by New Order.
That same band are actually playing a show themselves around the corner tonight, as part of their ambitious residency at Manchester International Festival, which was also responsible for bringing Arcade Fire to the relatively cosy confines of Castlefield Bowl. On current form, of course, there's nothing unusual about the group playing to smaller venues than usual - they arrive off the back of two nights at the tiny York Hall in London - and if fans were expecting an extensive preview of Everything Now, their fifth LP due later this month, then they'd have been disappointed. This was largely a greatest hits affair.
Sure, the title track from that record leads us off, but it runs straight into a never-more-vital "Rebellion (Lies)". The setlist plucks from across the back catalogue, going all the way back to Funeral for the always-epic "Neighbourhood #1 (Tunnels)" and finding space, too, for a haunting rendition of "The Suburbs" hot on the heels of "Intervention"; the fact that the Neon Bible deep cut inspires such a full-throated singalong speaks volumes about the dedication of this fanbase. What we do get from Everything Now suggests that there'll be a dichotomy in play on the album between the eighties disco-pop sound (both "Signs of Life" and "Creature Comfort" suggest as much) and the internet-inspired anxieties of its lyrical themes.
"We're gonna play until they won't let us any more," Butler announces as the group return for an encore, which ends up feeling a touch disingenuous when the show wraps three songs later. Still, we get an unplanned "We Exist" before the lighters-in-the-air euphoria of "Wake Up", and when a rare outing for "Neon Bible" brings the curtain down, Butler spontaneously leads the audience in a chorus of "Love Will Tear Us Apart". "Thanks for not being scared," he said as the night began. "Thanks for being such a fucking inspiration to the rest of the world." When Arcade Fire are on this sort of form, there was never really any question of Manchester letting them pass by.