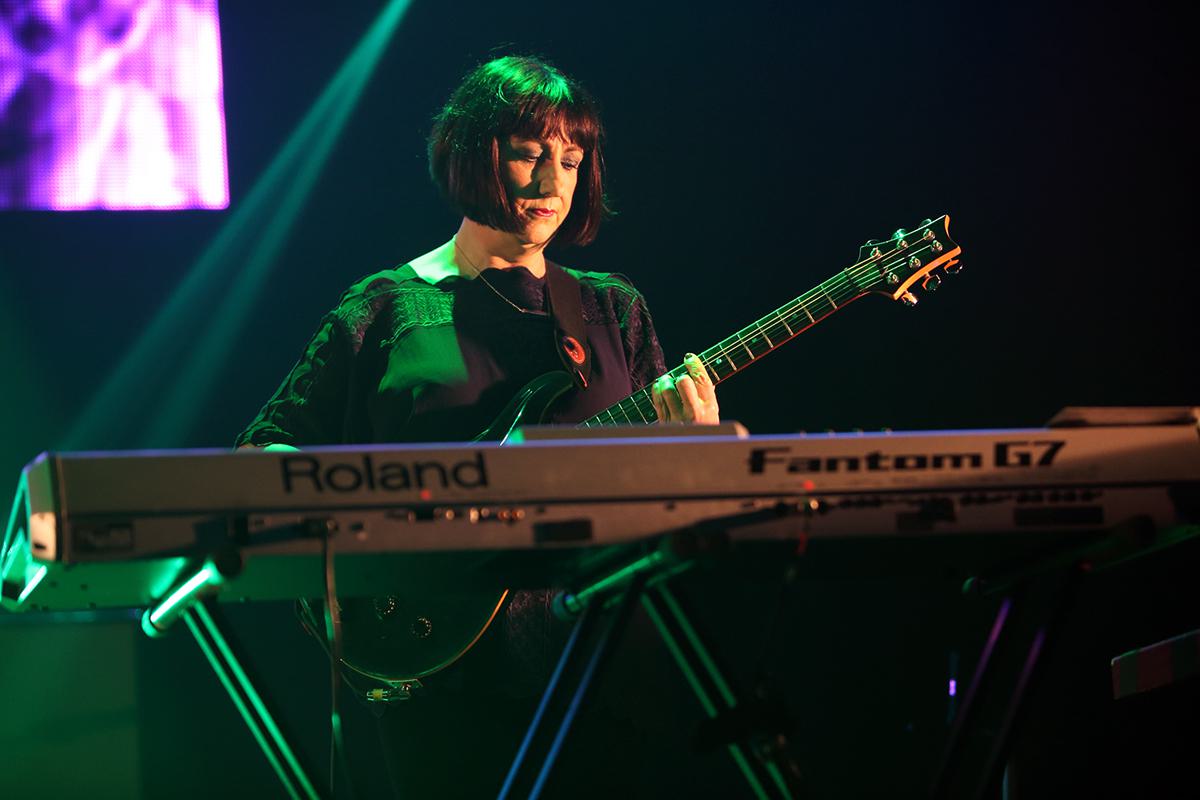 So It Goes: New Order, Live in Manchester
There's no point delving too deeply into the uneasy disconnect between Manchester's rich musical heritage and the exhilarating possibilities for new bands here; this same writer has done so elsewhere on this same website.
The conundrum does apply to tonight's New Order show, though, perhaps more so than it does to any other event in Manchester International Festival's programme this year. From the outside looking in, the contradiction is not a difficult one to understand; that a city so prone to revelling in its cultural history is also home to one of the world's most pointedly progressive arts festivals. This series of shows from one of Manchester's most treasured groups, then, should be either a sparkling example of how the past and the present can be happy bedfellows or a disaster that proves that perhaps the twain never should meet.
Happily, the world premiere of ∑(No,12k,Lg,17Mif) leans very much towards the former. As deliberately abstruse as the name of this series of shows sounds, it's a simple equation to elucidate, as much as that might never have been your own experience with high school algebra. ∑ is the sum, and the individual parts are No (New Order, local icons), 12k (a twelve-piece synth ensemble backing them, all students from the nearby Royal Northern College of Music), Lg (Liam Gillick, the conceptual artist responsible for tonight's impressive stage setup) and then the 17MiF part should be self-explanatory.
The gigs are taking place at what is now known at Old Granada Studios, which is precisely what it sounds like; they used to film Coronation Street here, and it was also the shooting location for a legendary Joy Division session that features two of tonight's players, Bernard Sumner and Stephen Morris. We'd been forewarned by the frontman, though, that we wouldn't get the hits tonight, and so it proves; instead, there's a host of live rarities reinvented in incendiary fashion.
Among the New Order cuts that had gone unaired since the eighties include the intense "Ultraviolence", plucked from Power, Corruption and Lies, and "Subculture", "Vanishing Point" and "All Day Long", all of which make their first appearances on stage since 1989. The set that Gillick's designed is a treat; the twelve-strong synth backers, who effectively form an electronic orchestra all of their own, are situated in individual cubes behind the band, with blinds constantly whirring open and shut to reveal and then conceal them as the performance winds on.
More importantly, what those musicians bring to the table is genuine sonic heft. Joe Duddell, who's best-known for arranging the strings on Elbow records, conducts convincingly throughout, and it means that when we hear tracks that the band should, by any normal measure, be nervous about - a first-ever New Order performance of Joy Division's "Disorder", for instance, or a similar maiden ouring for their own track "Behind Closed Doors" - the group are buoyed by a palpable wave of thick electronic melody behind them.
Back when this residency was announced, Sumner stated in no uncertain terms that this would be an honest step forwards, with little to no classics; he's as good as his word tonight, but the inventive setlist is a potent weapon in blowing away any cynicism. Many of us in the audience, meanwhile, had always suspected if Manchester's overly nostalgic past and cutting-edge present could be bridged - just perhaps not as vitally as this.