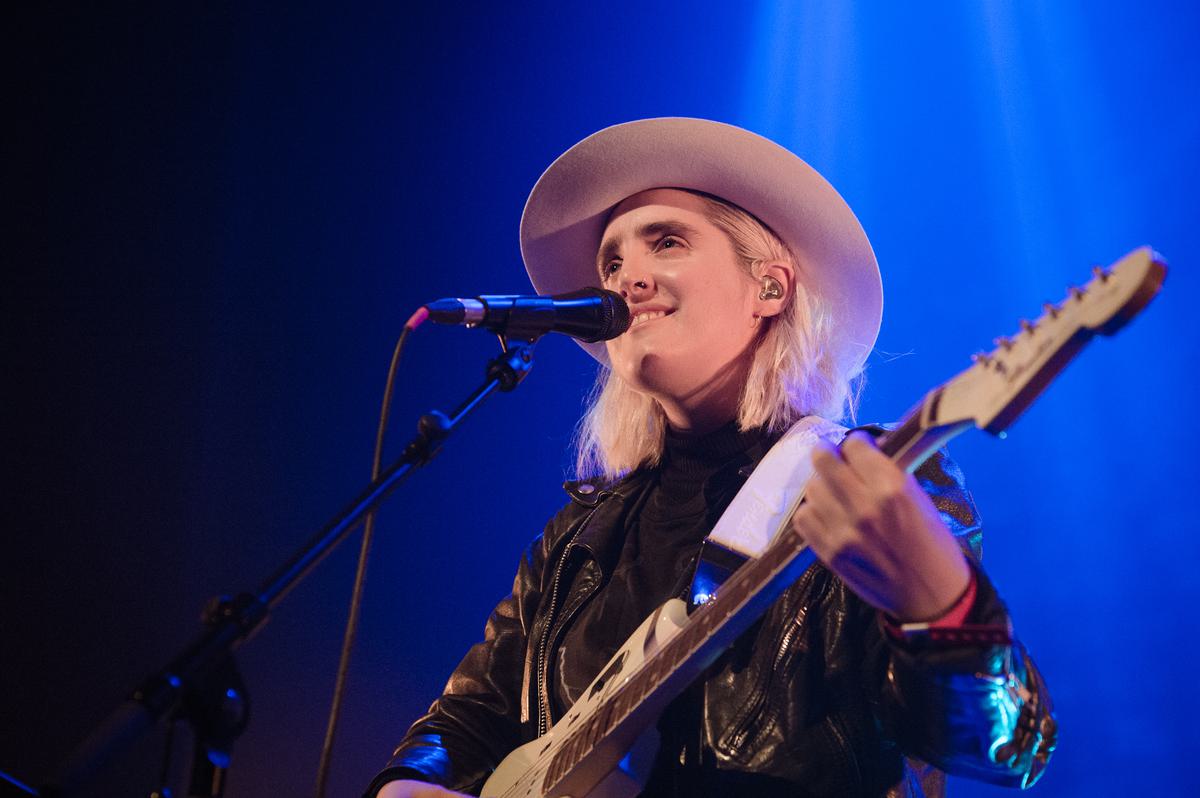 Shura indulges a joyous love-in at The Roundhouse
Shura's 2016 debut album Nothing's Real was largely about heartbreak. Fast-forward three years and Alexandra Denton is all loved-up on her second record, forevher. She's throwing a party at The Roundhouse to celebrate.
Following a stellar line-up of Laura Misch and Rosie Lowe—as well as Marika Hackman and The Big Moon on DJ set duties—Shura saunters onto the stage on Thursday night in the wide brim 'pope' hat that has become synonymous with her look over the course of 2019 (thanks to the brilliantly subversive video for "religion [u can lay your hands on me]").
She rattles through an hour-long set with highlights from Nothing's Real and forevher including timeless romantic crooner "the stage", which recalls her first date with her girlfriend at a MUNA gig. "This is for anyone here who's on a first date," she says, to which several couples in the crowd turn to lock lips. Tonight is a real love-in, and the song's closing, cathartic wig-out celebrates just that.
The aforementioned papal-themed video for "religion (u can lay your hands on me)" is brought to life on stage when Shura brings several friends who are dressed as nuns to bop along onstage to the song's squelchy beats. "Indecision" and "Make It Up" remind you just how many zippy synthpop tracks are on her debut verses the mellower, though no less impressive tunes on forevher. It's pleasing to see Shu enjoying playing older songs as much as her fresher material, lost as she is in the music: her hair dangling over her guitar and her trusty Albeton.
"Touch", Shura's sensual 2015 debut single that became a viral hit on YouTube (today it stands at an impressive 31 millions views and counting) is performed like it's the last song. Shu climbs down into the crowd and passes the mic to various fans who are eager to sing the lyrics back to her.
But there's still the triple threat of "White Light", "tommy" and "skyline, be mine". For "tommy", Shura invites Rosie Lowe and Kerry Leatham onto the stage to harmonise the chorus. The music eventually falls away, leaving the singers' voices ringing out into the night. "Skyline, be mine" wraps things up with the audience swaying their arms in a trance-like state of reverence.
Setlist:
"BKLYNLDN"
"Nothings's Real"
"religion (u can lay your hands on me)"
"Indecision"
"forever"
"the stage"
"Make It Up"
"flyin'"
"2Shy"
"Touch"
"White Light"
"tommy"
"skyline, be mine"

Shura finishes her current tour at Manchester's O2 Ritz on Monday, 18 November (
see more dates
).