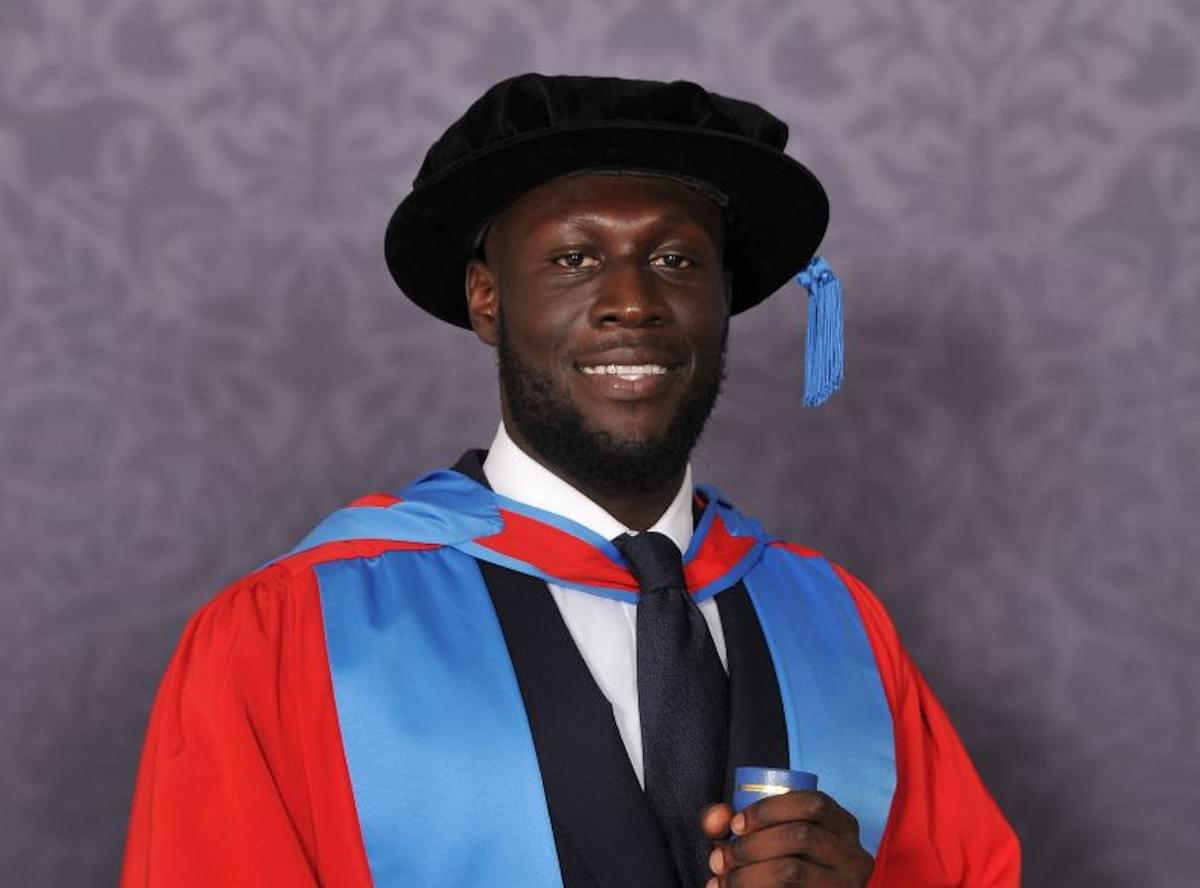 Stormzy receives honorary degree from University of Exeter
Earlier today (21 June) Stormzy was awarded an honorary degree from the University of Exeter in "recognition of his outstanding achievements in the field of higher education philanthropy and widening participation."
Stormzy, real name Michael Owuo Jr, gave a speech at the graduation ceremony earlier today after receiving an honorary degree in "recognition of his outstanding achievements in the field of higher education philanthropy and widening participation", where he said he felt "extremely blessed and grateful to be up here receiving this honorary degree."
"The journey I took to get to this moment has been considerably different to yours," Stormzy continued. "You guys have the guts and the grit and the dedication that it takes to study for years and to finish your degree…whereas I got my AS results in my first year of college and said yeah, see you later. I didn't have the same minerals that you guys have. A year later I took another swing at my A levels at a different college…until I sat down for my English exam in January and walked out after 10 minutes."
Stormzy said in his speech, "It took a hell of a lot for you to get here today. Your journeys to get to this moment were hard fought. The road you took was not easy. And this is coming from someone who tried to walk that exact same road and failed. So from the bottom of my heart I say congratulations, well done and you should all be so proud of yourselves, what you have achieved is incredible. Don't let anybody downplay it and don't let anybody undermine it. If you are sat in this room today you are worthy and you are brilliant."
Later, he said, "When I asked what exactly am I receiving this honour for I was told, and I quote, it is in recognition of your outstanding achievements in the field of higher education, philanthropy and widening participation and I was like rah boy… check me out. They're calling lil old mike a philanthropist."
Stormzy concluded, "I couldn't finish this speech without shouting at my mum who is sitting there beaming with pride and joy right now because her biggest dream for me was for me to go to university and graduate and then become somebody so this moment is real full circle. And I always say that God has a funny way of bringing you exactly where you was meant to end up. To God be the glory and God bless you all. Thank you."
We're delighted that Michael Owuo Jr. (Stormzy) will become an Honorary Graduate at of Exeter today recognising his outstanding contribution to society. We can't wait to welcome him to our campus and hear his message to our graduates. Watch live at 11:45: https://t.co/qaffHoMWr9 pic.twitter.com/SQmdWQHpAA

— University of Exeter (@UniofExeter) June 21, 2022
University of Exeter Vice Chancellor, Professor Lisa Roberts said, "We are proud to honour Michael for his remarkable contribution to society and extraordinary talent. He is an outstanding musician and wordsmith, and he inspires people to speak openly about their beliefs and fight for their rights. The University of Exeter has put social justice at the heart of its new ten-year strategy which includes opening doors to people from all walks of life into higher education and it was wonderful to hear Michael's powerful speech today to students and graduates."
Congratulations to Stormzy, who received an honorary degree from The University of Exeter today in recognition of his outstanding leadership in social and racial justice. pic.twitter.com/jDv1cGEFnh

— SpotlightFirst (@SpotlightFirst_) June 21, 2022
Get the Best Fit take on the week in music direct to your inbox every Friday