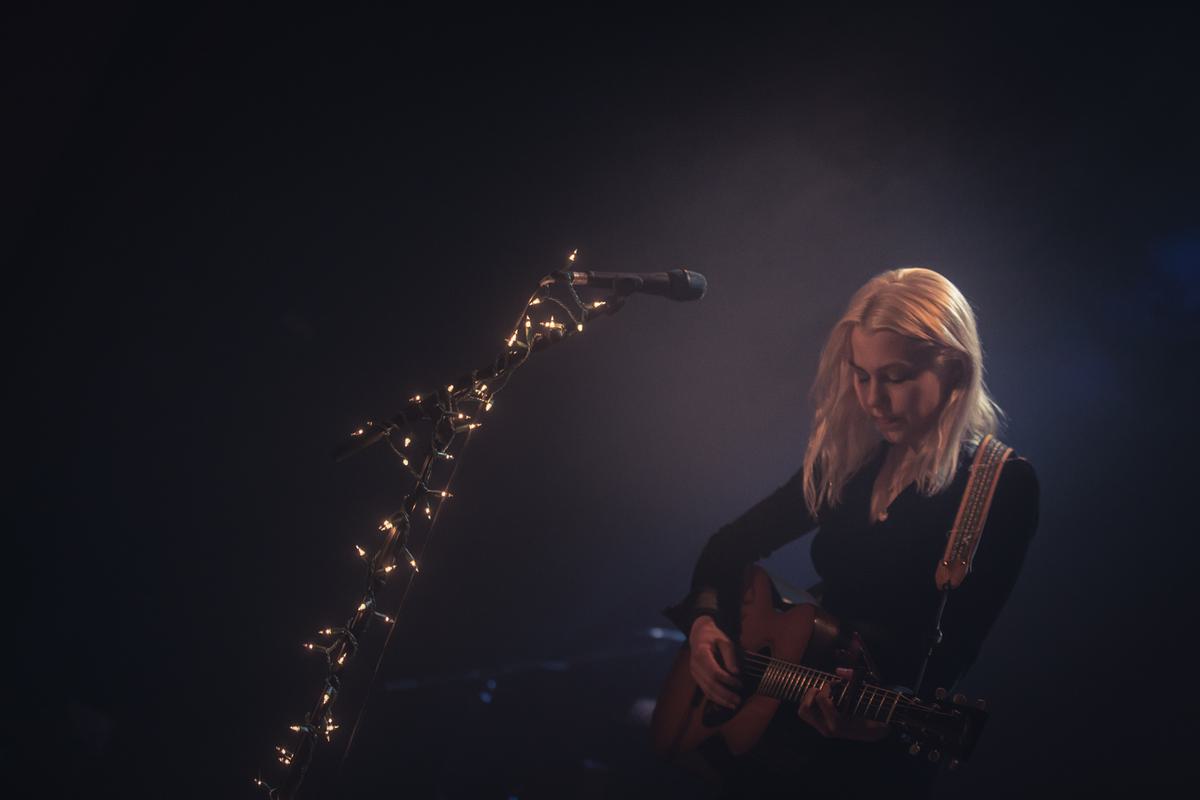 Phoebe Bridgers is "going to sing some harmonies" with The 1975's Matty Healy while in the UK
Phoebe Bridgers returns to London this weekend for her headline slot at MIRRORS Festival, and she's revealed that she plans to meet up with The 1975's Matty Healy "to sing some harmonies".
Last month, Phoebe Bridgers revealed that she will be "playing new songs for the first time" at London's MIRRORS Festival this weekend.
In a new interview with NME, Bridgers revealed that she's really excited to return to the festival, "It's gonna be very nostalgic! I'm a sucker for that shit - coming back and doing stuff again."
When asked about debuting new songs this weekend, Bridgers replies, "This is the first time, which is terrifying. I've played, like, one or two new things solo in the last year-and-a-half. I feel like the model of workshopping new stuff by going on tour and playing some new songs was thrown out the window, because I decided to have three different bands! Basically, the point of this festival is trying out new stuff."
She goes on to reveal that her plans to follow up to 2017's Stranger in the Alps got "derailed" after she got wrapped up in her other projects boygenius and Better Oblivion Community Center.
Responding to how her new album is coming along, Bridgers says, "I don't know! Honestly… The last record, I wrote the last two songs literally in the final hour. I don't like to put time limits on myself as much as possible. I think that's the worst thing that I could do right now."
Discussing the differences from her debut to her second album, Bridgers adds, "The production is totally different to my first record. People still kind of think of me as like a folk artist, but on the first record, I truly was deferring to other people to produce me. I basically had these country folk songs. [On the new record] I do a little bit of screaming on what we've recorded so far."
When asked if she has any other plans while over in the UK this weekend, the singer/songwriter explained, "I'm just going to hang there for a minute and have a bit of a rest. I think Matty from The 1975 already kind of already blew up our spot, but I'm going to sing some harmonies with him. We haven't met before, we have only internet-ted. I know him a little bit and I'm excited. I love their turnaround time (on albums), it's fucking great. That's, like, true punk rock."
Read the full interview on nme.com. Phoebe Bridgers headlines London's MIRRORS festival on Saturday (2 November).
Find out more
.