Behind the smoke and mirrors, Better Oblivion Community Center is a melancholic delight
"Better Oblivion Community Center"
Release date: 24 January 2019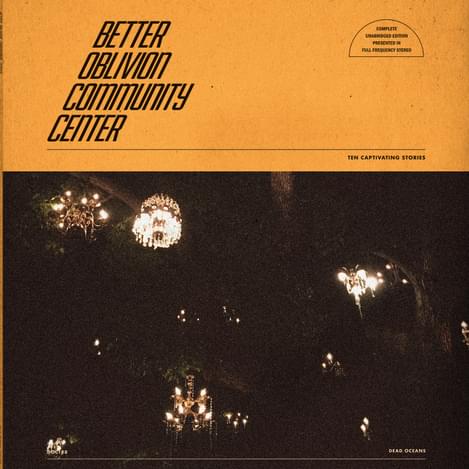 A website declaring it provides services such as assisted self-care and family therapy; enigmatic, cult-like flyers in the post; an advert on a bus stop in LA. Very little was known about where
Better Oblivion Community Center
came from, what its intentions were, or what it even was.
Online forums were awash with rumours, though there was one theory more prevalent than most; that Better Oblivion Community Center was, in fact, a duo comprised of none other than Phoebe Bridgers and Conor Oberst. Giveaways included reference to a Reverand Christian Lee Hutson on said flyer, i.e. singer-songwriter Christian Lee Hutson, who Bridgers has described previously as her favourite songwriter. As is so often the case, the forums turned out to be correct, and as the curtain is finally pulled away, it is indeed Oberst and Bridgers stood, guitars in hand, side by side on the stage.
Putting the elusive nature of the campaign, which will undoubtedly continue to grab headlines, to one side, the pairing makes perfect sense. Both Oberst and Bridgers are often classed as folk singer-songwriters, but neither resorts to conforming totally to that label. Oberst is just as well known for his influence on emo, as well as his rockier exploits with his band Desaparecidos, whereas Bridgers last year released the highly-acclaimed indie EP, boygenius, alongside Julien Baker and Lucy Dacus. They have in fact worked together in the past, most notably on "Would You Rather" off of Bridgers' debut album Stranger In The Alps, the results of which bode well for the new record.
It should come as no surprise then that Better Oblivion Community Center refuses to stick to typical folk-rock, dabbling at times in sounds ranging from alt-rock to synth-pop. "Exception To The Rule" opens with a pulsating, New Romantic-esque refrain before divulging in a beautiful spattering of synths and Bridgers' and Oberst's intertwined vocals. Elsewhere, the duo employ a combination of folk and cascading noise on one of the record's highlights, "My City". As both musicians temporarily abandon the jovial acoustic refrain underpinning the verses, they gradually build up to a release of distortion and drums for the final chorus, Bridgers' vocals in particular breaking with desperation. Both artists draw on their own well of influences, and the result is a wonderful myriad of styles.
Despite the wide range of aesthetics on the record, however, there are no two ways about it; this thing is bloody gorgeous. Two of the most adept singer-songwriters in haunting, poignant melancholy, the beauty to Better Oblivion Community Center lies exactly where you'd expect. Whether it be the tragic "Service Road" or the vocal duet on "Dylan Thomas", there are endless moments on this record that prove just why both Oberst and Bridgers are so highly thought of. It's the fact they're able to do it together, and with such obvious chemistry, that makes it so much more impressive.
On closer "Dominos", Oberst sings frankly that "If we're going somewhere I'm ready, honey / If it's nowhere I'm done". This frankness is symptomatic of the record as a whole, and it's the honest, insightful manner with which both Oberst and Bridgers have approached Better Oblivion Community Center that makes it such a delight. Only time will tell whether they think that this project has gone 'somewhere', though I sincerely hope that they aren't anywhere near done.
Get the Best Fit take on the week in music direct to your inbox every Friday