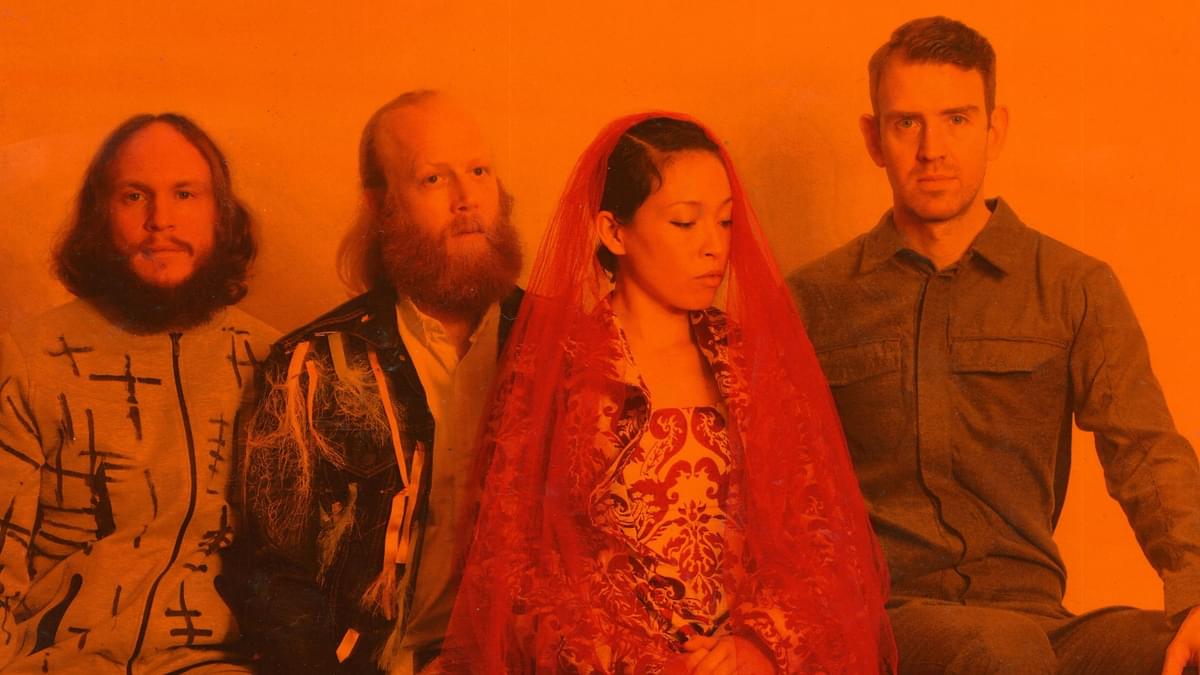 Little Dragon are still learning how to be a democratic band
In 2014 Little Dragon released their most downtempo record yet - Nabuma Rubberband - but with latest LP Season High they're back in their old groove, delivering pop songs that help you lose your sense of self.
We speak to the band's lead vocalist Yukimi Nagano and drummer Erik Bodin to find out about why they wanted to make music that helps people have beautiful dreams or simply gives people the inspiration to their ride their bikes up the steepest hills of Gothenburg, their home city. As well as this, they speak about the period of more than 10 years where the band had very little success and offer pearls of wisdom to acts or bands going through a similar period saying "if it's weird go weirder".
How is it different being in the band now compared to when you first started out?
Erik Bodin: It's hard to tell what the difference is now from when we started - maybe we had less money and were more driven by the passion and could be in the studio and be non-stop. As we grew older we became adults and all of a sudden we have kids, we have responsibilities and all the other people around you are parents with normal jobs. Yeah it's been a strange ride. Basically it's quite surreal to leave your kids at the daycare and tell other parents what you're doing. There's complexity being on the road and making music. Most of the things are the same it's just the world around that's changed.
It took a while for you to experience the success that you are having now as a band. What advice would you give to bands going through similar periods where they aren't experiencing success?
Yukimi Nagano: I'd probably say that labels and music business people are always going to put a lot of emphasis on trying to get that right song and trying to get a hit. We've never had any kind of overnight success, we've really worked hard to get where we are, I mean we're still not necessarily huge so everything is relative, but if you feel like you are onto something that feels super exciting to you then stay on that track. Don't be too sidetracked by music industry people saying 'oh it's good but it's not going to be played on the radio' that can be really confusing when you are new to the business and new to the world of the music industry where there's a lot of pressure and a lot of expectation. It's a world where everything is supposed to happen super fast and you're either in or you're not in. So I'd just say stay superfocused and if it's weird go weirder.
Bodin: Get a good car rental membership and drive around America and sell some merch.That's like the only opportunity we had as we had no hits or anything. Try to find as many channels as possible outside Instagram.
Nagano: Don't get stuck in the world of cyber. We're saying basically everything that a label person wouldn't want us to say. They say 'stay on your social, you're getting more friends there that's great, oh my god this had so many views', try to get away from that and stay in the studio.
I must admit I see artists sharing more and more strange things on Instagram...
N: Yeah I think people are losing track of who they are sometimes, they don't know if they are Instagram, maybe their life is actually on Instagram. It's very strange.
The new album is arguably more upbeat than Nabuma Rubberband. Why do you think this might be?
N: I dunno. I mean we like upbeat songs and a few sketches we made for the record had that vibe, and we feel like we always want to make a contrast to the latest albums, like you don't want to make two Nabuma albums. You want to feel still fresh and a little bit newborn and I guess that's what we've done with this album.
B: It feels like quite a constant mantra for us to say 'oh it would be nice to make an upbeat record you know...' and on Nabuma I remember we said 'okay so we did a downtempo record' - we were forgiving ourselves but now we are back to our old mantra.
"Pop Life" is one of the more upbeat songs on the record. What is the message behind this song?
N: It's a kinda story, it's kinda a visual, I had this visual image in my head of everyone sitting in front of their TV watching the world go under. It's kinda dystopian I think but it seemed interesting at the time [laughs]. I guess there is sort of this idea that unless people are truly desperate we don't get off our arses. I wouldn't say that's necessarily true, especially in the age of Trump being President. People definitely care about the world and about things being fair and right, but I guess I have this image of people being so caught up in themselves, and being so caught up with their TV and social media... so you're just kind of watching things as if you're watching a Star Wars film but it's actually real. That's kind of the image and it's sort of spinning around that concept.
What was the main difference in how you approached this record to previous ones?
B: We're getting better and better at sort of being that democratic band where everyone gets their needs pleased and where everybody feels like they matter. I mean some years ago our drives were in different places and you were unlucky maybe if your drive wasn't so big while the album was being made. I mean we're still learning to be a bit slower but we're such deep friends and we're constantly learning things about one another and realising how important it is to keep everyone happy and healthy. It's almost like that's why we have this band; it's like a channel for us to bloom out into beautiful peacocks.
N: We definitely need band therapy. We need that psychologist there that's going to sit with us when we discuss what song we like most and why. Everything gets entangled with layers and ego and history; it definitely becomes more complex. It gets better and more difficult but it's definitely still super exciting to write something different and to write something new.
Was this the album where you argued least?
N: No I don't think so, I think we argue with every album but our arguing becomes better - we don't cry or slam doors we just sit more and discuss and sometimes get real flushed, you know [laughs].
You've said before that the new album evokes the feeling of escapism. Can you tell us why you wanted to evoke that feeling?
N: I dunno about you but I really identify some of my biggest music highs with feeling like it took me somewhere else, whether it's just being on a bike and listening to music on your headphones or being at a show, it's a real kind of drug and that's why we're doing this. We're really truly music lovers, even though we write. I guess that's something we try to achieve and we want the listener to hopefully experience that whether that's just dancing or falling asleep to music that makes you have beautiful dreams.
B: Yep even if it just makes it easier to ride your bike up the steep hills of Gothenburg [laughs].
Like with most artists, you made most of the songs on the album a while ago. What's that like?
B: It's strange. It's like when we were releasing the second single and we talked to the label people, they were like 'yeah it's out now' - and maybe it wasn't streaming as much as they thought but I'm thinking 'hey fuck it!', like seriously it took me like two years for me to have the relationship I have with the song now and just because you released something last week, give it at least two years.
N: I mean we finished the mixing of the record last summer, but we definitely lived with it until we get so sick of it that we're about to vomit over every single song. I mean it's kind of nice because when you release it, you kind of completely release it from yourself... I don't even have any of our music, once it's out it's out and that's really nice. Once you're mixing it and finishing it you might listen to one song until you're exploding - I mean you might wake up in the middle of the night and go for a pee and you're literally singing that song in your head and that melody is actually killing you and you literally never want to hear it again. But then you give it some space and you start playing it live and it becomes exciting but then you let it go and it's out and it's 'bye bye'.
If there's one thing you want people to take from the album what would it be?
N: I think it that's kind of escapism. I hope that people can somehow listen to the songs and feels like it somehow takes them somewhere, like they just can't help dancing or if you're feeling in love and you suddenly feel more in love. You know that sort of feeling that music has? Hopefully that.
You have a busy touring schedule at the minute, what are you doing different on this tour?
B: So much of the life of the band has been about touring, I feel like we are a live machine. I feel like we all have the itch to get out, it's been like one-and-a-half years at home; I can't wait. Every show is only the moment, it's all about celebrating the now.
N: It's almost like active meditation, like the best shows are when you are really into it and you kind of forget that the audience is there. I guess that's something we long for.
I'm glad you've said that because I get frustrated when I'm not able to remember something from a gig, but I guess it is all about being in the now.
N: Yeah definitely, that's the total beauty, just like trying to be there. We don't have any back track or anything and we do everything live, so the fragility of that moment is really special.
Season High is out now via Because. An independent record store-only vinyl edition is out 19 May.
Get the Best Fit take on the week in music direct to your inbox every Friday