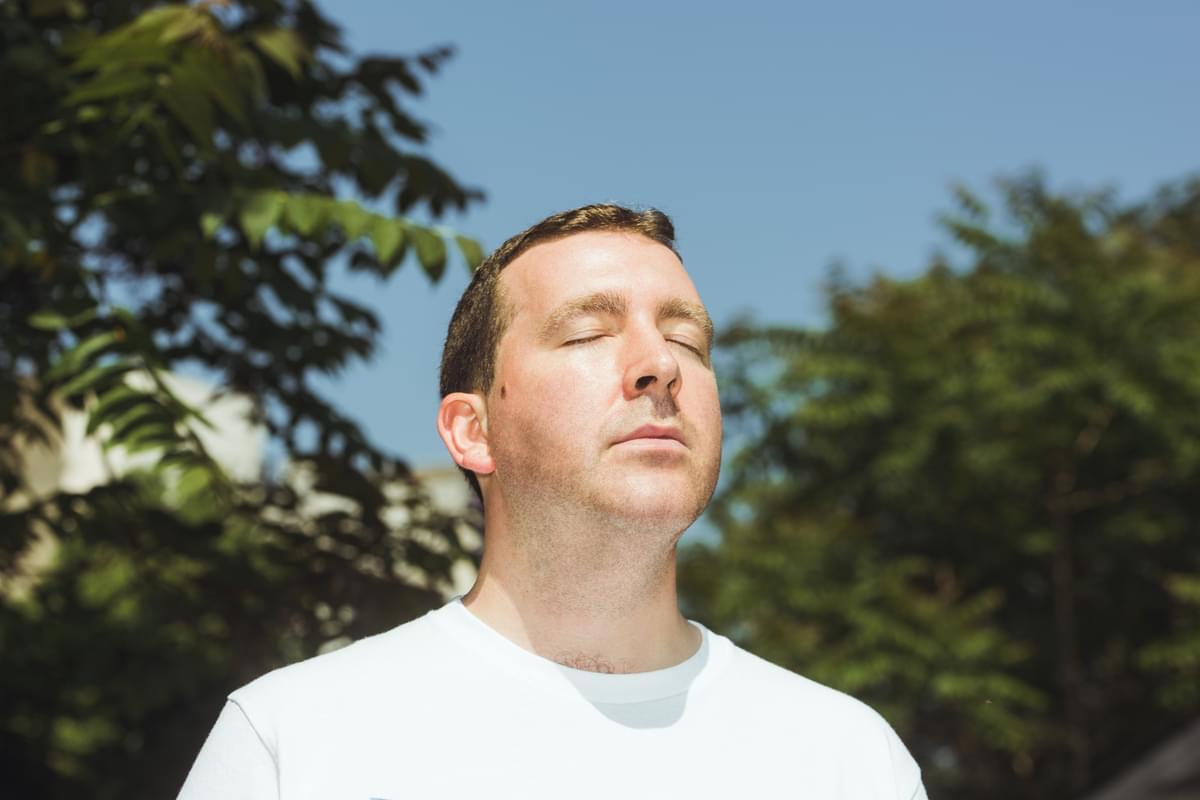 Hot Chip's Joe Goddard discusses the creation of upcoming solo record Electric Lines
Hot Chip's Joe Goddard speaks to us about the inner workings of his upcoming second solo release.
Goddard, the man behind some of the most memorable synth patterns of the last decade, will emerge with his Electric Lines this month. The record, the follow up to 2009 debut Harvest Festival, is a mix of genres that bristles with joy, whilst never being too far away from political statements and moments of melancholy.
The producer and 2 Bears member explains to us how he tackles the topic of death with his little boy Albert, why music is extremely important in today's political climate, and why London is in danger of losing its status as a centre of music innovation.
How did you get to the point that you were ready to release another solo record?
I felt like it would be a good challenge to myself. We made the last Hot Chip record, did a lot of Hot Chip touring, I'd been doing stuff with 2 Bears, and I felt like I wanted to test myself a little bit. I wanted to make stuff in my new studio and see what I could come up with personally as an individual rather than compromising and collaborating all the time.
Were all the songs made in a specific period?
They were all basically made in the last 18 months, all in this studio that I'm currently in, all basically on the same gear - a lot of vintage great synthesisers.
You've made a lot of records, but is it different doing it on your own?
If I'm starting a new demo for Hot Chip then I start it in much the same way as I've started all these tracks; the process is similar for me. I just start working up a beat or some chords and kind of see where it takes me. There are tracks on this solo record that are quite similar in style to Hot Chip songs, there wasn't like a massive stylistic difference, it's just that I felt like making the decisions for this one.
How would you describe the sound of this record?
There are moments of sadness and melancholy, but overall it's pretty positive. It ends with "Music is the Answer", which is a positive ending. I'm just drawn towards that emotion in music; this record was informed a lot by my time as a DJ and I really enjoy those dancefloor moments in DJ sets of the more joyful epic disco or soul tracks. That stuff really gets me in a big way.
There are slower songs like "So Long" - this is one of the more personal songs on the record. Can you tell us the story behind it?
It's to do with fatherhood and mortality. My little boy's name is Albert and he'll ask me sometimes about death [laughs] and cheery subjects like that and I wanted to write something to do with that. There's a line on it, like "You're always leaving, one day you'll stay away..." and that's there because I'm always going off on trips to DJ or play live and one day I will leave this planet and it's kind of a difficult thing to speak about with your child.
What's the political meaning behind "Music Is The Answer"?
It's easy to overstate this. I don't want to suggest music is the answer to everything as it's clearly not, but I think that music is a really good force for bringing disparate groups of people together. I think the world needs a lot of that at the minute. There are political figures particularly in the UK and US and on the rise in places like Germany and France that want to limit immigration and I just feel like that's not how I want to see things. I want to see people coming together and I think music can really help disparate groups to come together and live together in a successful way. I really believe that.
I think growing up in London you kind of believe in that because you're in a very multicultural place and you've grown up with people from all around the world and generally people get on pretty well, people dance together and party together. I've grown up with that multiculturalism and the way you see it expressed most is when people go out dancing together, singing together, and maybe eating together. I just think it's a positive thing to reaffirm that right now. I made it before Brexit and Trump came to power, but I feel like it fits in a certain way.
How did you go about choosing the guest vocalists?
Alexis [Taylor, Goddard's Hot Chip bandmate who also released a solo record recently] I asked because I felt the track would fit his voice perfectly. Jess Mills who sings on "Ordinary Madness" and "Music Is The Answer'"was suggested by one of the Greco-Roman guys. Daniel Wilson is a guy from Michigan and again he was suggested by someone - he came down to my place and that worked out really well. It was a nice group of people and often we liked their first or second take and we tried not to mess with them too much; I liked what people naturally brought to the tracks.
How did you find singing yourself?
I don't really consider myself to be a singer, but I'll do it if I feel like I have something to say or I need to express something. For instance in "So Long", I'll sing in that situation. I'm just slightly under-confident about my singing abilities, and I was quite happy for some of the tracks to be instrumentals.
What were your influences for this record?
There are kind of different influences for different tracks they're quite specific. "Human Heart" is influenced by slow Balearic disco - there's a track I really like by Laura Branigan which is kind of a Heart FM banger [laughs] which influenced it. Also, more underground dance producers like Kowton, Bruce, or Joe on Hessle Audio, these kind of people making more experimental techno. I also feel like that last James Holden album The Inheritors was very inspiring in the way he used synthesisers.
How do you feel ahead of the first reviews?
Pretty worried [laughs]. No matter how experienced you are in releasing music it can always knock your confidence if you get bad reviews, so I'm kind of trepidatious. But to a certain extent, we've released Hot Chip records and had good and bad reviews. You have to try and let that kind of stuff roll over you and not flatten you, but it's difficult. I try not to read too many but it's hard not to take notice of some of the bigger magazines.
"Home" is a song about clubbing. What are your views about the current/recent developments in London?
It's a weird time. I really want to see [Mayor] Sadiq Khan prove himself in terms of his promises to try and protect London nightlife. I think there's a lot of work to be done. There aren't that many good new venues opening and there are a lot closing - it's an issue if London wants to retain its status as being a centre for music innovation, which has been a big export for the UK for the last 30 years. If Sadiq Khan wants that to continue he needs to improve the situation for people wanting to open venues and people wanting to keep them open.
The guy from Fabric in his press conference, when it reopened, said if he had a chance to start again and open a club now he just wouldn't do it. You get this kind of bullshit with the police trying to find reasons to close Fabric and setting traps for clubs just so the council can get the real estate and sell it on for profit. I feel like that's really short sighted and London is in danger of losing its status. The reason why that real estate is valuable is because venues make places a cool cultural area, and if you turned it into posh flats it loses that. London has already got that issue of rich people buying property as an investment and not even living in it, so that's affecting communities and making local businesses less able to have clientele. You don't want London to just turn into a place of rich people's houses. Plastic People was the same; it's a terrible loss to the London clubbing scene
Finally, how do you intend to recreate this album live?
I'm going to have Valentina who sings on "Gabriel" with me and I'm just going to be sat behind a lot of gear the way that dudes do [laughs]. I want it to be musical and I want to be engaged, so I'm making it slightly difficult for myself. I've only played a few gigs so far, I need to get more under my belt. They've been kind of weird and nerve-racking but a lot of fun.
Get the Best Fit take on the week in music direct to your inbox every Friday