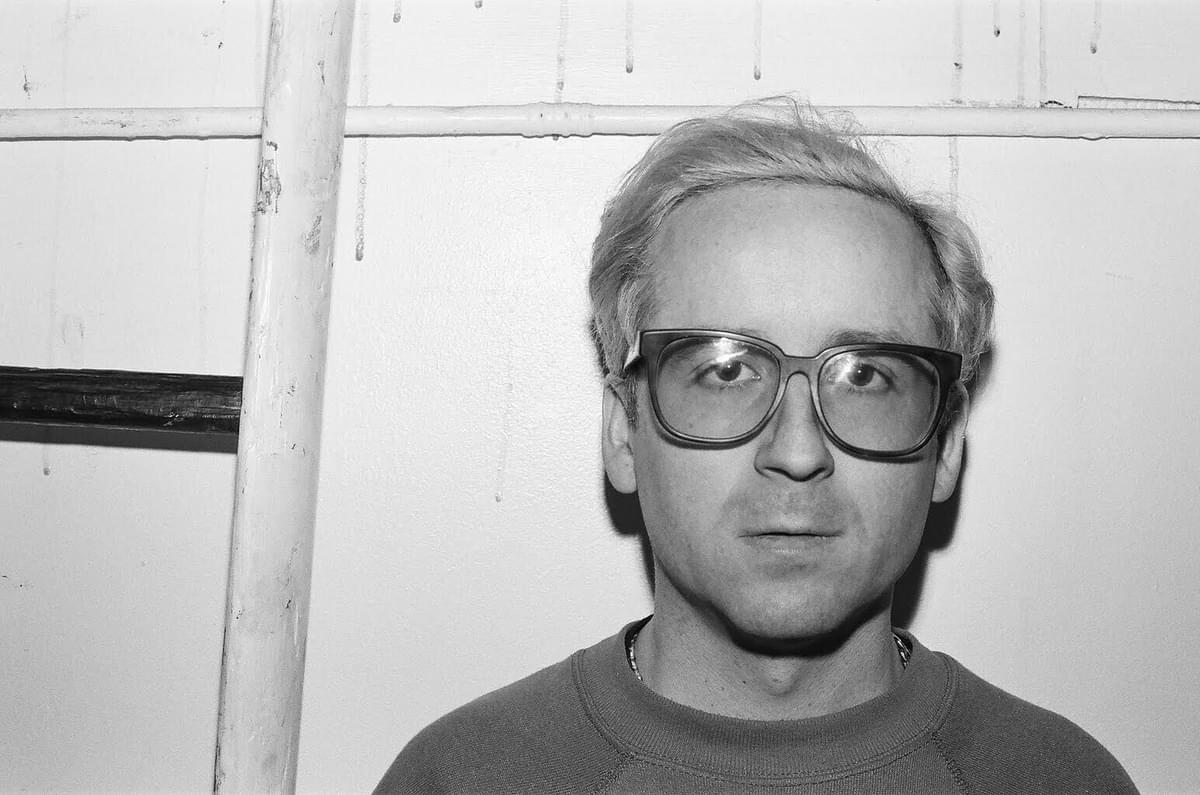 Hot Chip's Alexis Taylor opens up about loss, his desire for change, and Life With(out) Piano
As the lead singer of Britain's most consistent electronic band, Hot Chip's Alexis Taylor is no stranger to experimentation. However, his latest release Listen With(out) Piano may be his most risky to date.
Last year, Taylor sat at the piano and played a mixture of cover and original songs for his third solo record Piano. What came out of this session was potentially his most personal album of his career: it documented his parents' breakup, the first time he cried at music, and the suicide of his friend and longtime collaborator, Vince Sipprell. It was that suicide in a way that led to new album Listen With(out) Piano.
Originally, Alexis had hoped for Sipprell to contribute strings to Piano - as he had done with all his solo and Hot Chip records - but his death left the nagging question of what the album would have sounded like with strings. Taylor didn't stop at the thought though, recruiting a variety of musicians to build new versions of the tracks for a unique project. This is Listen With(out) Piano, an album that can be played on its own or in sync with the original Piano - the overall project provides three totally unique listening experiences (head here to find out more).
Check out new preview "Lonely Vagabond (Blended Mix)" by Rupert Clervaux and Taylor, and read our interview after.
Why did you want Piano to be simply just you and piano?
I had been thinking about making a piano record for a few years, and it's not that I write all of these songs at the piano, but occasionally you'll just sit down at the piano and see what they sound like in that way. It's been a bit of a quiet passion of a mine for a while to maybe do that at some point in my career and I think that's because I like a lot of bare, more intimate records that have a lot of space in them, like some of the Smog albums - Red Apple Falls, Plush, More You Becomes You - and even Randy Newman's live record where he's just at the piano.
A few of the songs on Piano, like "Repair Man", "I'm Ready", and "So Much Further To Go", were written at the piano and they just interested me in existing in a very underproduced way. I think with a lot of other people's records, sometimes I'm listening to them and occasionally wanting less production, sometimes hoping for a more intimate listening experience. To make a piano record is one very extreme way of making a not-overproduced record.
I've become quite, momentarily at least, dissatisfied with the working methods I was going through for making records. I did Rubbed Out and Await Barbarians and an EP between that called Nayim From The Halfway Line, and while I was writing them I was really happy with them, but I just felt like I needed to get out of that mode of operating, get out of the room I was in, get away from the instruments I was using.
Both your parents are on this album - your mum used to listen to "Don't It Make My Brown Eyes Blue", which you cover on Piano, and your father first introduced you to the instrument playing John Lennon to you - why did you choose to embed them in this record?
I didn't think of it like that. I didn't construct it in advance and think 'now is the time'.
I wrote "Repair Man" a few years ago, and during the writing of the song, just a memory of sitting behind my dad and watching him play a John Lennon song, and being quite moved by it, came back to me. The breakup of my parents is something I don't think about all the time but something just brought it to my attention whilst I was in kind of a bit of a sad state myself.
Then in terms of the Crystal Gale song ["Don't It Make My Brown Eyes Blue"], I have a strong connection to the music I grew up on. I don't have that idea that the music my parents listen too is 'not cool'. I went to see Crystal Gale and I thought she was good - I kind of connected to the sound of her voice but she's not thought of or respected as one of the great singers, but I think the songs are really well written.
You've said previously that this album celebrates lives of people passed and I know that Vince Sipprell had a big influence on this record. Can you tell me about his influence?
I had worked with Vince and another friend of ours, Emma - they'd worked on my solo records and my Hot Chip records. I had really enjoyed that process of making my music or Hot Chip music and sending it to Emma and Vince and seeing what they came up with in terms of strings.
For this album I knew I was making a piano record, but I was thinking that it may be good if there were a small amount of strings, and I thought Vince would be great at doing that. I was planning to get him to contribute to the record - he had said yes - then I got caught up on working it a bit more and then at some point during the process of making it, he died. It was really shocking.
The influence on the record is that once I'd made 90% of the album, I added a cover of another song "Just For A Little While', which Vince's brother wrote and Vince sang. I wanted to put that song on a record as it's a good song that never got a wider release. I had covered it with Vince and Emma a couple of years ago - it wasn't a knee-jerk reaction to him dying - I'd played it with him on stage and I just felt it would be fitting to document a cover, partly for his brother and partly in memory of him.
Also, Vince had been in my mind a lot and I had finished the Piano record, but I always had that nagging feeling of what would have it sounded like with Vince's strings on it. In a way that lack of his contribution kind of led me into this Listen With(out) Piano record as I still had that unanswered question.
When I read about Vince, I originally thought "Don't Worry" must be the tribute.
I wrote that long before it happened but when I put it on the album, I did think it was kind of a good thing to follow "Just For A Little While". It kind of weirdly connected to this person who has now gone forever. There was an element of that in the sequencing of the record. That song wasn't written specifically about death, but about when a part of you feels like it has been crushed. That was to do with a time when Hot Chip signed a deal years ago and soon as it was signed I thought it was the wrong thing to do - I hadn't been in agreement with everybody about it in the band and then I remember just thinking 'oh that's it then'... it was kind of just a despondent miserable feeling.
On the record it takes on a slightly different meaning and I was very aware of that when I put it on the record. What goes on in your life that inspires you to write something might be quite boring in comparison to what you tap into emotionally about that idea of losing something. The songs on the album, lots of them are to do with that sense of loss - your parents breaking up, someone dying, or a breakup. I think that's probably there because when you're a kid and your parents break up that's something you then spend the rest of your life going over in your mind and dealing with. I know this isn't a psychoanalytical session we're having but I think that's why there's this sort of mood in my music and this tendency to write introspective songs.
The blended version feels like a completely different album. To me, it sounds quite gospel like with a spiritual fragmented quality.
I hadn't really thought of it that way myself, but I can hear that now you say it.
What happened was I asked all of those bands and artists to make a piece of music that would work in tandem with my track but also work on its own. I hoped they would make a piece of music that anyone could put on and listen to and not know it was inspired by my song off Piano. However, if they did have both albums, they could put them on and mix them together and it would kind of enhance Piano. Giving people that sort of brief meant that they could interpret that however they wanted - they got what I asked them to do but also felt quite free. It's also like these new pieces of music are ghostly imprints of the tracks I've made as they kind of echo what's going on musically. It's kind of related to a DJ set up - the idea of playing them both at the same time.
How did you select the people to contribute?
Some people came to mind straight away and I already knew they'd be perfect for it, Brian DeGraw, Susumu Mukai, and Spring Hill Jack - I just knew straight away. Spiritualized made an album called Pure Phase Tones For DJs and it just has different pitches of the same drone throughout the record, so if you have that record you can then put it alongside other records and you've got this drone you can put on in line with any key of any other record; I think from there I started thinking about this record. I think my original idea was to have people making something that would work at 33 or 45, but I guess I couldn't really work out a way of doing that.
There will be some people who read about the three versions and think why? What would you say to them?
If you want to listen to a new record that needs to have no obvious connection to my music then I think Listen With(out) Piano sounds really good from start to finish. It's got electronic, acoustic, and avant-garde elements to it but it feels like a record of one kind of mood.
Another reason is maybe you might enjoy the tactile process of syncing the two albums up - like if you wanted to enjoy listening to something in a different way. I think it's quite fun even if the original music I made wasn't all about fun.
Do you plan to release more music like Piano?
I'm going to make another solo record, but I don't think it will be quite as stripped back as Piano. It will have more of an electronic element to it... but we will see.
I'm also at some point going to start making another Hot Chip record.
What are your plans for the upcoming tour? Will it be strange to have people sat down?
I've done years of gigs where people stand up, but I've already done a few Piano shows and it's kind of refreshing. Most of my solo shows I've just played the keyboards, or the guitars, and some people have listened or some people have talked all the way through, and I've never said to anyone 'you need to be quiet while I'm playing my music'. I played one gig supporting someone when people were sat down and it kind of blew my mind that you could actually play a gig where people actually listened to it all the way through. When people sit they seem to focus on the music more.
Listen With(out) Piano
is out 3 March via Moshi Moshi. You can
pre-order now.
Get the Best Fit take on the week in music direct to your inbox every Friday