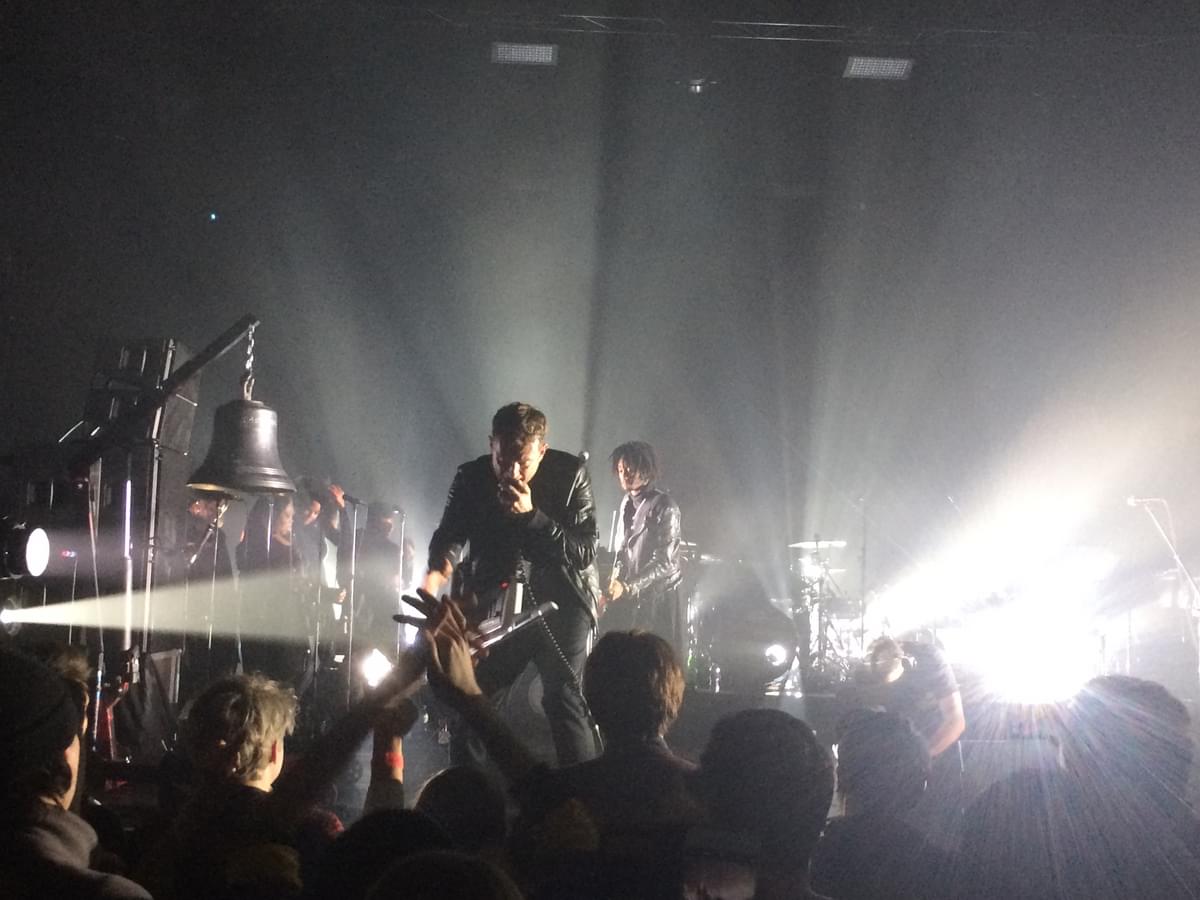 Watch Gorillaz preview new album Humanz at secret London show
If ever there's a band who don't adhere to conventions, it's Gorillaz. Announcing their comeback with four new songs a mere 24 hours previously, the virtual outfit/Damon Albarn-fronted troupe made their live return in an abandoned printing press plant on Friday night performing their new album Humanz in full.
"I'm not going to introduce all the guests," Albarn states before they get into full flow, "we'd be here all night..." - not that anyone would complain as long as the music kept coming. "If you want to hear one of the new songs again, just shout 'rewind!" the frontman grins. Kicking into gear with the Vince Staples-featuring "Ascension" (Staples sadly absent, vocals delivered via a video performance on a giant screen hanging over the band's heads), the energy is instant and electric.
"Strobelite" is a keytar-led disco jam of the most addictive order, while "Let Me Out" featuring Pusha T (in the flesh) and Mavis Staples (on the screen) is so magnetic the band bow to the whim of the crowd and perform it twice. Danny Brown is a tour de force through the performance of "Submission", and Benjamin Clementine's vocal display is nothing short of majestic as he steps to the stagefront for recent single "Hallelujah Money".
Drawing the album - and indeed, the set - to a close, "We Got The Power" sees Gorillaz bring out Savages' Jehnny Beth, Noel Gallagher, and electronic legend Jean Michel Jarre. The song is a rallying anthem of empowerment that leaves the whole room elated.
Returning to the stage for an encore of favourites - including "Kids With Guns", "Feel Good Inc", and "Clint Eastwood" (performed live with Del Tha Funkee Homosapien for the very first time), Gorillaz stand at the top of their game. Ending with a heart-swelling performance of "Don't Get Lost In Heaven" and "Demon Days" that's so blissful it practically takes flight, the stage steadily fills with all the guests who've performed over the course of the night.
The group reveal that all the guests on the new record are going to appear at the band's own Demon Dayz festival in Margate this summer - we'll see you on the seafront.
Setlist:
Ascension
Strobelite (ft. Peven Everett)
Saturnz Barz
Momentz (ft. De La Soul & Azekel)
Submission (ft. Danny Brown & Kelela)
Charger
Andromeda
Busted and Blue (ft. Kelela)
Carnival (ft. Anthony Hamilton)
Let Me Out (ft. Pusha T)
Let Me Out (ft. Pusha T)
Sex Murder Party (ft. Jamie Principle & Zebra Katz)
She's My Collar (ft. Kali Uchis)
Hallelujah Money (ft. Benjamin Clementine)
We Got The Power (ft. Jehnny Beth, Noel Gallagher, and Jean Michel Jarre)
Encore
Kids With Guns
Feel Good Inc (feat De La Soul)
Clint Eastwood (feat Del Tha Funkee Homosapien, Noel Gallagher)
Encore 2
Don't Get Lost In Heaven
Demon Days
Get the Best Fit take on the week in music direct to your inbox every Friday