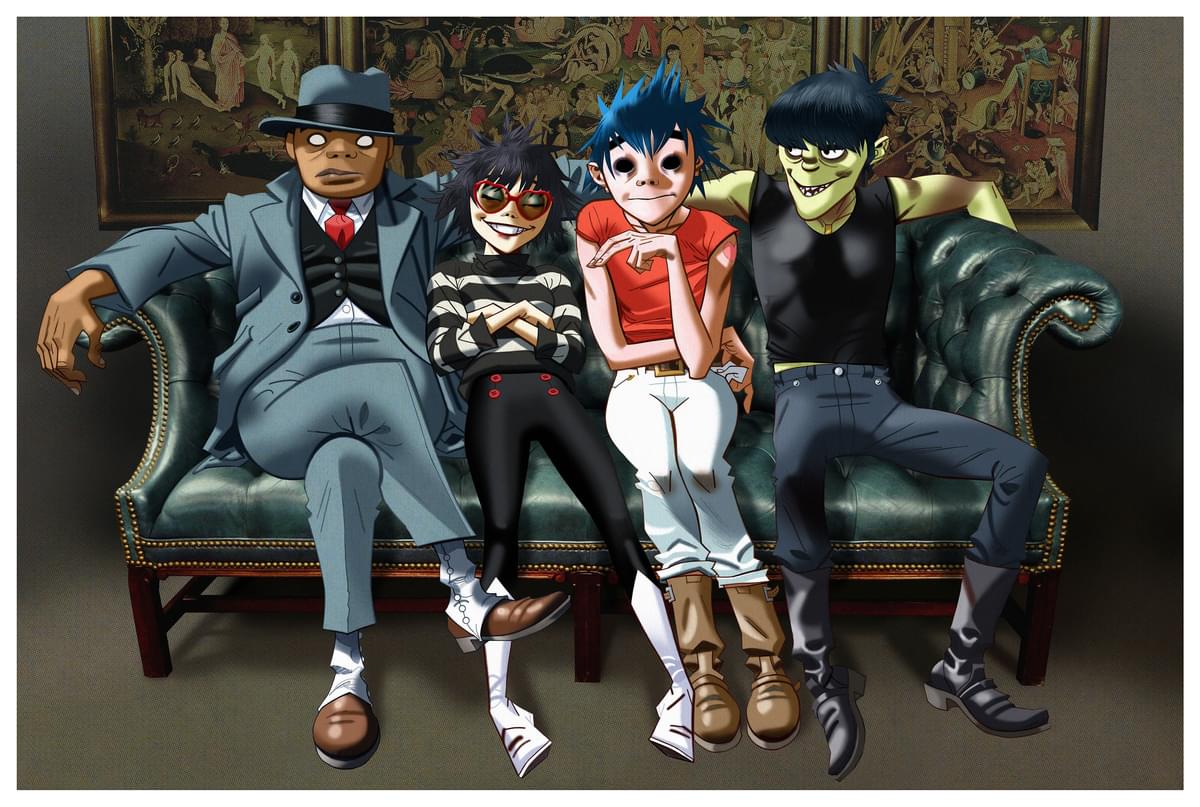 Gorillaz are releasing new record Humanz next month
UPDATE: Gorillaz have dropped four songs from the record:
"Saturnz Barz" (ft. Popcaan) (2D version here, 360-degree vid below)
"Andromeda" (ft. D.R.A.M.)
"We've Got The Power" (ft. Jehnny Beth of Savages and Noel Gallagher)
"Ascension" (ft. Vince Staples)
Humanz - one of the albums we've been looking forward to most this year - is set to feature a huge roster of guests, including Grace Jones, Mavis Staples, Danny Brown, De La Soul, Pusha T, Kali Uchis, Kelela, Jamie Principle, Kilo Kish, Anthony Hamilton, Peven Everett, and Zebra Katz.
Damon Albarn and Jamie Hewlett's collaboration with Benjamin Clementine, "Hallelujah Money", has already aired. Check it out below.
Gorillaz, The Twilight Tone of D /\ P and Remi Kabaka produced the record, which took shape in London, Paris, New York, Chicago, and Jamaica.
The LP details come after a prolonged period of teasing and the announcement of their own (already sold-out) Demon Dayz festival this summer. They play the record in full at a secret venue in London tomorrow night (24 March) - ticket info.
A super deluxe box set edition of the LP "is presented across 14 individual pieces of different coloured 12" vinyl, packaged in individually art-worked sleeves. Each piece of vinyl features an album track, backed with an exclusive alternative version. The box also includes a 54-page, cloth-bound, foil-blocked, hardback book featuring exclusive Gorillaz artwork by Jamie Hewlett plus a download card, all housed in a bespoke 12" vinyl case."
Tracklist:
Ascension (ft. Vince Staples)
Strobelite (ft. Peven Everett)
Saturnz Barz (ft. Popcaan)
Momentz (ft. De La Soul)
Submission (ft. Danny Brown & Kelela)
Charger (ft. Grace Jones)
Andromeda (ft. D.R.A.M.)
Busted and Blue
Carnival (ft. Anthony Hamilton)
Let Me Out (ft. Mavis Staples & Pusha T)
Sex Murder Party (ft. Jamie Principle & Zebra Katz)
She's My Collar (ft. Kali Uchis)
Hallelujah Money (ft. Benjamin Clementine)
We Got The Power (ft. Jehnny Beth)
The Apprentice (ft. Rag'n' Bone Man, Zebra Katz & RAY BLK)
Halfway To The Halfway House feat. Peven Everett)
Out Of Body (ft. Kilo Kish, Zebra Katz & Imani Vonshà)
Ticker Tape (ft. Carly Simon & Kali Uchis)
Circle Of Friendz (ft. Brandon Markell Holmes)
Also includes interludes narrated by Ben Mendelsohn.
Humanz is out on 28 April.
Get the Best Fit take on the week in music direct to your inbox every Friday