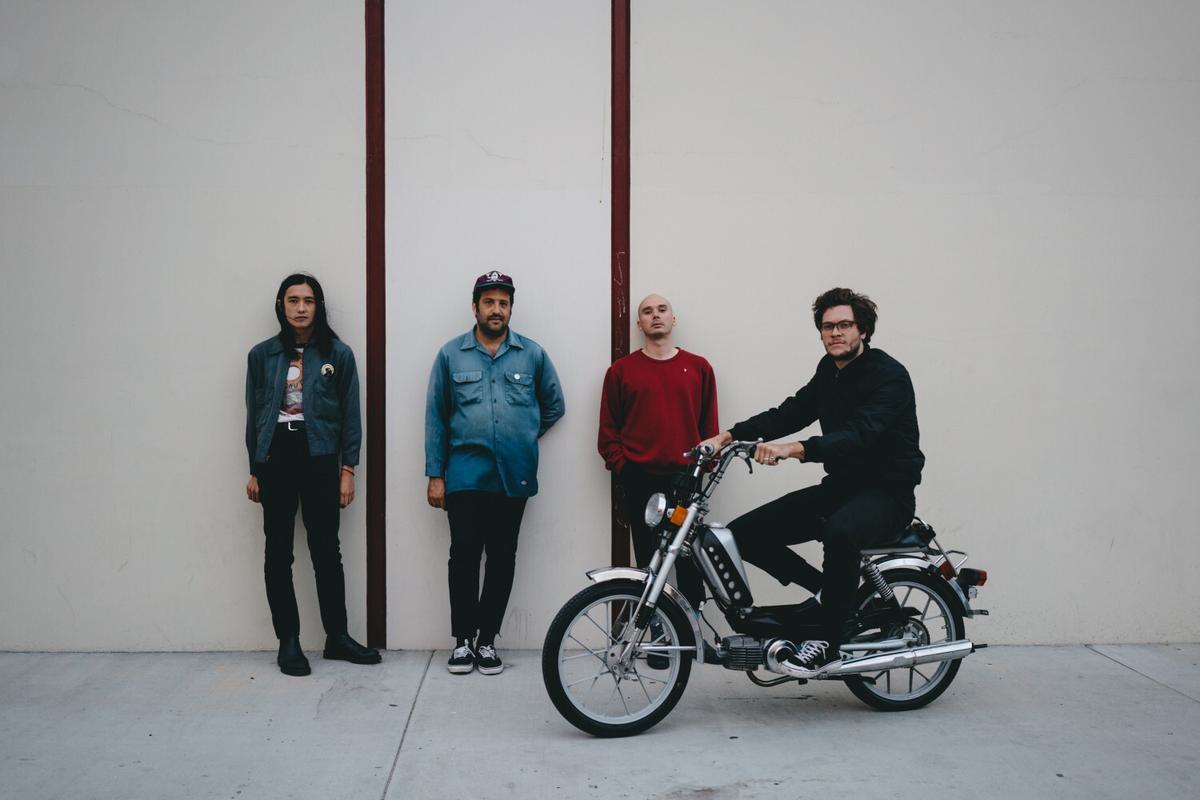 Froth: "Everything changed once we got in the studio..."
Signing to Wichita for the release of their third album Outside (briefly), LA quartet Froth are making every moment matter.
Whether it was the blissful twang of "Lost My Mind", the sun-soaked exuberance of "Postcard Radio", or even the shuddering synth melodies of "Contact" that first brought the Los Angeles outfit to your attention, there's no shaking Froth's ability to work their way under your skin and settle their sound comfortably at home.
What initially began as a joke - with the artwork for a nonexistent first record designed before the members even picked up an instrument - the band have gone on to endear themselves to audiences on both sides of the Atlantic.
With their third record (their first to be released via Wichita) released this month, Joo-Joo Ashworth, Jeremy Katz, and Cameron Allen spoke to us about the lengthy creative process, inspiration in fiction, making their parents proud, and the year ahead.
It's been two years since you released Bleak - what was the response to that record like?
Ashworth: It was okay. Honestly I don't think we were able to push it as hard as we could have. We never had physical records when we were on tour. I don't know how much of a difference that makes. It was good. I guess we just had bigger expectations maybe.
Katz: I think some people that liked our first album were probably turned off, and then other people really liked it a lot more.
What have the band been up to since?
A: We've done a lot of touring, but mostly just getting really excited about this new record - which I think we're all the most excited about out of all three, for sure.
When did you start working on the new album?
A: Pretty much right after we put out Bleak. Productivity goes up and down when songs come.
K: "Contact", the first song on the record, I remember Joo-Joo brought that demo to us like the week that Bleak was released. That was the first song that was written I think for the new album. We're just always writing songs - not necessarily for an album, and then eventually when we have a bunch of songs we decide to make an album.
What inspired you when you were writing these songs?
A: A lot of it's from Elliott Smith and The Beatles. I'd say they'd be two of the bigger influences for it. There's this guy Julian Lynch.
K: Wasn't there a couple of books you were interested in?
A: Oh yeah. A lot of the lyrics were based on Richard Brautigan and Haruki Murakami books.
Where did you record and how long did you work on making this album for?
K: Just right down the street from where we are right now. Our friend, Thomas [Dolas], who ended up producing the album, built his own studio. It's kind of half way between a DIY studio and a professional studio. We ended up doing it there with him. It was a pretty relaxing atmosphere to be in. It came out really nice.
A: I think it was about two months? I know we had 40 sessions, so over about two months I think.
What was the recording process like for this album?
A: I feel like we have a few songs that we had worked out as a band, and then it was just kind of like scrambling to figure out other stuff, like new material. So we were looking through old demos and stuff, and just finding the ones that everybody agreed on and everybody liked, then just kind of making a full band recording of personal demos.
Having been working on this record for so long, has the way you interact with the songs changed since you first started writing them?
A: Oh yeah, definitely. "Contact" is a good example. The first one was completely different. There were no synths or anything on it. It was just a guitar song.
Allen: We recorded it several times.
K: We stopped playing it. We kind of just did nothing with it, and then we revived it later.
A: "Petals" is this really slow song. When we first wrote it, it was super upbeat. Basically everything kind of changed once we got in the studio. Now, live, some of them have new parts too. For the most part, it's similar to how it was in the studio.
The album's called Outside (briefly) - what's the story behind that title?
A: That was named after a chapter in a Richard Brautigan book called The Abortion. I just thought it was cool. I didn't have that much personally going on, so it was easier to just go "Oh, I'm reading this right now, I'll make it about this."
K: I think sometimes we just see phrases or words that look and sound cool, and we kind of hold on to them for stuff.
How did the artwork come about?
A: That was this guy Jeff Fribourg, that used to be in our band a few years ago. He's done all of our album covers. We always really like the outcome, so we just kind of let him have free reign over it. We all know whatever he's going to do is going to be really good.
K: One of the cool things about that though is that when he first started designing it he came to the studio while we were recording and was just quietly in the corner listening and working on that. I think maybe the design and the sound of the music are linked. Maybe the music influenced the design a little bit, because he was there when we were making the songs.
It's your first release on Wichita - how did you come to start working with them?
A: Mark [Bowen] who runs the label is friends with our manager, Sofia [Karchi]. He came out to one of our shows to check it out. I don't know.
K: He just kept coming. He kept seeing us a few more times and then decided to sign us. Which is great.
A: He kind of faded us into being on the label.
If you were to sum the album up in a sentence, how would you describe it?
Allen: My dad's favourite Froth record.
Do you have any favourites on the record, or any songs you're particularly excited for people to hear?
A: I really like the song "Petals" - I think that's my favourite one.
K: I'd have to agree with that.
Allen: Yeah, that's one of my favourites too. I really like "New Machine" too.
K: Oh yeah, "New Machine" is a good one. Actually, "Petals" was the first one we recorded for the new album too.
Allen: Man, that was a year and a half ago.
K: In a different studio. We ended up keeping the recording and just working on it more.
A: Same engineer though.
Allen: Yeah, still with Thomas.
K: So that song is kind of interesting.
What are your hopes for the release?
A: I don't know. I mean, generally we're pretty happy doing whatever. We just hope people like it, I guess. But, I mean, there's not much we can do about that, that we haven't already done.
K: I kind of just hope that it catches on in the US a little more this time. Our tours in Europe are always really good, and really fun. In the US they're still kind of sketchy sometimes. It'd be nice to have some people coming out in the middle of Bumfuck, America. Anyone in Nebraska reading this, come out to the shows.
Once the album's released, what's next for the band?
K: We're doing the Desert Days tour, and then we're doing another headlining tour in the US that hasn't been announced yet, and then a European tour after that, and then another European tour in August. So we have a lot of touring lined up. Which is good, because we've been waiting for this album to come out for a few months, so I think we're all excited to get back out on the road.
What scares and excites you most about the year ahead?
K: I'm only scared for my marriage, because I'm going to be on tour so much.
A: I'm afraid of any friendship-ruining argument. Those happen sometimes on tour.
Allen: I don't think I'm really afraid of anything, I think I'm just excited to start touring again.
A: Yeah, we're all super excited to start touring again, and to go to places we haven't been before. To be in Europe not in the winter will be nice.
K: We've been to Europe two or three times in February. Never when it's nice out. It's gonna be nice to be there in May.
If money were no object, what would you most like to do as a band?
K: Have an aeroplane. I think for me personally, I would like to have our own studio where we can record our own albums.
Allen: ...and just kind of do what we're doing now - just tour and be able to be comfortable.
A: Except we would make sure people come to the shows - we could buy an audience! 'cause they could be a lot bigger.