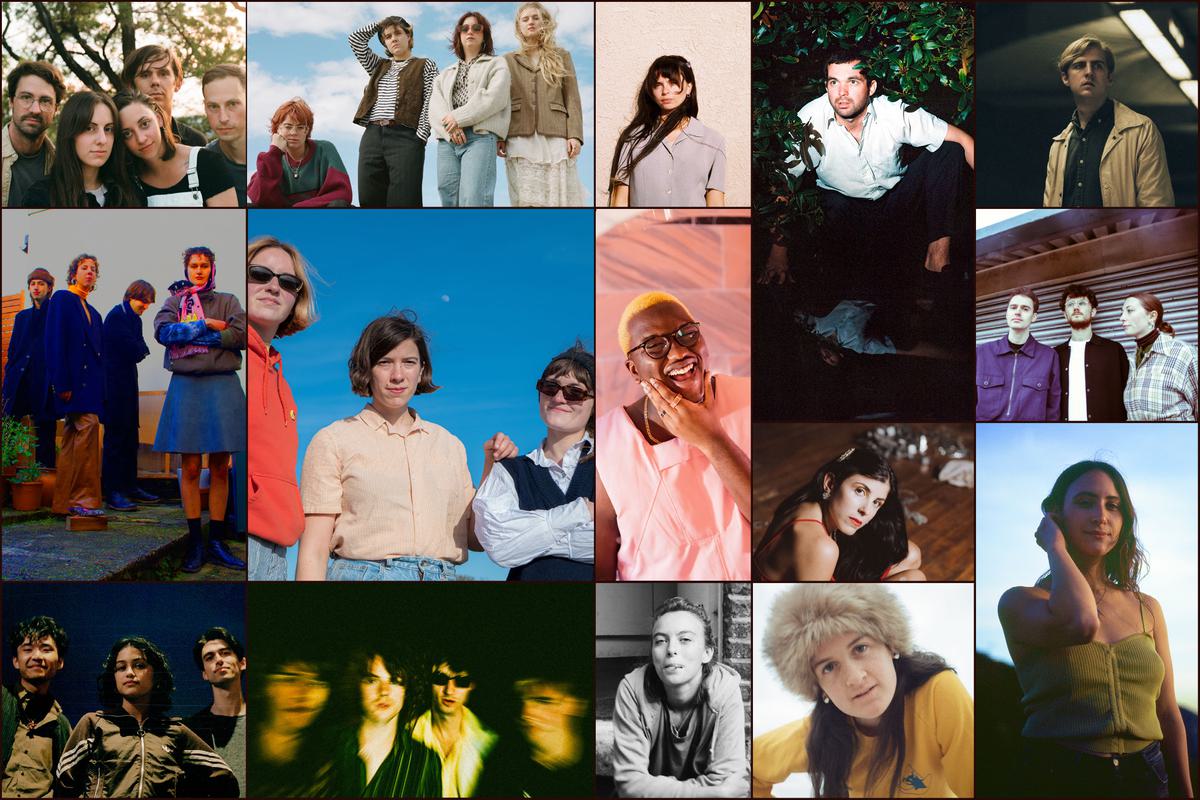 The line-up for the Five Day Forecast 2022 has been revealed
We're thrilled to announce the lineup for the 2022 Five Day Forecast, taking place at The Lexington, London, between 17-21 January.
The Line Of Best Fit's annual new music festival, the Five Day Forecast, is almost upon us once more. Over the years we've loved being able to host Squid, Self Esteem, Black Country New Road, Porridge Radio, Pale Waves, Faye Webster, Fenne Lily plus plenty of other excellent acts, as well as present first-ever UK shows for Snail Mail, Soccer Mommy, Gia Margaret, Squirrel Flower, Ohtis and many more…
And this year we're going more all-out than ever before, with five nights at The Lexington bringing you some of our favourite rising names (plus a few heavier hitters for good measure).
Find out the full line-up (so far) below, set a reminder on DICE for this Wednesday's onsale, and follow the official Spotify playlist.
THE LOUNGE SOCIETY
The Lounge Society (a self-proclaimed "antidote to the 1975") are filled to the brim with acerbic post-punk panache, and lithe, '80s-indebted riffs litter the moreish morsels offered out so far. Built from four Hebden Bridge teenagers, who have been working extensively with indie svengali Dan Carey and his Speedy Wunderground label (Squid, Black MIDI), the band offer an electrifying darkness that's impossible to resist.
THE UMLAUTS
Côte d'Azurian, Alpine, and British brains collide in The Umlauts, brewing an unmistakable European sonic stew from the wreckage; addictive rhythms and writhing synths are at the heart of the delicious chaos, practically begging bodies to throb and sway. Key track "Boiler Suits & Combat Boots" (a wry look at the fetishisation of Berlin) pulses with funked-up cyborg energy, as if Lazarus Kane's band was fronted instead by Die Mensch-Maschin.
NAIMA BOCK
Goat Girl co-founder Naima Bock is thriving in fresh pastures under her own name, and since leaving the group has ventured into quite different realms, using her voice, acoustic guitar, and an array of less-obvious instruments to craft bucolic intricacies and sumptuous neo-folk brilliance. Flashes of jazz and Americana bolt across her songs, and with each brush of warmth and familiarity there's something to claw you back to the edge of your seat.
SUN JUNE
"Regret pop" crew Sun June released Somewhere, their second album, near the top of 2021. Drizzling uplifting indie-pop into our winter mire, The album is a ray of bittersweet sun fascinated by the pitfalls of memory, with the Austin band melding gossamer guitars and country undertones to create a foundation for grand bouts of introspection. Perfect respite for January blues in 2022.
ADA LEA
Montreal singer/storyteller Alexandra Levy is now two albums deep as Ada Lea, with the second landing in October via Saddle Creek - co-produced with Phoebe Bridgers collaborator Marshall Vore, with guest turns from Harrison Whitford, Common Holly, Tomberlin, and Johanna Samuels. Ada Lea's take on folk is immersive and unpredictable, with genre tropes exploding in slow motion and each song captivating from the first beat.
PLUS SPECIAL GUESTS TBA
CHRISTIAN LEE HUTSON
Los Angeles-born artist Christian Lee Hutson is an impossibly powerful songwriter recalling the raw power of '60s troubadours and legendary lyricists of decades past. "Strawberry Lemonade" is a raw, intoxicating offering produced by fellow Better Oblivion Community Center members Phoebe Bridgers and Conor Oberst which takes down cynical resurrections of nostalgia with a glint of mayhem in the climactic finish. Each move Hutson makes is more mesmerising than the last; don't take your eyes off him.
THE GOLDEN DREGS
Bandleader Benjamin Woods runs a beguiling ship which has careened through disparate waters - but now, as Loud & Quiet put it, he's captain of an "all-singing, all-dancing seven piece" signed to End Of The Road Festival's own record label. The Golden Dregs is a project with tendrils stretching into every direction, and the results are spellbinding - try the superb "Ultimate Fighting Champion" on for size and you'll see what we mean.
A.O. GERBER
Another Place To Need, A.O. Gerber's LP from 2020, stood out in a tumultuous year and remains a firm favourite thanks to a widescreen concoction of Angel Olsen-y prose, classic jazz, and sprawling rock soundscapes. "Old Blue" is an especially bold album opener that ticks every box, channelling Gerber's candour into a gripping masterpiece.
BARRIE
Barrie are dream-pop's answer to Superorganism - an exceptionally modern setup which bridges borders and eschews conventions. Earlier tracks such as "Tal Uno" are frothy and otherworldly, while recent single "Frankie" clanks with ramshackle pep and "Clovers" marries Matt & Kim pianos with shimmering R&B. Endearing and absorbing, Barrie are not to be missed.
LIME GARDEN
They formed in Guilford and bonded over a shared love of Courtney Barnett and Talking Heads, but now Lime Garden are based in Brighton and eyeing up a gargantuan 2022. A Windmill show in the intervals between lockdowns in 2020 lit a fuse, and now they're dead set on bringing their fabulously wonky, bulldozer-intense indie rock to the masses.
HONEYGLAZE
South London trio Honeyglaze made an "explosive debut" in September with "Burglar", a simmering web of sinewy melody and motorik that ensnares the senses. Honeyglaze hint at the captivating psychedelia of Pumarosa, but their relentless gear-shifting and wiry basslines add a tense darkness that leaves you salivating for so much more. It's early days, but it's an impressive opening gambit.
GIRL RAY
Indie-turned-pop North Londoners Girl Ray have lurched from success to success, winning plaudits for their deliciously jangly 2017 debut Earl Grey as well as chart-baiting 2019 follow up Girl. The band has shown themselves to be more than capable of chunky stylistic shifts, and we're all waiting to see where they go next with bated breath.
SIPHO.
Birmingham's SIPHO., who counts The 1975, Rina Sawayama, and Beeabadoobee as labelmates on Dirty Hit, could well be the biggest artist on the planet in a few years. His recent set at End Of The Road was amongst the most talked about in years, and the calibre of his music speaks for itself - it's an "earthy amalgamation of R&B, gospel and metallic electronic pop", according to The Guardian.
REGRESSIVE LEFT
Regressive Left have dished out three exceptional servings of angular, NYC-inspired art-rock to date, with the latest - "Cream Militia" - a moody, throbbing gem. Fusing two distinct eras of iconic New York music together, along with a serrated political core and a penchant for making people boogie, the Luton threesome are carving a niche all to themselves.
GRACIE GRAY
Gracie Gray's recent single "alienlover" (a former Song Of The Day) has helped the Los Angeleno carve a plot in the musical landscape. It's both gruff and slick, with low-slung grunge licks and Cocteau Twins-esque backing vocals sauntering beneath her breathy melodies. Gray's upcoming sophomore, anna, is set to be an early contender for year-end accolades when it arrives in February - catch the Hand In Hive signee while you can.