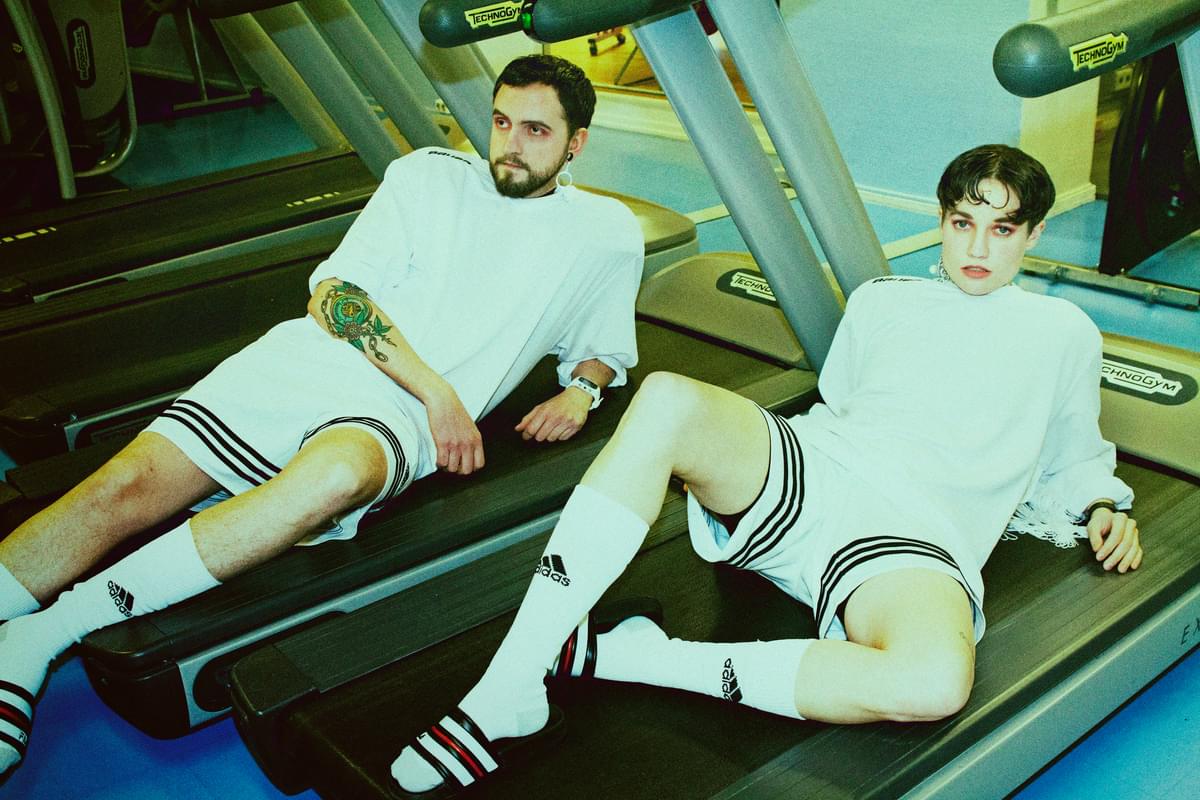 Hysj team up with Ponette on the relentless hard pop of "Sammen for å"
Noise duo Hysj are back with their first new music since their Blokers record of last year, and they've brought along fellow Norwegian pals Ponette for the ride.
On "Sammen for å", Hysj's dystopian bleakness and harsh edges are (incredibly) softened by the chaotic collection of influences Ponette bring to the track.
Helene Svaland's sweet voice is the perfect foil for Hysj's Sigrun Sæbø Åland and her hip hop cadence, and the two combine wonderfully over powerfully hard beats, blaring synths and airhorns. It's electronic pop at heart, but you have to chisel past the unforgiving hedonistic outer layer to get there. If it's a one-off collaboration, we've been extremely lucky to have heard this brilliant collaboration...but at any rate both Hysj and Ponette are making some of Norway's most exciting music right now.
We spoke to Hysj to find out more.
BEST FIT: This is the first single since your Blokers mini-album so what has changed for Hysj in the time between the releases?
HYSJ: "Not much has changed since our last release, but at the same time, a lot has changed. We've played a bunch of concerts, and have steadily been working on new material. It's quite an all-consuming process that takes a lot of time, but we're getting there. One of the things that have changed for the better is that we have met a lot of new people and artists, and we have started to open up our previously insular methods."
You're working with Ponette, can you tell me about how that happened?
"We have been fans of Ponette for a while now, and after liking each others Instagram posts back and forth, we decided to slide into their DMs. We've now been hanging out quite a lot and played some gigs together, and when we were looking for a complimentary singer for 'Sammen for å', Helene was the natural choice. She is an amazing singer in an amazing band, and we definitely see them making it big sooner rather than later."
What's the track about?
"The song is about self-deception, and the different ways you lie to yourself in order to stay comfortable in your self destructive patterns. Even though the lyrics are personal, the song itself is an up-beat hedonistic party banger, in it's own way reinforcing the lyrical sentiment."
It's maybe a slightly softer sound than Blokers, is this a natural development?
"'Sammen for å' has definitely got a softer sound, which is partially because we keep getting better at making the sounds we hear in our heads. After years of being noisy and hardcore, cleaning up and being vulnerable has been perhaps the biggest challenge of our journey thus far. Blokers had a very specific and realized aesthetic, and we didn't want to keep retreading the same sounds and themes over again. Removing the fog from our sound to showcase the landscapes underneath is what we feel should be the next chapter in the evolution of Hysj."
The first record had a DIY aesthetic, is that something you want to keep at the heart of Hysj?
"We are still committed to DIY, but that doesn't mean we can't get help from our friends. This time around, we have gotten more input from other people, from collaborating with Ponette to letting someone else mix the track. We have a great working relationship with KOSO too, and they give us the help and freedom we need to make sure that our vision and execution remains our own."
Let's talk about your style; how would you define it? And do you like to wear a favourite brand?
"Our style is mainly influenced by post-Soviet fashion, 90s raves and queer subculture. We enjoy contrasting expressions, like sportswear and protective padding vs. extravagant jewellery and makeup. We put fringes and lace on our hockey jerseys and football shorts, and wear mostly white because it looks good with the lasers in our stage show. We are not devoted to particular brands, but we love wearing from independent designers in our community, like Alva Brosten and FLESH."
What have Hysj planned for the rest of the year?
"This year will hopefully bring new beginnings for us. We have more music in the pipelines, and we hope to have more interesting conversations with interesting people around the world. You can expect a few more singles during the year, and we're planning some more shows outside of Norway too."
"Sammen for å" is out today via
KOSO
.
Get the Best Fit take on the week in music direct to your inbox every Friday