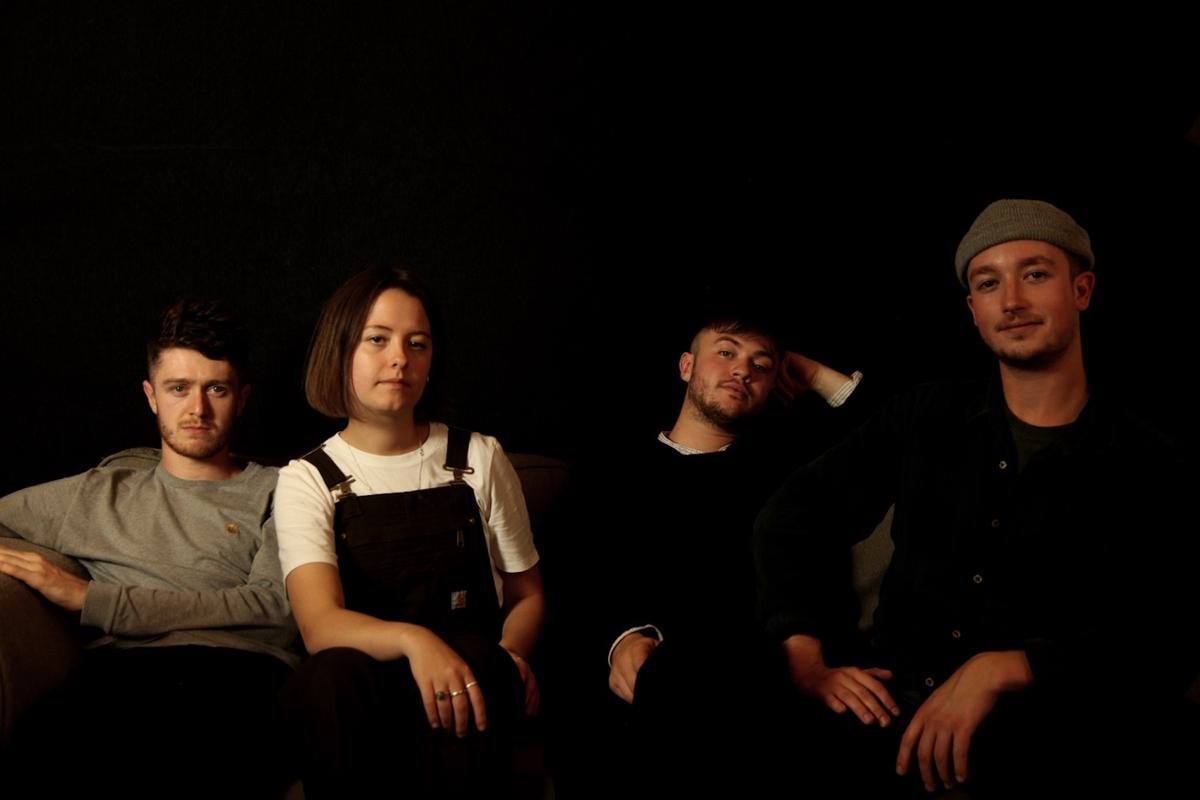 Chartreuse showcase tender brilliance in new live sessions
UK foursome Chartreuse, who play our new music festival next month in London, have today debuted a pair of goosebump-inducing live sessions.
Chartreuse's version of neo-soul is glossy, gravelly, and uniquely British, not miles away from King Krule or a jazzier alt-J, with vocals underpinned by ambient instrumentation that whips you to desolate city streets at 4am.
The band's new renditions of their 2019 tracks "Midnight Oil" and "Boat" take place in The Cabin, a backyard "wooden box" where they rehearse, write, and demo their songs. These home VHS-style peeks behind the curtain are tantalising teases of what they offer up on stage - have a watch below and get to know this exciting new act in their Q&A afterwards.
Could you introduce yourselves for us please?
Hello, we are Hattie, Mike, Rory, and Perry all from the Black Country. We have all known each other for a very long time. Mike and Rory are brothers, and Perry and Hattie are old childhood friends. We've all grown up as music lovers, Mike and Rory playing music together with their dad from a young age, and Perry and Hattie being friends throughout school through their shared love of music. We eventually ended up forming a band a few years before Chartreuse when we were all in our first year of college. After that band (thankfully) disbanded Hattie and Mike carried on writing folk songs in a duet together just as a hobby, but that inevitably grew and so Perry and Rory were enlisted as band mates and we've been in Chartreuse since 2014, since then we've just been writing music and jamming together and it's actually turned into something we are all very proud of!
What do you try to do with your music and how do you achieve this?
We never set a specific goal for our music and that allows us to just write and create what feels right to us at that time. All of us in one room collaborating on ideas is usually the best way, sometimes nothing comes out but we just have to keep working and be patient until we make something we connect to.
Can you tell us what musical and non-musical influences have shaped your sound?
Due to the collaborative nature of how we write music, our main influences never really come from one place. Although we all love similar genres and songs, we are all influenced in different ways and find that helps give our music a nice broad mix. Non-musical influences are mostly felt in a wooden box in Rory and Mike's garden affectionately known as 'The Cabin', that's where we all practice, write, and demo. The landscape is windowless and depending on the season it's either a fridge or a sauna.
If you had to invent a genre for your music, what would it be called?
'Chartunes'.
When and where is the perfect time and place to listen to your music?
We think somewhere quiet and cosy maybe with a drink in hand.
What should people expect from your Five Day Forecast show?
Good vibes and sweet sounds!
What are you working on now/next?
We're currently recording our next EP and getting some shows together for next year!