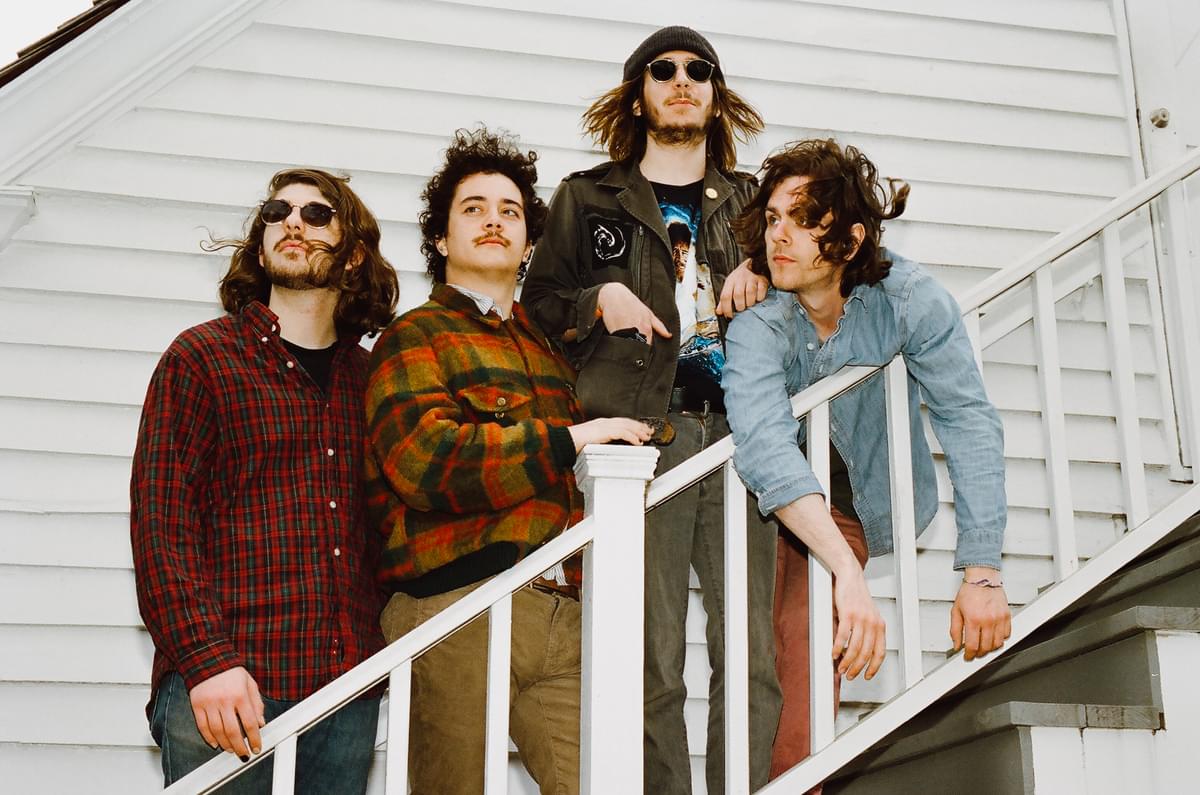 The Districts, Fenne Lily, Frances Quinlan, and more to play Five Day Forecast 2020
We're thrilled to announce the lineup for the 2020 Five Day Forecast, taking place at The Lexington, London, between 13-17 January.
The Line Of Best Fit's annual new music festival, the Five Day Forecast, is almost upon us once more - and in 2020 we're celebrating a big milestone… our baby is turning FIVE. Over the years we've loved being able to host Pale Waves, Faye Webster, Diet Cig, IDER, Dagny, Nilüfer Yanya, Pumarosa, plus plenty of other excellent acts, as well as present first-ever UK shows for Gia Margaret, Snail Mail, Soccer Mommy, and more…
And this year we're going more all-out than ever before, with five nights at The Lexington presenting some of our favourite rising names (plus a few heavier hitters for good measure).
Find out the full list (so far) below, get your tickets now from DICE, and get to know the artists we're excited to be yelling about after.
MONDAY
OSCAR LANG
Slacker-pop Londoners (and Dirty Hit signings) Oscar Lang sound like what would happen "if you rolled Mac DeMarco, John Lennon, and the Wii shop channel music into a ball and put it inside Kevin Parker's butthole," - so says mainman Oscar Lang. He's not wrong, either - tracks such as "Hey" and "You" are lip-smackingly woozy, with generous globules of scraped-elbow-raw vocals layered on top.
ALFIE TEMPLEMAN
Teenage prodigy Alfie Templeman sets the scene for Monday at the FDF, being a labelmate of Phoebe Green and a collaborator of Oscar Lang. Soul-flecked pop paeans, indie tropicalia, and sprawling odes recalling '60s and '70s singer/songwriters are already out in the wild - the 16-year-old's destiny has felt written in the stars for a long while, but we're now rapidly seeing that become a reality.
SINEAD O'BRIEN
"Irish Sprechgesang punk" Sinead O'Brien, signed to the ever-excellent Chess Club alongside Alfie Templeman and a glut of other exciting new names, is shooting out a heady mix of soot-stained punk and spoken-word energy. The Limerick-born artist has already collaborated with members of The Maccabees and Bo Ningen, as well as toured with John Cooper Clarke, but 2020 surely beckons even more.
TUESDAY
JUST MUSTARD
Fontaines D.C. tourmates Just Mustard - whose Warpaintesque take on dark shoegaze has won them fans in goth royalty The Cure - are steeling themselves for a mighty 2020. The Irish quintet are on an enviable trajectory, with tracks "Frank" and "October" just a taster of what this bunch are capable of summoning - if you like your noises all-compassing, dive headfirst into Just Mustard.
PORRIDGE RADIO
Formed by fate during stretches in the London and Brighton DIY scenes, Porridge Radio have made major moves in 2019 with just a handful of songs, "Give/Take" perhaps being the brightest among them with its gritty lo-fi gorgeousness and "beguiling, unexpected, contradictory" pop vibes. The quartet have a fluid approach to genre and their craft, resulting in something undeniably refreshing that grabs your ear so fast you'll get whiplash.
GHUM
Gristly post-punks GHUM are a Brazilian-British hurricane fuelled by feelings about "the worst" people with a nom de guerre inspired by community hub Gumtree. Gothy pop lacquer drapes across the stately noise, recalling 2:54 or Warpaint's darker moments; it's sparse and electrifying, and is a timely reminder of how brilliant shadows can sound.
DISQ
Wisconsinites Disq boast an "aggressive purity" in their music, fusing jangly licks with brash psych-punk outbursts, and perhaps it's this erratic brilliance that's won them shows with Whitney, Twin Peaks, Shame, and Jay Som. The American heartland has long been a breeding ground for superb guitar music, but it's rare that an artist rises so ferociously above the pack - Disq are one of those rare acts.
WEDNESDAY
FRANCES QUINLAN
Hop Along's Frances Quinlan recently announced solo debut Likewise with "Rare Thing", which Rolling Stone dubbed a "chaotic rocker featuring ambient percussion and harp." It's a sonic departure from Hop Along, but it's not leagues removed - it builds context into the tapestry of one of the most potent artists of recent years, but also stands alone as a divine helping of cosmic splendour. The album is released just a few short weeks after the Forecast - this will be an unmissable glimpse of what's to come.
HARRISON WHITFORD
We're big fans of Harrison Whitford - a close collaborator of Phoebe Bridgers and a monumental artist in his own right - and it's a pleasure to bring him back to London for our new music festival. His idiosyncratic indie-psych, splashed with Americana heart and big pop tendencies, is endlessly alluring - and could well help set a new standard as part of the rising wave of US singer/songwriters.
KATY J PEARSON
Heavenly Recordings' very own Katy J Pearson - formerly half of Best Fit faves Ardyn - dunked a "coy piece of country-inflected pop" into our lives earlier this month, and we're all the better for it. This is just the beginning of a tantalisingly exciting new venture, and was recorded with Ali Chant (PJ Harvey, Perfume Genius), and it has Pearson bringing some very welcome sunshine back into dreary autumnal nights.
SOFIA WOLFSON
Steeped in South Western (US, not UK) tropes and balmy guitars, "Hotel Room" is a staggering entry point to Sofia Wolfson - it's drawn from March's Adulting EP, recorded with Marshall Vore (Phoebe Bridgers, Better Oblivion Community Centre) as well as FDF billmate Harrison Whitford. The more we hear the more we're convinced of big things from this up-and-coming Los Angeleno: do not miss.
THURSDAY
FENNE LILY
Fenne Lily is still riding high after stunning debut On Hold in 2018 ("a thing of desolate beauty," we said at the time) - but the Bristol-based artist isn't resting on her laurels. Earthy vocals, softly scuzzy guitars, and shuffling existential pop vibes permeate her more recent offerings - it's not worlds away from Sharon Van Etten - and we're giddy at the idea of what comes next for this rising star.
DELILAH MONTAGU
A 21-year-old singer/songwriter inspired by sparse indie-soul (James Blake, Bon Iver) and iconic lyricists (Carole King, Leonard Cohen), Delilah Montagu is a fascinating prospect skirting genres and carefully constructing a world unto her own laws. Her music is familiar and fresh, placing her in a perfect place to begin taking over the planet - and a high-profile collab with Black Coffee and David Guetta only helps that mission.
COMMON HOLLY
NYC-born Montrealer Brigitte Naggar left jaws on the floor with full-length offering When I say to you Black Lightning, a melange of St. Vincentisms, vulnerable wonky skronk-lite, and otherworldly indie-folk with intricate flourishes aplenty. Common Holly excels at introspection and her music cuts to the heart of a seemingly omnipresent anxiety with ease.
FRIDAY
THE DISTRICTS
Philadelphian foursome The Districts will cap off the 2020 Five Day Forecast. The Fat Possum-signed garage rockers are already three albums deep into their career, surpassing themselves at each turn and peaking (so far) with 2017's Popular Manipulations heralded as a "vibrant, biting, and tactile slice of the inspiring power of indie rock". A couple of singles have dropped since that long-player milestone, with August's '70s-indebted "Loving Protector Guy" an anthemic step into the future.
LAZARUS KANE
A shadowy figure emerging from the Speedy Wunderground lairs, Lazarus Kane wields a voice borrowed from the realms of Lias Saoudi (Fat White Family), Baxter Dury, or cult-adored enigma Lawrence (Felt, Denim). Brooding baritones clash against demonic, funky disco on "Narcissus", which is punctuated with a chorus dragging you to the dancefloor.
CHARTREUSE
Chartreuse's version of neo-soul is glossy, gravelly, and uniquely British, not miles away from King Krule or a jazzier alt-J, with vocals underpinned by ambient instrumentation that whips you to desolate city streets at 4am. "Midnight Oil" and "Three Days" are rich offerings that draw you into their world - and it's one well worth a lengthy, languid stay.
Get the Best Fit take on the week in music direct to your inbox every Friday