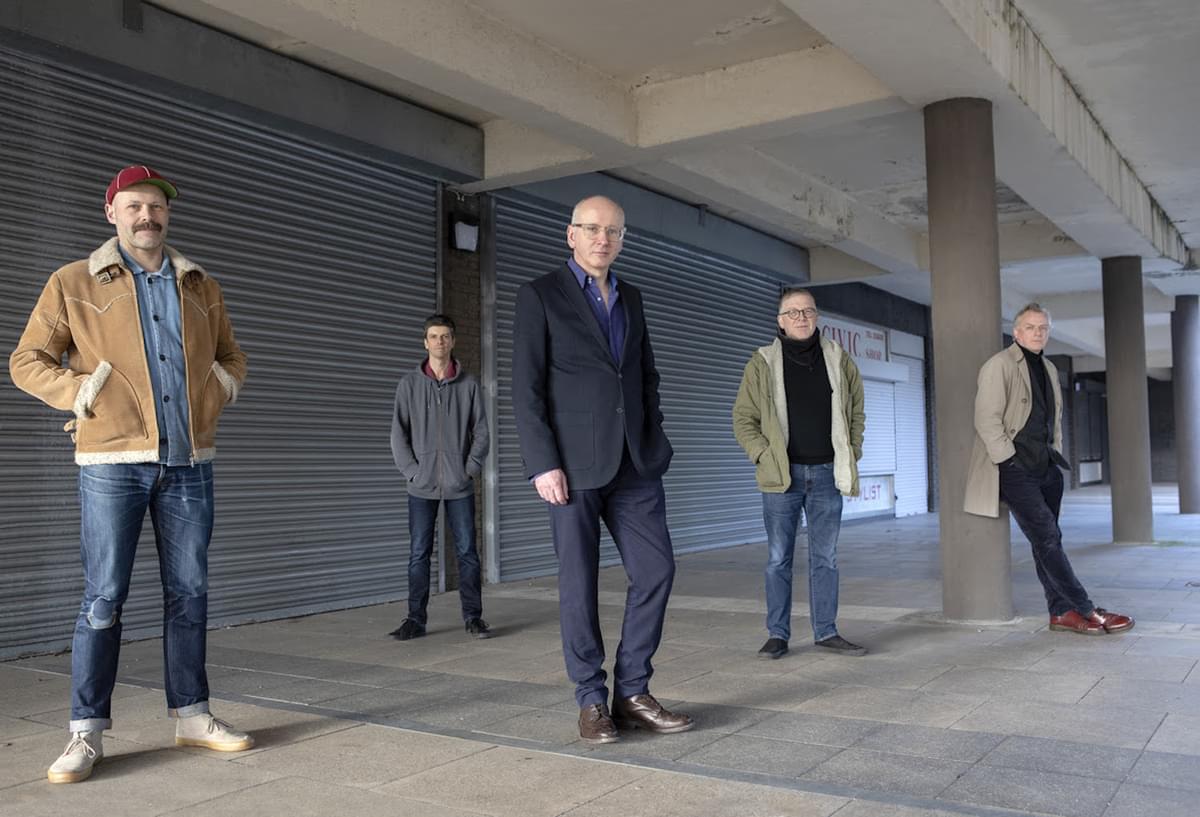 Everything Flowed
06 May 2021, 11:00
Taking in sleeping in a broken sauna to eating at a Michelin star restaurant, Norman Blake and Raymond McGinley talk Ed Nash through the pivotal moments of Teenage Fanclub.
Artists deal with changes to their status quo in different ways, but for Teenage Fanclub every ending is also a new beginning.
When the Boy Hairdressers came to a halt at the tail end of the '80s, rather than throwing in the towel Norman Blake and Raymond McGinley simply kept going. A combination of unfinished songs and a desire to be in a band that did something meaningful - rather than just talking about the idea of forming a group - would result in Teenage Fanclub's debut record A Catholic Education. It was to be the start of a brilliant story that has so far taken in nine band members and eleven albums, where Teenage Fanclub have cemented their place as an enduringly beloved institution in guitar music.
Thirty years later, Blake and McGinley find themselves as the bands' central songwriters after the departure of Gerry Love, the author of some of their greatest songs and who with Blake and McGinley sang the three-part harmonies that would see Teenage Fanclub spoken of in the same revered breath as their musical heroes. Yet as with some of with their heroes, such as The Byrds, who survived the departures of Gene Clark and Gram Parsons, and Big Star, who transitioned from Chris Bell's leaving into the creation of the dark classic that was Third/Sister Lovers, they've have dusted themselves down and moved on to another brilliant beginning.
With their eleventh record, Endless Arcade, Teenage Fanclub have reshuffled their line-up, but more importantly, they've added to their rich canon of songs that never fail to tug on the heartstrings. Euros Childs, formerly of Gorky's Zygotic Mynci, has joined the ranks and Dave McGowan has shifted from keyboards to bass, but the familial nature of the band means the current line up isn't an indie supergroup. Blake and Childs worked together as Jonny, releasing their self-titled album a decade ago, and McGowan has been in the band for seventeen years.
The recording of Endless Arcade was completed in Hamburg, just before lockdown kicked in and Blake reflects that despite its release being delayed, their timing was fortuitous. "We were lucky that we got to record it before all the madness happened over the last year. Some friends of ours were planning to get in the studio but then the lockdown happened, and you can't record so you're taking a year out of your life." As well as the hiatus in recording, Blake says that the absence of touring has had a devasting impact on musicians. "Live shows are where musicians make their money these days. You don't make money from records and there's no money in streaming. It's fine, it's what you choose to do, but it's difficult if you can't play live shows."
Whilst they're delighted that Endless Arcade is finally being released, McGinley explains he's still getting his head around the fact that they're not going straight out on tour. "Usually at this stage there's the whole thing when you finish the process. We'd be planning where we're going to be staying and there's the bit where you meet people when you play live. It's unusual to be talking about a record when we're so far away from playing the songs live. It's going to be a little while before we get there."
As our conversation turns to the keystone moments of Teenage Fanclub, amidst the constant laughter there's a thread of uncanny parallels. Parallels between their songs and the ins and outs the band members who played on them, with the ever-shifting nature of relationships - whether that's a parting of the ways or a rapprochement - and how music can soundtrack life's most important moments and friendships.
Along the way we move from sleeping on a bench in a broken sauna in Rochdale and an office floor in New York, to eating in one of Europe's most expensive restaurants. And we take in an endless cast of friends and collaborators, including Yo La Tengo, Nirvana, Jeff Tweedy and the Pixies' Black Francis. But ultimately, Teenage Fanclub's narrative is their timeless songs, the key reason everything has flowed despite the changes they've been through.
As we come to a close Blake tells me, "It was interesting talking over this stuff. It's a lot of time, it's nearly thirty years now. It helps to jog the memory from time to time." But the last line belongs McGinley, who quips, "And the thing we should add as well, is some of it even may be true!"
Buying a Tascam Portastudio after the Boy Hairdressers split
Norman Blake: "The Boy Hairdressers had fizzled out and Raymond and myself were the two people left standing. We'd put out a 12" on Stephen Pastel's label (53rd & 3rd), so we'd had a taste of what that was like. We wanted to move on and put an album out as soon as we could."
Raymond McGinley: "People knew who the band were, but it wasn't like we did a lot, we put out one single and played a handful of shows. We were really frustrated by that and once the Boy Hairdressers finished we had this idea that we wanted to make a record before we started talking about what the band was."
Blake: "We had a number of songs we planned to work on and that we'd played at the latter end of the Boy Hairdressers. We wanted to do stuff rather than talk about it, so we thought 'Let's put an album out, let's just go for it,' but we couldn't afford to do that. Now you've got Pro Tools on a computer, but a Portastudio was state of the art then."
McGinley: "Getting the Portastudio led to that process and that led to going in and doing it in the studio. Francis MacDonald - who plays drums with us now and played drums in the Boy Hairdressers - was up for doing the record with us. I can't remember if we booked a studio before we asked Gerry if he wanted to play, or if it was after that, but it all seemed pretty rapid.
"The embryonic part of A Catholic Education was us sat in Raymond's flat recording these very basic demos on a Portastudio. That's where it all started for Teenage Fanclub." Norman Blake
Blake: "We didn't have a lot of money. Raymond had sold some domestic appliances that someone had given to him."
McGinley: "My Mum had been looking after a neighbour in her later years and she didn't have any family. She was dying and she said, 'Raymond's just got a flat, give him the fridge and the washing machine', so I sold the fridge and the washing machine to part fund the studio. We wanted to record in a studio with a proper 2" tape machine and the only place we could afford was Pet Sounds, which was Wet Wet Wet's studio. It was across the road from the flat I grew up in and it used to be a Police station. It was funny making a record in a place that I used to look at out of the window every day as a toddler, and then cut to twenty five years later, we're loading some gear and going to make a record.
"We didn't go there because it was Wet Wet Wet's studio, and that was indicative of the fact that we've never tried to do things by association with other people to tick a box. We wanted to do our own thing and getting the Portastudio to do demos was solely for us, not to play to other people."
Blake: "People around us were going to the same labels and doing the same demos, but we realised if we made a record then we'd force ourselves to come up with new songs, because once it's out there you need something new. Also, instead of never getting past square one because you're doing the same thing over and over, you start to develop immediately. So the embryonic part of A Catholic Education was us sat in Raymond's flat recording these very basic demos on a Portastudio. That's where it all started for Teenage Fanclub."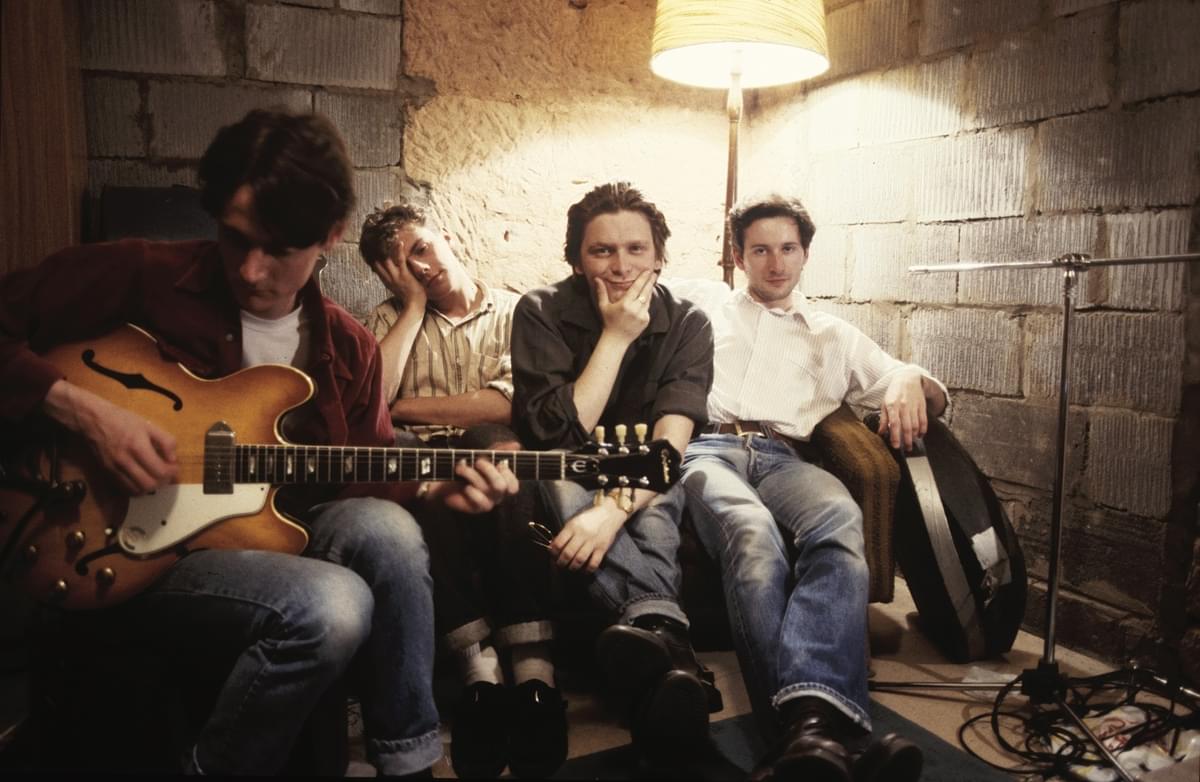 Recording the self-funded A Catholic Education and having the band's first lineup change in the middle of it
Blake: "We'd recorded a version of the album with Francis, but he decided the Rock and Roll life wasn't for him and that he was going to go to university. We didn't have any money, or a deal, so it made sense for him at that time. Then we met the force of nature that is Brendan and he fitted in really well. Brendan brought a different energy to the drums, as stylistically he was a different player.
"We'd worked out all the songs with Brendan and after listening to some of the tracks we'd recorded we thought we could do slightly better versions, so we went to Sweet 16 Studios in Rochdale, which was Peter Hook's studio. I was friends with John Robb from The Membranes and I got in touch with him and he said we could stay at his flat, which had a sauna on the roof. We slept on the benches in John Robb's sauna, but it wasn't working! It was very cold in there, but we had sleeping bags."
McGinley: "It was in December and we thought 'That's going to be nice and warm.' When we got there it was dark and freezing. It was only in the morning, when we saw daylight filtering into the cracks that we realised the sauna was actually a very thin hut on the roof of this building."
Blake: "It wasn't actually part of the building; it was an addition!"
McGinley: "But we were very grateful to John for his hospitality. We were there for four days, we remixed the whole album and re-recorded four songs, one of which was the version of "Everything Flows" on A Catholic Education. John's place was a couple of miles outside of Manchester city centre and every day we'd make our way back and forward to Rochdale. We were very short of money, so occasionally we walked back so we could buy something to eat. Gerry and Brendan were rationed to a packet of 10 cigarettes between them, and me and Norman got a Twix."
Blake: "We'd share a bag of chips and a couple of cans."
McGinley: "Me, Brendan, Gerry and Norman being together in a closed space was something that happened a lot over the next year or so. Norman would get his mattress from his bedroom, chuck it in the back of the van and off we went."
Blake: "The van was windowless. One of our friends would drive, one of us would get in the front and everyone else would have to pile in the back. The doors would close and you'd be in darkness. The amplifiers would be bouncing around on the mattress and we'd be bouncing around in there with them. It felt like a tumble dryer."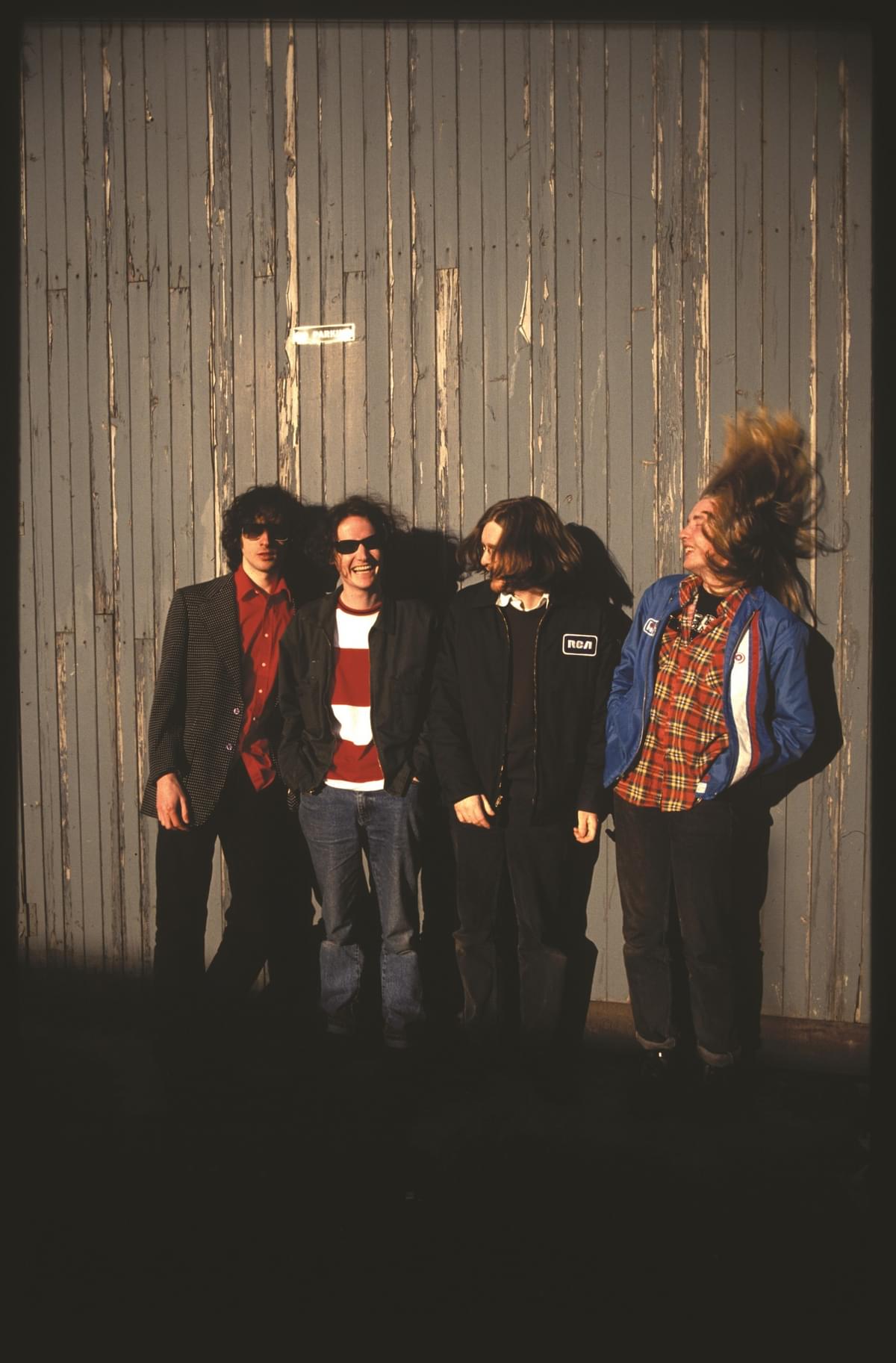 Playing the band's first show at London ULU, November 1989, with The Pastels, Pale Saints and Ride
Blake: "We'd been friends with Stephen Pastel for a long time. I'd been on tour as the bass player for The Pastels and that was the first bit of touring that I did in Europe. Stephen helped us to hook up with Dave Barker, who'd put out Up for a Bit with the Pastels and he was starting the Paperhouse label. He also hooked us up with Gerard Cosloy, who'd been at Homestead Records and was in the process of starting up Matador. I think A Catholic Education was the third record released on Matador, so Stephen was quite pivotal in the early part of the band.
"Our first show was a Pastels show with Ride and Pale Saints, and we were opening. It was early for those bands too; I don't think Ride had done much before that."
"The first time we played Gerry broke a bass string. He did it once and never did it again." Raymond McGinley
McGinley: "That was the second time me and Norman played at ULU. We played there a couple of years before when the Boy Hairdressers supported Dinosaur, before they were Dinosaur Jr."
Blake: "Gerry broke a bass string during the first song that night and he had to borrow Steve from Ride's bass."
McGinley: "In all the years of touring, the first time we played Gerry broke a bass string. He did it once and never did it again. Being a bunch of idiosyncratic people, and for reasons lost in the mists of time, we tuned all of the guitars down a semitone. Sometimes people ask, 'Are the songs on A Catholic Education slowed down?' but no, we tuned the guitars down and I've no idea why we did it. So Gerry breaks a bass string, it's tuned down and he had to borrow a bass after the first song. We had one tuner between all of us, so Gerry had a nightmare tuning the bass."
Blake: "They had ULU beer, do you remember that?"
McGinley: "They had out of date lager!"
Blake: "Which we were given because we were first on the bill."
McGinley: "We had a slab of out of date lager, so we were living the high life at that point! After the Boy Hairdressers, me and Norman wanted to be in a band that actually did stuff and that first show was the start of that. It felt great to actually be doing something, being in front of an audience. Later that year we played a couple of shows with Primal Scream, but it wasn't until later in 1990 that we hit the road in earnest. The whole point of the band was 'We want to go and do stuff, we don't want to sit around being in a pub with our mates in a band.'"
First show in the USA at CBGBs and meeting Don Fleming
Blake: "That was amazing. Matador wanted to launch the label with a night at CBGBs and they invited us to play. We scrambled around to do it; didn't you get us some cash for the plane tickets?"
McGinley: "Matador give us a modest advance for the album, $5,000 or something, and we spent it on plane tickets. We just thought 'Let's go and do it', we didn't think 'Maybe it's not sensible to spend our advance to play shows where we won't make any money.' It wasn't a business plan, we just wanted to live a little and CBGBs was the first show on that trip."
Blake: "We got there a couple of days before the show and we were staying in the Matador office. We slept on the floor and the sleeping bags came in handy again. The washroom was for the entire building, you'd get up in the morning to brush your teeth and someone would be standing next to you straightening their tie or having a pee at the urinal."
McGinley: "I can remember having a full wash over a sink in there and someone in came in and said, 'What's he doing?'"
"Just a few months after sitting at the Portastudio, here we are at the legendary CBGBs." Norman Blake
Blake: "We played CBGBs on the launch night. Superchunk, Urge Overkill and Railroad Jerk were on the bill, but the night before we played at a rehearsal space in Manhattan and met some people from New York. We met Yo La Tengo for the first time and we're still friends with them all these years later. I think Thurston Moore was there and Mark Ibold from Pavement, who was playing in Railroad Jerk. The show proper happened the next night and it was amazing to be there. Just a few months after sitting at the Portastudio, here we are at the legendary CBGBs, and that's where we met Don Fleming.
McGinley: The New Music Seminar was happening and that was the context for a lot of people being in town. Dave Barker from Paperhouse had come over and he knew Don, because Dave put out the Gumball record. Dave introduced us to Don and he said 'You're sleeping on Matador's floor? Can they not get you somewhere to stay?' Don joined us onstage and he was saying 'I hear there's some floorspace going free at Matador's offices, can someone give these guys somewhere to sleep?' He was outraged we were sleeping on the office floor. We met people on that trip who are still good friends of ours to this day, who took pity on us. They took us into their homes, fed us and looked after us. The hospitality was great, there were no saunas on the roof but it was the same kind of thing, where people look after you.
"We got to know Don and hit it off with him. We ended up recording at Wharton Tiers' Fun City studio a couple of days later and we recorded the "God Knows It's True" single there. Then we worked with Don on Bandwagonesque, but it all came from those first couple of days on that New York trip. Seeing the people we met on that trip, it's like the end of The Wizard of Oz."
BEST FIT: In Lizzy Goodman's Meet me in the Bathroom, a barometer of success for US bands was when they written about in the British music press, but it also went the other way with UK bands going to play in the US?
Blake: "Definitely. It's funny, because the first success we had was going over there. They got excited about us in New York before they got excited about us over here, no doubt about it, and obviously the Matador thing was part of that."
McGinley: "It was good that we went over there when we did. Sometimes bands from this island go over to the States when they've had a tickle of success over here, and maybe they go there with an attitude and nobody likes them because they don't know who they are. We went over at ground level and we played in the same way we'd play anywhere else. We played in a bar in Philadelphia with Uncle Tupelo and there were thirteen people there, but I remember it being a good show and we got to know Jeff Tweedy. We were naïve in a good way, we didn't go in with an attitude, we went in with nothing, not even work permits!"
Blake: "And we came back with even less! It was as if we were from Virginia or somewhere, we did it the way the American bands did it, and how they would make their first trip to New York."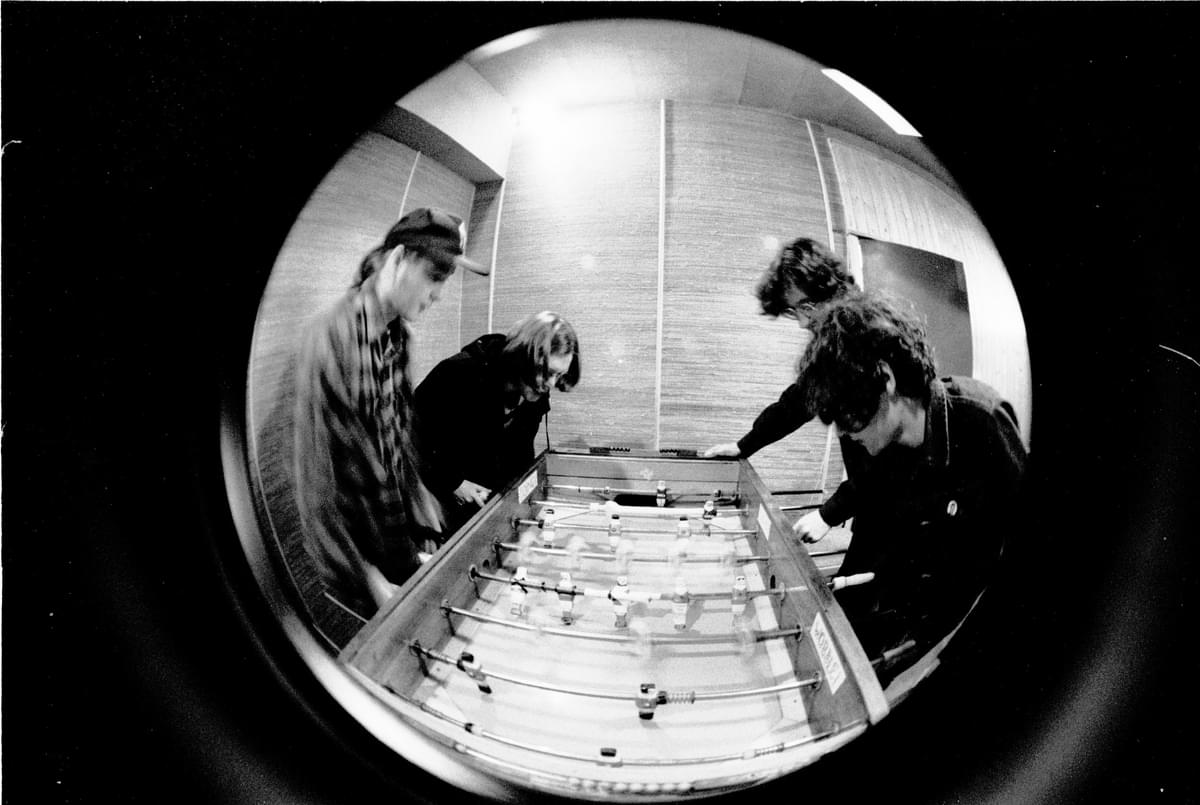 Touring with Nirvana on the Nevermind tour in 1992
Blake: "We met them when they played in Glasgow on their previous tours for Bleach and even before that I think. They knew Calvin Johnson, who is a friend of mine from way back and Nirvana were from the same part of the world as Calvin, so we hooked up with them through him.
"By this point we were on the same label, DGC, in the US and we were offered the European leg of the Nevermind tour. Nevermind was only starting to take off at that point and it was amazing, it just grew and grew. I've got memories of all of us being in Stockholm, sitting in a park eating ice cream. They were really nice guys. We met Dave Grohl a couple of years back and he's still a really friendly guy.
McGinley: "We still speak to people now who say, 'I remember when you played in Stockholm in 1992.' It was a different level and it was a great experience, not just for the phenomenon of being on tour with Nirvana at that point in time, but because it took us into places that we'd never been to.
"We weren't even Kurt Cobain's favourite band from Glasgow! He loved The Vaselines." Raymond McGinley
BEST FIT: Teenage Fanclub and Nirvana were both masters at knowing when to harness volume to drive a song, but the keystone for both bands is the power of the songwriting?
Blake: "You're right, they were part of the grunge thing, but people connected with the songs and Kurt's lyrics. That's why they were successful and became what they were, because people identified with the music so much. If you look at the music Kurt spoke about and the bands he loved, he was someone who really appreciated a song."
McGinley: "There's something on Wikipedia that says we were his favourite band, but we weren't even Kurt Cobain's favourite band from Glasgow! He loved The Vaselines."
Blake: "When Kurt met Eugene for the first time, I was the other person in the room that night. It was in Edinburgh and Nirvana had asked The Vaselines to reform for the show. I went there with Eugene - maybe there was a mattress in the back of that van as well, there was certainly some fortified wine. I remember us walking into the room and Kurt being really in awe of Eugene, he said "Wow, I can't believe I'm meeting Eugene Kelly." They became pretty good friends at that point, and like Raymond says, we weren't even his favourite band from Glasgow!"
McGinley: "I remember coming back from our first trip to America, seeing Eugene and saying to him 'I don't know if you comprehend how much people fucking love your band over there". People were 'Oh wow, The Vaselines are from Glasgow.' It's interesting to travel the world and find that people have their view of your home city. Sometimes they know more about it than you do, and that perspective is different to what local people might think are the important and not important things."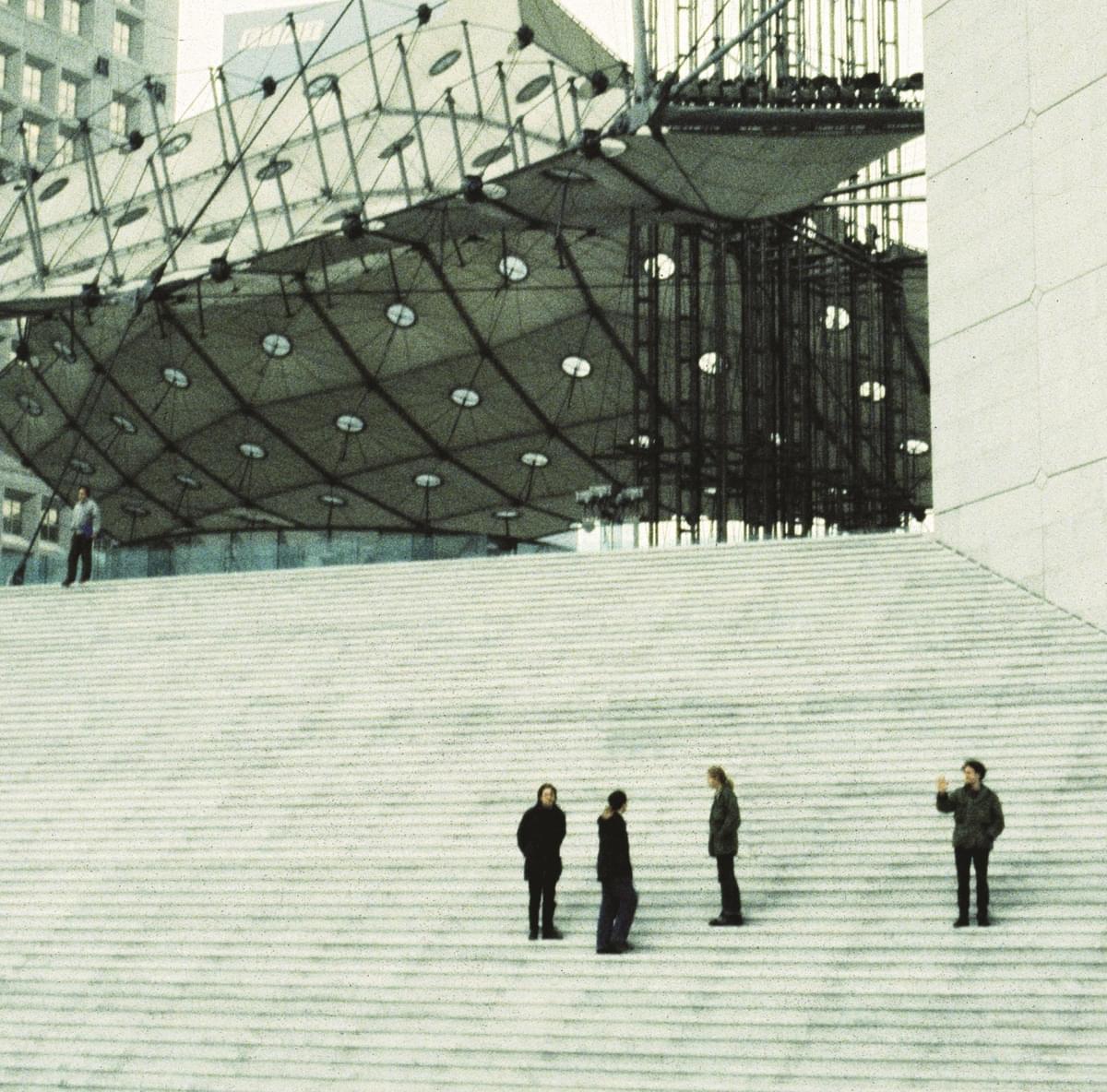 Going to The Manor Studios in Oxfordshire to record Grand Prix with new drummer Paul Quinn
McGinley: "Grand Prix was our first album with Paul playing drums and it was the first one after Brendan. Brendan's last show with us was at CBGBs."
Blake: "Oh wow, was it really?"
McGinley: "We fired Brendan in 1994, but it's all a bit lost in the sands of time. Someone asked Brendan why it happened and he said, 'I still don't know' and I don't really know either. It was probably a subconscious thing where we were looking for someone to sacrifice, we were in some new stage of our lives, or whatever. I don't think it was anything Brendan had done, but these things happen. Brendan was - and is - a massive personality and a massive a part of what the band was up until that point, but then we were doing stuff with Paul. It was like a new band in a way. You interact with each other a little differently when someone else is in the room, and we got a lot of energy from that.
"It was a really great experience being in this unbelievably big house in the Oxfordshire countryside. It felt pretty grand and we were working with David Bianco. We met David at T in The Park before we recorded Grand Prix.
Blake: "Was David there because Pixies were playing? I thought we met him through Charles? (Thompson IV, AKA Black Francis) Or was it someone he'd been working with, Crowded House or Neil Finn?"
McGinley: "I think he was interested in working with Crowded House, but he ended up with us! We almost met David in LA when we went to the studio to meet Charles when he was mixing Teenager of the Year, but David had left for the day. We thought 'We love this sound' and Charles said, 'We've got this guy David Bianco, he works with Rick Rubin, he's great and he works really fast.' We got a tape of Teenager of the Year and played it on the tour bus."
Blake. "It's a great album."
McGinley: "That's why we asked David to work with us on Grand Prix."
Blake: "That was an exciting time and he was amazing to work with. With the album we'd made before that, Thirteen, we'd spent an awful long time making that record, we had twenty-five songs and bits of songs for it. With Grand Prix we wanted to do something that was really concise and to do it quickly, and that's what we did. We did in it five weeks."
"(Sony) took us to Raymond Blanc's Le Manoir aux Quat' Saisons restaurant, we were totally living the high life." Raymond McGinley
McGinley: "I was just thinking of a snapshot of the first day in the Manor. We went in, set up and got most of "Neil Jung" recorded. Sony had taken over part of Creation Records; they were keen to re-sign us for a longer deal and Jeremy Pearce and Mark Tattersall came down on the first day. They took us to Raymond Blanc's Le Manoir aux Quat' Saisons restaurant, we were totally living the high life. We were in this Manor House in Oxfordshire, we'd recorded this song and we were 'that's great, where are we going to do now?' And it was 'The guys from Sony are coming down and they're going to take us to one of the most expensive restaurants in the country.' It was a bit unreal, but we got a lot of work done, we only went there for one night."
Blake: "A slap up meal and lots of booze and cigars at the end of it. I can remember waking up the next day with hangovers and starting more work on the album. It went really well and we had a good time working with David. It was an important time and a transitional time in the band, with Brendan going and Paul coming in, and it felt different at that point. It was certainly a different live experience, because Brendan, even stylistically, he's quite manic and frenetic and Paul had a different style completely. He hit the drums really hard and it really worked.
"That was the sound that group of people made at that time and if it had been Brendan playing it would have been different. I'm sure it would have been just as good in its own way, but different."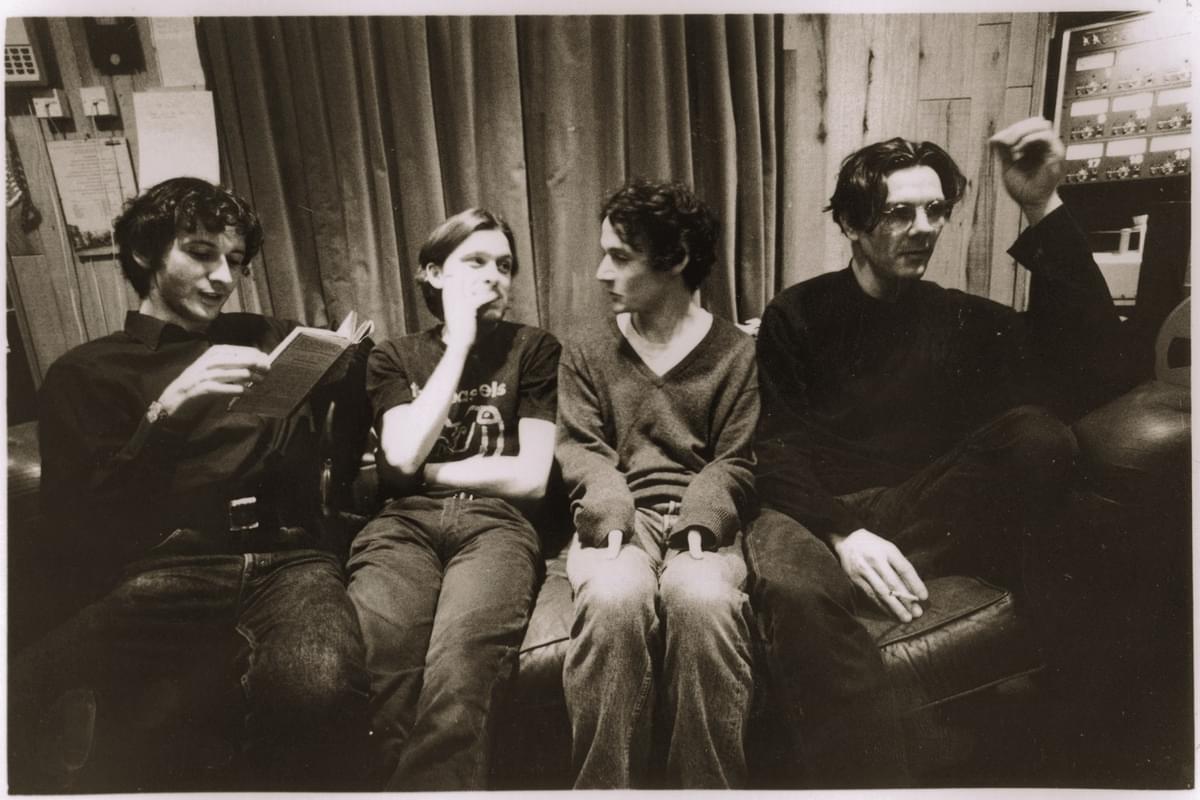 Francis Macdonald rejoins the band on drums after an 11-year sabbatical
McGinley: "When me and Norman had this idea to do an album after the Boy Hairdressers we spoke to Francis and he was going to help us, but we wanted to go on tour. Francis said, 'Well, I'm going to university and I don't think I can do that.' We recorded that first session and he said 'I don't know if I can commit to all of the things that you want to do, so maybe you should get someone else in', and that's when we got Brendan in.
"Maybe a year or two later, Francis was at Strathclyde uni doing a dissertation on waste management and he sees us on tour with Nirvana, and he thought 'You know what? I don't know if that was the best decision!'
Blake: "He'd seen the error of his ways in going to university! Paul had left the band by that point and it was great to have Francis back, because he's a great drummer and again, when something changes in the band you're re-energised. I think the first thing we did with him was a festival show in Spain?"
McGinley: "Francis's first show was at a festival in Santiago de Compostela and when it came to 'Who are we going to get to play drums?' we thought 'Let's get Francis.' The funny thing was that Paul Quinn played with the Boy Hairdressers and there are early Teenage Fanclub songs that we worked on with just me, Norman and Paul in a rehearsal room in Bellshill before Francis joined."
Blake: "And before Gerry joined."
McGinley: "I was talking to Paul about this, and he'd kind of forgotten about it, but the songs at the latter end of the Boy Hairdressers were when Paul was the drummer. We worked on Teenage Fanclub songs with Paul, then we did them with Francis, then with Brendan, then we got Paul in and then we were back to Francis again.
"The first album we did proper with Francis was going to Chicago to make Man-Made with John McEntire and that was a great experience as well. But the other detail that's just occurred to me in terms of the whole timeline is that when we were touring Man-Made, we needed someone to play keyboards. We'd had Finlay MacDonald, but he couldn't do it anymore because he had a regular job. We asked Brendan if he would join the band to play keyboards, because we thought 'Maybe that would work', but Brendan couldn't do it, or he didn't feel comfortable doing it. I'd only remembered recently that we asked Brendan to play keyboards."
Blake: "I'd forgotten about that."
McGinley: "That's when we got Dave McGowan in, when we were touring the Man-Made record. He's been the new boy in the band for the past seventeen years."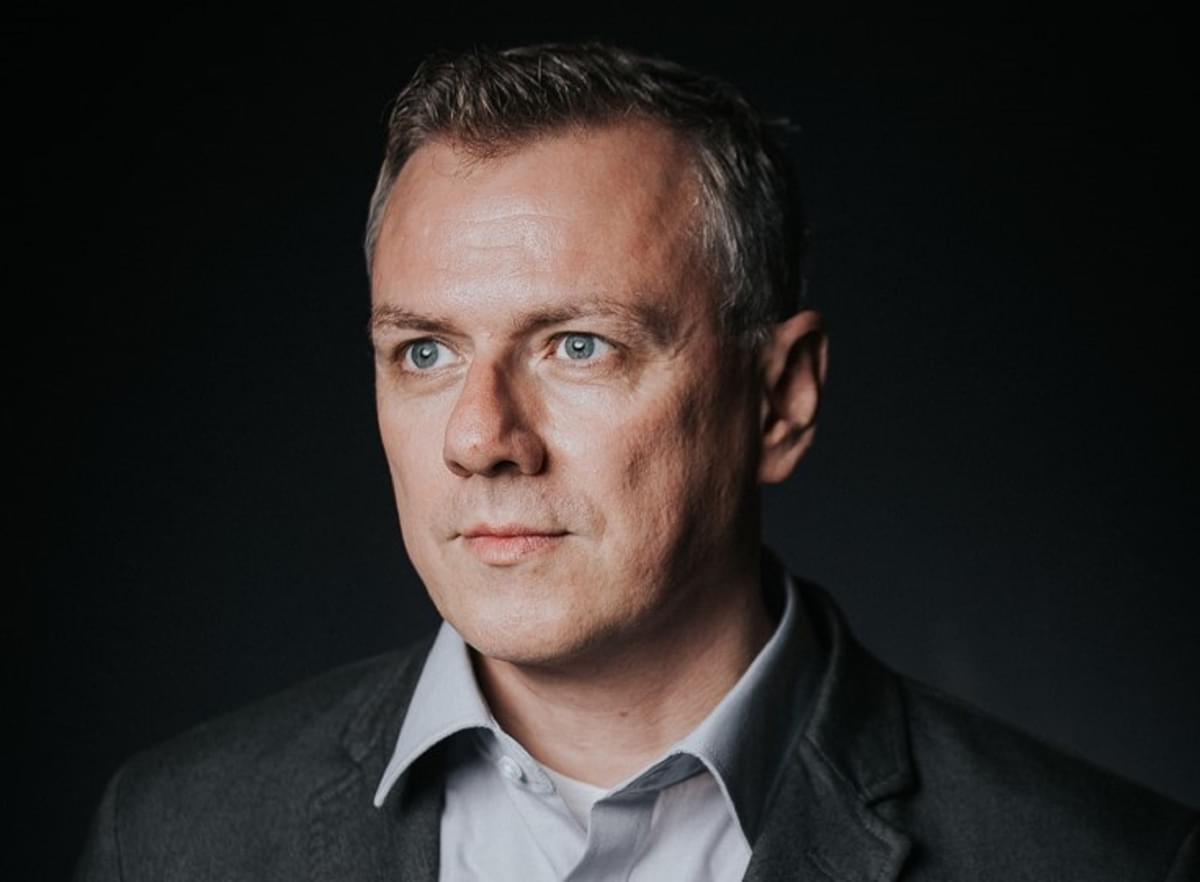 Creation Records Years tour in late 2018, Gerard Love's last shows with the band
Blake: "It was nice that everyone who had been in the band during that period was there. We did the last show in London and that was Gerry's last show. It was a strange thing, we couldn't quite agree on some shows and he decided to leave the band. We put out a statement, but then we did these shows and that brought that whole period to an end. Paul and Brendan came on that trip and played drums on the albums they'd played on. It was a strange set-up, and everybody had a good time, but it was a bit odd playing six albums over three nights. We had to learn all the music again. Some of the songs from albums would just be left there and you don't go back to them."
"It wasn't like suddenly we couldn't be in a room together, or we'd had some massive fallout." Raymond McGinley
McGinley: "I don't know if it's unusual that someone says they're going to leave the band and then you do almost six months of work together afterwards. It wasn't like suddenly we couldn't be in a room together, or we'd had some massive fallout. It was a nice transition between that period and having Brendan and Paul come back in. So you've got the three drummers who have been in the band and then the guy on bass is leaving and everyone knows that, and everyone's onstage all at the same time."
Blake: "It was like The Three Tenors!"
McGinley: "But we had The Three Drummers! I remember being in a dressing room and someone saying to me 'It must be really dramatic with Gerry' and I said 'Look, he's standing over there having a beer, we're still working together. It's only a band.' I remember someone at the last show saying to Gerry 'Are you a bit upset about it?' and Gerry said 'I'm not dying, you know. Life goes on.'
Blake: "Things change in bands. Some people would think it was really dramatic but we didn't think of it in that way at all. Bands change their shape and line-up, but it's fine. You can either decide to keep working or look to your glory days, but we've always felt as if we were a contemporary band, we're always looking to the next thing and to the next album. As much as we're happy to play the songs we've done in the past, for us creatively, we like to be making new music.
"We've never broken up. If you go back to the start, it's been myself and Raymond and we've been the two constants in the band, but the band is all of the people who are in it. It just so happens that we're the two people who've been all the way through, but everyone has had a massive amount of input into what we've done, through their personalities and their musical proficiency. That's what the band is."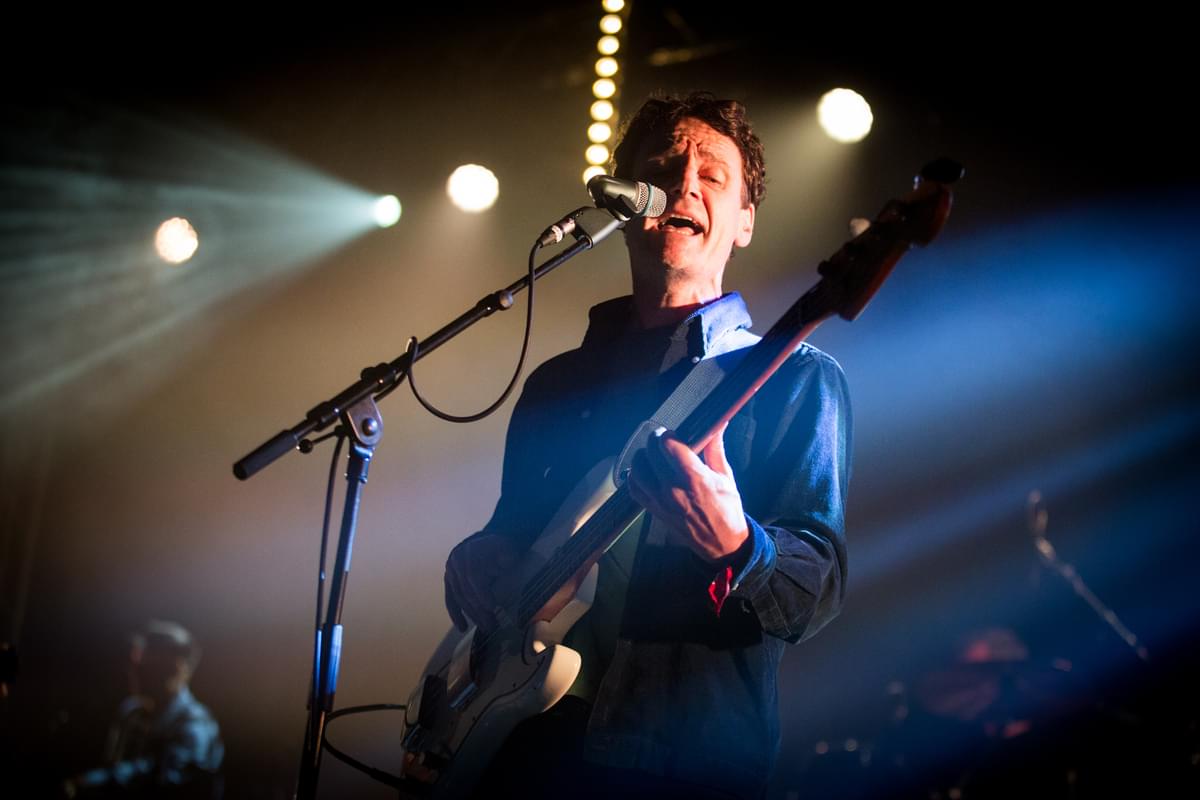 First session at Clouds Hill Recordings in Hamburg for Endless Arcade
McGinley: "It was another transition for the band. It wasn't like with Gerry leaving we were going to replace him with a Gerry-alike. Dave is a great bass player and has been with us for seventeen years. We asked Euros to play keyboards because he was part of the family already, he'd played on our records before and we'd known him forever.
"We felt really excited moving on after that period of doing the retrospective stuff, which is great, but it's not where we want to be. We were massively into 'let's record new songs and make a new record', so it felt really good to be going to Hamburg to work on the new record.
"I think what it all comes down to is what your doing any good or not? That's a subjective thing, but as a band we've always viewed our success as whether we're happy with what we've just done. We set up in Hamburg with Dave, Euros and Francis and we were all looking at each other thinking 'This feels really good.' We want to constantly remain in the present day, and it felt that with the way the band is now. When we went to Hamburg to record it felt the same as going into Pet Sounds in 1989. We do things in exactly the same process, only that time has passed, and you find yourself in a different place with some different people.
"We want to constantly remain in the present day, and it felt that with the way the band is now." Raymond McGinley
"I've been thinking this over the past thirty years. If we're going into the studio to make a record, there will come a point you might think, 'This is crap, it's not working, we all feel miserable, let's just call it a day.' I'm sure that will happen to us at some point - or we might die in the meantime - but we haven't got there yet."
BEST FIT: In Afternoons with the Blinds Drawn the second instalment of Brett Anderson's memoir, he wrote that with hindsight he wished that Suede hadn't released A New Morning, but they had to because of budget pressures and to keep the band going.
Blake: It's a shame he felt like that, and it's an interesting perspective to have, that he's willing to admit what was going on then. You would hate to be in that situation, and he would probably say that part of the legacy of the band is that record existing."
McGinley: "I read an interview with Mark E. Smith and someone asked him 'Have you ever started making a record and then thought "Maybe I should scrap it?"' And he said 'No, I couldn't afford to do that. If we're making it, we're going to put it out.' It's not that he's thinking 'We'll put out a crap record', you just try and make sure it's worthwhile.
"If we found ourselves in the middle of something and we were cringing at ourselves, we would just quietly stop it. If we decided we didn't want to do this anymore, we just wouldn't do it and we wouldn't say anything about it. The idea of a band announcing they've split up, you think 'Who cares?' Just don't put out another record."
Get the Best Fit take on the week in music direct to your inbox every Friday