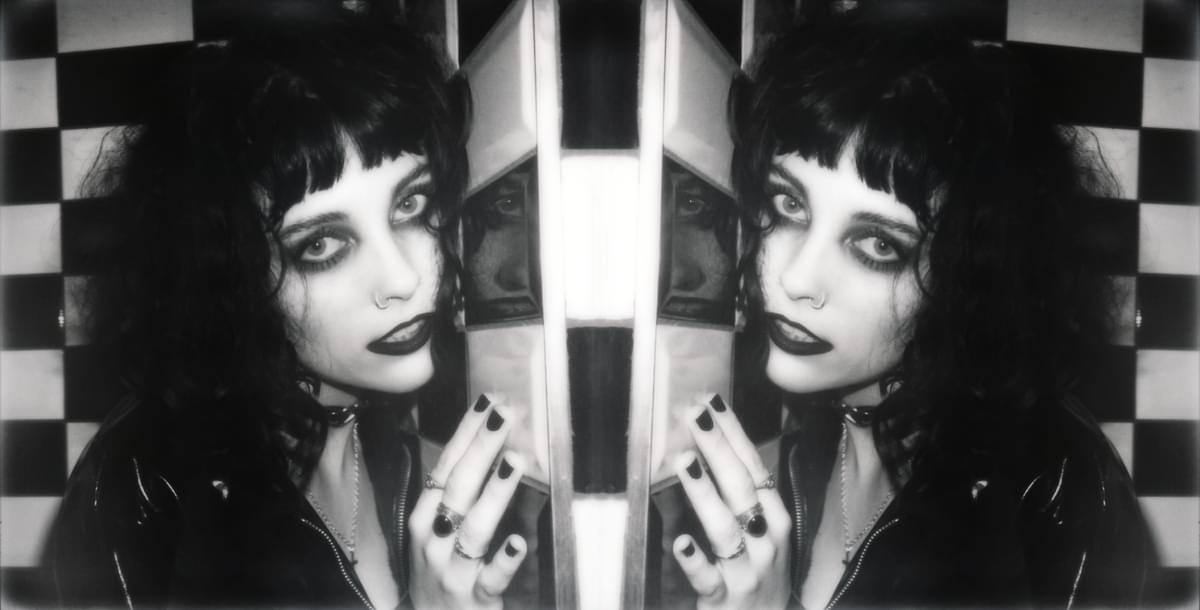 Back To The Future
04 January 2018, 10:00
Pale Waves have already achieved so much, but world domination awaits as they bring their retro-tinged indie to a hectic 2018.
Pale Waves signed to boutique label Dirty Hit back in 2015, on the strength of demos recorded shortly after the band's inception. However, it wasn't until this year that the four-piece released their brash, euphoric guitar-pop onto an unsuspecting world. With just three singles under their belt at the time, the band nabbed a spot on the BBC's prestigious Sound Of 2018 longlist, alongside huge names such as ALMA and Sigrid.
Our first taste of what Pale Waves had to offer came in April, with the undeniable sugar rush of "There's A Honey". One of our tracks of the year, its brooding lyrics, soaring guitar lines, and catchy refrain were crafted with the sole intention of making the listener feel really bloody great. With over three million streams on Spotify, it's certainly hit its mark.
"It was between 'Television Romance' and 'There's A Honey'," frontwoman Heather Baron-Gracie explains of choosing the band's debut single. "We recorded those two songs, and everyone was like, 'There's A Honey' needs to be the first introduction. It came together really fast and identified itself straight away."
"Television Romance", the band's summery second single, hit the airwaves in August, but its incarnation was a less instantaneous process than that of its predecessor. "'Television Romance' took us a long time to figure out," Baron-Gracie adds. "It's been through a lot of different stages and it sounded completely different at times."
"We have some songs coming out really soon that were our first ever songs as a band... it's going to be really nostalgic and weird. it's like seeing an ex!"
"Different" seems to be a focus for Pale Waves as they head into 2018, with Baron-Gracie promising range and variety on the group's debut full-length, slated for release later this year. "I'm really excited to put 12 or 13 songs of our world on this record. It shows a different side to us. We can give you more than we can give in a single. We have some really sad, sad songs, which I can't wait to display to the world. I'm just excited for people to see a different side of us, 'cause people are like, 'ugh, Pale Waves sound the same'." She puts on a monotone voice for her indie bro impression, before snapping back to her own voice in exasperation. "It's like, oh my god, you've only heard four songs, and we are the same band!"
Does this mean we'll see them diverge from their signature jangling guitar-pop? "There's a lot of songs that don't actually have much guitar at all. A couple are pretty much all about my vocal, which is going to be really cool."
With album recording just getting underway, Pale Waves continue to grow and mature. "We're getting better as musicians, and at production," Baron-Gracie confesses. "Ciara [Doran, drummer] does a lot of the production, and she's only getting better, and we have so much more knowledge and resources than we did when we started out. We know how to work a lot more things, where as before we were just guessing. Now we have an understanding… sort of," she laughs.
"We've not got a set tracklist yet," Baron-Gracie admits of the record's process. Though not yet finalised, the debut record looks set to span the life of Pale Waves thus far. "We have some songs coming out really soon that were our first ever songs as a band - well, as me and Ciara, three-and-a-half, four years ago! It's going to be really nostalgic and weird," she laughs. "It's like seeing an ex!"
Despite the addition of band members Hugo Silvani and Charlie Wood, Baron-Gracie and Doran remain the band's principal songwriters. "I'll write a lot of the songs on my acoustic guitar, and then Ciara will write a lot of the music on her laptop, on Logic, and then we come together and combine the two," says Baron-Gracie.
"We're going to record the album in a few days and my mind's pretty set on that..."
"We write music to express ourselves, and we also express ourselves through fashion," she continues. "That was the first thing that drew me to Ciara - I saw a picture of her and she was dressed like she didn't really care like anyone else thought. Our fashion and music kind of contradict. We didn't purposely ever make our image to contradict; it's just what we're into. I'm not going to change that just because I write pop music. I've never been one to stick to the rules, I just do what I like! I'm just like that as person."
Right now, plenty of inspiration bud from close to home. "My own stories, my own personal experiences… I have more than enough to write about at the moment!" Baron-Gracie laughs. "For now, I have so much to say of my own that I've got too much content to talk about!"
Pale Waves' sound so far plants them firmly in the indie-pop sphere. There's a sunny nostalgia to their vibe, not unlike labelmates and mentors The 1975. It's a comparison made much of by critics and detractors, especially considering they had a hand in production of the group's first two singles.
"A lot of people like to see us as something we're not - we're just friends. They produced our first two songs, we went on tour with them, [Matty Healy, The 1975 frontman] did the 'Television Romance' video. After that, we went our separate ways, 'cause we wanted to indulge in our own music."
"I want us to spread into everyone's life, into everyone's heart, and destroy it!"
When it comes to inspirational peers, Baron-Gracie cites LA trio and fellow "emo pop" makers MUNA as personal favourites. "They're a really current, relevant band. They came to our LA show, but they had to jet off so we didn't get to meet them, which I was pretty sad about."
"I love pop music," she continues, as we discuss her own musical tastes. "When it can make me feel something - when I believe the artist - that sells it to me a lot more. There's some pop songs out there that I just don't believe in at all, and it ruins it. I need to know that this person is pouring their heart out, is on the edge! That's what I like about real pop music, like The Cure, Prince… I love Prince. A lot of '80s artists were so real, and that was such an era to be within music. Everyone's trying to relive the '80s right now, through fashion, through vinyl players, music… it was a time to be alive!"
Looking back at 2017, Baron-Gracie's high point is a no-brainer. "Going on our first ever headline tour, because we only ever did one proper show that was all about us [before 2017], and then we did a tour of the UK, Europe, and the US. We didn't really know what to expect. Obviously did the US and European tour with The 1975, so we were fairly confident that we would get decent crowds, but I don't think we ever expected to get what we did. Pretty much every show was sold out for all three of the tours. That was a bit overwhelming, and really exciting."
The group's first show of 2018 is set to be at our new music festival, The Five Day Forecast, on 11 January, where they'll headline a sold-out night at London's Lexington. "I keep forgetting about it," laughs Baron-Gracie, "'cause we're going to record the album in a few days and my mind's pretty set on that! I'm really excited - I miss playing live already! It's been over a week and I want to go on tour again!"
With more live dates and an album on the horizon, what does 2018 look like for Pale Waves? "I just want to see us grow even more," Baron-Gracie muses. "I don't ever want to stop seeing that. I want us to spread into everyone's life, into everyone's heart, and destroy it!"
So there you have it: it's 2018, and Pale Waves are coming to destroy your heart.
Get the Best Fit take on the week in music direct to your inbox every Friday