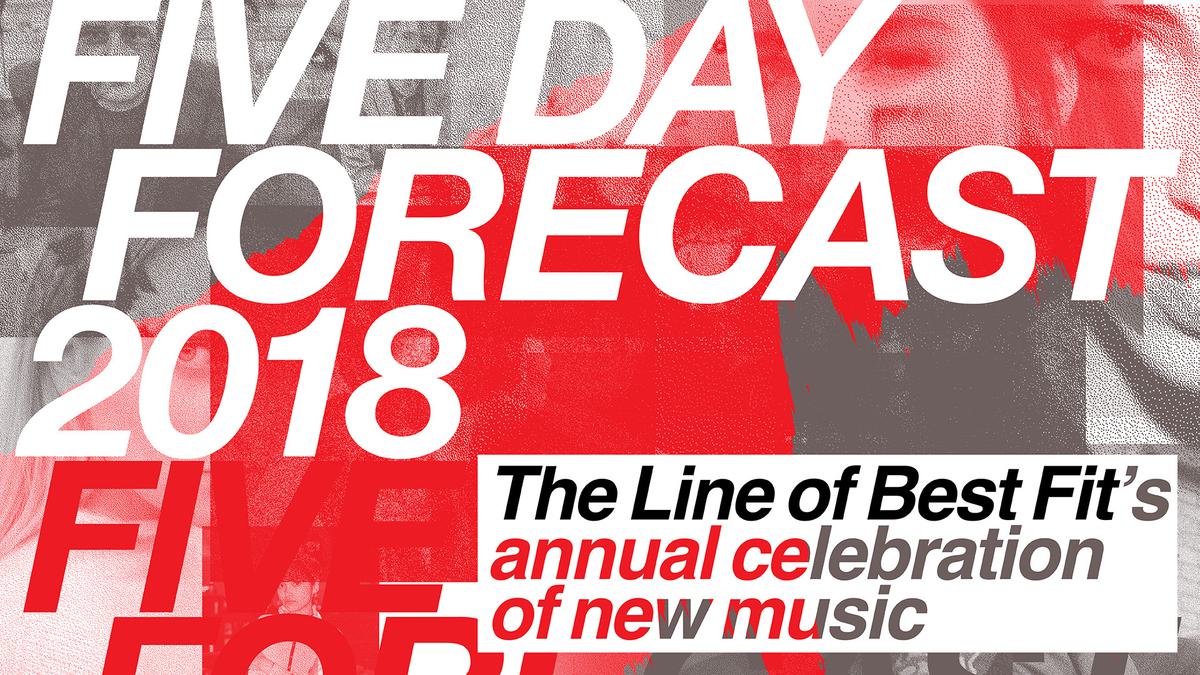 Pale Waves, Soccer Mommy, Snail Mail and Liv Dawson head up our Five Day Forecast 2018
The Line of Best Fit returns with the fourth edition of its annual festival showcasing the very best in new music.
The Five Day Forecast takes place at The Lexington in London, a stone's throw from King's Cross, and runs across five consecutive nights from 8-12 January. Curated by the biggest independent music website in the UK, the events have consistently sold out for three consecutive years - previously featuring the likes of IDER, Dagny, Pumarosa and Nilüfer Yanya.
Five Day Forecast 2018 includes some of the most innovative and exciting talents around, including vibrant Manchester troupe Pale Waves, the debut UK performance from recent Matador signing Snail Mail, the Nashville based Soccer Mommy, much-hyped South London newcomer Poppy Ajudha and future star in the making Liv Dawson.
Individual tickets £8 / Five-day wristband £32.
Fanny Andersen
Norway's a constant hotbed of top pop activity, and perhaps the best example of this in 2017 is Fanny Andersen. The Oslo-based newcomer catapults out the kind of gold that makes your lose your absolute shit, but far from being disposal dancefloor fodder, Andersen's music comes bundled with tonnes of heart and incisive looks at love, sexuality, and life in the 21st century. Euphoric ballad "Kids" is maybe the best example of what Andersen offers: it's a neon-lit number about growing up bisexual, and it's buoyed by house beats, sampled voices, and leviathan drops that make your bones quake.
Plays Monday 8 January / Buy Tickets
Poppy Ajudha
Poppy Ajudha's finally starting to get the recognition she's warranted for so, so long. After starting as a songwriter (she's been penning poetry since her early teens), the South Londoner — who "grew up in" her father's nightclub the Paradise Bar, absorbing every noise she came across — is letting her talents as a jazz-soul powerhouse shine. Tunes such as "Spilling Into You" (a collab with fellow fast-riser Kojey Radical) and "Love Falls Down" have marked her out as a figure to keep both ears and eyes trained on, with the lines between classic and cutting-edge forever torn down.
Plays Monday 8 January / Buy Tickets
Sabella
Somerset pop upstart Sabella has long been a favourite of ours, and bringing her back to the Five Day Forecast at this stage is hella exciting. Summer '17 saw the release of "Fortress", a mighty, hook-encrusted statement of intent that ticks every box with aplomb, and not for the first time Sabella took the award for low-key Song Of The Summer. Expect star-spangled anthems-in-waiting with choruses that drag you to the dancefloor, but don't think that Sabella trades in style over substance: these are bops with weight that'll hit you hard and hit you deep.
Plays Monday 8 January / Buy Tickets
The Rhythm Method
The Streets are back but they needn't've bothered, because The Rhythm Method now proudly wear Mike Skinner's dour, funky crown. A twosome with fans in high places (Elton John included) and a brash Englishness in tow, they've bucked any kind of trend to resurrect vintage sounds and ape spoken-word hip-hoppers of decades past – and they own it. They cram oddly specific references into songs that sound like "Squeeze covering So Solid Crew" (when was the last time Cherie Blair got namechecked in a song?) and then splatter their suburbanite innuendos all over beats that could double as elevator Muzak. It might sound totally bizarre, and it is, but trust us: this is incredible.
Plays Tuesday 9 January / Buy Tickets
Suzi Wu
North London 'teenage witch' Suzi Wu has carved out an invigorating nook in the months she's been on our radar, with her Lucky Number debut touting a motley crew of cherrypicked noises and nods to visual artists. On the EP, bone-dry vocals crackle with robotic beats, lush samples, and lo-fi grunge-pop – it's dark, smart, witty, candid, and confidently non-conforming, with intricate layers and a grimy glamour coursing through each rippling earworm. Suzi Wu has the kind of sound that makes heads turn so quick that whiplash is a real and present danger – have a neckbrace prepared.
Plays Tuesday 9 January / Buy Tickets
Art School Girlfriend
Wolf Tone, the label from super-producer Paul Epworth (Adele, Florence and The Machine), has an unrivalled track record when it comes to artists who create immersive, fantastical worlds – think Glass Animals, Rosie Lowe, and Plaitum – and they've done it again with Art School Girlfriend. On her debut short-player, ASG aims breathtaking emotion and heart-wrapped melodies at her own cavernous electronic production... and then marvels at the beautiful collision. It's cinematic and intimate, moreish and traumatic, familiar and distant, – it's a lot of things, but most of all it's captivating. Welcome to the world of Art School Girlfriend.
Plays Tuesday 9 January / Buy Tickets
Liv Dawson
Liv Dawson is just 19, but in the six (yep, six) years she's been making music she's joined forces with some of the most impressive names around, cutting her teeth and honing her skills with the likes of HONNE, salute, Adele writer Tobias Jesso Jr, and Disclosure. Inspired by "childhood heroes" such as Lauryn Hill and Beyoncé, the Shepperton-born star crafts sumptuous R&B odes about the ins and outs and ups and downs of teenage life – but these have a resonance beyond any individual age group, with honesty and mature ruminations on romance at the forefront.
Plays Wednesday 10 January / Buy Tickets
Grace Carter
There's not all that much music in the public eye from Grace Carter, a Brighton-raised singer/songwriter who's been toiling away on her music since she was just 14, but what we do have is astounding. "Silence", the first taste of a hugely anticipated debut record, is a mesmerising soul-pop heartbreaker with rich harmonies and cinematic production. Having just completed a UK and European tour with Dua Lipa, Carter's still keeping tight-lipped on a lot, but one thing we do know – she won't be playing venues as intimate as The Lexington for long, and this is a rare chance to catch an artist who's racing to the top.
Plays Wednesday 10 January / Buy Tickets
Girlhood
Christian Pinchbeck and Tessa Cavanna are Girlhood, a hotly tipped duo with admirers such as Annie Mac and Julie Adenuga who have a handful of acclaimed singles under their belt. Twisting the tried-and-true R&B formulas into fresh shapes, Girlhood make the familiar fascinating; '90s flavours mesh with Italo disco, with futuristic soul tones and glitched-up samples worming their way through the whole shebang. Recording on Pinchbeck's narrowboat-cum-studio, moored on a canal in the UK capital, Girlhood add their own personalities and ideas to noises which nod to inspirations as diverse as The Fugees, '80s hip-hop, and The Avalanches.
Plays Wednesday 10 January / Buy Tickets
Pale Waves
Vibrant Manchester troupe Pale Waves have caught many an ear with their contagious brand of slick, '80s-glancing alt. pop, chiefly via tunes "New Year's Eve", "Television Romance", and "There's A Honey", even getting a lucrative nod on the BBC Sound Of 2018 list. The quartet are signed to Dirty Hit (The 1975, The Japanese House) and nail that midpoint between dreamy and galvanising – there's no switching off to Pale Waves, even if the synths are ludicrously smooth. They've just graced the cover of NME (with pal Matty Healy of The 1975), are currently touring North America (again), and both their vids have hit over a million views – all signs are pointing up for the band, so be prepared for something very special when they take to the Five Day Forecast.
Plays Thursday 11 January / Buy Tickets
JW Ridley
JW Ridley's self-titled, self-produced debut EP landed just a few short weeks ago. Combining early '80s indie with the gothy hues of The Cure and his own driven tendencies, it serves as a potent, slightly feral introduction to the world of JW Ridley – a world centred around the humble cassette and a world busy with melodies that drag you down a rabbit hole into an anxious Wonderland. Recorded in his childhood bedroom over the course of a year (and a bit), it's a personal collection that speaks volumes about his own talents and to the wider populace.
Plays Thursday 11 January / Buy Tickets
Swimming Girls
"Dark dream pop" ensemble Swimming Girls came together while studying separate disciplines in Bath, and now come to the fray fully formed, with their own fiery strain of sound getting lips flapping up and down the country. Soul-stopping newie "2 Kids", mixed by Marta Salogni (Shura, M.I.A.), is an especially alluring jewel – imagine Lorde fronting Echo and The Bunnymen and you're about halfway there – which sets our hearts aflutter. This is a thrilling outburst from the Yucatan Records-signed foursome, who count masterpieces by David Lynch and Culture Club as big influences, and is just the beginning of an adrenaline-fuelled ride into the unknown.
Plays Thursday 11 January / Buy Tickets
Soccer Mommy
Nashville, Tennessee is home to Sophie Allison and her bedroom-pop project Soccer Mommy. Over the years she's put out a range of releases, evolving from "chill but kinda sad" lo-fi into a full-band force that thunders into earshot with chewy emotional gristle prangs and quivering maelstroms of guitar. Soccer Mommy slinks into the territory currently held by Waxahatchee and/or Girlpool with her oddly graceful sound – it's ramshackle, dog-eared, and raw as a scraped elbow, but each element orbits a beating core of warmth and affecting sentiments, helping Allison test the confines of the term 'lo-fi'.
Plays Friday 12 January / Buy Tickets
Snail Mail
Snail Mail is the nom de plume of Baltimore bedroom auteur Lindsey Jordan, who constructs a kind of maximalist lo-fi full of vigour and melodies you can sink your teeth into. Jordan jettisons self-pity in favour of a clear-headed, grounded set of emotions that flow through her often-poignant lyrical flourishes – but it's not just a change of disposition that sets her apart from other DIY-smiths, with a sixth sense for a hook making Snail Mail's music a captivating obsession. Pitchfork have called her "the wisest teenage indie rocker we know", and that pretty much sums it up. Freshly signed to Matador Records, Snail Mail will make her eagerly awaited UK debut performance at the Five Day Forecast and we couldn't be more excited.
Plays Friday 12 January / Buy Tickets
Honey Harper
Enigmatic Americana troubadour Honey Harper is playing almost all his cards close to his chest, but one that was let slip – "Pharaoh" – saw the spotlight swivel straight at him. It's an eclectic, dream-country escapade that's drawn comparisons to Pure X, Mazzy Star, and Townes Van Zandt. Esteemed Montreal indie Arbutus (Grimes, Sean Nicholas Savage) will lift the lid on Harper's debut EP Universal Country very shortly, and we're giddy at the thought of what's coming – "Pharaoh" is a devastating opening gambit drizzled with heartbreak, and if that's the icebreaker then the next chapter is intriguing indeed.
Plays Friday 12 January / Buy Tickets