The past four or five years have been an intense whirlwind of gigs and projects for the Berlin-based artist that has brought about its rewards just as much as its challenges. Following 2014's live album Spaces his career exploded; with an abundance of opportunities and creativity Nils Frahm was reaching escape velocity. "2014, '16, 17' – I can't even remember my 'blurred years', as I call them". Between artist residencies, a festival at the Barbican, a show under the Louvre with French artist JR, releases and shows with his band Nonkeen, and international tours, Nils was slowly drifting deeper into an abyss. "At one point it was like 'Woah, what am I doing? I'm all over the place."
But on the other hand, "getting lost is beautiful…" he says, knowingly. 2017 brought a rather abrupt hiatus, where Frahm largely receded into private life, a deep period of ruminating, planning, conceptualising. The cyclical process of lost and found seems to be an increasingly relevant mantra in the musician's development. Nils Frahm's self-exploration of his internal and external polarities has been a quest of mutating identities, oscillating between the decorations of stardom and the simple day-to-day activities of a human being. "I needed to make an album […] an excuse to say no to everything… Which would help me go back more into my family life and see my friends, buying groceries, stuff like that – normal people stuff." But moreover the stresses of this freneticism impeded on his identity as a musician, and the prospect of a new album gave him the opportunity to slow down mentally and retouch with the origins of his passion.
"All I want to do is present what I am, and the moment I feel like I have to fake some passion or fake some emotion on stage, to fill something with more meaning, then I feel like 'OK this where I die'. If that would ever show clearly, then the whole foundation of my enterprise would be gone. I'm very aware of that. So I realised I needed to have a break, because I couldn't hear my self anymore." To an extent this started happening with Spaces-era Nils Frahm, where unabating gig fixtures led to hundreds of live versions of tracks that had begun to saturate themselves. His journey with the Spaces album chronicled the challenges of what can be described as the cliché of an artist career.
Getting lost in the noise and the chaos yielded to a period of silence, another kind of wilderness. In 2017 Frahm migrated his studio to Saal 3 located in the historic Funkhaus Berlin – the former broadcast headquarters of the GDR, which after almost thirty years of lying dormant was renovated and brought back to life. The sprawling complex is just as much majestic as it is eerily enigmatic. With nothing but the quiet echo of footsteps and the distant murmur of forgotten histories, a labyrinthine route of corridors leads to Saal 3. The space is both breath-taking and absorbing, and the move has proven to be one of the most significant events for Frahm to date. As one will be quick to realise, the studio itself has come to define the next phase of Nils Frahm as an artist.
"After such an excursion and coming back to just playing, the piano has a different potential. Finding it so beautiful to play, you just reset your expectations."
It wasn't as simple as moving a couple of pianos and mics into the room, however. Aside from writing a new studio album, restoring Saal 3 was a major undertaking in itself. Frahm, with the dedicated help of friends, worked tirelessly for six months to completely overhaul the space before it was fit for use. The overall completion of the studio took two years to come to fruition.
"I think the hardest part of making the album was to do the studio, the framework. And when it was all was set up and running, everything was just a pure joyride" he recalls. Beginning in 2016, the renovations were full on, "dusty, dirty… I had to work with wood, then metal, later with electricity".
The silence was testing, perhaps overbearing at times. There was no room for music: "I wasn't hearing anything. I didn't listen to other people's music, I didn't listen to myself playing. I was just 'fasting'." It was only until January 2017 when Frahm could break the silence: "and that's the best thing… after such an excursion and coming back to just playing, the piano has a different potential. Finding it so beautiful to play […] You just reset your expectations."
From a long-term perspective, Frahm admits "2016 was a hard year of conceptualising, considering, and planning. 2017 feels like the year of things falling into place. A lot of different things in my life seemed to get solved in this year and it's amazing how much of a flow it became." The hiatus was necessary to set up new parameters for his creative and personal outlets, but moreover gave him the space and distance to completely reset and start afresh. "I was working harder because I had such a great place and I felt like every day was so valuable. You can either sit in the sun, or go into this amazing room and turn on the instruments and record something which could change your life or change someone else's life. Every day 24/7 there's the opportunity to do that."
The process of writing the album was just as engrossing as the incubation period that preceded it. Saal 3 became an all-consuming reality, an endeavour in which Frahm surrendered into the microcosmic world of his craft. He goes on to confess that he would sleep in the studio for days in a row, "if there was a shower and more things to live, I'd move there completely, entirely" he laughs, though I know he's not joking in the slightest. Stepping into the studio control room and peering ahead I could see nothing more than a solitary single futon cushion and a pillow laid on the floor; this scene epitomised the lengths at which an artist can go in order to manifest their vision, and Frahm's wholehearted dedication is inspiring. At this point in our conversation he goes into a quiet spell of introspection, "it was intense… and I think that's really what you hear in the music, I hope."
What one might quickly notice when listening to All Melody is a markedly more expansive Nils Frahm. Opening track "The Whole Universe Wants To Be Touched" begins with a sombre organ melody drifting in counterpoint with gently harmonising choir voices (courtesy of London based group Shards, who feature throughout the album). Frahm's music has always had a cinematic quality to it and those who watched 2015's Victoria will have witnessed his score-writing capabilities. This has been carried over into All Melody, of which its sound feels more orchestrated and the arrangements more seamless and sophisticated. From cellist Anna Müller to marimba player (Frahm's self-proclaimed new favourite bass instrument) Sven Kacirek, a host of other featured collaborators add depth and dynamism to the music, as seen in "Human Range" and "Fundamental Values", for example.
The music here breaks free of the potential misconception of Nils Frahm as a branded keyboard artist. Collaborations have always been a way for Frahm to explore his own sound through others, "Do I really need to make it a dogma that my solo albums are just me playing the instrument, or is it actually possible that I can have someone else on the record who would play in the way as I would play it…?" His approach to collaborations is fluid and instinctive, and over time he has honed in on the innate talents of his peers: "Often I'd just describe what I felt like they could try – it's not because I don't know what I want to hear, but I learnt that if I leave them a lot of freedom they much rather play from the heart."
The most powerful example of this is in "Human Range" in which Robert Koch improvises on the trumpet for its seven-minute duration. In the end Frahm didn't need to edit it at all, "it was just perfect jazz improvisation. He told this story which would tie the whole arrangement together and turn the track into an amazing piece of music." Moments like this are often brief, if not rare, amongst the swirling ocean of dubs, overdubs, versions, and edits that typically proliferate during the production process.
"Whenever something speaks to me I don't doubt it because my ears don't lie."
For Frahm this record is about strongly exercising decisions and following instinct. "I need to make a million decisions for one album. So I go with my intuition, I go on the principle of rolling a dice, whatever number I get in that moment I will make the best out of it. When I see I am obviously wrong I will change it […] When I realise 'OK I got something beautiful here', I take it and I'm really happy about it, because on other days you try things and they don't really speak to you. Whenever something speaks to me I don't doubt it because my ears don't lie." Cultivating self-trust and embracing the 'oddments of the gamble' have become essential in finding and refining his sound.
Unsuspectingly, Frahm hails his new bespoke mixing desk, built under his close-knit team, as one of the main instruments on the album. His widely acknowledged love of dub music and dub/reggae production techniques permeates All Melody, where he uses the mixing desk as an instrument in itself to create effects in real time. The result is a "whole different sound image compared to my old records […] Funkhaus has a different tone, a different sound", subsequently closing the chapter on his Durton bedroom studio era. He describes this new sound as "more real, and open", relinquishing the need to do so much treatment in order to make it sound more interesting, "I don't need to cover anything… I didn't do a lot of processing, I didn't use a lot of tape machines to make things sound warmer, I didn't spend so much time on all these things." Alongside the new mixing desk, Frahm's self-built church organ (used for the Nonkeen tour) also appears for the first time on record.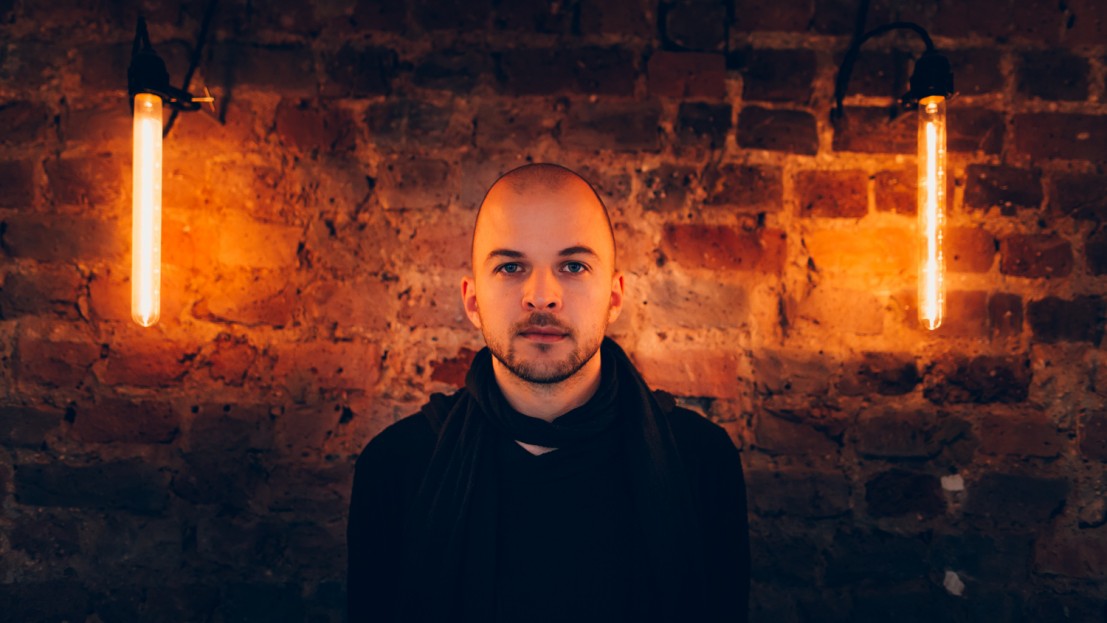 Where Felt was an album about not disturbing his neighbours late at night, or Screws about playing the piano with only nine fingers, All Melody is, as the title suggests, purely about the music. "I'm not trying to spin a big narrative around this album because I wanted the contrast of it just being the record; why would there need to be a story behind it? The tracks will tell you everything basically. This record is so important for me, and it was so hard to make that I didn't really want to waste any words or ideas on it other than… just listen to it and realise it was all made with real things and it was a puzzle to put together."
"Once you set into stone the tracks, all of these possible albums die. And that makes you sad."
All Melody is ultimately about letting go – or as Frahm puts it himself, "I feel like this record should be dedicated to the ability to throw away". Sacrificing an idea and cutting your losses can be emotionally painful but in the long run allows something substantial, a statement, to emerge; "you really have to know when a song doesn't want to be sung… and you can really tell when a song wants to materialise." As he's come to increasingly learn, the Zen-like non-attachment to possibilities is absolutely critical to completing a body of work. With 250 hours of material (around fifty-sixty tracks) that needed to be whittled down to just over an hour, a big part of making the album was in fact destroying dozens of other potential albums in the process. He describes writing All Melody as both nerve-wracking and humbling, "because the finished album replaces all possible albums you didn't make. Once you set into stone the tracks, all of these possible albums die. And that makes you sad."
Searching for more beyond the abundance that already exists is a trap that Frahm is acutely aware of, and is one of the reasons why he is wary of the "undo-redo society we have created, which has more and more flaws with regards to being tough and ruthlessly decisive." He alludes to the mythical character of Sisyphus, who is bound to an eternity of inconsequential effort and unending frustration; "we learnt how we can never be Sisyphus again, we have life insurance, we have undo-redo buttons, we've found so many ways around the image of Sisyphus, but I feel like it's a very important lesson he has to learn." Frahm takes inspiration from art forms where you can't turn back, running through examples of Michelangelo's stone-sculpture of David, or using a typewriter. "This is what I enjoy, this is a really old school way of doing things," he explains. This life-or-death scenario is an ethos he has always carried with him both on and off stage, but while the pressure is stacked on high, there's a playfulness in him that revels in this dance.
He confesses that he expects to disappear again in the future having realised the need to continuously ground himself in between music projects – "I came to terms with just jumping in and out of being Nils Frahm the piano playing star or whatever, and going back to just Nils Frahm the person, who has another life. Because I feel like only if I do that, can I create actually interesting work. Otherwise I will turn into a maniac, sometimes I get impatient or I stress, it's not healthy. I'm watching myself carefully because my biggest dogma is to stay true, whatever that means, and so far it's worked. But it can happen to you, this is what you realise, and you need to watch it." Conscious to keep a balance and ever more aware of the allures of prestige and ego, if feels like Nils Frahm is more devoted than ever to the life-long study and vision of his craft.
Now that the album is finished, Frahm and his team are preparing for an ambitious tour around the globe. Having streamlined the workflow and with a bigger budget, the EU-leg is scheduled for thirty-eight pretty much sold out dates across January and February. "But I don't want it to be too easy or nice, it has to be intense, you know? It can't be boring" he chuckles with a big grin. "So, an exciting new era for Nils Frahm?" I ask, "Yeah it is. It is the only one we have… So it better be the right one!"
All Melody is released on 26 January via Erased Tapes