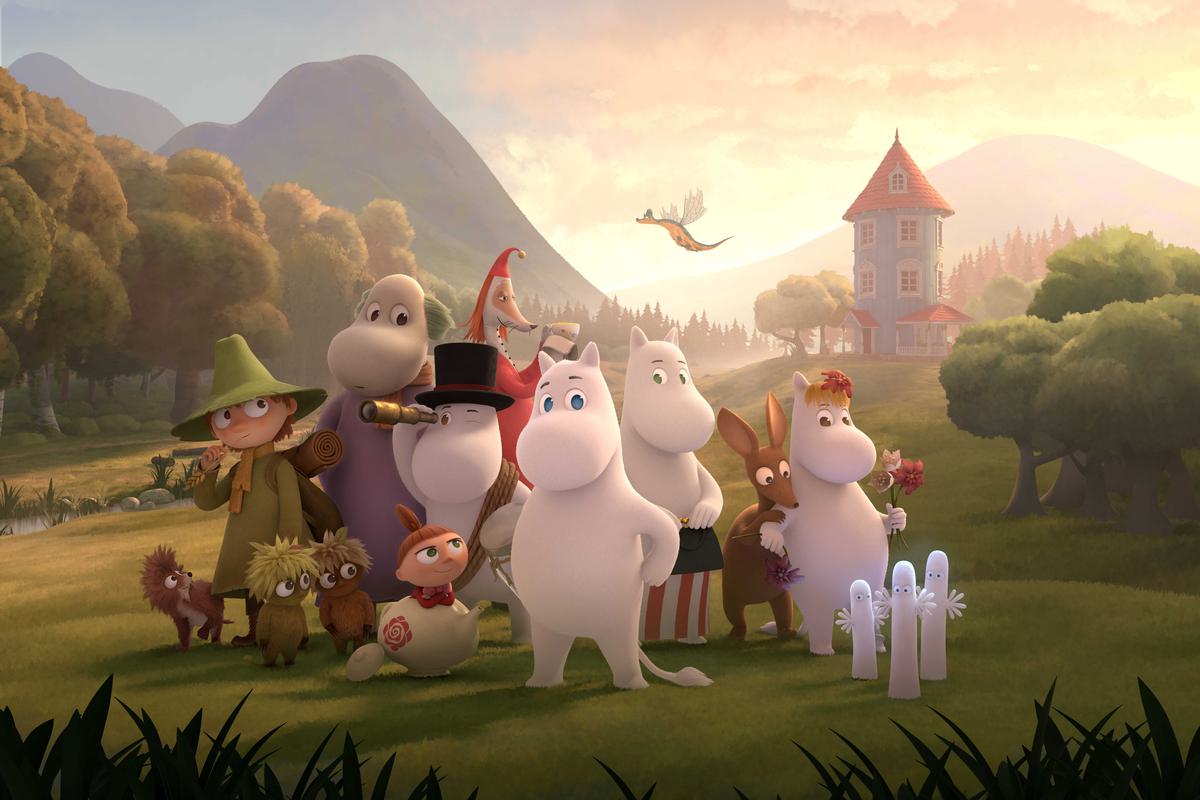 Harnessing Joy
11 July 2019, 12:00
Spearheaded by a Columbia A&R, the soundtracking of magical new series Moominvalley was no mean feat
More than 70 years after the release of the first Moomins book, Tove Jansson's hippopotamus-like creations remain one of Finland's best-known exports.
Originally immortalised through a series of childrens' books, the Moomins' unforeseen popularity spawned a multimedia empire over the years that followed, comprising comics, TV series, films, and even a theme park.
For the uninitiated, the Moomins are, in brief, a whimsical selection of fictional beings ranging from vaguely humanoid to entirely imaginary. They comprise a central family group and assorted friends, whose adventures range from the trivial to the philosophical. Their global success is often attributed to the strength of emotion conveyed by Jansson's cast of creatures, many characters and stories based on her own acquaintances and experiences.
2019 saw a new incarnation of Finland's favourite family take to the screen in Finnish-British series Moominvalley. As well as novel 3D animation techniques – a first for the Moomins – Moominvalley boasts an original soundtrack featuring a selection of artists as eclectic as the characters inhabiting Moominvalley. Global megastar MØ took on the series' theme, contributing a track titled "I'm Far Away" that marries sweetly traditional strings with her signature dance beats, whilst ALMA and First Aid Kit's inclusions keep the soundtrack true to the Moomins' Scandinavian roots.
Magical though Moominvalley is, this soundtrack did not come together by chance. Its creation was spearheaded by Columbia A&R George Tyekiff, who pivoted from his usual commercial focus to embrace the more holistic project of a television soundtrack.
"It was a joy," Tyekiff asserts of the project. "I was able to contact artists about making music just for the joy of it – not just making something that was going to get on the radio or sit on a playlist. Asking artists to make music that sits in the context of a TV show episode was really quite refreshing. I think that making music quite quickly and relatively cheaply fits in to the aesthetic of the Moomins; not overly commercialised or corporate. A real joy."
Whilst many of the artists involved are huge names in their own right, and as such bring their signature sounds to their efforts, the overarching feeling is very different from their non-Moomin output. The worldwide success of several contributors is put to one side, with smaller artists' tracks sitting comfortably alongside those of multi-million-stream success stories.
Finnish singer ALMA, known for party-pop bangers as vivid as her neon hair, sounds unrecognisable on new track "Starlight". Whilst its upbeat, acoustic feel may be completely different from the sizzling dance of "Chasing Highs" et al, she laughs off the idea that adapting to the tranquility of Moominvalley might pose a challenge.
"Songwriting is easy for me!" she exclaims. "I'm always trying different stuff so this was super easy – I think I wrote the song in an hour! It's all about the vibe in the series."
Overall, Tyekiff describes the soundtrack as "very acoustic, with lo-fi vibes", adding that "the director didn't want anyone to strain their voices!" Like ALMA, he agrees that the atmosphere of each track within the collection is the most important factor, and explains that this is the reason several relative unknowns were able to nestle between the household names that populate the glittering tracklisting.
"There is an artist called Mellah who is quite early on in his career and [this is] definitely the first time he's done anything for a show. I think this is also the first thing like this that Delilah Montagu has ever done."
Mellah's "By Your Side" is a bright addition to the record, boasting rich vibraphone samples and a Beirut-eqsue brass section. With a vocal that leans toward the sound of the B-town psych-pop that dominated the early '10s, it's a shining example of a left-field pick able to perfectly capture the Moomins' adventurous spirit.
Montagu's contribution is a stark contrast to the bells and whistles of Mellah's track; her bell-clear vocal set to a minimal, yet sweepingly cinematic backdrop. Jansson's successors have always avoided ceding control over the Moomins, turning down previous offers from Disney, but on a track like this it's easy to see why the commercial gatekeepers of fairy-tale magic would be interested in the franchise.
"I got asked to record a cover of 'Love Me with All Your Heart', without being told what for!" Montagu explains of her contribution. "When I later found out that it would be for the Moomins I was over the moon – best surprise I've ever had. I have loved the Moomins since I was very small, so telling my mum that I would be on the soundtrack was definitely a very special moment."
"The journey is the reward, not the goal itself. The process is valuable and therein lies a feeling of happiness."
Tyekiff explains that a conscious choice was made to prioritise Nordic and Scandinavian female artists within the soundtrack, referencing the aforementioned MØ and Alma as "go-to people". As well as heading up the theme song, MØ teamed up with fellow Dane and Best Fit favourite GOSS – who also happens to be her boyfriend – for collaborative track "Northern Lights."
"The team behind Moominvalley contacted me directly," MØ explains of her involvement. "They knew I was a massive fan of the Moomins and wanted to invite me to contribute to the soundtrack for this new show. I obviously lost it and was so excited about this opportunity and immediately committed myself and my boyfriend to work on songs for this project in hopes of somehow being a part of the revival of the Moomin TV series.
"I wanted to capture the magical and peculiar universe of the Moomins," MØ continues, "and of course at the same time be true to my own sonic taste and lyrical universe as an artist. The funny thing was, though, that I didn't find those two things to be that far apart. I found it weirdly easy – at least in my own mind – to combine what I view as the sound and vibe of the Moomins with the sound and vibe of MØ. These songs are just what I would sound like if I was living in Moominvalley – and I feel like I've been living there for a significant portion of my life anyway!"
MØ is grateful for Tyekiff's efforts to include Scandinavian artists in the project, pointing to how the output of artists like herself often mirrors Jansson's approach to her fictional creations.
"There are many themes I see in the tales of the Moomins which, if I'm generalising a bit, I see hints of in a lot of Scandinavian culture," MØ explains. "Individuality – being different from one another – is not a bad thing, but instead can be a quality that works in both individuals' favour. You shouldn't try to change each other, but instead work together through your differences, because through that you'll experience a greater knowledge about yourself and the world. The subject of yin and yang: sometimes you need to walk through darkness in order to reach the light. Darkness isn't only a bad thing – it can offer a pathway to growth and to experience the light even clearer. The journey is the reward, not the goal itself. The process is valuable and therein lies a feeling of happiness."
When it came to a reflection of Nordic culture, Icelandic pop sorceress Björk was also high on Tyekiff's list. Unfortunately, despite loving the Moomins, she was unavailable for the project. Undeterred, Tyekiff continued in the hope of including an artist to represent each territory within which the Moomins are popular. Overwhelmingly, he says, this proved possible.
"We pretty much covered all the bases," he asserts proudly. "We don't really have a big American or German showing, but everyone else is represented in some way or another."
Björk may have been otherwise engaged, but Iceland is still fantastically represented by Rough Trade signee Emilíana Torrini, who features on a track with longtime Belgian collaborators The Colorist Orchestra. Torrini is no stranger to soundtracks, though Moominvalley's "There Is Something in the Forest" is a far cry from the hallucinogenic Jefferson Airplane cover she contributed to 2011's Sucker Punch.
"Perhaps if we all had those lovely little Moomins in our lives, the world might be that little bit happier."
Turning to the UK, Tom Odell, Declan McKenna, and dodie are some of the biggest names involved with the project. McKenna's youthful, ever-passionate energy is a perfect fit for the Moomins' brand of tempered naïveté, whilst dodie's acoustic efforts have always brooded with a similar gentle intensity to Jansson's vivid world.
Odell describes himself as an avid fan of the Moomins since boyhood; adoring the way that Jansson's creations were "so weird and magical" – almost hypnotic. It was this energy that he set out to capture in his offering, "Summer Day", saying: "I wanted it to sound joyful – innocent, but with that kind of wry smile the Moomins have. They know something we don't."
After hearing it on the radio whilst driving, Odell was struck by the lightness and joy of the end result, particularly in the light of the tough summer he was having.
"Not sure I've ever managed to put that much joy in a song before," he remarks; thanking the Moomins and musing: "Perhaps if we all had those lovely little Moomins in our lives, the world might be that little bit happier."
Indeed, Tyekiff certainly hopes so, and is doing his best to help Jansson's creatures enter the homes of another generation of young people. He aims for another four to five seasons of Moominvalley to be produced and hopes that, over time, the show will become a firm family favourite.
"Could overtake Family Guy!" he laughs – not entirely serious, but it can't hurt to hope! "If the Moomin brand becomes as well known for its fantastic music as its literature and animation, then I hope that artists begin to contact us and start submitting songs because they want to be a part of it."
If the success of the first series of Moominvalley is any indicator of its future trajectory, Tyekiff's dream might not be all that far from realisation. It's quite the surprise for a man who, just a short time ago, was entirely unfamiliar with the very existence of the Moomin world and brand.
"I realised when I was talking to all these different artists I was pretty much the only person in the world who did not love the Moomins!" he admits. "I was never really into books or reading and I totally missed them – but for everyone else it seems like they are deeply seated in their psyche."
"This TV series is an antidote to current global politics – be it Trump or Brexit. Each story is incredibly positive, but with a kind of darkness."
Since taking on the project, Tyekiff has spent time familiarising himself with the rich history of the now-fabled Finnish creations, aided by some enthusiastic family members.
"I got given a load of books by the kind Moomin people; my two young kids absolutely love them. I think culturally, they make total sense now. Tove Jansson wrote the books just after the Second World War – obviously we don't have a World War now, but we are going through lots of global changes. Just as the stories were an antidote to the Second World War, this TV series is an antidote to current global politics – be it Trump or Brexit or whatever. Each story is incredibly positive but with the kind of darkness and strong characters which kids and adults can buy into. I think it's one of those things that transcends ages, genders, et cetera."
It's hard not to imagine Jansson – often remembered for a childlike sense of wonder – being pleased by the idea of a grown man being led into a fantasy world by his wide-eyed children. Jansson's ability to connect young people with complex themes without compromise is something Tyekiff aims to continue reflecting throughout the sonic contributions to Moominvalley. He hopes that the music being produced will forever respect Jansson's approach to creation, centring radical kindness and respect for others. If this first installment is anything to go by, there's barely room between Tyekiff's optimistic vision and reality for Little My to slip though – that is to say, very little room indeed.
Moominvalley is available to watch in the UK via Sky One. The soundtrack is out now.