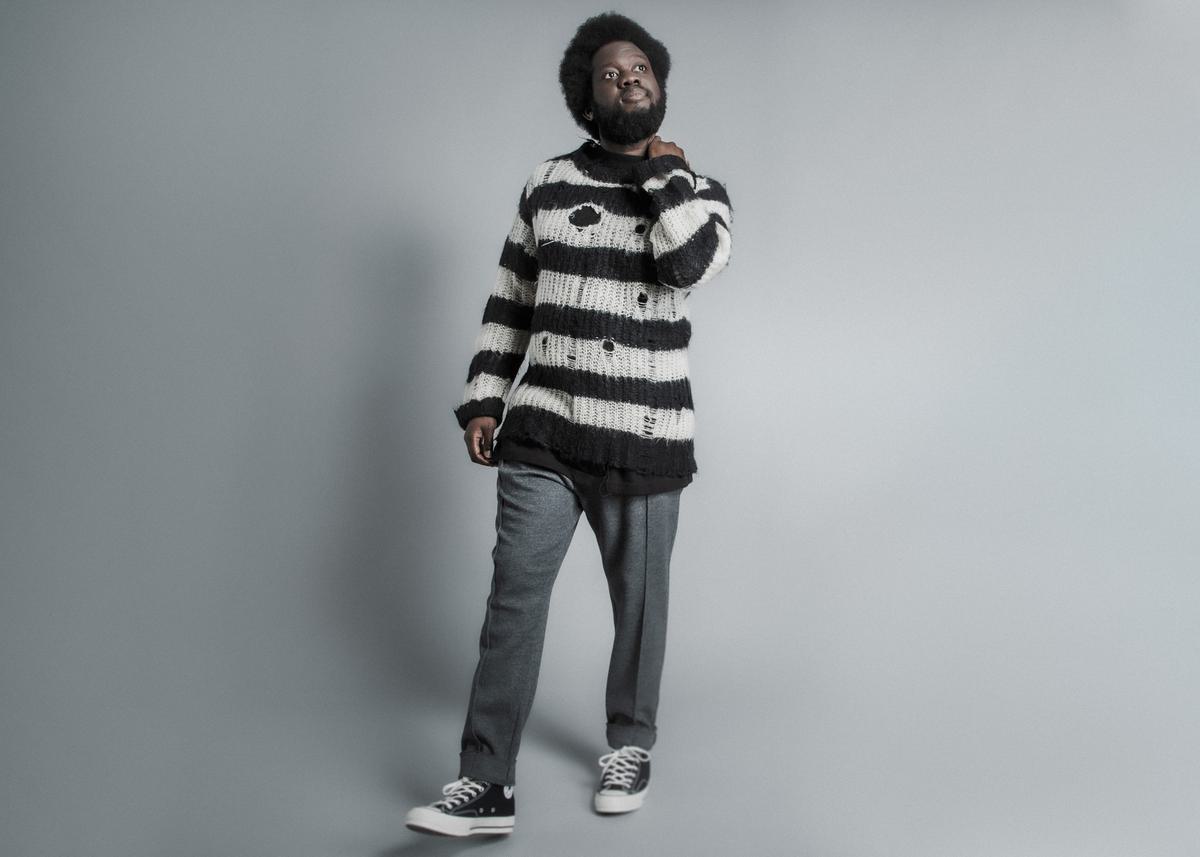 On Solid Ground
29 October 2019, 09:00
Michael Kiwanuka opens up to Sean Kerwick about his newfound confidence and the powerful message at the centre of third record KIWANUKA.
Earlier this year Michael Kiwanuka cameoed in Yesterday, a film that imagined a world in which The Beatles never existed, save for one man.​
Kiwanuka plays himself in a scene set at Latitude Festival which sees him firing a roadie mid-set - although the on-screen version he portrays of himself is far away from the warm, friendly presence that greets me in a London cafe a few weeks before he releases his self-titled third album, KIWANUKA.
Although the film's concept is a wild reimagining of our cultural history, there was a point when the uncertainty of Kiwanuka's musical existence as we know it was very much a reality. The four years between 2012 debut Home Again and its follow-up Love & Hate saw him scrap an entire album entitled Night Songs which almost drove him to the point of quitting music entirely. It was, therefore, a shock to him that the initial sessions for KIWANUKA were a total breeze. "I was sort of like, 'isn't this meant to be really hard?'" he laughs.
The journey to sophomore effort Love & Hate was a laborious one but led to a richly textured collection of songs which pushed the nostalgic throwback of his debut forward into timeless territory. Despite the appreciative nod to the '70s in its style and production, it sounded current and tackled modern issues, the most potent being race on "Black Man In A White World" which is arguably a timeless issue in its own right; Marvin Gaye's "What's Going On" sounds just as relevant now as it did in 1972.
The video for KIWANUKA's centrepiece "Hero" uses a nostalgic aesthetic to drive this point home, the story which appears to be set in the '60s finds Kiwanuka being bugged, tracked down and shot by the powers that be as scenes and figures from the Civil Rights Movement flicker in the background. It's a bold statement which connects the past to the present not only stylistically but politically, alluding to the notion that nothing has changed. "Please don't shoot me down / I love you like a brother / It's on the news again / I guess they killed another" he sings.
Growing up, Kiwanuka adored multiple genres of music but as a guitarist first and foremost couldn't find many figures from the predominantly white indie rock scene to relate to as an artist at the time. Instead he looked back to the likes of Sly Stone and Jimi Hendrix to form the inspirations he was seeking which unhatched his love of '60s and '70s music.
"Did you see that episode of Queer Eye with the punky black girl?" he asks at one point in our conversation. The episode ("Black Girl Magic") follows Jess who's struggling to establish her identity in the Midwestern state of Kansas. Kiwanuka grew up in Muswell Hill, a white middle-class area of North London so felt a kinship with Jess' story somewhat. "It made me cry, it summed up exactly what it felt like to be an alienated black kid."
Establishing his identity has certainly been a major part of the journey to the position he's in today - playing his albums back-to-back reveals an arc of sorts, if his second act Love & Hate hosted the conflict and crisis then KIWANUKA is the triumphant resolution.
There's a reason why his name, stylised in all caps, is plastered on the front of his third effort - it's an in-your-face, two-fingers up to the music industry professionals who initially suggested that changing his Ugandan surname might heighten his chances of breaking through as an artist.
"I always thought my name was a bit weird, I couldn't ever see it as being a singer's name anyway," he sighs in reflection. "It's a depressing thought, and was kind of dejecting - but I was used to that feeling. Because it was this big building and you're on a label and all this big stuff is happening to you, you take everything as gospel but then you realise that life isn't that black and white. I think that's what the process of getting older has taught me - you can be different.
"It kind of came full circle on this record. When I was asked what the album was going to be called I had two options - one of them was KIWANUKA and one of them was something else. They actually loved the title straight off the bat, I changed it for a month or so as I doubted it for a bit. When I came back around everybody was like 'oh, thank god - we way preferred KIWANUKA'. The times have changed - you can do something like that now, I don't think you could have done something like that in 2012. I was young so it was quite confusing and like 'ah man, what do I do?' This whole album is more about understanding you can stand up for yourself."
"Conflict really comes from embracing the rougher side - elements of who I am as an artist and a human being - and refraining from ironing out and fixing it."
Defiance bubbles beneath his third record on many levels. Opener "You Ain't The Problem" crackles with an urgency that finds the singer ruminating on sourcing and unhatching his self-confidence - "I lived a dream / I hope to be who I believe in / I used to hate myself / You got the key / Break out the prison", he sings in a rapper's cadence. It's also defiant in the joy that resonates from the collection; the psych-jam of "Rolling" bustles with an energy so far uncharted in Kiwanuka's back-catalogue. Elsewhere, there are lines beamed straight from the heart of a regenerated spirit - "the right time to begin again / maybe win again" he sings on "Piano Joint (This Kind Of Love)".
Despite the LP's joyful revelations, his third album began in a similar crisis of confidence which plagued its predecessor - this struck after he had the most enjoyable week he's ever had in the studio with frequent collaborators Danger Mouse and Inflo.
"I was overwhelmed by it - I was like 'am I good enough to front this? Am I going to be able to keep up with Inflo and Danger Mouse?'" he recalls. "My relationship to Inflo is different to his one with Danger Mouse and I got intimidated by that because they were working on other stuff together and had just come from other sessions. We were in this flow and that overthinking started happening. I needed to take some time to get away from those negative thoughts and get back to normal."
Whilst recording was put on hold for a few months as Kiwanuka got himself together again, the creative burst that rippled in the initial sessions birthed the foundational songs that hold up the record - "You Ain't The Problem" and "Hero" both arrived almost fully formed. It turned out that not fixing things and embracing his flaws was ironically a key part of mending his dampened spirits.
"It's where the good stuff is at," he explains. "Even all the first takes and initial ideas that you put down, it's important to keep it alive. The whole point is not ruining that and it's usually broken, wrong, using the wrong mic technique or whatever but it's got something to it - it's those broken elements that makes it individual, unique and lets people relate to it. I think, for me, that conflict really comes from embracing the rougher side - elements of who I am as an artist and a human being - and refraining from ironing out and fixing it."
According to Kiwanuka, Danger Mouse isn't a 'gearhead' with treasure troves of analogue '70s synthesisers at his beck and call, as you might expect from somebody with a trademark production style and a star-studded roster that includes Gorillaz, Adele and A$AP Rocky. His production isn't indebted to a particular plugin or preset, it's purely down to his ears, creative direction and the environment he fosters throughout recording where truly 'anything goes'.
"You just play - it's quite hard to describe. You play and follow the music," Kiwanuka explains. "Follow your instincts if something starts to feel good. Inflo will play drums, I'll play whatever's there - Brian [Danger Mouse] plays a bit but tends to listen and react more. You can tell when he's into it but you can definitely tell when he's not into it.
"Brian is very much a man of vision - sometimes he can hear the magic in something way before anyone else can which allows me and Inflo to just piss about which is great for creativity. In creativity you have to have to be like a two-year-old and just try anything, a lot of that will be random stuff you can't use but within that, there'll be diamonds that are fascinating. Brian is really good at spotting those and that's why the relationship works so well."
Danger Mouse and Inflo have both become key figures in his artistic life, having rescued him from the creative brink he found himself at when Night Songs was scrapped ahead of Love & Hate. "I think it was just the wrong time for that record," he explains on reflection. "If you're looking for something to break an artist, it's the wrong thing. It's music that you'd discover, sit down and listen to, not necessarily something that will wap, bam hit you in the face."
"The label know about music but not necessarily about 'making music'. If you don't know the process and you've only seen finished products, you could veto something before something incredible is going to happen."
He points to the Elton John t-shirt I'm wearing. "I see your tee, my favourite Elton John album is Tumbleweed Connection. If you're trying to break an artist, it's not going to be your best bet - you'd need more hits than there are on Tumbleweed Connection but it's my favourite record. There's a place for everything, but in the commercial world there's timing. I definitely feel more positive now but back then I wasn't experienced enough so was a little more like 'oh gosh, what's happened?'"
The adrift sensation Kiwanuka recalls is all over his second LP, the relationship with himself was in tethers - song titles like "Cold Little Heart", "I'll Never Love" and "Falling" all feel indicative of somebody clutching at the weathered threads of a loose end. It was in that period of purgatory between projects when Danger Mouse suggested he should withhold his demos from the label, leaving the compositions to go unspoilt by their interference and develop of their own accord. It's a bold move which he followed through with and continues to honour. You'd presume these initial meetings would be tense to say the least.
"I think there's a fair bit of trepidation on both sides," he reveals with a smile. "Me hoping they'll like it and them hoping it's gonna be good because they have to give out a lot of trust to do that. For this album it was fine, the last album I did it like that and it was a bit more like 'what's this going to sound like?' The label know about music but not necessarily about 'making music'. If you don't know the process and you've only seen finished products, you could veto something before something incredible is going to happen. If somebody's not feeling it at that point then at least you know it's genuine rather than 'not getting it'."
The judgement call on scrapping Night Songs appeared to work for the best, Love & Hate consequently soared to the top spot on the UK album charts and its opening 10-minute epic has gone on to greater success as the theme song for HBO's hugely popular series Big Little Lies which has raised his profile considerably.
Kiwanuka's expansive sound naturally lends itself to the screen, his material is a sync licensers' dream - cinematic, enveloping and overflowing with emotion. His music has appeared in everything from Baz Luhrmann's The Get Down to Donald Glover's Atlanta, as a fan of the big and small screen, I wondered whether his own music has ever caught him off-guard in a late-night binge.
"Big Little Lies was strange for me because of the focus on the song," he says. "It's usually just in the background of a scene. There was also this series called Seven Seconds on Netflix and they used a load of songs from Love & Hate on that - there's one scene where the woman in it is in hospital with her kid and they're listening to "One More Night" on their headphones as she's singing it out loud to her son. That was the weirdest thing."
Surely the next logical step is to move into scoring films himself? "Yeah, that'd be a massive dream come true for me. I'd love to do a full soundtrack for a movie, me and my wife love movies, photography and music so it's naturally where I'd want to go."
The LP features plenty of cinematic turns throughout, mostly found in the interludes that segue the album together. "Another Human Being" features runs of ascending harp notes before a gunshot snaps its delicacy with a soundbite from a participant of the 'sit-ins'; a non-violent form of protest which took place in the Civil Rights Movement of the '60s. "You cause no violence. You have no angry words. The idea that here sits beside me is another human being," the voice explains.
Interludes are a common feat in Hip-Hop albums, a genre he drew inspiration from in more ways than one, especially in regards to lyrics; a process he's only become properly acquainted with in more recent years which is surprising considering his ability to tackle heavy topics with such gravitas.
"I kind of let it write itself until it sounds right, I actually write lyrics down because before it'd always be the first thing. I think more about each word now. I started to listen a bit more to rappers because words are all they have to hit you with - I always listen to Outkast's "Da Art Of Storytellin'", Andre 3000's verse about Sasha Thumper is so melancholic."
He tries his chops a little on "You Ain't The Problem" where his delivery teeters on the line between singing and rapping. "That was the funnest song to write because I found I could be really specific and abstract at the same time," he says. "I had to think more about where the rhymes would be - because it's running up and down you can rhyme in the middle and it would make sense so it'd punch out more. It was so fun finding that feeling, that's why I went back to Andre 3000, like 'how does he do that?'"
KIWANUKA employs a wider musical palate than any of its predecessors, there are more moods throughout, sometimes in the course of one song - take the sprawling standout "Hard To Say Goodbye" with its fluttering harps and choral vocals which suddenly erupts as guitar solos and strings lift the track to an ecstatic chorus. For that reason, he's more excited than ever to perform live, a space he calls his 'comfort zone'.
"Out of everything in this job which always throws curveballs, I always kind of rely on playing live," he says. "The feeling of connecting with fans is amazing. It gives your songs life, you can keep singing songs you've sang a million times because of an audience and a good gig. Plus, I love collaborating with musicians, that's just like my home - that's what I know, I really enjoy it."
Whilst on the comeback circuit earlier in 2019, Kiwanuka headlined Glastonbury's Park Stage after Idles' raucous set. "They blew everyone away so I was like 'oh man!' - it was obviously different but it definitely gave us some pump to go," he recalls. Whilst Kiwanuka has previously struggled with festival sets and translating his mostly intimate music to a booze-induced crowd, something clicked in the light of Pilton's sunset. "That was the best festival set I've done - that day I felt like I really understood how to do it," he smiles.
With a tour featuring a sold-out date at London's Brixton Academy on the horizon for March 2020, Kiwanuka is in a more appreciative headspace which his gripes with confidence have previously held back. "I can't wait to play this new album live," he beams. "Just being alive now and making statements is a privilege."
KIWANUKA is out on 1 November via Polydor/Interscope