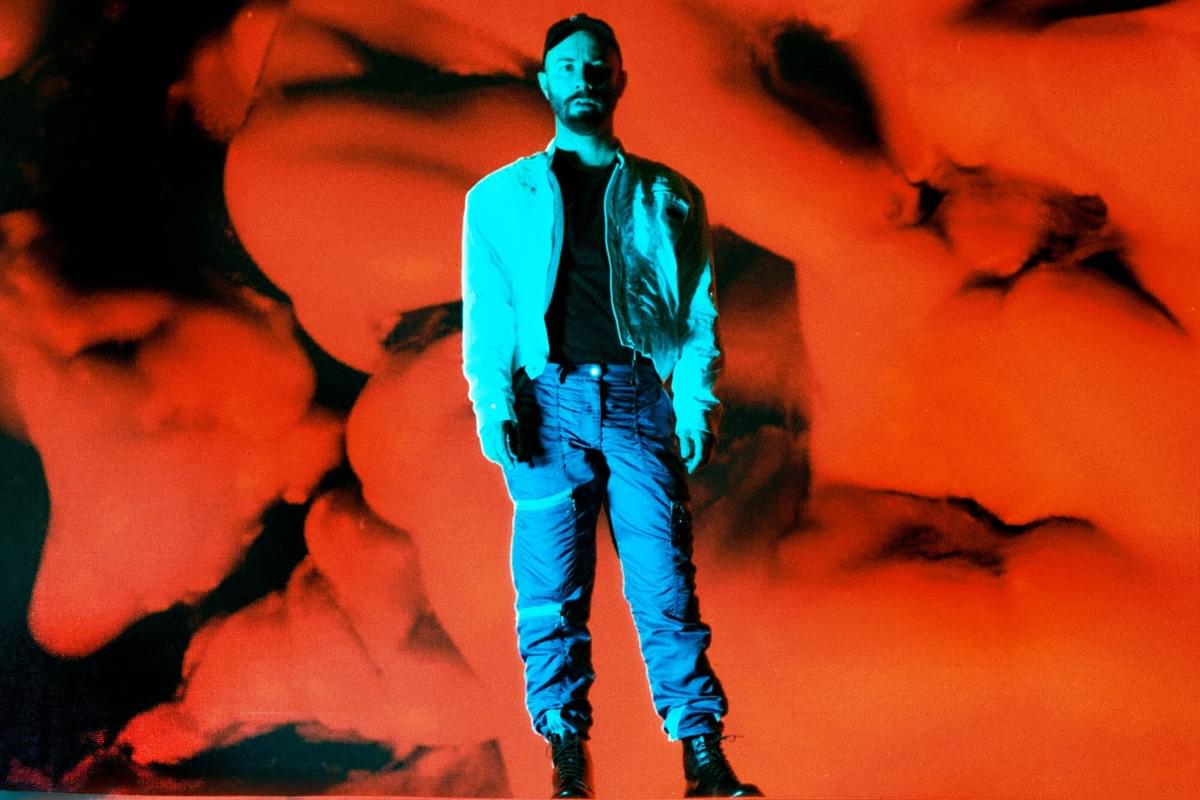 Woodkid and the connectivity of art
15 November 2021, 13:30
The universe was born from a reaction. The sparks that flew at the dawn of time are dazzling in Yoann Lemoine's eyes like welding flares as he processes all the reactions around him.
This may seem melodramatic, but that's precisely what his music and visuals demand. In his dressing room overlooking the shimmering Seine, lights of the banks reflecting through the rhythmic autumnal rain, the Woodkid mastermind is reclining. The evening of his third sell-out date in his adopted hometown at Paris' La Seine Musicale, he's throwing a yellow ball, his dog Omega - a dainty greyhound puppy - is bounding across the room to retrieve it: rinse repeat ad infinitum.
It's a serene scene that juxtaposes the embracing power to come later. Finally being able to tour his second album, 2020's S16, it's here the industrial elements judder to life. Forcefully rotating and compressing through the more natural, organic focus of his 2013 debut The Golden Age, and its preceding - and unexpected hit - "Iron". While his songs are cinematic and powerful capsules, it's on the stage they burst to life.
The evolution of Lemoine into Woodkid is a staggering story. One of a director accidentally finding himself on sell-out tours after crafting "Iron" as a wandering foray into music. He's directed videos for every pop behemoth from Taylor Swift, to Harry Styles, Katy Perry and beyond. It's safe to say, Yoann Lemoine was doing alright.
However, he's now conducting his gathered faithful through an emotional compendium. After leaving them wandering for a return for seven years, till the cogs eventually began turning like the three-dimensional ones projected across the width of the arena later, for S16's release last year.
While the expansion is clear - the purposeful moves that led here are not. After all, he openly admits that he's removed himself from the easy opportunities that may have been afforded him. It somehow feels like a direct reaction to success, is there a fear that comes from that? "It's always a lot of a lot of dissonance, a lot of FOMO," he nods lightly, softly spoken thanks to vocal rest. "I'm not complaining at all about my situation. I'm more wealthy than I would have ever thought I would be. Everything's fine. I just know that there is a world where I make the decisions where I'm probably fucking loaded with money. But where I'm not happy.
"That doesn't mean that I'm always very proud and happy about these choices. I sometimes regret them. But the general picture is that I think I'm making the right choices even if it feels like a complicated route for people and for the music I make. At the end of the day, it's the easiest route for me because it's the one that makes me the less unhappy."
Digging down a bit further, it becomes a little simpler. "It probably has to do with ego," he admits. "I want to exist by myself. I'd rather fail doing something that I believe is a bit different than succeeding with something that is a replica of something else." Which is what's lead to his current sell-out run.
Space is an integral component of Woodkid's existence. Nearly as much as it is to the development of music itself. You can almost trace it like a symbolic tadpole to an early man pictorial chart.
"There's an amazing book by David Byrne called How Music Works," he explains. "The whole first part is about how music evolves based on the performance space. That really the performance space dictated the evolution of music."
Cathedral's and churches were made to encompass and push sound into the hearts of believers. It's the same process for punks in the piss-soaked concrete clubs - it's the environment that gauges the reaction: translating it into something bigger than just oscillating noise and symbiotic bodies.
"It's a lot about people and how they react to music, I think a lot about where they react to it," Lemoine says. "I'm very curious to see how Covid is going to make people react because for a year and a half we have been listening to music that was released to really be performed in a performance space - an example I have is probably the Lady Gaga album (Chromatica). I mean, there's a lot of albums that came out that were dance music during the pandemic, but it did alter the rhythm of releases or the type of releases. So it has to do with where we listen to things."
What space do you see yourself writing for? "It kinda depends on the songs but I know some songs will have to be more intimate bed songs, I love the idea of bed songs, I kind of built this album as almost like a night of insomnia. I think about more about the people, about what type of people and how they will want to receive it."
And who are those people you're thinking of? "I'm not sure who that is?" He sits chewing on the question for a moment. "It's more like, hoping for someone to connect to it. And I don't know, it depends on the songs really, because they don't all talk about the same thing. But I think you make music in the desire to see yourself in the people that listen to your music - it's a mirror sometimes."
"I think it's key to be talking to people that you hope will understand what you're saying and bring it back to you. Sing it back to you, send it back to you."
That mirror, particularly for a project so rooted in organics, is built around the idea of growth. As a musician that tends to look like commercial success - something Lemoine has found to a degree, while always reacting against it with elongated compositions - and it seems as though his own fears surface while explaining such. However, vulnerability is nowhere to be found. Instead comes stoic resourcefulness, as he explains why he can see how other artists may succumb to burnout when all doesn't go well.
"It's also something much deeper. It's like, 'Why is no one connecting to what I have to say? Am I just alone in this world?'" He continues musing. "I believe that everyone that claims to be an artist and is honest about his work, puts the best of himself in his work. And not receiving a response from that is sometimes difficult. So, I think it's key to be talking to people that you hope will understand what you're saying and bring it back to you. Sing it back to you, send it back to you."
There's no doubt that people understand what Lemoine is saying. Tonight the arena is crammed full of a vying crowd that settle into a delicate swaying motion in the moments that elevate, and when the thunder rolls forward, the lights illuminate faces jumping into action - like that of an army watching their commander. Woodkid indeed speaks for the many, not the few.
This brings us neatly onto the venue for tonight's performance: La Seine Musicale. A dedicated space that sits, much like S16; nestled between modernity, beauty, and brutality - and as if London's Gherkin building was compressed into a pumpkin.
The concrete grey coveralls for Lemoine's confident conductor stance currently sits lifeless on a rail. Instead, a colourful hoodie is alluding to his internal dichotomy. A balance between the mainstream and the studiously artistic, Lemoine is someone who understands the way the world works but cares not to preach it. With the same elegance as his music - sweeping from muted pondering to startling revelation - a conversation with him is a constant unfurling lecture.
"You cannot keep the attention of people by being linear." He states. "Though I wish you could that's why I'm always trying to push the limits of linearity because linearity isn't something that can be interesting. As much as I love the idea of insane rapture and contrast."
It's impressive that someone like Lemoine, who crafts music to be lived within - erupting around personal moments, soaking them in and sealing them in ash - leading not to exact ideas but to notions, is winning. After all, it's a battle against the hyper-conscious attention-seeking way of the world.
Mentioning EDM, something he has "no opinion about because I find it equally amazing, that level of almost science, how to make people dance and mingle, make people react physically, I find it amazing." It's the flip side that rubs him up the wrong way. "I find it absurd because it seems like a race to efficiency. And this idea of efficiency in music is something that really that I found disturbing. It's a word that you hear a lot. 'Oh, it's very efficient or really works'. Like what does that mean? It's amazing."
"I grew up as a young and short gay boy, and I think the desire to grow bigger and into a certain idea of mythology and scale comes from that."
Given he finds efficiency absurd, it's surprising that his live show comes across as the most efficient machine of them all. A horizon of sheer light, backdropping the band-cum-orchestra as he meanders from side to side, ascending to an elevated platform. As unsuspecting as he is commanding, every moment is made to ebb and flow - a tide of emotion and sensory overload meant to engage. Often the audio succumbs to the majesty of the backdrop. No moment is spared. But earlier in his dressing room, the tranquillity, with Omega jumping into his arms demanding attention, upon reflection is where it all sequences together.
After all is said and done, I email Lemoine with a question that cropped up during the evening. His experiences within the pop machine feel familiar to his ambition with his live show. These stars he's directed live within their era's, transforming them into a river for the masses to be led to. Does that offer any influence on how he approaches things?
"I think it's more accurate to think it the other way around. I think I have always been attracted to a certain idea of scale and the vertigo that comes with it. As an artist, it is very inspiring and it probably echoes with a lot of intimate and physical traits of my character.
"I grew up as a young and short gay boy, and I think the desire to grow bigger and into a certain idea of mythology and scale comes from that. It's maybe compensation. It does read in my music and my art in general, including live performances, and I believe this is why I have always been attracted to these pop icons and the whole weight and power that comes with working with them. That idea of scale and epicness is something challenging that most of these pop artists are excited about."
Truthfully, the reaction is what he seeks. Much like the crowd, who he's able to work as well as his compositions, he understands where to tighten such seams. A lesson he learned from experiencing mammoth festival crowds from peeking behind a DJ desk.
"At a certain distance it's very hard to comprehend the emotion of people in the eyes, in the smiles and the way they look at you, so always make sure to not be too far from people. Because when you sing some things slow, something emotional, from a certain distance it can look like people are bored. And it can be frustrating as an artist. But the reality is that it's not because people are not dancing to them, not enjoying the moment."
A revolving portrait of Lemoine, exposed with Terminator-esque components splashes across the backdrop with a monstrous elegance. Poignantly relating to the industrial complex, a machine that, much like the music industry can be unforgiving. Burned out cars, space stations, land excavators - images of vulnerability, desolation, destruction - all stem from his thought of: "I love what you can say almost politically through the idea of placing your lexical field and your thoughts inside the confined environment of an industrial company.
"It's visually fascinating because there's an idea of scale, and relationship of scale, between humans and machines. About the near future and past. About social inequality, the bad pyramidal systems, and then the myth of power being something that in French…I don't know how to say it in English, but it's that myth that when people that when the rich get richer then it's supposed to fall on smaller communities.
He continues. "It's an ever-growing myth of the modern world we're in of liberalism and capitalism. And I think talking about the dominance and the dominated is very interesting when you do it inside the closed environment of the industrial world because I think there's everything that represents the rest of the world inside this very little ecosystem."
Such complex ideas are indeed expertly distilled throughout both S16 and Woodkid's show. True to form it elevates, exploding before the resulting smithereens flutter to earth ready to regrow. Much like Woodkid himself, who knows when the sprouts will explore the air once more, but when they do, chances are they'll be more industrious and beautiful than ever. And the crowd endlessly chanting the melody to fan favourite "Run Boy Run" long after Lemoine leaves will indeed be waiting.
Woodkid plays the Southbank Centre in London on 17 November
Get the Best Fit take on the week in music direct to your inbox every Friday