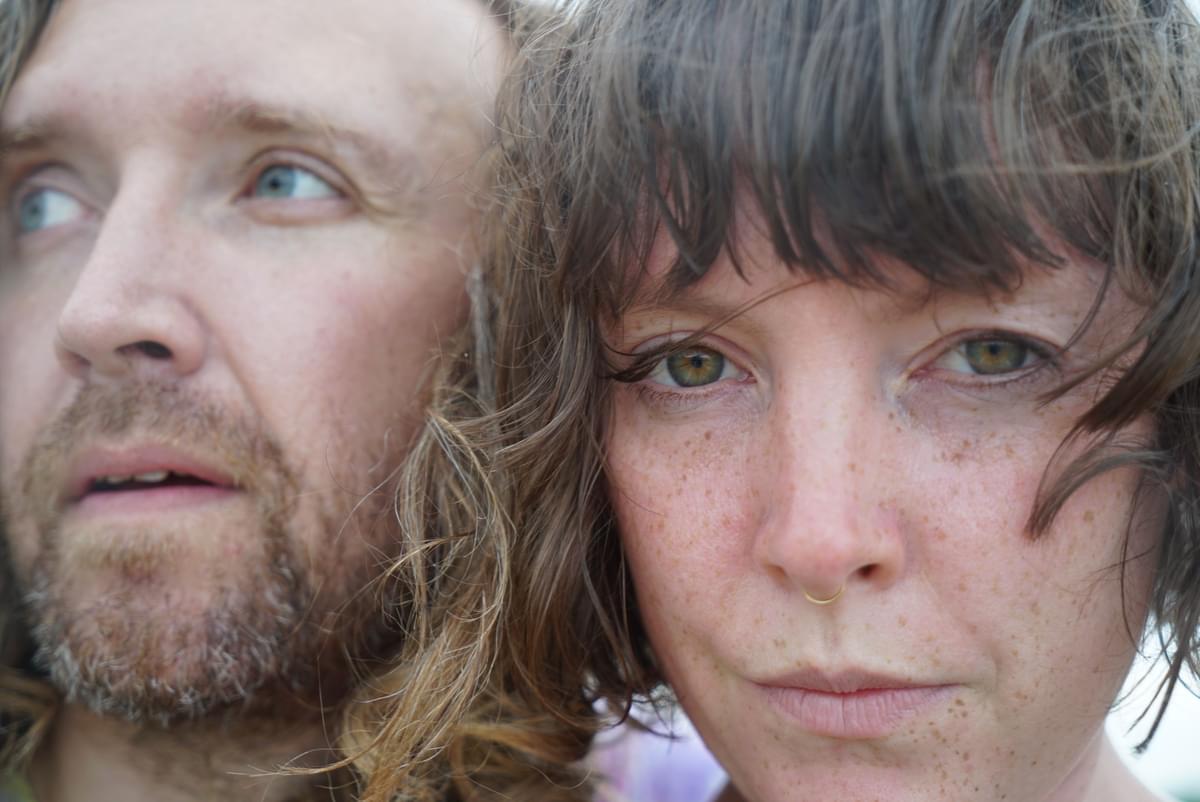 Vulnerability Forever
25 November 2020, 13:30
Amelia Meath tells Pip Williams how the experience of writing Sylvan Esso's Free Love gave the band license to expand beyond the self-imposed boundaries of their previous studio records.
"Let me pull over," Amelia Meath interrupts as we struggle to exchange pleasantries over speakerphone. Cuddly toys crowd the backseat of her car as she explains a rejected concept for one of the accompanying visuals to the band's latest album.
"I had originally wanted to make a stuffed animal throne, but then it became obvious that it was going to take way too much time," she laughs. "I collected way too many stuffed animals! I think I'm gonna donate them, 'cause they seem pretty important to a lot of people. I might keep them in a place of honour but maybe I'll let other kids play with them."
This exchange encapsulates a peculiarly 2020 phenomenon, in which many successful artists have had to revert to a broadly DIY approach in order to co-ordinate releases amidst pandemic precautions. Meath's attitude to the ways in which these hurdles have affected Sylvan Esso seems for the most part positive, viewing it more as a return to the band's roots than a particularly restricting process.
"It's like being a MySpace band again, except a lot more people are listening!" she laughs. "All of a sudden we're getting to do all of the work ourselves again out of pure necessity. Due to our success we have a lot more access to cool technology, but's as scrappy as it ever was – it's really nice. There's a different feeling of responsibility. With the 'Ferris Wheel' video, in particular, it's so fun to be like, 'I really made this thing for you! I stayed up all night!'"
The aforementioned "Ferris Wheel" is the record's lead single, a joyful dance-pop cut unencumbered by any hint of self-consciousness or shame. Along with its dazzling visuals, the track embodies the core themes the record, which dropped in September, seeks to communicate. As suggested by the name, Free Love is a record that explores the process of getting to grips with love, longing, and sexuality. In Meath's words, the tracks are "reflections of what love is about and trying to call love into yourself."
"I have so much love for when you're first discovering what your sexuality is," she explains. "It's before you have any conception [of sex], before you see porn and before you are actually attracted to a person. For me, as a little girl, I could see oil on the pavement and be like, 'that's hot, I'm into it!' 'Ferris Wheel' felt like a really fun way of opening the door to the record: the most fun iteration. It's me, I've just come into my sexual power, I'm trying to figure out what I have, moving my energy around and seeing how it feels."
Hand in hand with the musical exploration of these nostalgic reflections, Meath took the time to publicise another aspect of her own sexuality in June of this year. As Pride Month was celebrated across the world, the singer took to social media to share her own bisexuality with fans.
Admittedly, Meath has never attempted to hide her queerness – What Now track "The Glow" rattles off a list of high school crushes of multiple genders: Willy, Avi, Deanna, Meg, Allie, Micah, Phil. Despite this, the singer had been resistant to coming out publicly and unambiguously. Given that she is both cisgender and married to bandmate Sanborn, she was unsure what benefit being vocal about her bisexual identity could have for the world around her. As she came to understand the ways in which a heteronormative society consistently invisibilises bisexuality, Meath was able to realise the value in speaking up.
It's no surprise, then, that Free Love features Sylvan Esso's queerest song to date. "Frequency", one of the record's several singles, sees Meath singing about falling in love with another woman. The track was accompanied by a video that echoed these themes: an abstractly choreographed dance sequence featuring Meath opposite a female lead. "Frequency" is poetically metaphorical in a format that is familiar for fans of Sylvan Esso – and of Meath's lyricism in particular – but, unusually for Sylvan Esso, takes its inspiration not from real events but from a film: "The Warriors is a really silly '70s movie about gangs in New York, but the gangs all have sexy outfits," Meath begins, by way of explanation. "There's a sexy boy baseball gang who all carry bats, and wear full uniforms, and look hot as hell! It's the gayest thing ever!" she laughs. "In it, there's a DJ who's played by Lynne Thigpen. It's the sexiest shots ever, 'cause all you ever see is her lips. She has beautiful red lipstick on, and she's talking about all of these fights that are going on across New York City."
Inspired by the sensuality of Thigpen's character, Meath's lyrics tell the story of falling in love with a voice heard through the radio – a narrative of remote yearning that is particularly prescient in our socially distanced times. For queer people – who often find community, friendship, and indeed, love – outside of their immediate surroundings, the significance of "Frequency"'s lyrics is twofold.
"It's about the romanticism of how, even if you can never touch somebody –" she explains, then interrupts herself: "this is so fucking dorky! But when you're listening to the radio, their sound waves are rushing through your body. "I wanted to write a song that was beyond the idea of possession; that was about getting to just revel in loving someone and having that be the fulfilment. The fulfilment is through the longing."
This level of intimacy is a facet of Sylvan Esso have brought to the fore on Free Love. Whilst its presence has been made known on preceding records, there's often been a level of obfuscation that precludes the listener from tapping directly into the inspiration behind the songs. Meath admits this caginess is, at times, intentional, but sees that as a choice that may unintentionally benefit a listener seeking connection.
"People who don't know me can feel intimately involved with me because of the words that I've written," Meath says, forced to speak more slowly than usual as she navigates the articulation of this particular situation. "There's an amazing exchange of: 'I love this song that you wrote, and the song that you wrote is about me, and I'm gonna tell you about what it is.' An act of love that I can give that person is being like, 'yes'. I will listen to that and not say what it's about for me. I'm going to be generous with you by not shattering that image."
Meath sees recent single "Free" as a track that articulates this particular balancing act from a zoomed-out perspective: "I hate the word meta, but in some ways it is actually meta. It's the centre of the record and it's talking about how, in order to let anyone love you, there's a certain amount of letting yourself be cloaked in their impression of you. That's a way of showing them love. It's a compromise: I'll be this thing for you, if that will get me the love that I want. If that lets me revel in your vision of who I am, sure, I'll take that on. It's like a feedback loop."
The song opens with a clip of studio audio: we hear Sanborn in the distance, and Meath offers a clipped "I love you" before opening into the track's delicate vocal melody.
"We wanted to keep that 'I love you' in mostly because you can totally hear that it's me being like, 'fuck off! Just do the thing!' – which is so what the song is about," she laughs, when asked about the decision to include the sample. "It's such a nightmare to actually hear myself saying 'yeah, get your shit together, I love you,' instead of the honest, true 'I love you'. But that's how we communicate! I love the intimacy – vulnerability forever!
"It's the coolest and bravest thing you can give people: the ability to see you being truly yourself. It's such a strange exchange to be generous with your vulnerability and then have people be able to name it to you, which makes me feel very defensive most of the time! But every now and then I love sharing that with people. I think it's really important, particularly now.
"With every record we've made, and with every record I've made, I've always wanted to be able to have people feel like they are also in the room. People can see behind Sylvan Esso. It's definitely a pop band, but instead of lying and maintaining the illusion that we're perfect, untouchable beings, I think it's really cool to let people know that we're weird dorks. They have the capacity to do exactly what we're doing as well."
"I always know exactly what the cover image is going to be, and Nick always knows what the record title is. That's what happened on the last record, and that's what happened with this record too."
Meath describes "Free" positioning at the midpoint of Free Love's tracklisting as a central "tent-pole" of the record. It's almost a title track, though Meath admits she tends not to be directly involved in the titling of Sylvan Esso's albums:
"We're making a pattern now. I always know exactly what the cover image is going to be, and Nick always knows what the record title is. That's what happened on the last record, and that's what happened with this record too. When I wrote 'Free', Nick was like, 'the record's called Free Love and that's it.' At first I was like, 'that's a bold-ass move!' and then we slowly realised that – like with everything – the name is usually a joke at first, and then it becomes the thing. Like, [the name] Sylvan Esso was a joke for a long time."
The name Sylvan Esso – or at least the "sylvan" part – originates from another passion of Meath and Sanborn's: gaming. Specifically, "sylvan" references the video game Sword and Sworcery, in which miracle-granting sylvan sprites are a key plot point. The sprites, which Meath describes as "beautiful, little, white, kind of teeny Stay Puft marshmallow men", make a signature dream-like sing-song sound, more than appropriate as Sylvan Esso's namesake.
Cloistered at home for much of 2020, it's no surprise that Meath and Sanborn have turned their attention to gaming once again. Meath namedrops The Legend of Zelda: Breath of the Wild and Hollow Knight as long-time favourites, but is eager to share her thoughts on the game that currently occupies much of her time: the "beautiful" Ghost of Tsushima, released earlier this year. "It's set in the 1200s. You get to be a samurai, and you're defending the island of Japan from a Mongolian invasion," she summarises, on discovering she's speaking to someone totally ignorant in this sub-section of nerdiness. "Also, there are foxes that you meet in their dens – they lead you to shrines and then you can pet them!" she exclaims.
"Instead of there being a mini-map, which most video games have, you're guided by the wind. You set a goal and then you tell the wind to go, and it blows you in the direction that you should be going. You're constantly riding a wave of the wind on your beautiful pony and argh! It's so cool! It's my new favourite. I'm never usually into murdering games, but the murder in this game is so fun! I'm so brutal! Nick and I have been playing it every night, and last night we were both hard weeping about something that had happened in the game. We had to tap out. We were like, 'okay, well, we're done now.'"
Within the context of the pair's video game obsession, the sonic landscape of album track "Runaway" makes a great deal of sense. It's a simple song at its core; more structurally traditional than many of Sylvan Esso's offerings. Muted percussion trips along beneath a typically crunchy synth line, with Meath's vocal glimmering at the top end. What makes it stand out, though, is the scattering of bonkers sound effects throughout the mix. The comic book-esque zaps, pows, and pews of laser guns litter the spaces between lyrics, an irreverent nod to both Sylvan Esso's love of gaming and to the song's contrastingly dark subject matter.
"I'd been wanting to write a really upbeat, fun song about feeling terror in America about whether or not any of our shows were gonna get shot up," Meath explains with disarming nonchalance. "I wrote it right after the Ariana Grande show happened. We were on tour, and all of a sudden, every time I would look out at the crowd…" she pauses, derailed by the gravity of the memory, before continuing: "Nick and I were really having to actively talk to each other like, 'okay, is there anything that we could do to make this not happen?' The discovery of how powerless we were and are to that was really strange. So that's what that song is about: embracing and dealing with death.
"It was one of those magical songs that came together – we wrote most of it in one afternoon and then we didn't touch it for eight months. We finished it right at the end, to put on the record. It was basically just a really fun day of discovering how this one drum machine worked!"
Against the backdrop of the coronavirus pandemic and a closely fought presidential election, video games and release schedules are not the only things keeping Sylvan Esso busy. Early last month, the pair announced they would be delivering three live shows exclusively streamed online. The series, titled From The Satellite, is comprised of three separate recordings broadcast from October to December. The first, "From Us" was a dazzling romp through new tracks, fan favourites, and a standalone single. The biggest surprise was an unexpected cover of Gillian Welch's "Everything Is Free" – intentionally or not, a clever nod to the name of the pair's own record. Following second show "To You", final broadcast "With Love" is set to air on 1 December, with a 48 hour rebroadcast window. It will contain a different setlist and concert experience to the first two, in a commitment to satisfying fans deprived of the usual new album touring cycle.
"Before any of this happened, we had assumed that writing for Sylvan Esso was like walking on a tightrope: there were only so many things that we could do, and other than that it wouldn't be Sylvan Esso."
The first two broadcasts opened with a message informing viewers that it had been filmed adhering to social distancing practices, and that all participants other than the performers wore masks for the duration. This was not the band's first experience filming on a socially distanced set, since having done the same for the filming of "Ferris Wheel"'s accompanying video several months earlier. The resulting visual – a dazzling carnival of lights and tinsel trousers – achieves the impressive feat of never once making viewers aware of any limitations imposed by these very necessary precautions.
"We worked so hard on that video because we did it with such a small crew. It was just a crew of five or six. I have always admired how efficiently film people move around in the world – so much more efficient than musicians!" Meath laughs. "It was really fun to feel like part of a film crew. My main job was just putting on my makeup and getting there and being ready, but it felt really good. The scariest part was honestly doing all of the high femme stuff alone – all of the makeup, and trying to make sure that no one could see my nipples. Totally terrifying! Other than that, it felt like shooting the 'Coffee' video."
These incredibly lean, streamlined experiences may be a familiar echo of Sylvan Esso's low budget early days, but they're a stark contrast to the band's more recent past. Sylvan Esso's preceding project, With, was a live concert album and accompanying film that saw Meath and Sanborn extend the scope of their insular duo to include a veritable cabal of additional musicians. The experience informed much of the writing on Free Love, giving the pair license to expand Sylvan Esso beyond the self-imposed boundaries of their previous studio records.
"It strengthened the realisation that Sylvan Esso can be – as long as Nick and I are present – any iteration," Meath responds, when asked how the experience affected the pair's more recent writing experiences. "It gave us permission to go wild and make leaps and strange decisions that we normally would not make. Before any of this happened, we had assumed that writing for Sylvan Esso was like walking on a tightrope: there were only so many things that we could do, and other than that it wouldn't be Sylvan Esso. What it taught us was that we could do literally anything musically, and as long as Nick and I were still in the room it would be ours, and it would be Sylvan Esso."
Performance in any incarnation has always been a cornerstone of Sylvan Esso as a band. Meath is a formidable frontwoman with a precise live vocal and a uniquely joyful onstage persona. The inability to tour their new record weighs heavy on her, and though she's pragmatic about current limitations, her voice cracks slightly with emotion as she acknowledges the impact on her personally: "My body and my brain are doing a very nice thing for me, and it's a slow time release of grief about not being able to play," she says, with a wry smile. "In the grand scheme of things, we are so lucky. I am so lucky that I somehow still get to do my job, and still get to make songs and give them to people. It's just that… performing is where I feel the most myself and the happiest and truest. Sometimes this amazing thing happens where – it's like how people talk about meditation – I just get to disappear. And it's the best."
Meath's relationship with performance makes even more sense when considering the pathway that led to her becoming a singer; something that was not her initial intention. Surprising no one who has ever attended a Sylvan Esso show, Meath has a background in dance that stretches back far further than her forays into music. Having danced throughout high school, studied dance at college, and attained a BA in physical theatre and performance, she has forged a unique and inimitable stage presence that is as visual as it is vocal.
"Music was the first avenue I could see where I was like, 'oh, I can do this! I can fake my way through this and figure out how to write songs in order to be able to perform,'" she laughs, though it's clear from her tone there's truth to the story.
"I've never had so many moments of pure, truly embarrassing self-reflection, but if feels like there's so much growth that has the potential to happen."
Fan Q&As always touch on Meath's diverse performance skillset, though she's modest about her obvious technical ability. In reply to a self-professed "awkward white girl" fan asking for tips on how to groove, her response reads simply: "if you move your body in a way that lets everyone know you DGAF, usually the people around you follow suit." It's this attitude – the refusal to abandon weirdness and personality in favour of palatable mainstream sex appeal – that makes watching Meath quite so compelling.
With in-person performance off the table for the foreseeable future, it's difficult to imagine what the next few months will look like for Sylvan Esso. In spite of this, Meath is upbeat about the important work to be done. Both her and Sanborn are openly committed to causes that further social justice in their immediate communities and around the world, and it's these initiatives to which Meath is turning her focus in the absence of an album rollout schedule.
"Capitalism is the fucking enemy," she deadpans. "I'm getting so much more militant, particularly within the defund the police movement, and Black Lives Matter. Everything is so interconnected to me in this moment; all of a sudden we're not busy, we have to look all of this shit in the eyes. Being able to identify the moments of paranoia in our lives that are intensified by the police force. Being able to see our own racism – my own racism – in action, and being able to see it, name it, and begin actually doing the really hard work of dealing with it. Boy, howdy. I've never had so many moments of pure, truly embarrassing self-reflection, but if feels like there's so much growth that has the potential to happen. I keep on trying to come back to that.
"I feel like all of the rules are being rewritten right now. In America, it's so strange watching our country be literally ripped apart and our environment being destroyed by bigotry and a terrifying fascist president. He's almost whimsically fascist, in a way that doesn't actually take responsibility for anything. It's fucking terrifying. I so wish all I could do was be on tour, because it's the most fun job ever, and it's the only thing that I want to do," she admits, ruefully. "At the same time, I feel like we are at the precipice of a moment of immense potential. I'm so into it, and it feels like my role as an entertainer is needed more than ever."
Get the Best Fit take on the week in music direct to your inbox every Friday