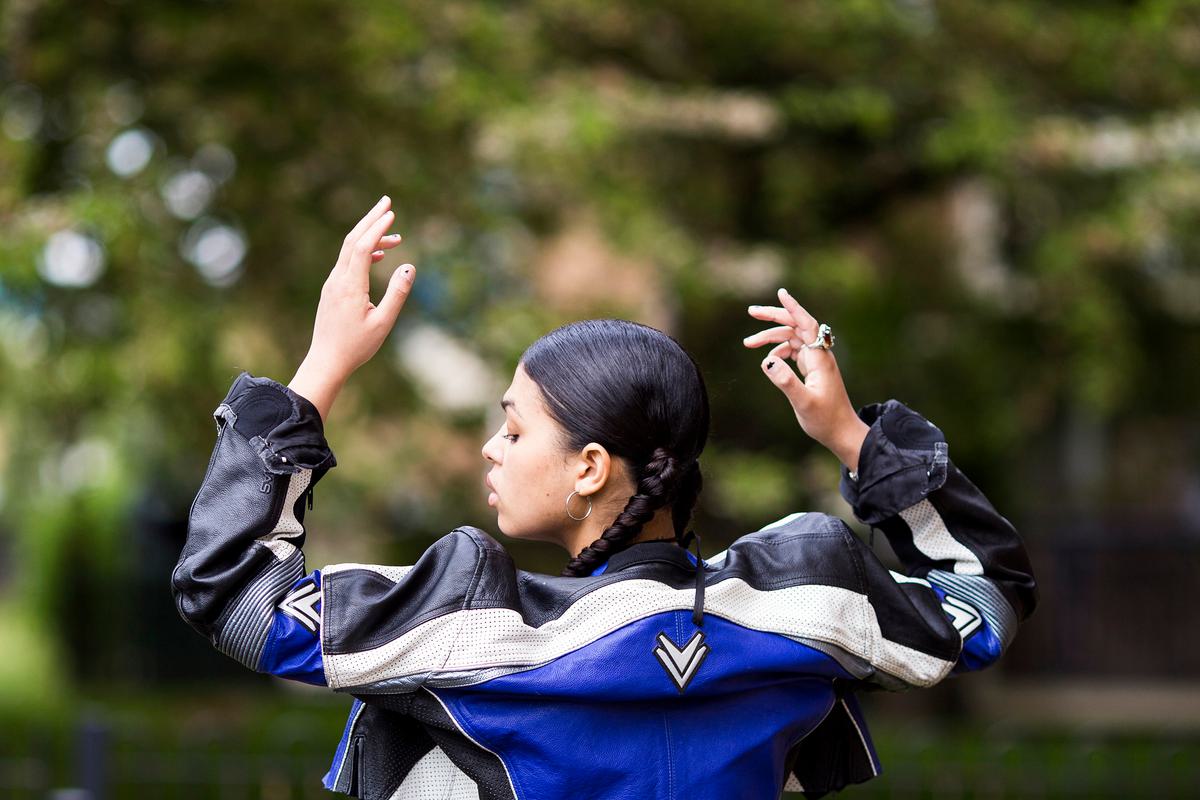 One to Watch: Cosima
03 May 2017, 12:05
Meet the South Londoner redrawing the boundaries of British R&B one bold, heart-fluttering track at a time.
"For me it's kind of about acceptance, when someone isn't going to come back for you, isn't going to come through for you. My father didn't die, he just did what a lot of men do."
In February, 23-year-old Cosima released the most heartbreaking of songs, "To Build A House". It was originally written as a poem about her absent father, intelligently using the metaphor of a broken home. But the poem wasn't always going to be shared.
"I was like, I can sit here with it and not put it out because it's so personal and because I'm scared of it revealing too much about myself," reveals Cosima, "or I can say 'fuck it'.
"I think that when it gets that personal, it transcends the situation. The song kind of applies to everyone in that situation because for every child who feels like that there's the mother of the child who's waiting for that person."
Cosima's label Island Records has encouraged creative freedom in her early releases, "To Build A House" being one example. She wrote the music for the poem with the help of renowned Canadian record producer Greg Wells and Swedish songwriter Nina Woodfood Wells. The result was a graceful, three minute piano-led ballad of blue soul - all muted choral loops, supple synths, and beautifully raw lyricism - which the media rightly fawned over.
"To Build A House" is just one in a handful of stunning songs written by the artist who's barely played any gigs nor released an album. Her debut mixtape South Of Heaven, which dropped via Island in December 2016, was also received to rave reviews for its eclectic mix of off-kilter R&B, jazz, soul, and pop.
"Girls Who Get Ready" is a highlight, Cosima's sultry vocal subtly addressing the pressures on women to look just so. Her rhetoric "would you still take me out barefaced?" is biting in its nonchalance, buoyed by dubby bass, lethargic beats, and breathy choral harmonies. The music video for "Girls Who Get Ready" was directed by Cosima, as is the case for all them.
It's easy to assume that being on a major label would come with its own, added pressures but Cosima is clear this hasn't been the case.
"I think for me the joy is being signed to Island but being able to put out a mixtape - put out music as I go. It's really fun, I can engage properly. Sometimes you don't get that experience on a major label. [It's] quite special to have a period of time where you just try stuff out, try new sounds, and work out who you are because in the end you come out as a more in control version of yourself."
It's not the first time Cosima mentions the idea of control, here perched on a sofa in a quiet Peckham cafe. When she explains why she moved to Germany to live with her grandparents aged 18 (pre-inking the Island deal), she speaks of the ambitious, year-long mission she embarked upon to understand her voice.
"[London] has been hectic forever and I just needed to be somewhere different. I realised that my voice wasn't doing what I wanted nor needed it to do. What does my voice sound like? Who am I independent of? I was lucky to go to be able to go to my grandparents' and take singing lessons there."
"I didn't think I'd be able to play a show in Peckham. It was really rough when we were growing up here...just a few minutes down there was where Damilola Taylor was killed."
Cosima was taught by a retired opera singer who had returned to Germany after living in Italy who gave her "the technical tours" of singing.
"I like voices where it feels like they're just coming up, without effect, it's just your voice," Cosima says. "And I think to be able to do that you need to know what you're doing technically so your body's doing almost what it knows how to do, and then the sound is just the sound you accept. You don't try to manipulate or change it."
The hard work paid off. After moving back to London she put a demo on Soundcloud called "Don't Touch Me", which was discovered by her former manager. It eventually led to Nick Shymansky (Amy Winehouse's manager) taking her under his wing at Island.
A smattering of gigs have followed since the release of South Of Heaven, namely one in her hometown back in February.
"It was special. I didn't think I'd be able to play a show in Peckham. It was really rough when we were growing up here." She points outside: "just a few minutes down there was where Damilola Taylor was killed.
Macabre tales aside, these days Peckham is perhaps better known as a hotspot bursting with musical talent (King Krule, Loyle Carner, Cosmo Pyke - to name a few). Its much-loved Bussey Building, where Cosima plays tonight, is a cultural mecca for those seeking artistic escape - be it gigs, galleries, or the summer rooftop cinema. Like its nearby neighbour Brixton, Peckham is also home to a swathe of independent African record shops.
"It's interesting because it's changed a lot. Gentrification is only bad when stuff is being put in areas and people can't afford it. For me, growing up here and living in Peckham now, on the one hand it's amazing. You can go out and get whatever and walk home from going out. I never would have done that as a teenager.
"And then you get boys getting funny looks who've been here forever. It's like, take the benefits of gentrification and make it available to everyone. Everyone here still lives at home because they can't afford to move out. A funny situation - you can go out but you're still living at home."
So with more gigs in the pipeline,what's next for the talented 23-year-old? Is a debut album in the works?
"I don't think it'll be this year - I don't even know - but definitely sooner rather than later. Then again I feel like I've been putting music out quite consistently..."
"I want my music to make people feel. Full stop."
Gigging is what she's working towards the most at the moment: in her own words "being able to sing in front of people."
"Sometimes you write a song and then it comes out two years later, or six months later, but in between that time you can sometimes kind of forget what you wrote the song about," she says.
"Then when you're standing in front of a crowd of people it hits you almost every single time. Like with 'To Build A House" - every time I perform it I cry. Because you're explaining this stuff and that's what storytelling is. I think when you're actually doing that it's incredible. You are the storyteller, the bard, and sometimes it sneaks up on you and you're like 'God, yeah, I did feel like that when I wrote that.'"
"I want my music to make people feel. Full stop. And I guess like any artist who decides to put music out, to reach as many people as possible. I hear it now and I'm like, 16, or I'm 18 in Germany - I want people to have that kind of attachment to it."
Consider us already hooked.