Nine Songs
Samantha Urbani
Ahead of the release of her debut solo album, the singer/songwriter and all-round polymath takes Pip Williams on a world tour of the pivotal songs in her life that touches down in several totally unpredictable locations.
It's over a decade since I stumbled across a band called Friends, playing before some 2012 indie-rock outfit I wanted to catch at my first ever festival.
You may never have heard of Friends ­– and if that's the case, I am genuinely sorry. They weren't around for long; following up their 2012 album Manifest! with sultry standalone single "The Way" before disappearing for good. There is, however, a good chance you have enjoyed Urbani's vocal stylings without even realising: she features on six out of 11 tracks on Blood Orange's superb record Cupid Deluxe nestled alongside such names as Clams Casino and Caroline Polachek, then of Chairlift.

Despite the stratospheric success of Cupid Deluxe, Urbani's solo output never reached an audience in proportion with her talent. Until this year, her only releases were 2017's Policies of Power EP and 2019 single "Made In Love". Despite the latter being deliciously reminiscent of the best early noughties pop, it remains disappointingly underappreciated.
Given the winding road Urbani's career has taken this past decade, the announcement that she was finally releasing her debut solo LP came as a welcome surprise. Fans of Friends will not be disappointed – Urbani's eclecticism and musicality remain centre-stage – but the singles dropped so far put a finer point on her vision as an artist. There's still plenty of experimentation, but Urbani is able to play off her maximalist tendencies against a developed ear for restraint and careful curation.
The breadth of Urbani's musical influences goes much of the way to explaining how she arrives at her inimitable sound. "It might sound crazy at first," she laughs, "but as soon as I start naming the shit that's influenced me – it really is the blueprint of the kind of music that I make."
Picking just Nine Songs proved problematic, with a shortlist added to the initial list that clamoured for inclusion: The Slits, Patti Smith, The Jackson 5, Outkast, Limp Bizkit and Method Man, Aphrodite's Child, Smashing Pumpkins, Warpaint, Orange Juice, Seal. "It was always the things that worked so well, but pulled from different worlds that inspired me," Urbani explains. "When culture is a little mashed up, that's the sweet spot for me."
"There are times where different genres are being developed concurrently in different cultures," she continues, "and then when they find each other they have a lot more in common than they thought; they've developed similar qualities in their music that have this harmonious element."
She pauses, before giving an example. "I feel there's a lot of similarities between post-punk, art-rock and '90s hip-hop. There's a lot of interpolation and call-backs – even if it's not sampling, it's borrowing from other things. It's very percussion and bass-heavy, not relying on the walled sound of guitar chords. These little lines of melody and percussion interact with a really solid vocal over the top, whether that's somebody's amazing rap thing or a simple melody. That's a cross-over that I think is really juicy!"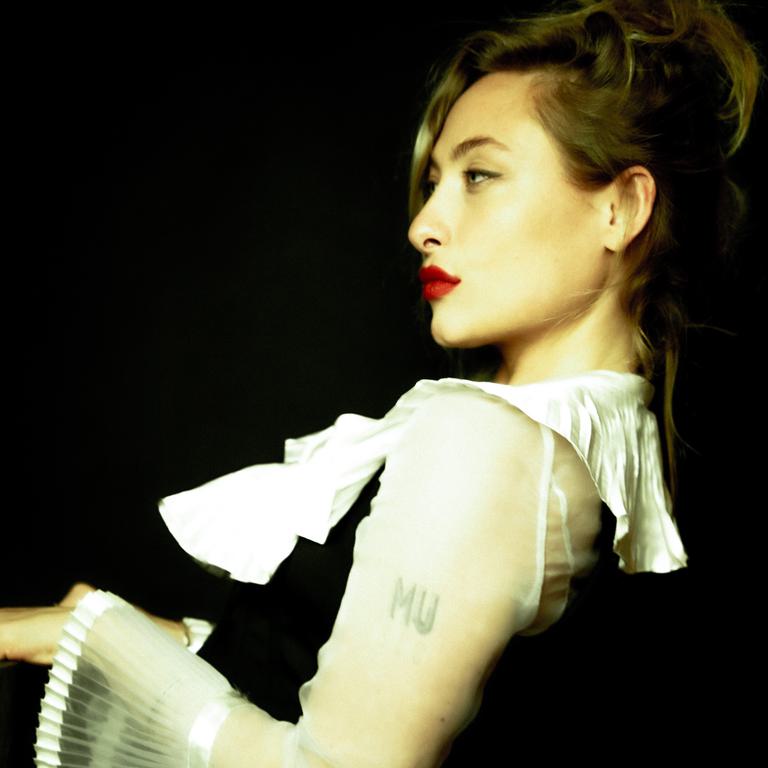 This understanding of similar-but-different, of finding the common threads in a seemingly disparate selection of influences is something Urbani considers key to her process as a musician. "I DJ a lot, so I find my writing and production style to be very influenced by mixing things and mashing things up – throwing a beat over something that was slower before. There's a lot of differences, but sometimes the through-line is how eclectic something is."
Once she whittled down to choices to a final Nine Songs, Urbani's selections take us on a world tour that touches down in several totally unpredictable locations. Almost comically wildcard, she opens with XTC's iconic ode to a career in the British steel industry, yet somehow every pick matches – or even exceeds – this level of unexpectedness.
Whilst it ought to be disorientating, every twist brings Urbani's unique process into clearer focus. The resulting list reveals an artist whose long-awaited debut album should excite listeners regardless of their usual genre preferences.
If there's one thing to be taken from this conversation, it's that perhaps we could all do with thinking outside the box a little more often.
"Making Plans For Nigel" by XTC
I love XTC and have found myself riffing off their vocal melodies as I'm writing songs. They're a version of the post-punk art-pop/art-rock that was happening at the time – there's so much going on. The guitars that really cut through the mix are so special, and I've used a lot of those references in my own production. A song on my record is called "Time Keeps Slipping", and the guitars are very influenced by that era and this weird-ass band!
In the most special way, "Making Plans For Nigel" is a very deep root of my identity. I was a kid growing up in South-Eastern Connecticut in this small hippie town. There was an amazing record store there called Mystic Disc that I still go in every time I am home with family.
My older brother had discovered XTC – those dollar bins and record bins were basically how kids use Spotify now. We were total crate-diggers, and my brother happened upon XTC. We were both into Talking Heads and both grew up on nu-metal – we would go to Ozzfest together. When you grow up with someone, your tastes are similar but then they diverge!
I have such a beautiful, clear memory of being 15 or 16: my brother was 18 or 19 and had just gotten a turntable that was one of those little suitcase things! We were in the living room, and he was like, "Okay, I wanna show you something." He played me that song, and – I hate to twist the knife – but he died a few months after that.
XTC has always stayed this flag in my life, of one of the last things that my brother got to share with me and I have always kept them as one of my guiding star favourite bands. Every time I hear this song it's a little bit gut-wrenching, but it feels like a connection with one of the most important people in my life.
"Try Sleeping with a Broken Heart" by Alicia Keys
This is one of the most perfect pop songs ever. It reminds me of "Like A Prayer" by Madonna – it feels like a spiritual offering, but it gets super euphoric too.
Right before I started my old band Friends in 2010, I was working as a hostess in a restaurant with my bandmates Nikki [Shapiro] and Matt [Molnar]. I remember hearing something on in the background and the chords and the analogue-synth-sounding stuff were so interesting. I remember being like, "Is this Animal Collective? What cool album is this?" And it was Alicia Keys!
The Element of Freedom is such a masterful album. It uses a lot of textures with drum machines and synths. As soon as I heard "Try Sleeping with a Broken Heart" it was the only song I listened to for like a month! I was going through a break-up at the time, but trying to be empowered. It was also when I was writing my first serious songs that became the Friends album.
I listened to that song over and over again, and then I started singing it all the time and recording myself singing it. It became this unexpected vocal practice for me. To this day I think it's fucking perfect, it hits for me in the way that Prince does
Alicia Keys is a modern artist who is a master. It's easy to forget that, because it feels so in the pop realm, but it totally holds up next to the cool, textural indie stuff. It's super smart, it's super fucking deep, and the lyrics give the perfect sense of heartbreak: you're not okay with a loss, but you can't avoid the feelings and you have to feel through it.
I really respect music that feels empowered in that moment of full sadness. It's not spiteful – it's really tender, but it's really, really strong at the same time. There's just a sense of honouring those depths of emotion.
"The Makings of You" by Curtis Mayfield
My dad is a massive fan of Motown. He went to high school in the Bay Area of California, where there was a lot of soul music. His advice to me as a kid was, "If you ever want someone to think that you're cool, talk about Curtis Mayfield."
I have a cool dad! He raised me on a lot of important Black music that I am so thankful to have been so humbly in awe of at a young age. Motown is such an important component of what I think has been the greatest music of humankind over the last century.
Curtis Mayfield is one of the greatest musicians and writers ever. I almost chose a song by The Impressions – his band before he was solo. As I first learned to drive, I had a couple of cassette tapes I would play on repeat, and The Impressions Greatest Hits was one of those. As I grew up and stayed a big music fan, Curtis Mayfield has always been one of my big touchstones.
I really like his more upbeat, funky stuff, but "The Makings of You" is one of these love songs that feels like it should be trite, but when you nail pop writing on a spiritual level it's transcendent, and "The Makings of You" is the sweetest love song possible. You could sing it to your child, you could sing it to your partner, you could sing it to your parent. It's really special.
Curtis is way more controversial than you might think when you just hear how funky and upbeat he is. His music was banned in the '60s because it was used during rallies for equal rights. What a trip: the job of music is to inspire people and bring people together. Songs like "We're A Winner" were banned because they became symbols of community power, which is insane! Any time a larger authority tries to stomp that out, you know that the music's got to be really powerful.
"Not Tonight" by Lil' Kim ft. Missy Elliott, Da Brat, Left Eye, Angie Martinez
This was a moment of awakening and inspiration from all the most bad women of the '90s!
I was 9 or 10 when I saw it on TV. I would watch music video after music video after music video with my cousin Kristen, and there was a lot of stuff being marketed to young girls. It felt like they were pushing this image of women's weakness and obsession with guys. I remember watching the music video for "Not Tonight" for the first time and being like, "These are the people that I connect to and that inspire me!" I'm so thankful that they existed.
In the music video they're all living life and being effortlessly strong – it wasn't the girlboss feminism that we have now. These were just the hottest, coolest, toughest girls in the world. They all look different, they're different sizes, they come from different parts of the country, but there was this sense of community.
As a kid watching music videos, you have the innocence of not having a bigger cultural picture, you're relying on instinct for your taste. My instinct at that time was 'This is the smart, important shit.' Those were the women who I looked up to, who knew better than anybody.
"Not Tonight" was Lil' Kim's solo debut, and for everybody who was established at the time to jump on her track shows this beautiful sense of community. It's everyone from that time period. Missy Elliott is one of the most iconic producers and writers of all-time, and I give Left Eye all the praise in the world – she's so smart, funny, and talented. The Kool and the Gang sample has that classic '70s funk, but with all of these women singing their parts each verse is super smart, super strong, and a little bit cheeky and badass.
They performed it at the 1997 VMAs and I get chills watching it. It's excellence to the degree of godliness. I'm so thankful that that shit was on the TV at the same time that Britney Spears and Backstreet Boys were. I love that stuff too, but I don't think it was a good cognitive influence on young girls.
Watching those fucking amazing women rapping and being super independent and smart – that was a good influence, in my opinion.
"Fantasy" by Mariah Carey
I'm in Brooklyn catching up with Matt Mulnar, who was a member of Friends and my main partner through that project. I was like, 'I have to pick nine songs that define me for an interview, is there anything that I've forgotten?' He said, "Obviously the Mariah Carey song that samples Tom Tom Club."
You take a New York City freak art band and then you have Mariah Carey singing and '90s R'n'B on top of it… that's literally who I am.
"Fantasy" hits the nail on the head so hard. I grew up listening to the radio, and my mum told me that Mariah Carey was the first thing that had an undeniable hold on me. I'd be rocking out in my car seat as a baby! There's videos of me singing "Fantasy" when I was three, and then again when I'm nine. It's one of my earliest memories of music.
I'm obsessed with Tom Tom Club. Wally Badarou is one of my all-time favourite musicians/producers. Tom Tom Club runs really deep for me, so when I finally realised the connection with "Fantasy" it felt really serendipitous. This pop song has a through-line throughout my life and is a combination of the worlds that hit hardest for me: the big '90s R'n'B stuff, and then the post-punk art-rock world of Talking Heads, Tom Tom Club. It's obviously a perfect song, but also a melding of my favourite genres and artists.
The remix is iconic, obviously. O.D.B., RIP, God bless – what a genius! All the crossover with the Bad Boy world that Mariah did later with "Honey" is such a perfect sweet spot. She's a genius. Those guys are all geniuses.
"Huddle Formation" by The Go! Team
When I was 18 I was still living in Connecticut and I knew I wanted to move to New York. My taste was broadening. I would listen to the local college radio, where there would be people in their 20's playing cool stuff that I hadn't heard before. I remember my ears pricking up and being, 'What the fuck is this? Is this old? Is this new? Is it the past? Is it the future?'
This song sounds like it could have come out yesterday, on in the '60s or '70s. That's why I'm obsessed with it. It's super timeless. When I started Friends it was similar – I didn't want it to sound like a chillwave throwback to the '80s. or the '70s, or classic disco. I wanted it to sound like it was coming out of a boombox. The Go! Team was exactly that for me.
I sat there and waited, hoping that the presenter was going to say the name of it and they did. I realised they were playing in Boston a couple of months later, so I took the car and drove myself to Boston. I was so moved by their live performance. I know The Go! Team is one guy's project, but his live band was ah-mazing. It made me so inspired that people were making music like that. It influenced me to care about starting a band. I was like, 'If this is happening, I feel like there is a place in the world for what I want to do." The Go! Team was a huge Eureka moment for me.
The frontwoman is named Ninja and I remember completely being in awe of her. At the time, indie music was a thing I associated with self-absorbed white guys with guitars, but this was an indie band that felt like a dance party. They nailed the sweet spot that inspired me to want to write pop music and put it in the context of a live band that felt really punk.
Part of the reason why I produced my new record the way I did, with my friend Nick Weiss [aka Nightfeelings], was I wanted to make music that would be really fun to play live. The EP that I put out six years ago felt like a very studio project. I didn't feel an urge to play it live.
With this album, Showing Up, I intentionally got all my amazing musician friends in to play drums and really crazy bass and stuff. When music is undeniably pop-leaning in the hooks and the satisfying structural arrangements, but there's also a texture and a live quality, it's just like going to see a punk band but with really satisfying pop songs. Friends did that, and I hope I can do it again.
"Justified & Ancient" by The KLF
The KLF are an absolute madness of a project! This whole album, The White Room is incredible psychedelic dance music. They are a totally weird project where the goal was to infiltrate the mainstream and be kind of anarchistic about it, and write a number one hit in a way that was an intentional punk move. You can read about all the shenanigans that they got up to, including their manifesto about how to write a number one song.
The KLF were all about culture mashing. They have always been one of my favourite projects because they were so anarchistic and punk in everything that they did. There's so much depth to the project and the story, but also sonically I am obsessed with this shit! It touches on a lot of Euro-dance that crossed over onto the radio with SNAP! or La Bouche.
Then there's these ker-azy layers. I'm really into albums that feel like journeys and feel cinematic. There's so much unexpectedness, and a total feeling of psychedelia to it that is really special. The choral vocals on this are next level too! It sounds like humanity coming together, like church, like something deeper and more eternal.
One of the only artists that has cultivated such an aura of mystery and confusion in recent memorable times was SOPHIE. Sonically it's fucking with your head, it's something that you've never heard before. Culturally it's like, 'Who is this person? Is it more than one person? Whose vocal is this?' I think there are some artists that have done it since, but it's hard to toe a line of mystery now. It almost felt like everything had been heard and done before, and all music was going to be a mix of influences of past music.
SOPHIE was the first thing that sonically made you feel like you were on a different planet. It's alien, which is groundbreaking when there's exponentially so much music, and so many people constantly making music. Things get recycled and recycled, but I think this totally angular experimentation – mad scientist shit! – is so important to culture.
"The Healer" by Erykah Badu
"The Healer" is a fucking beautiful song. It's an inside joke among my friends that I love songs about music, songs that have a meta quality, that are celebrating certain genres, certain movements, how music makes you feel… anything like that is so important. "The Healer" feels like a prayer of appreciation addressing hip-hop – a song of worship, and a song of praise.
I grew up in awe, admiration, and full humble appreciation of hip-hop. It's threaded along my life in a lot of ways. There was a certain point where I started becoming aware of Stones Throw Records – J Dilla and Madlib, all that stuff. I was probably 18, and I was like, 'Yo, this is obviously a pocket of culture that's so special.'
Serendipitously, within the first month I lived in New York, I saw there was a Stones Throw showcase happening. That was obviously a dream concert for me. I went by myself, and in the crowd I was like, 'Wow, that lady looks so much like Erykah Badu. Damn, she's beautiful. Who's that gorgeous woman?' And then she saw me staring at her! She looked right at me and flashed me the most beautiful smile. My heart stopped. I was like, 'That's definitely Erykah Badu.' As a fan of music, to be in the same room as somebody like that, I was already gonna die.
Madlib had been producing Erykah Badu's new record, and I think this showcase was the first time they ever performed "The Healer". She got up as a special guest and she sang "Hip-hop is bigger than the government." I felt like I was present for a fucking spiritual, political moment, in the same way that people talk about being there when Jimi Hendrix burned his guitar. I didn't expect to see her play that night, and when she stood up, I felt like I was gonna totally pass away.
It's cool that we all have access to video and recording these days, but there was definitely something really special and different about that time, where you had to be living in the moment and memorise lyrics if you wanted to look up a song afterwards. It was a time period when you had to be invested in order to find out – and I was just so invested.
A final crazy thing – there's this photographer in New York named Mel D. Cole and we became friends after that night. He's an amazing photographer, who has gone on to take some of the most important pictures of the last 15 years. He posted photos from that show on a blog, and me being the little nerd that I was, I found this picture of me watching the show with my little shaved head, and I reached out to Mel.
He and I stayed buds, and I've watched him continue to be a photojournalist of music and culture. It's always been such an honour for me that the first show that I went to as a kid who'd just moved to New York was this thing that moved my soul, and that I was photographed by him. Really magical!
"Quicksand" by David Bowie
Hunky Dory is a calling card on my mom's side of the family. It was one of my grandmother's favourite albums and I grew up hearing it all the time. I love the whole record and could sing it front to back.
Music plays a part in our lives in the joyous, cathartic times, and also in the deepest, most grief-filled times, where we need something to lean on and have something to speak for us. I was thinking about whether to talk about this or not, but it's something that I'm not afraid to talk about, and something I think should be in conversation more. To me, talking about music being present and important during those times is just as – if not more – important than talking about it being super joyful and connective too.
My brother died naturally, but unexpectedly, of a heart condition when he was 19 and I was 16. It was crazy, of course. It still is. I wanted to sing and play guitar at his memorial even though I had the worst stage-fright in the world at that time. I had never sung in front of anybody!
"Quicksand" was a song that he and I both loved, and listening to those lyrics after he had died felt so deep and a total trip. It was like David Bowie was there, having a conversation with me about how to conceive of reality when someone you know suddenly isn't there anymore.
The lyrics to "Quicksand" are so beautiful: "Knowledge comes with death's release." When Bowie died, I wrote this whole thing about it, and I got a lot of feedback from people who connected.
There's something about Bowie as an artist that felt like a medium: between the art world and the mainstream, between both binary genders, between the very human, man-made life that we have and the spiritual life of things, and, for me, between life and death.
At certain crucial points of processing something, listening to his lyricism has felt like having a dialogue with a spiritual guru. I didn't grow up with any kind of religion, and songs like this have been a spiritual touchstone for me at the most crucial moments. "Quicksand" feels like a passage from a spiritual text that allows you to re-centre and be okay in that moment.
Throughout my life, "Quicksand" feels more like something special to me internally than a memory that I share with somebody. It feels like a bridge that I still have with Bobby, my brother. As you go on in life, finding connections with people you have lost is always going to be tender and bittersweet, but it's also really beautiful and profound. It's a lot, but music is a lot!
As for Nine Songs… I could talk about 100 songs!