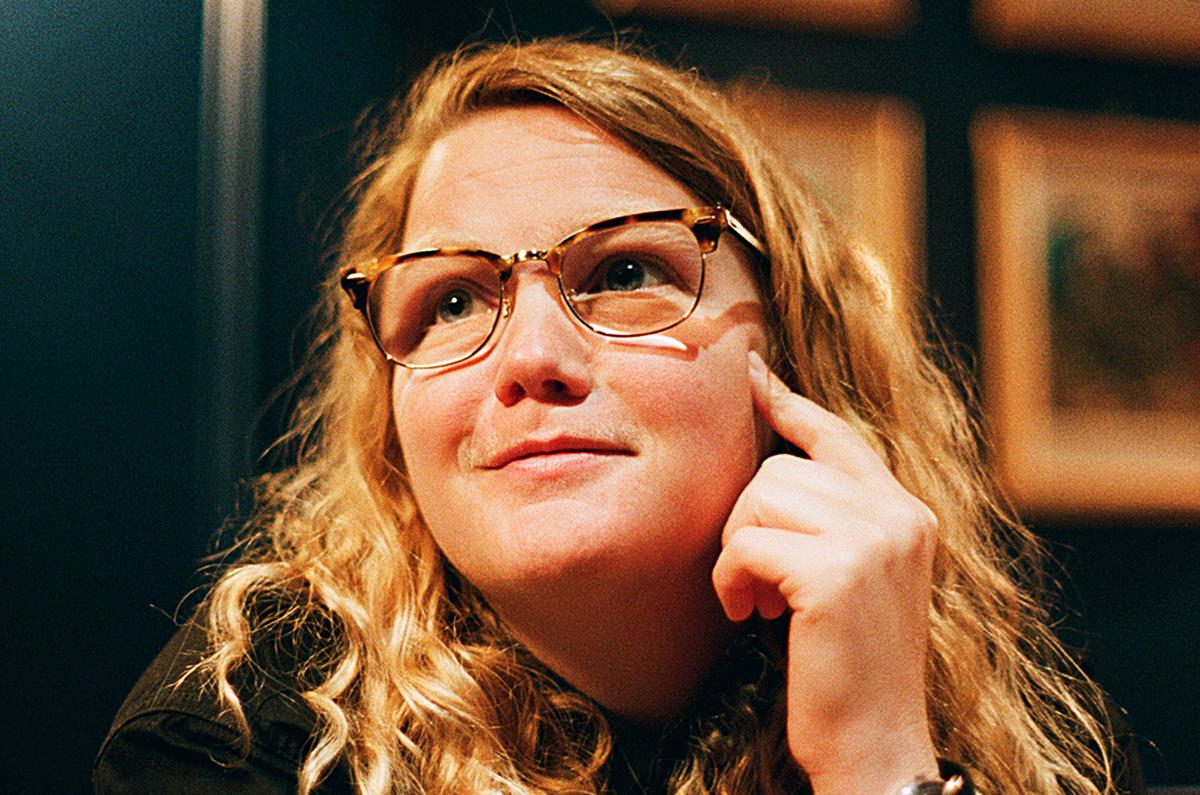 Kate Tempest and the human condition
21 June 2019, 11:00
Whether this is mere projection on my part (O, wonder! / How many goodly creatures are there here! / How beauteous mankind is!) or the verse that stuck in my mind on the long coach trip down (I'm beginning to fade / But my sanity's saved 'cause I can see your faces) doesn't seem to matter. Not yet, perhaps not ever.
It's pissing it down with rain on the day we meet in The Three Cranes, a pub down a side alley opposite Mansion House, the official residence of the Lord Mayor of London. Inside, there's a portrait of Samuel Pepys, who wrote about the very same establishment several times in his day. Granted, rather unfavourably; he likened a 1662 dining experience in there as a "sorry, poor dinner" in a "narrow dogg-hole", but he was also dining alongside forty other people, most of whom were relatives - that sounds like too much even for one of London's bigger taverns. These days, The Three Cranes is a stunning establishment full of old-world charm and quiet conversation.
Kate Tempest makes music. She's also a writer, a playwright, and a poet. But, first and foremost, she makes music. It might have appeared to those on the outside that she burst onto the scene in a blast of 'Firesmoke', but the reality of it was somewhat different. It consisted of part-time jobs and gigs to make a little bit of money here and there; it was covering rent and trying to catch the eye or the ear of a record label or agent or this person who knows that person. It was hard work, dedication to the written word, and spoken-word theatre show Brand New Ancients.
"I was always making music, I just couldn't get anyone to put it out. I couldn't get a record deal and I think that I took a break from pushing all my energies into making music and doing more spoken word stuff because I was getting booked for gigs. Essentially," Tempest says, "it was that simple. I started getting all these bookings as a poet and they would be like fifty quid which, for me, at that time, was a huge amount of money to get for a performance."
"So, I worked it out that if I did three shows in a weekend, plus doing work in schools; if I could get two or three work shop days in a month and do two or three gigs each weekend, not only could I have my rent covered but I could also chip in to pay for a little bit of studio time with my band so we could keep our demos ticking over."
The band in question, Sound of Rum, got together in the summer of 2008. At the time and prior, Tempest operated under the moniker Excentral Tempest; changing it likely to fend off the barrage of What does it mean?. She never stopped making music, though, not for a minute: "I'd turn up to these poetry gigs with my band and people would be like, 'We don't want you to play music. It's not what we want.'"
She laughs: "Once I got booked for this festival and turned up with my band. They didn't want us to play music, so we just set up outside the tent and played a little busking set." Grinning cheekily, she adds, "We've never been invited back."
The turning point for Tempest musically, she says, came with Will Ashon, founder of Big Dada Recordings. A writer himself, Ashon gave her the opportunity to release her debut album, Everybody Down, which would eventually win a Mercury Prize nomination in 2014. "The album was finished. It was just sat there," she says. "We were trying to get a deal and people were interested, but not really committing to it. They were a bit unsure and meanwhile, I was doing all this other work."
Working in the theatre, she had written and was performing Brand New Agents which won her the huge honour of being a recipient of the Ted Hughes Award. "It was going really well," Tempest tells me of her first theatre run." Lawrence from Domino came to see me play, but I didn't have a manager and didn't know how to make it work. I was trying everything I could possibly do to get signed, but I couldn't make it happen."
Then, along came Big Dada: "It was the perfect place to be."
Tempest was also proactive in delivering demos. London and snow aren't two environments that mix very often, least not as they did in Dickens' time. There was one particular snowy afternoon in which she and Archie Marsh - Sound of Rum guitarist and Tempest's on-tour sound engineer - drove down to producer Dan Carey's studio in Streatham. "We had to leave the car because there was too much ice on the road and it was dangerous, so we had to walk," recalls Tempest. "We went on this fucking mad mission and walked to his studio so we could give him our demo. We knocked on the door and then Dan answered and suddenly I realised how ridiculous it was that we'd just walked through the snow to be like, 'Here's a CD.'" She laughs. "Kind of trying to play it cool, like, 'Hey! Just passing, here's my demo!'"
Carey and Tempest are something of a dream team. Carey has worked with Bat for Lashes, The Kills, and Tame Impala among others. It would be the work he did on Tempest's Everybody Down that saw him receive a Mercury Prize nomination the same year as receiving one for Nick Mulvey's First Mind. He'd then go on to receive another nomination in 2017 for Tempest's Let Them Eat Chaos. It's clear she and Carey have an artistic understanding and the way she speaks about it says that much.
"I love recording at Dan's studio in Streatham. It's a place I feel completely at ease," she tells me. "Creatively, I feel supported. It's like a paradise; like a mythical landscape. The possibilities of his studio are endless because he has such an affinity with the bits of kit that he has." Carey's studio has a grand mixing desk, tons of instruments, and guitars from all over the world. "The first time I went to his studio, I just wanted to be working there. I wanted to make music with him, but it took us years to actually make that happen."
The Book of Traps and Lessons was recorded quite differently. It saw Tempest and Carey trading in the suburban streets of South London for Malibu; for the infamous Shangri-La studios now owned by Def Jam cofounder, Rick Rubin. With views of both the Californian coastline and the mountains, Bob Dylan's old tour bus wired into a studio of its own, Shangri-La might have inspired Tempest as much as she inspired it.
Rubin and Tempest first met in New York whilst she was touring Brand New Ancients. He listened to her read a poem and the two then had plenty of conversations discussing the artists Rubin has worked with, the songwriting process, and music as an entity. It appeared then that it was only down to the universe to make this collaboration happen.
"We recorded the album as one take. Once we'd got to the end of the writing process, Dan and I committed it all to memory, learned how to play it live, then performed it a few times in South London in front of small crowds." It was one of these small crowds, in a tiny venue in Elephant & Castle, that Rubin attended alongside Frank Ocean. "We went over to Malibu to Rick's place and recorded it as one take, basically. So, three times a day, Monday, Tuesday, Wednesday, and by Wednesday, we had it."
This was a new experience for Tempest, to have no pressure or time constraints from publishers or higher-ups. To have the time to commit to The Book of Traps and Lessons - not a singular piece of work, but part of a body. "I've never been in a position before where I could've said, 'This is what I dream to do,' and have been able to do it," she admits.
Rubin, in his naturally laid-back way, encouraged Tempest to bring the lyrics front and centre, so they could exist alongside the music as one entity attacking the listener from different angles equally. Poetry flows with music, as she puts it. "When I understood what he was after, I started to think, 'Well, fuck, if he wants that lyric so far in front, it has to deserve its place.'"
As a result, this inspired her to delve into thinking about when lyrics stand out and the meaning behind spoken language and for all that it's been used. "I looked into all this old English folk music. I was at this pub doing a gig and there was a couple of people with their guitars singing these old folk songs. I was like, 'Wow. This is lyrical music.' It's storytelling and it's extremely moving." Furthermore, that there's no joy in staying the same. "I've never felt happy trying to limit my creativity or expect it to be one thing or to have one shape. I feel like if you tell yourself you're just one thing creatively, you end up reinforcing what that one thing is and become a parody of that particular thing."
Regardless of the time she had to work on the new record - throughout tours and novels, plays and poems - another thing Tempest finds useful is having deadlines. Having dates to hit and not so much time to ruminate; arguably the creative's curse: "What I find often happens is that you try and think really hard and are trying to problem solve or get through something creatively in your work time, that intensity kind of filters out as you go back onto the other thing you've got to do with your life. Like, just because I'm not in the studio anymore doesn't mean I'm not still working through these ideas.
"Often, the best stuff happens when you've had time away from something. Especially if it's been problematic or you've been a bit stuck. Often, you need that oxygen of a different room or different focus or to put your attention somewhere else as it works itself through you."
She laughs: "It's not an exact science and the creative process is as much a mystery to me as it is to anybody else."
Tempest has done her due diligence in the music world and beyond. Her first job was in a Lewisham record shop. She's also worked for charities and in schools. When she decided to transition to writing full time, she navigated her way through the opportunities that were available to her. One of those opportunities was writing poetry for a Deptford-based poetry organisation, Apples and Snakes. "It's like my local neighbourhood theatre and is just down the road from where I grew up."
Doing gigs there opened up Tempest's path to further opportunities such as writing for children's charity Barnardo's and some work, here and there, for the Royal Shakespeare Company. "For that Barnardo's thing," she says, "I was given a load of transcripts of young people and teenagers being interviewed about their life experiences and I was asked to kind of respond to that using these transcripts."
This shit was useful for me, because not only is this my deep inspiration and my calling and my vocation; this is also something I want to get better at. This is a craft and I had to do my apprenticeship."
She pauses. "I had to go to work to learn how to build the table," she laughs.
Tempest found this training and these experiences invaluable. As well as having to finish things on time, she had to approach handing in finished pieces when she, herself, wasn't quite happy with them: "When I got my commission to write my first play, I was on tour at the time with Sound of Rum. It was a support tour so we had no money and had to drive ourselves around. Ferry, my drummer, was working as a painter and decorator, so we had to be driving up north or even further and then driving back after the gig."
Ferry would go to work, I would go home and get to work and I'd be writing things for the theatre. I was writing [stage play] Wasted at the time," explains Tempest. "So deadlines made me get shit done and it's probably the thing that pushed me into the position I'm in now, which is, like, the sheer unarguable force of the amount of work that I've finished."
"That's it," she says, confidently. "That's the thing that protects me in so many ways from this industry. Like, I finished all this shit. You can't really argue with that, you know?" Whenever she laughs, Tempest has a kind of Artful Dodger-vibe about her that's infectious. "Sometimes the burden of it means that it doesn't feel like a creative pursuit, but to be honest, it isn't always a creative pursuit. Creativity is one thing and the crat of being a writer is completely different."
"The thing is," she continues, "when you're a performer, you have this connection to the divine. You go on stage, you connect. This is it, this is the rush, this is the beauty and the connection that isn't necessarily how it feels when you're on the sixth draft of your novel. It doesn't feel like divine connection. It feels like hard fucking work."
On The Book of Traps and Lessons, Kate Tempest feels like they really went somewhere; that she, Carson, Rubin, found something brand new. "I feel like that about all of them, though," she laughs. "Everybody Down is like, 'Wow, we really went there.' I mean, the main thing I hope for is connection." As if speaking directly to a wandering soul in agreement, she smiles softly. "It's like the antidote to numbness, isn't it?"
Although Pepys had his snobbish cross to bear and, arguably, the company he was keeping at the wedding party in question, The Three Cranes stood more favourably in the eyes of playwright and poet, Ben Jonson. Often mistaken as one of Shakespeare's only rivals, Jonson had only good - albeit constructive - things to say about him. There are tales of both men involving themselves in engaging debates and battles of wit in the nearby Mermaid Tavern.
Of course, it's obnoxiously telling that said debates were always and only conducted between men, and thankfully, that tide is changing - and Kate Tempest is one of the most powerful storms behind it.
The Book of Traps and Lessons is out now via Fiction