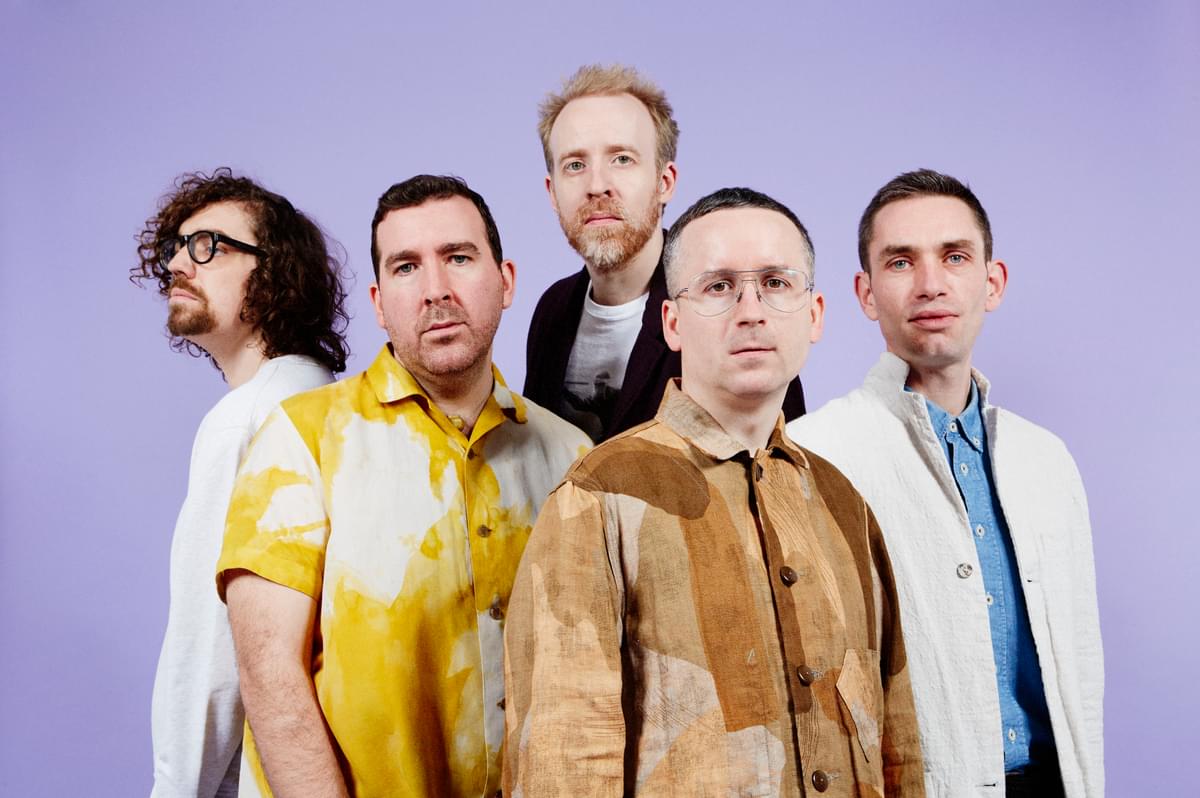 Hot Chip and the duality of melancholy and euphoria
21 June 2019, 12:30
When I ask Hot Chip's Felix Martin, if the band are planning on a greatest hits set for their upcoming festival dates, he just laughs. "We can't really call it a greatest hits set, because we haven't really had any hits!"
Formed by school friends and chief songwriters Joe Goddard and Alexis Taylor in 2000, Hot Chip are still an unusual prospect in 2019: an eccentric, somewhat bookish group of middle class boys-turned-middle class dads who headline festivals despite only having one top ten hit to their name. For almost twenty years, they've been making dance-pop that is simultaneously arch, odd, and melancholy – sporadically aligning with the wider consciousness for earnest, soaring perennials like "Boy From School", "One Life Stand", and that solitary no.6 hit, "Ready for the Floor". Their seventh album, the somewhat provocatively-titled A Bath Full of Ecstasy feels like all their best features honed to near-perfection: a beautiful and thoughtful dance record that is also their shortest.
"We usually just pile on so much material, but this time we tried to really cut down the tracks until we were left with just nine," explains Martin over the phone the week before the album's release. The record is streamlined, but the tracks themselves are expansive, wide with light and space. "Some of the tracks are quite long – well, they're long for pop music, but we're always caught between dance music and pop stuff. Philippe (Zdar, producer) likes going off on these psychedelic tangents, piling loads of effects on and doing weird things." Cassius founder Zdar - who sadly passed away earlier this week - co-produced the album along with Rodaidh McDonald (The xx, David Byrne) – becoming the first outside producers that the band had worked with. "It was a bit of an evolution rather than a revolution. We had previously worked with outside engineers, so we're used to working in other people's spaces and being in that zone. Philippe and Rodaidh are very different people with different ways of working, but both of them were helpful to us."
The album was recorded over two intense periods – the first of which was an intensely focused experience in London with McDonald. "Rodaidh is quite analytical," explains Martin. "He's also quite a lot younger than us. He had some quite astute observations about trying to bring more focus to our music: being quite pushy with Alexis to write more hooks for the songs, down to the level of lyrics. We've never had anyone interfere with our music on that level before. It was difficult to take on board at first, but it was really constructive and helpful in retrospect."
This way of working contrasted with the second period of recording, where the band shacked up with Zdar at his studio in France for a month-long residency. "Phillipe is much more of a vibe person – our whole lifestyle for the month was built around his amazing life in Paris. It was more of a rock 'n' roll thing, really late nights and getting carried away." But this approach was no less intense for the band, who found this different way of working even more involving. "You're there and you're not going home or to see your family, you're focused 100%," says Martin. "We developed a different relationship between each other. The longer we could do that for the better, because then we could make more of an interesting record together. Because we've all done independent projects we have quite strong voices individually, but being able to synthesise that into a Hot Chip record is quite challenging. Going away somewhere like Paris can really help with that process – it makes you feel like a group of people rather than five guys who happen to be in the same room at the same time."
Martin's individual role in the band involves working with synth parts, but he insists that the writing and studio process is very communal and organic. "Sometimes I'll have written an entirely different piece of music independently of the band," he explains. "We'll be listening to something at Joe's studio that will be in the same key, and we end up making an amalgamation of these two pieces of music. "Clear Blue Skies" is an example of that on the new album – Joe had written most of the song and I added a repetitive synthesiser pattern that evolves as the song evolves. When we were in Paris, I had my modular synth set up, so I'd be messing around improvising and trying to add some more weird, more experimental sections to the music. We all have a big part in talking about the shape of songs. All five of us are very present, and very invested in how a song comes together."
The duality of the album's recording is mirrored in its central tensions between art and hedonism, pop and dance music – tensions that has always been integral to Hot Chip's appeal. "Echo" is an art-pop gem with endless experimental deviations. Beats and breakdowns circle the soaring melody at the heart of "Melody of Love". Even the most straightforward dance track on the album, "Hungry Child", has an undeniable pop hook, and simple but emotionally devastating lyrics ("Wanting what you cannot have/Living with a sadness you cannot endure") that call back to '90s house.
Hot Chip's ability to fuse melancholy pop balladry with a genuine love of dance music places them in a lineage of crying-on-the-dancefloor pop, from Robyn (who Martin really likes: "My wife is a big fan and we've been listening to the album in the car a lot") to those other tongue-in-cheek eccentrics, Pet Shop Boys. When I clumsily suggest a description of their music as "euphoric disco but sad" Martin laughs – "That's maybe a little too on the nose. We need a new word to describe 'euphoric disco but sad', but I don't know what that would be."
Some of the album originated from a collaboration with a pop star very far from the euphoric disco but sad lineage. "Some of the music was written by Joe and Alexis when they were working with Katy Perry (the duo have songwriting credits on Witness album track 'Into Me You See', and the band remixed lead single 'Chained to the Rhythm'). A couple of the tracks on the album were initially leftovers from those sessions, but when they came to us and we started working on them as a band, they kind of evolved in different directions."
The two A Bath Full of Ecstasy songs from those sessions are two of the biggest pop moments: the alt-R&B-meets-weird-AOR of "Echo" is interesting to imagine in the context it was originally intended for. Martin agrees: "It's fun to think about what they would have been like if they ended up as Katy Perry songs." The other song, "Spell", is already on the Hot Chip setlist. "We've been playing that one live and it's been going down really well, even though it hasn't been released yet. It's got that kind of euphoric momentum."
Hot Chip have always been a draw as a live band, but this year has seen significant changes in both their mindset and the show itself, which has developed into a capital-S-Show. "It's a recognition that we're making a step up and headlining festivals, and for that there needs to be a visual spectacle," says Martin. "What we've focused on before is having lots of instruments on stage and doing everything live, which of course we're still doing – but we've had the opportunity to make the show itself more fun and powerful by introducing some production stuff. You also have to remember that we've been doing this live for nearly 20 years, so we wanted to do something new to keep it interesting for ourselves, as well as the audience."
It's fitting that A Bath Full of Ecstasy was released on the cusp of festival season – its euphoric disco feels tailor made for a place on the bill at sunset. The band are playing a series of festival shows in support of the album, including a headline slot at Glastonbury's Park Stage, and a support slot for headliners The Cure at Lisbon's NOS Alive. The band are already planning some surprises for their set: "We've developed a habit of covering cheesy songs for festivals – well, not so much cheesy, as songs that everyone knows. We were doing [Bruce Springsteen's] 'Dancing in the Dark' for a bit, and now we're doing 'Sabotage' by the Beastie Boys, which is really random and weird but fun."
One of the most endearing things about Hot Chip is that they seem to be as much music fans as they are music makers – with each member's esoteric tastes contributing to their sound. Each member of the band has been DJing since they were teenagers, and Felix sometimes hosts a show on Soho Radio. In the mid-00s, the band were highly prolific remixers ("I think because Joe and Alexis are workaholics and want to be working on music all the time") which they still dabble in now – although they aim for a quality over quantity approach. "We've done some really cool ones over the years," enthuses Martin. "We did two Kraftwerk ones that got the stamp of approval from Ralf (Hütter) and Florian (Schneider, Kraftwerk founding members) which was quite cool." Any recent remix highlights? "We did one of Lizzo's 'Juice' recently, which is really exciting. We love Lizzo."
The band's twin passions for DJing and playing live have fused recently, in a hybrid performance show called Hot Chip Megamix, where the band play records and improvise with live instruments at the same time. "We have some drum machines and synthesisers and stuff that we incorporate into the set. The thing about the live show is it's so expensive to do – there's seven people on stage and loads of equipment and production and stuff. The Megamix is quite a nice thing because it allows us to do something that's a little more than DJ but is much more easy and fast to set up than playing live." The material played showcases the band's shared unconventional tastes and enthusiasm for all kinds of music. "We're all into edits of old disco tunes or post-punk songs, and this is a way that we can showcase that stuff live. So we might have a disco track that Joe's found, then we can mix that with live drum machines and synths to make a live re-edit. It's a cool concept, we're still developing it."
Going back to the loaded greatest hits question, Martin confirms that, "At festivals we play songs that people will know. We'll be playing three or four from the new record by the time NOS Alive comes around." They've been testing out new, live versions of the songs at the handful of festivals that they've already played. "'Hungry Child' seems to be working really well, though it's more difficult to pull off being a very electronic track. We've had to reimagine it a bit so it's not completely faithful to the record, which is quite an interesting thing to do. It's really complicated when we go into rehearsals – trying to figure out who will play which synth part, how we're going to do certain effects on the vocals, how are we going to recreate this very particular percussion sound. It's like translating from one language to another."
The end of festival season will lead neatly into a European tour, which Martin sounds nervous but excited for. "We've got a big show at Alexandra Palace in November, our biggest headline show to date," he tells me, before addressing what feels like the elephant in every room in the country at the moment: "Our last European tour started on the day that Brexit was supposed to happen, then our next European tour starts on the day it's supposed to happen again."
It's tempting (and maybe a little too simplistic) to make sweeping statements about any art made now and its connection to the rotting world around us, but it seems to be something Hot Chip have considered – even down to the artwork on the album, which is partly credited to Turner Prize-winning artist Jeremy Deller, a consistent creative voice opposed to the creeping rise of right-wing politics. "With the state of the world, and all the shit we have to deal with every day – it's really hard to make yourself feel like what you do matters or is relevent," says Martin, echoing the existential dilemma of many artists, musicians, writers and other creative people trying to make meaningful work despite the horror that surrounds us. "Being humorous or having a slight lightness of touch has always been a part of what we do, so it's not like we were suddenly going to make a really serious record about how fucked up the world is. Sometimes I do worry about there being a disconnect between the euphoric mood of the music and what's going on in the world. But I think [the album] is a bit more of a complex statement in terms of the lyrics and what's going on in the music. I hope it captures something a bit more than just lighthearted disco bollocks."
I'm reminded of the Pet Shop Boys again, and their exemplary amalgamation of frivolity and gravitas in the wake of political turmoil. "It's about the mood and temperament," agrees Martin. "We've all to a certain extent had a difficult few years of losing people and bad stuff happening, so making music is an escape from that. You cherish the fact you can escape to do this magical thing."
The band's concern comes across in the record, and is mirrored for the listener. The album's closing track "No God" in particular exudes the sense of anxiety being alleviated by something like alchemy. It's a glorious, euphoric sing-a-long reminiscent of Technique-era New Order, at once eschewing the existence of God while taking solace in love and humanity. Perhaps we need music to acknowledge these strange, horrible times that we're living through without being completely nihilistic. "And it's quite tempting to be nihilistic!" Martin agrees. "But we have to keep going." Then a pause; one of the only silences in our conversation. "I mean we've got bookings until the end of the year," he deadpans. "We have to honour our commitments."
A Bath Full of Ecstasy is out now on Domino Records
Get the Best Fit take on the week in music direct to your inbox every Friday